Wainwright has been prepping for Opening Night since childhood
Cardinals ace studied his favorite pitchers growing up in Georgia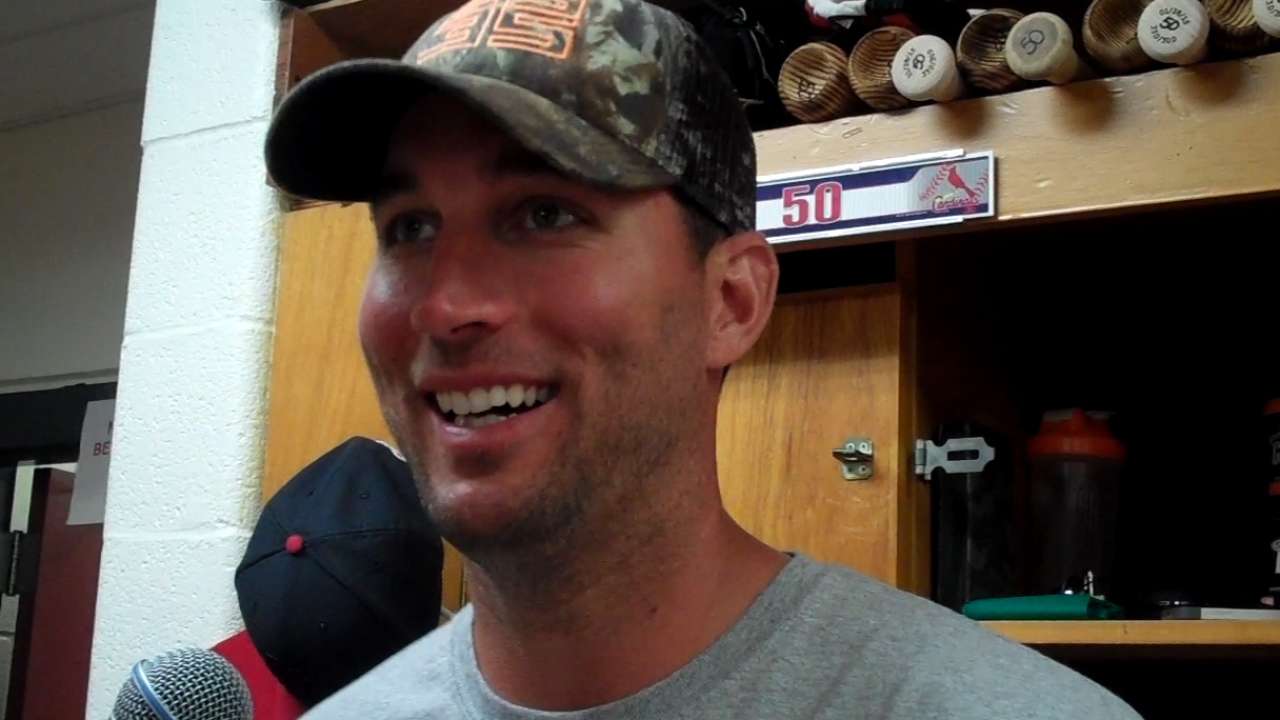 In the days leading up to Opening Day, MLB.com is examining various aspects of each team's roster. Today, the time has come to focus on the Opening Night starter.
JUPITER, Fla. -- As Adam Wainwright grew inside his childhood home along the Georgia coastline, so did the compilation of newspaper clippings plastered on his bedroom wall.
It was both an exercise and education each day, as he and his older brother would scour the local paper seeking out what others had to say about pitching mechanics or mindset on the mound. Then-Braves pitching coach Leo Mazzone was featured prominently, as were members of Atlanta's vaunted pitching staff.
Wainwright would highlight and then study, wanting to become a student of the craft and eventually desiring to be the next Atlanta ace.
He's ascended to that podium (albeit in another uniform), but as Wainwright prepares to make the fourth Opening Day start of his career Sunday, he finds himself molded by those Braves pitchers he once daily dissected.
"They all were different, but they all were great in their own way," Wainwright said. "My goal was to take things I liked about all three of them and kind of combine them. I don't do anything as good as the things I liked out of them, but I try to take the qualities that they had in trying to get there."
His favorite for some time was Steve Avery, the lefty who, as a 21-year-old, burst onto the scene as an 18-game winner in 1991. He'd win 18 games again two years later before his career sagged due to injury. From there, Wainwright was drawn to three now-Hall of Famers -- Greg Maddux, Tom Glavine and John Smoltz.
In Smoltz, Wainwright saw his desired intensity.
"I loved looking at Smoltz's facial expressions. His stuff was incredible. He'd drive it 95 [mph] right past people and have that nasty slider. You wanted him on the mound in a big game."
Watching Maddux, Wainwright would chuckle at the trickery.
"He was a master. He just had that, 'You may think you're in control, but it's going to be so nasty and so perfectly placed that it won't matter. But probably you don't know what's coming and you think it's something else, and I'm going to make you look like a fool.' I loved that."
And in Glavine, he saw a pitcher able to expand the strike zone at will.
"I just remember watching the World Series in 1995. He had a bases-loaded situation late in the game and he threw a 3-2 changeup and got the guy out. And I thought, 'Wow, the [gumption] behind that.' It's just such confidence in his ability that he was going to place it perfectly."
Ironically, some said the same of the curveball Wainwright delivered to Carlos Beltran some 11 years after.
Influenced by some of the best pitchers of that generation, Wainwright now leads the pitching staff for a Cardinals team that seeks the same sustained success the Braves enjoyed in the 1990s. The Cardinals are the first National League team since Atlanta to make a run of four straight trips to the NL Championship Series. The Braves did it eight straight times, not including the strike-shortened 1994 season.
Wainwright has been the staff ace in St. Louis' last three postseason runs and leads the NL with 53 wins since 2012. Once Wainwright proved himself healthy and ready this spring, there was never a question whom the Cardinals wanted leading them into the year.
He will oppose new Cubs ace Jon Lester in the nationally televised affair.
"I don't know if it's a psychological advantage over the opposition, but I think it's a psychological advantage for our club to where that's the guy who is leading our pitching staff," manager Mike Matheny said of giving Wainwright the first start. "We know what he does on a big stage and how he rises to the occasion of big opportunities."
Wainwright, four times a top-three finisher in the NL Cy Young voting, enters the season ranked first among active pitchers with a 3.01 ERA (minimum 1,500 innings) and 18 complete games (since 2010). He's also poised to continue climbing the franchise record books.
A 15-win year would tie him with Dizzy Dean for sixth place on the Cardinals' all-time win list. Wainwright currently sits eighth with 119. He can begin to make that move Sunday.
"Each time I get to, it's just a very special thing," Wainwright said of the Opening Day assignment. "It's a great privilege for me."
Jenifer Langosch is a reporter for MLB.com. Read her blog, By Gosh, It's Langosch, follow her on Twitter @LangoschMLB and like her Facebook page Jenifer Langosch for Cardinals.com. This story was not subject to the approval of Major League Baseball or its clubs.