Opening assignment one truly earned by Liriano
Left-hander rewarding Pirates' faith with career revival following injury hiccups
In the days leading up to Opening Day, MLB.com is examining various aspects of each team's roster. Today, the time has come to focus on the Opening Day starter. For the Pirates, that's left-hander Francisco Liriano.
BRADENTON, Fla. -- Francisco Liriano made his first Opening Day start -- in 2009, for the Twins -- by default. He was called into the breach by Ron Gardenhire when the manager's original choice, Scott Baker, came down with a sore right shoulder.
Liriano's second Opening Day start, a year ago, was a product of attrition. A.J. Burnett, the righty who did the honors for Pittsburgh in 2013 and had also been designated to do so in '12 before a Spring Training bunting accident, had moved on to Philadelphia.
Liriano's third Opening Day start, on Monday in Cincinnati, will be on merit.
"This guy is a gifted pitcher -- as good as any in the National League when he is healthy," said Clint Hurdle, the manager who made the call.
As the left-hander himself said, "There are so many good guys here. We've got a pretty good rotation. So to be picked, it means a lot to me. I thank the Pirates for the opportunity and for believing in me."
That belief goes back a few years. General manager Neal Huntington always talks about the Bucs -- as with many teams unable to fight checkbook wars with the Majors' biggest-market teams -- needing their spins of the wheel of fortune to stop in the right slots. In the winter of 2012-13, Huntington and his analytics team saw something in a tall left-hander coming off a season in which he went 6-12 with a 5.34 ERA, so he gave Liriano two spins.
The first spin paid off for Liriano at $16 million for two years. After a broken right arm from a household accident lengthened the lefty's injury trail, most GMs would have just called off the deal and gone elsewhere. Huntington spun again and was able to hammer out another, discounted deal to secure Liriano and place him in the care of pitching coach Ray Searage.
"Like they say, everything happens for a reason," said Liriano, who was relieved and grateful Pirates didn't bail on him when he broke his arm. "After that, everything turned out just the way I wanted."
The Bucs had stuck by Liriano. When it was his turn, so did Liriano -- his offseason decision to re-sign with the Pirates as a free agent was another seminal marker in the team's revised culture. For a long time, all roads led away from Pittsburgh.
"I'm here for a reason, and I'm very glad," Liriano said.
That sentiment, too, works both ways. Before arriving in Pittsburgh, Liriano had flashes of brilliance, sometimes even for a full season (he went 12-3 with a 2.16 ERA as a starter and reliever in 2006 and won 14 games while striking out 201 in '10). But Liriano's potential was mitigated by his reputation for being erratic and injury prone.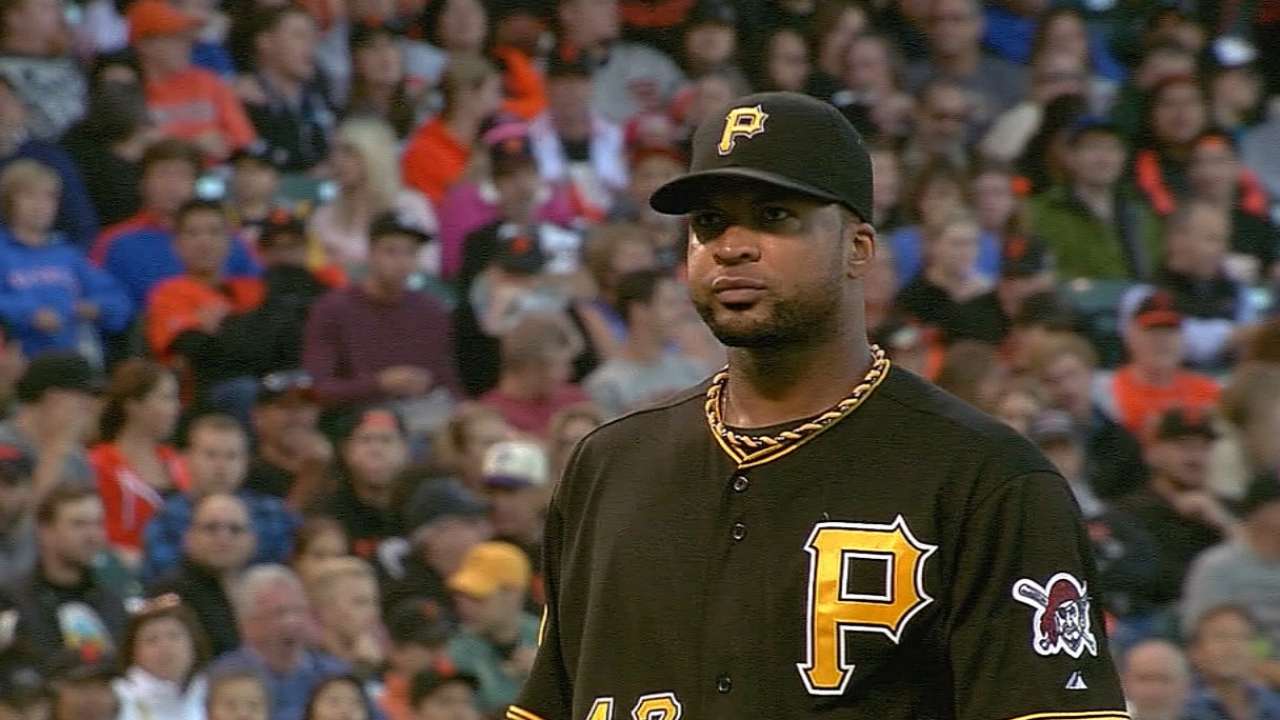 Liriano laid the inconsistency to rest in his first two Pirates seasons, posting back-to-back strong campaigns for the first time in his career. The injury stigma remains: Due to recovery from that right arm fracture, then groin and oblique issues, Liriano missed a month in both 2013 and '14.
"I've been hurt a lot of times, for every reason possible," Liriano said. "But I never stopped working hard or believing in myself. Now, to be picked to pitch Opening Day, it's like a dream come true.
"I always wanted to be the guy on the team."
Liriano has grown into one of the key guys on this team, both between and outside the lines.
"Nobody has more respect in that clubhouse," Hurdle said. "It isn't just what he does on the mound but what he does on the four days in between. He sets an example."
Starting Monday, Liriano can also set a pace.
"Yeah, it's just one game," Liriano said, "but on Opening Day, everyone is a little more excited. We'll have fun. I'll enjoy it, give it everything I have."
Tom Singer is a reporter for MLB.com and writes an MLBlog Change for a Nickel. Follow him on Twitter @Tom_Singer. This story was not subject to the approval of Major League Baseball or its clubs.