Hammel excited to see Wrigley renovations
Right-hander anticipates new look of ballpark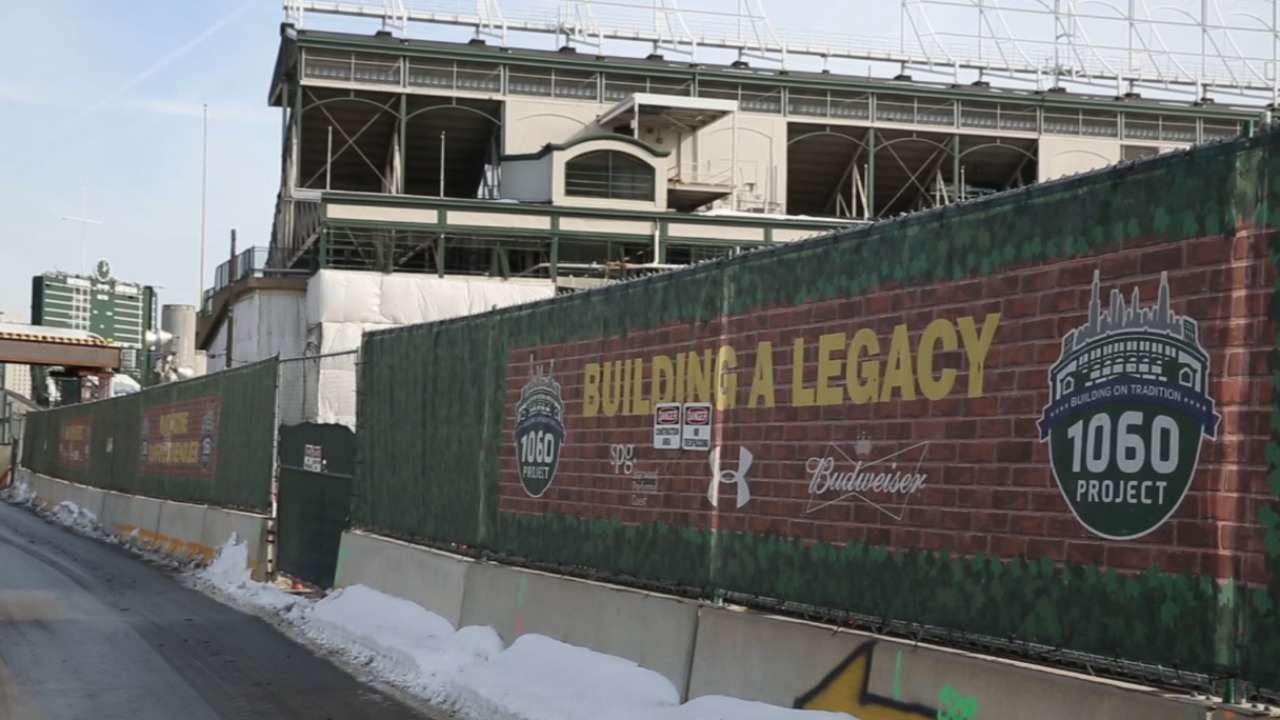 MESA, Ariz. -- The new video scoreboard at Wrigley Field was installed above the left-field bleachers in Chicago on Wednesday, and Cubs pitcher Jason Hammel has seen the photos of the renovation work being done at the 100-year-old ballpark.
"I'm excited," Hammel said. "It [doesn't look very good right now], but you know there's a pot of gold at the end of the rainbow there. It is what it is right now, and we're going to deal with it, but it's exciting. It's a long time coming and fun to be a part of, even if it will be a little sketchy to get around.
"There's a lot of time and effort going into a place that's pretty sacred ground. I think it'll be a lot of fun."
Cubs officials have talked to the players about how the ongoing construction will affect the daily schedule. Hammel doesn't anticipate too many problems.
"Honestly, I'm a pretty easy-to-please guy," Hammel said. "As long as I have a big league uniform, it's fun for me. It's going to be fun to go back in time later in my life to say I was part of that. It might be tough now, but we get to see the bones going up and it'll be a fun story to tell later."
Among the changes this year are that players can pick their walk-up and warm-up music. Hammel is still deciding, but is leaning toward some Seattle grunge.
"All that stuff will be so cool," he said. "It's like jewels on an old crown, I guess. It's a beautiful stadium. I don't know if that's a good metaphor or not. If you look at a basic crown, they're boring, but throw a couple jewels on it and it's nice."
His young son won't be picking the warm-up tune.
"We won't be going with 'Jake and the Never Land Pirates,'" Hammel said.
When Jeff Samardzija warmed up at Wrigley, they played Deep Purple's "Smoke on the Water," which Hammel said was "solid." But he can't use that.
"If he comes over and is pitching against us in the crosstown rivalry, he'll be looking at me, and I'll never hear the end of it," Hammel said.
Carrie Muskat is a reporter for MLB.com. She writes a blog, Muskat Ramblings, and you can follow her on Twitter @CarrieMuskat. This story was not subject to the approval of Major League Baseball or its clubs.