MLB.com Columnist
Phil Rogers
Who is the top player at each position in the NL Central?
Who will be the best player in the National League Central at each position this season? There is no way to know for sure, but here is one man's prediction. Think of it as the preseason All-NL Central team.
Catcher: Jonathan Lucroy, Brewers
We come to praise Lucroy, not bury future Hall of Famer Yadier Molina. But this is 2015, not 2013, and Lucroy's overall value has surpassed that of Molina. His improvement, year by year, is rare, as he was not even a ranked prospect. He's worked for his success. Brewers general manager Doug Melvin struck gold when he bought out Lucroy's arbitration years with a five-year, $11 million contract before the 2012 season. Lucroy can't reach the free-agent market until after the '17 campaign, to the dismay of many teams.
First base: Anthony Rizzo, Cubs
For all the talk about Kris Bryant and the Cubs' other prospects, it's Rizzo who is best positioned to have a monster season among their 25-and-under players. He came into his own as one of the NL's true sluggers last season, and he will benefit greatly from the eventual presence of Bryant as well as leadoff man Dexter Fowler and Jorge Soler.
Second base: Neil Walker, Pirates
It's been a while since the big thing about Walker was his being from Pittsburgh. He broke out with 23 home runs last season and did not seem to be selling out for the long ball, as his strikeout totals stayed true to previous seasons. Walker is also a solid, if unspectacular, fielder.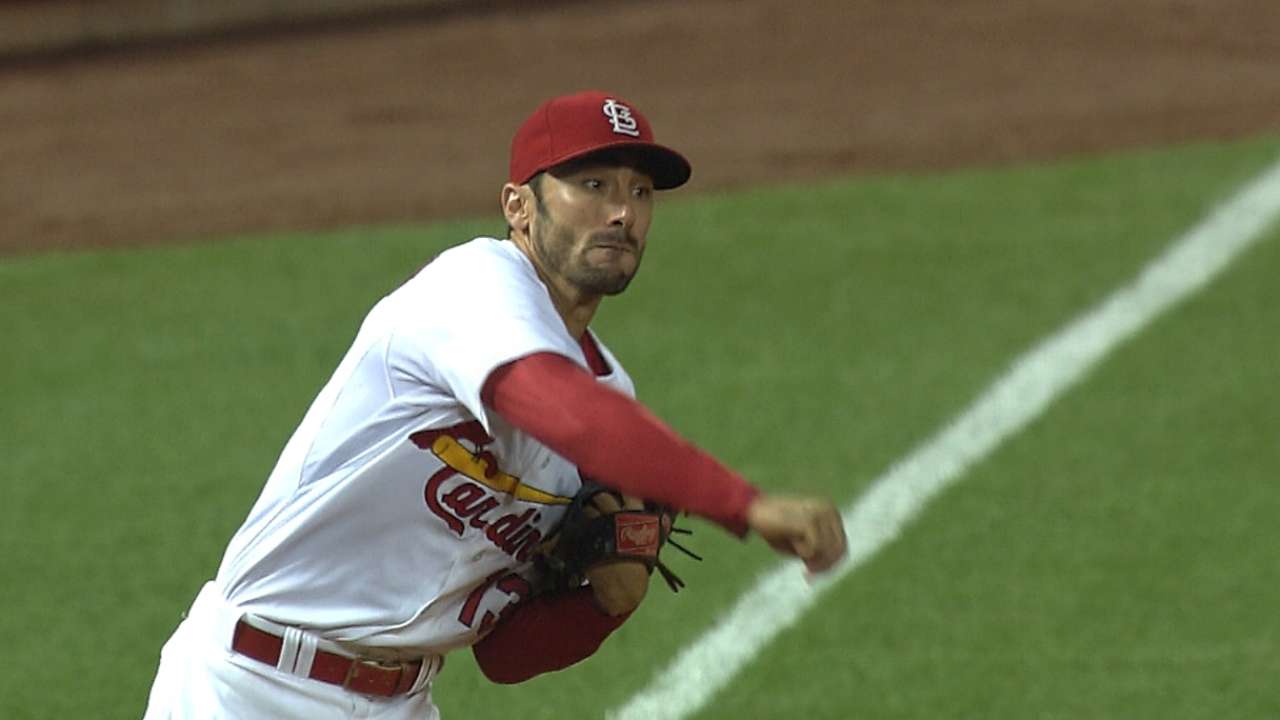 Third base: Matt Carpenter, Cardinals
The Reds' Todd Frazier had a better 2014, but Carpenter's value showed the season before, when the Cards went to the World Series and he had an .873 OPS. He's among the toughest outs in the game, always working deep counts and laying off pitches other hitters chase. Carpenter doesn't fit the true third-base mold, but he compensates for modest power by being a pain to pitchers in every other way.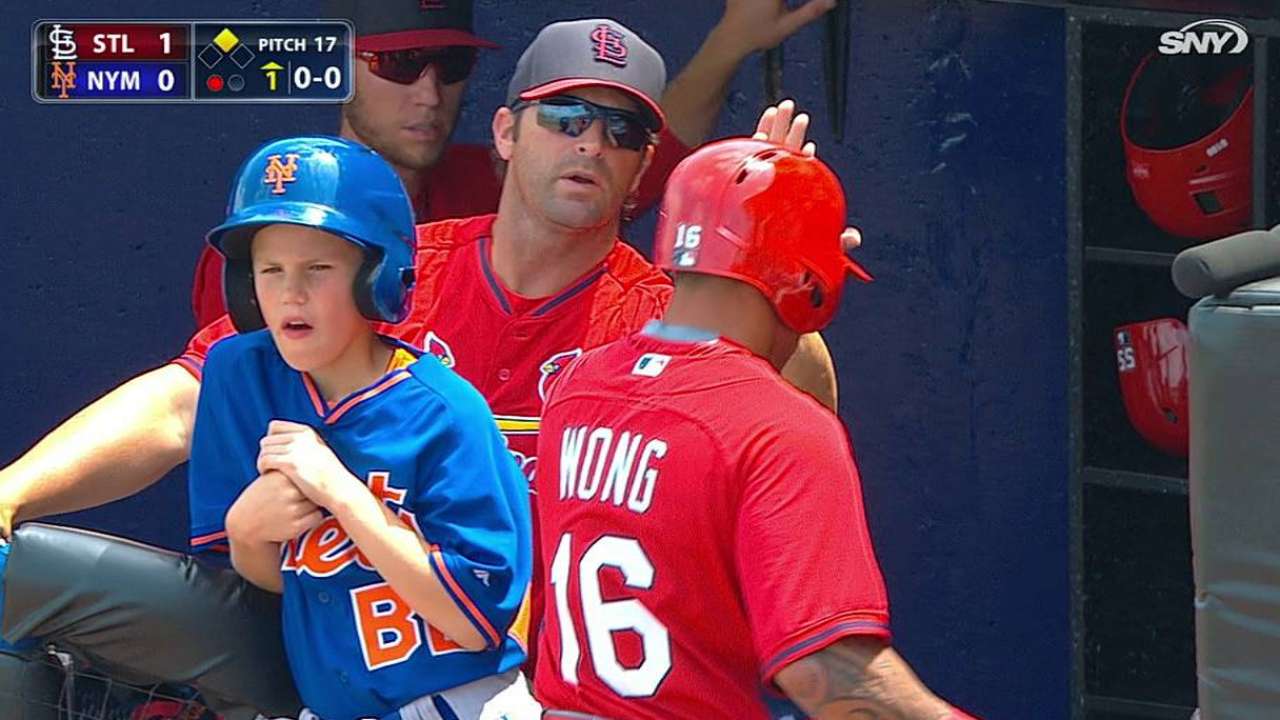 Shortstop: Jhonny Peralta, Cardinals
Peralta's first season in St. Louis was notable for his team-high 21 home runs, but the thing that had scouts talking was his fielding, which was remarkably solid given his reputation as a one-dimensional player. Credit the Cards for digging deep to see his improvement in the field and ability to fit into their structure. They wouldn't have gone to the NL Championship Series without Peralta last season.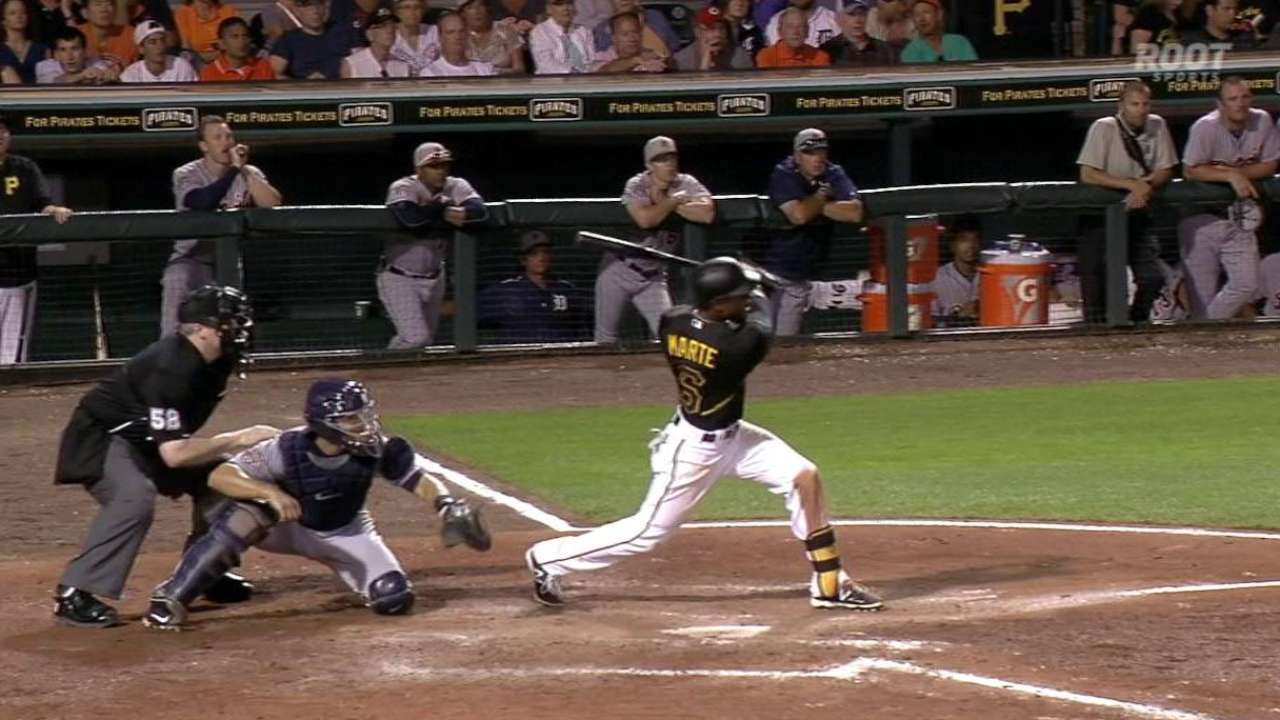 Left field: Starling Marte, Pirates
Marte resides in Andrew McCutchen's long shadow, but he's certainly not lost in it. His all-around game is on display when he fills in for McCutchen in center field, as he did this spring, and his bat is solid enough to give him the call over Cardinals left fielder Matt Holliday. The downside is that Marte has had 211 more strikeouts than walks the past two seasons. He'll be a real stud when he gives away fewer at-bats.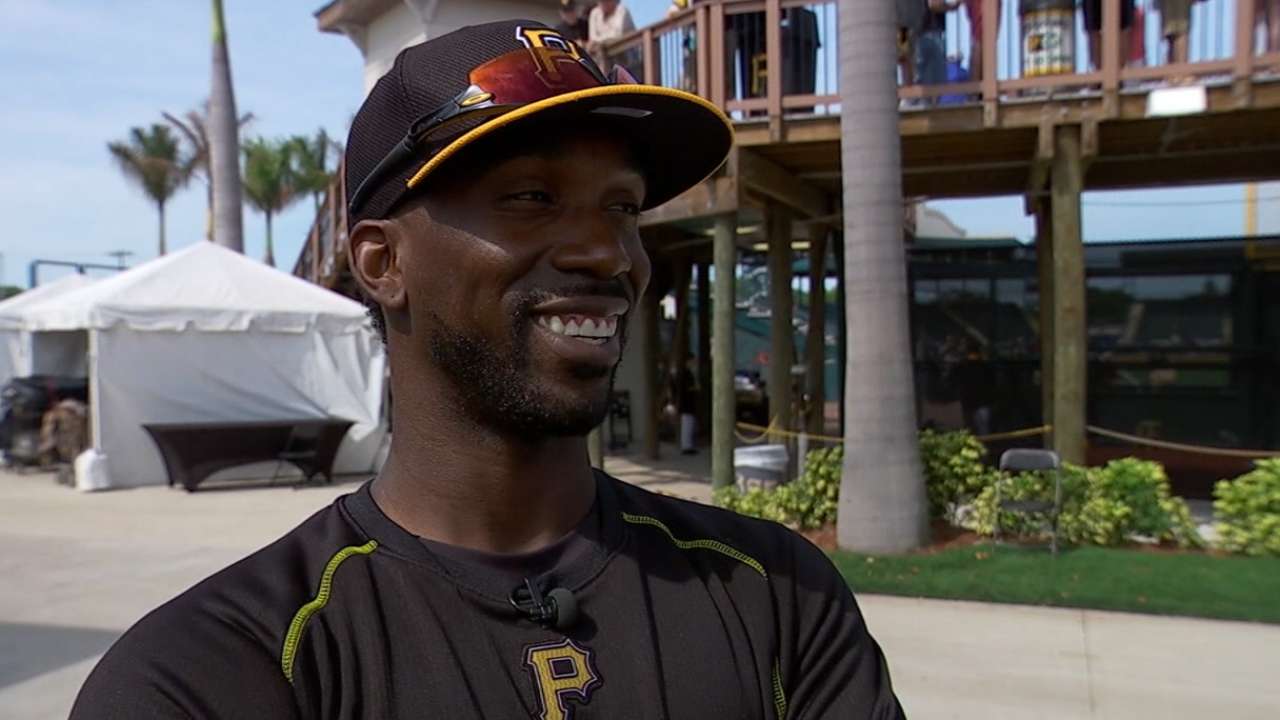 Center field: McCutchen, Pirates
Speaking of real studs … what is there to say about the 2013 NL MVP Award winner, except that he actually had a better season in 2014, when he finished third in the NL MVP Award voting to Clayton Kershaw and Giancarlo Stanton. One concern about McCutchen is the time he missed in Spring Training with what looked suspiciously like a potential issue with a knee.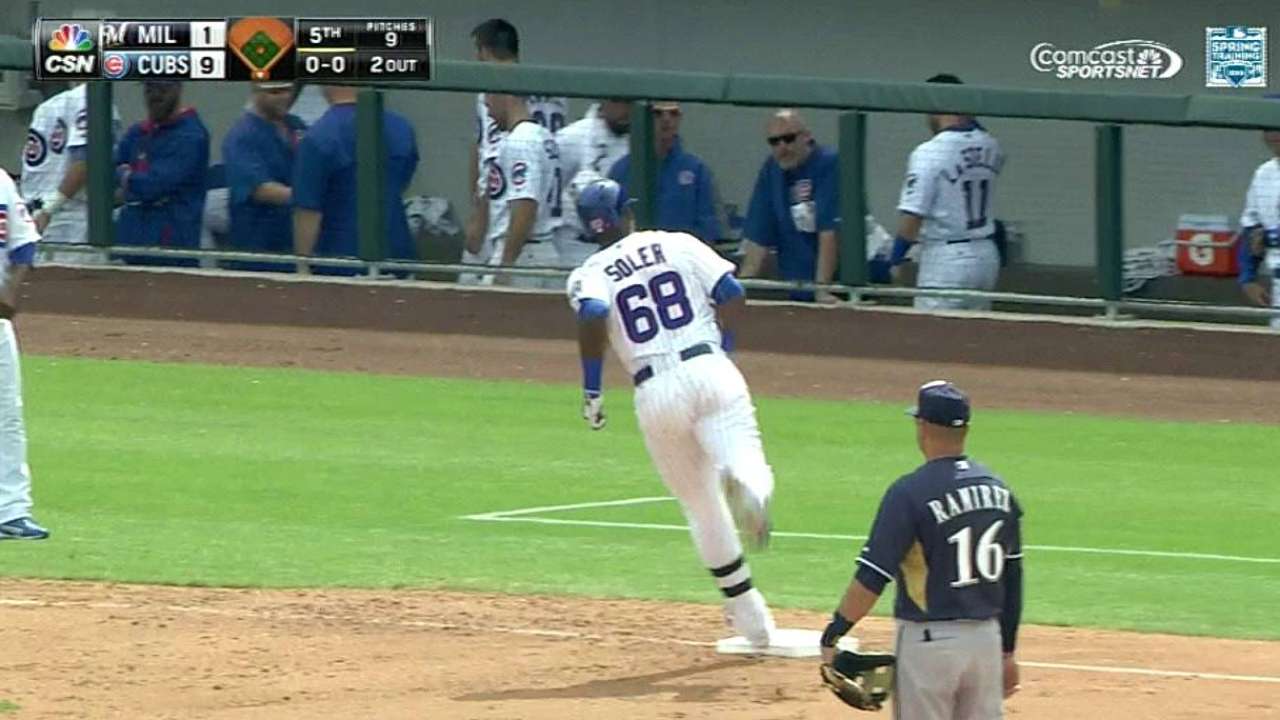 Right field: Soler, Cubs
It's easy to dismiss Soler's .903 OPS in his big league debut as a small sample size but impossible to dismiss Soler when you see him for yourself. The 23-year-old Cuban is a specimen, and he somehow seemed bigger and more athletic this spring than last September. Durability is a question, but Soler will put up NL Rookie of the Year Award-worthy numbers if he gets 500 plate appearances. He'll hit massive homers onto Waveland Avenue (when they don't bang off on the new replay board) and also make highlight-film throws.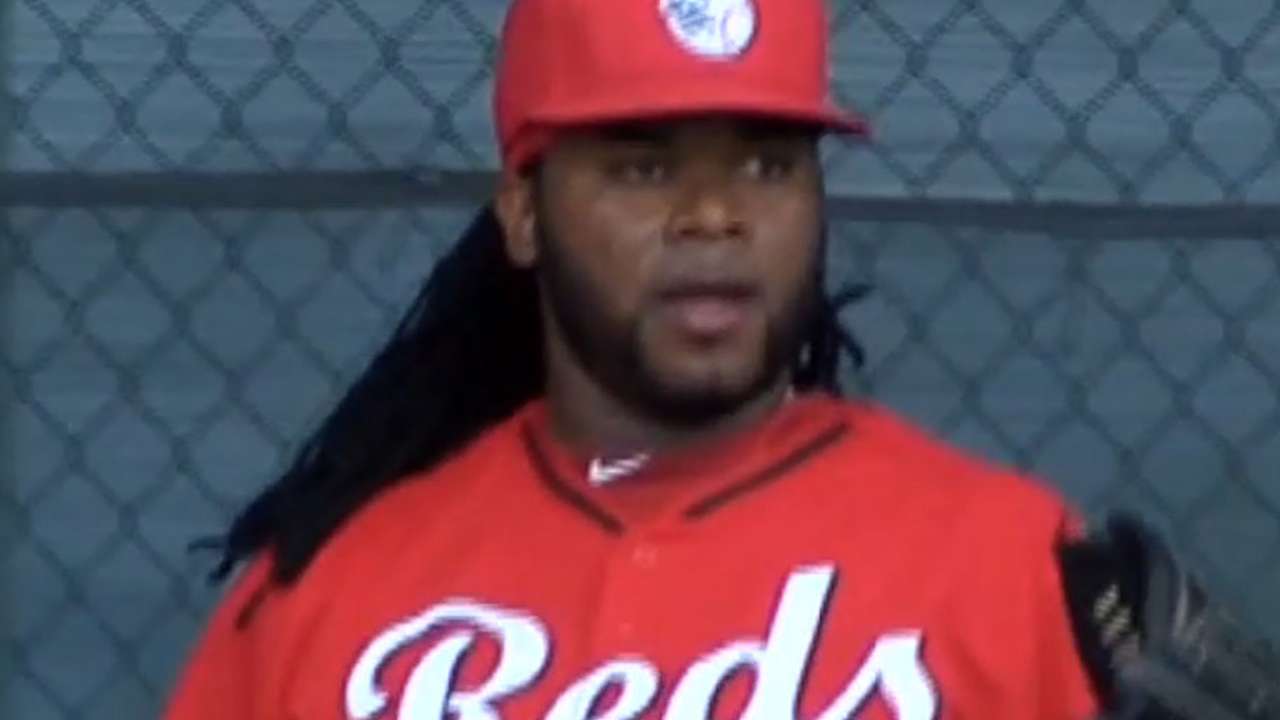 Starting pitcher: Johnny Cueto, Reds
This is a talented man on a mission. Cueto led the NL in innings pitched and was second in ERA last season, and he looks to duplicate that performance in his walk season. He'll pitch at 29 this season, as Max Scherzer did in his run toward free agency, so Cueto wouldn't be delusional to envision a $200 million contract. There will be a major fight for his services if Cincinnati puts him on the market before the non-waiver Trade Deadline on July 31.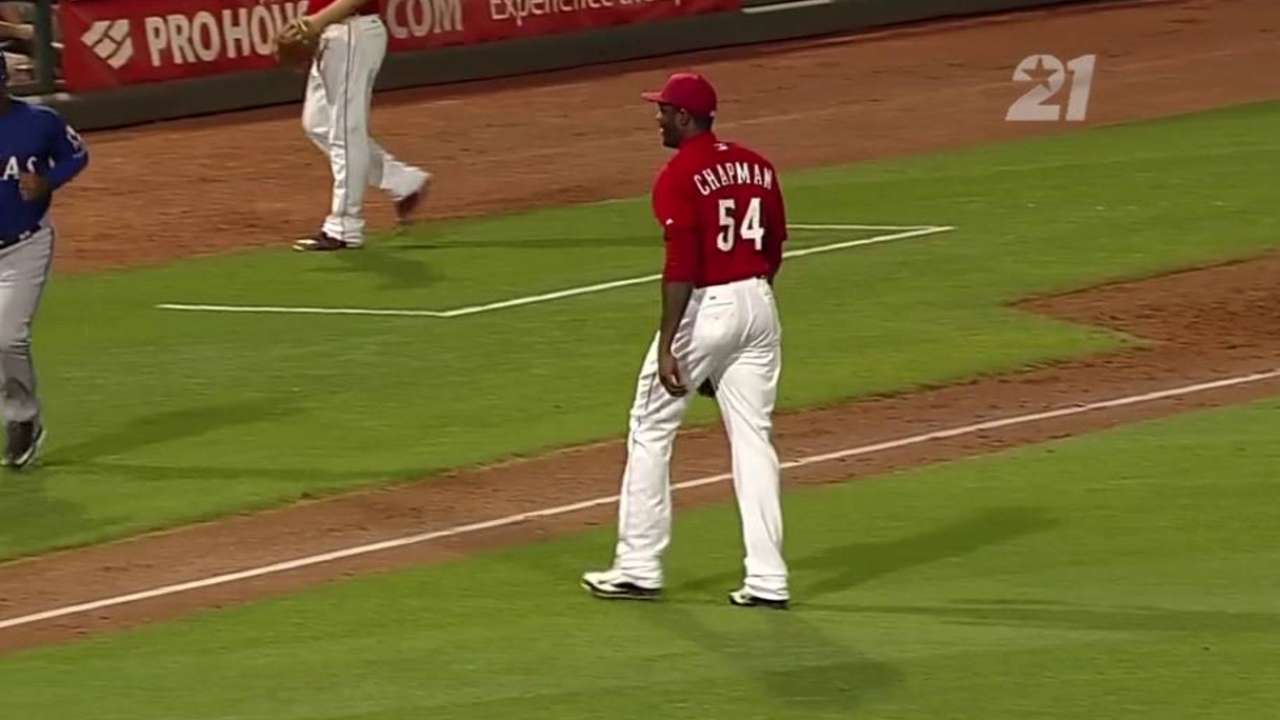 Reliever: Aroldis Chapman, Reds
Word of advice for batters facing Chapman: Prepare to be obliterated. He's the nastiest relief pitcher ever. Period. Exclamation mark. Just check Chapman's performance last season, when a Salvador Perez line drive hit him in the face in March and he rebounded to hold opponents to a .121 batting average while striking out two per inning.
Phil Rogers is a columnist for MLB.com. This story was not subject to the approval of Major League Baseball or its clubs.