Mets highlight Citi Field changes for 2015
Upgraded scoreboard, expanded food menu among ballpark improvements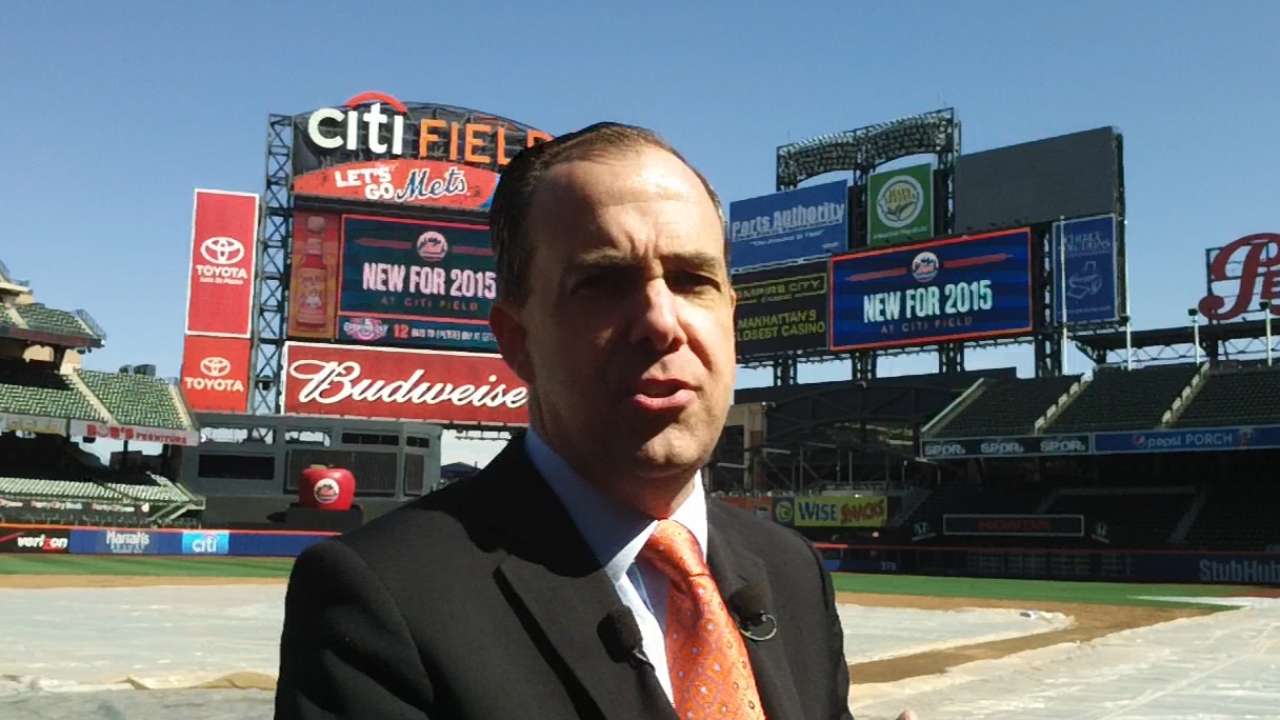 NEW YORK -- There's a massive HD video board in center that commands your attention, along with a new LED board to the left and a digital K-board that harkens back to the Doc Gooden glory days of the 1980s. The walls are closer in right and right-center, to Shea Stadium-like distances. There's even a brand-new exterior marquee board that greets arriving fans.
The wafting aroma of roasted onion jam leads you to the slow-braised black angus short rib grilled cheese pressed by renowned chef Josh Capon ... to Rao's Signature Lemon Chicken basted drumsticks ... to Rustic Frites ... and to the new Shack Stack at the Shake Shack, for starters. Matt Harvey's "Dark Knight" look is ready for the first Free Shirt Friday Night giveaway on April 17, and Jacob deGrom's Garden Gnome is waiting for a Saturday game on May 2. Weekend promos are big.
These were among the highlights as the Mets invited media to an open-house tour to see what's new at Citi Field for 2015. The Mets are expecting the largest crowd in Citi Field history for the home opener on April 13, and ticket sales are up about 23 percent to date.
"Demand has been exceptional this year, especially for the opener," said Lou DePaoli, the Mets' executive vice president and chief revenue officer. "There's a lot of excitement on the field, and fans are excited off the field. This tour focused on things we are doing to enhance the fan experience at the ballpark. If we're going to have a lot more fans coming into the ballpark, what can we do to help keep them entertained and provide a better overall fan entertainment experience?"
Here is a look around as the Mets prepare to break camp down in Florida:
Digital Video Displays: Seeing Is Believing
Daktronics gave Citi Field a digital makeover, and it all starts with the giant display up the middle. It is 5,670 square feet, up from 3,500 last year. To the left of it will be a new LED board and strikeout board.
"One of the things fans will see when they come to the ballpark that will have a huge impact is our new scoreboard," DePaoli said. "Not only because it's larger -- it's 62 percent larger -- but it's also the quality of the picture that they're going to see when they get here. The resolution of it is going to be just like their hi-def televisions at home."
New Food: 'A smorgasbord of goodness'
DePaoli did everything he could not to snag a couple of cannolis from the Mama's of Corona vendor during the food tour in the Delta Club.
"It's dangerous to walk around in here, let me tell you," he said. "When you're at a ballgame, at least you have to walk around to get it. Just put it all in here, right now. It's a smorgasbord of goodness."
That pretty well summarizes the menu for 2015. Pressed by Josh Capon and Rao's Specialty Foods are the key new arrivals, but there is more new fare than there is space to mention here. Look through the accompanying photo gallery for the highlights.
Promotions: Shirts and Gnomes
The club is putting the promotional focus again on Free Shirt Fridays, Super Saturdays and Family Sundays. Check here for a complete list of promotions, including a Harvey-designed shirt for the first Friday home game and a deGrom gnome in May.
The Fences: Cozier Outfield
In 2014, the wall distances, from right-center to straightaway right, were 390, 377 and 380 feet. Now they are 380, 370 and 375. Those are now similar to the right-center/right distances at Shea.
"Fans want to see home runs," DePaoli said flatly. "That keeps you entertained. More home runs help you win more games. According to the stats we saw, we would have hit more home runs than our opposition if we had a normal wall."
Mark Newman is enterprise editor of MLB.com. Read and join other baseball fans on his MLB.com community blog. This story was not subject to the approval of Major League Baseball or its clubs.