As Opening Day beckons, Cueto not fretting about future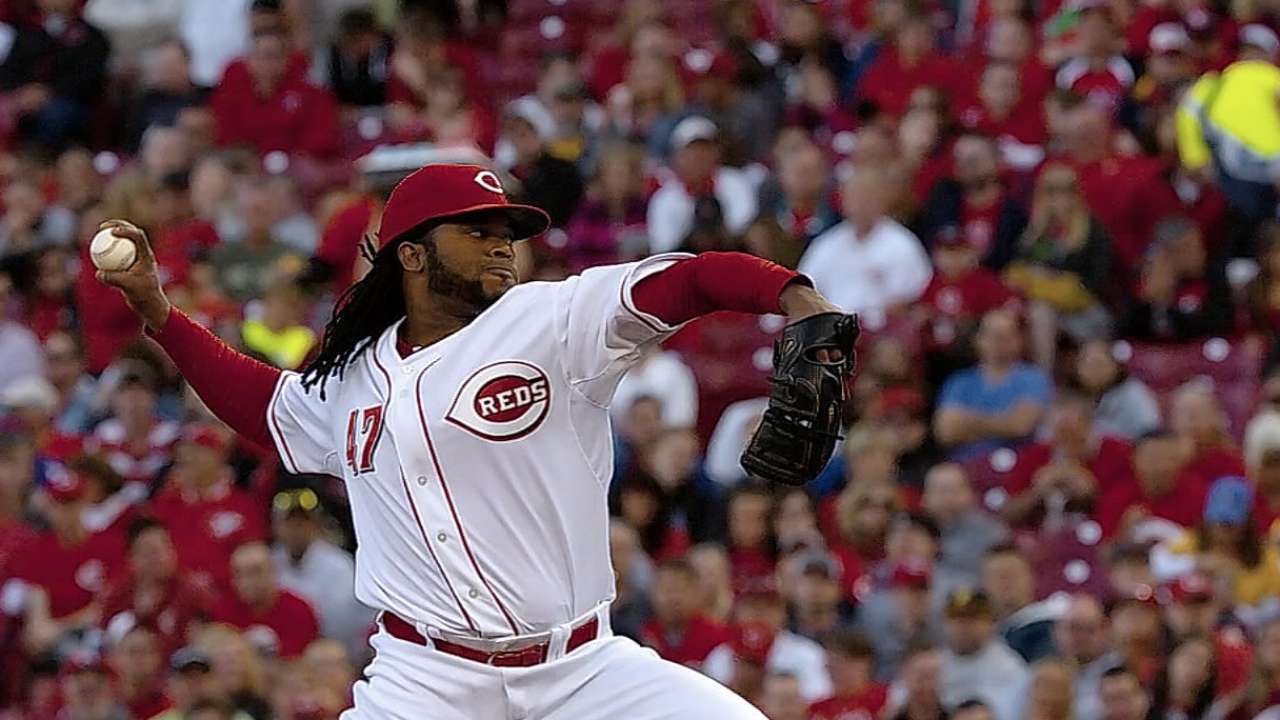 In the days leading up to Opening Day, MLB.com is examining various aspects of each team's roster. Today, the time has come to focus on the Opening Day starter. For the Reds, that's right-hander Johnny Cueto.
GOODYEAR, Ariz. -- While poised to make his fourth consecutive Opening Day start when he pitches for the Reds Monday vs. the Pirates, ace Johnny Cueto could be beginning his final season in Cincinnati.
Cueto can be a free agent after the 2015 season. During the offseason, he set an Opening Day deadline for contract extension negotiations or he would explore the open market after the season. As that Monday deadline nears, there has yet to be serious talks between the two sides.
"I'm going to be honest with you. It's not up to me," said Cueto, with teammate Brayan Pena translating. "It's not a decision I have to make. They're the ones who make that decision. They know I want to be here with my teammates. I want to be here with the fans. I love this organization. This is my team. It's something I cannot control."
Everyone in baseball, and especially in Cincinnati, knew that the chances looked bleak for the Reds to keep Cueto, especially after Jon Lester signed for six years and $155 million with the Cubs, and Max Scherzer signed a seven-year, $210 million contract with the Nationals.
The Reds are already constrained by big-money deals they have done previously with players like Joey Votto, Brandon Phillips and Homer Bailey.
"We're certainly a much better team with Johnny on it," said catcher Devin Mesoraco, who signed a four-year, $28 million contract this winter. "To have him at the top of the rotation where we don't have to worry about that spot when he is in there, it kind of gives the bullpen a little break. We know we're going to get a quality start. He is very nice to have on the mound."
Cueto is the first great homegrown pitcher developed by the Reds in at least a generation. In the 1980s, Tom Browning was the last pitcher to rise through the system and have real success, with Mario Soto being one before that.
Second behind Clayton Kershaw for the National League Cy Young Award last year, Cueto was 20-9 with a 2.25 ERA. He finished first in innings (243 2/3), starts (34) and was tied for first in strikeouts (242). A first-time NL All-Star, he was tied for second in wins, second in ERA and WHIP (0.96).
Over the last five seasons, Cueto's 2.73 ERA is second best among Major League pitchers with at least 130 starts -- once again behind Kershaw. Cueto broke into the big leagues in 2008 and manager Bryan Price first got him in 2010 when he was the pitching coach. He has watched Cueto not only learn what it took to stay in the big leagues, but also to become a great pitcher.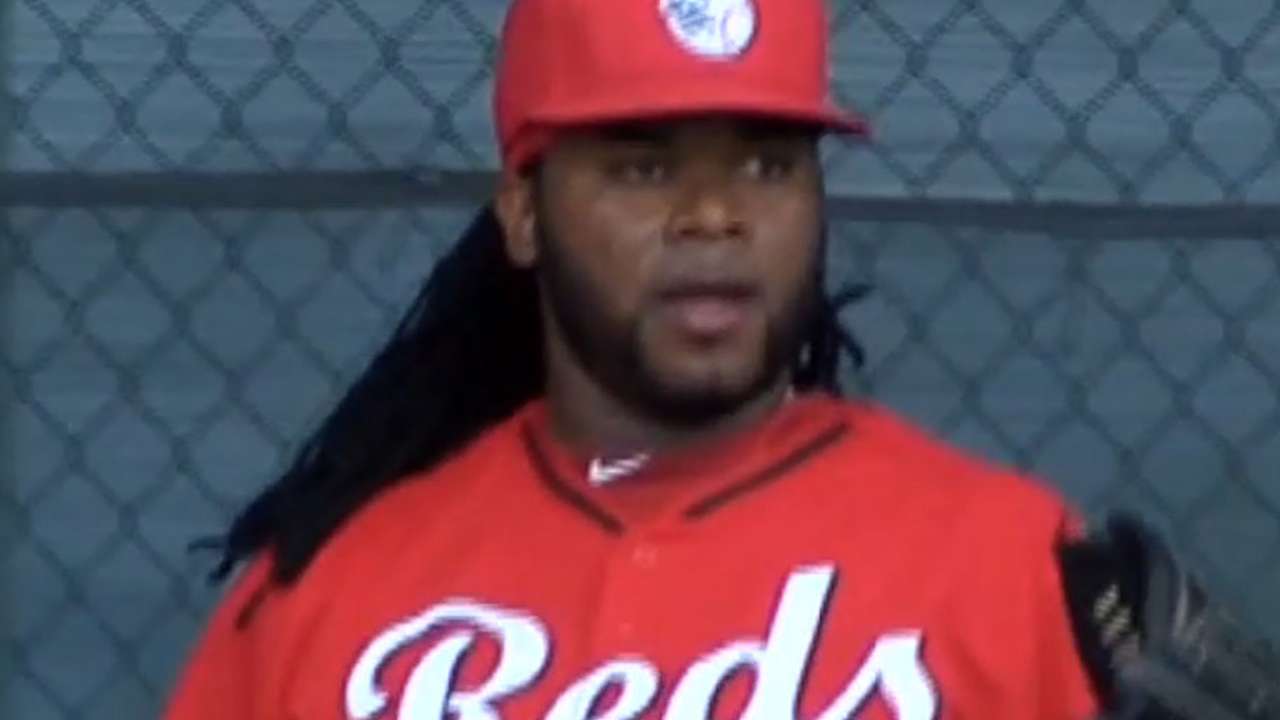 "I think it's been a process for Johnny that every year he's accepted more responsibility," Price said. "Every year he's found a way to work harder and more diligently. The other part has been his mental growth as far as evolving. I don't think it's taught. It's an inherent ability to just see where the out is and be able to find the out -- speed, location and shape of pitch. I just think Johnny has that inherent ability to do that."
"The first thing about Johnny is he is an unbelievable competitor," Mesoraco said. "Then you kind of put everything he can do out on the mound. He's great at controlling the running game. He can throw five or six different pitches to both sides of the plate. Then, he has unbelievable stuff. … He's a great combination of somebody that can do, really, everything on the mound."
Signed as an 18-year-old by the Reds in 2004 out of the Dominican Republic, Cueto only knows one organization. When he takes the mound on Monday, he won't be thinking about the possibility that it's his last Opening Day with this team.
"I'm thinking like I'm going to be here forever. Right now, I am a Red," Cueto said. "I don't know what's going to happen tomorrow. I thank God because God keeps me healthy. He'll continue to give me the opportunity to stay healthy. I don't know what will happen after the season. That's something that's too far away from me right now. I am a Red. I am very happy to be a Red."
Mark Sheldon is a reporter for MLB.com. Read his blog, Mark My Word, and follow him on Twitter @m_sheldon. This story was not subject to the approval of Major League Baseball or its clubs.