Sale remains on track for April 12 season debut
White Sox ace dominant in Minor League outing, feels 'really good'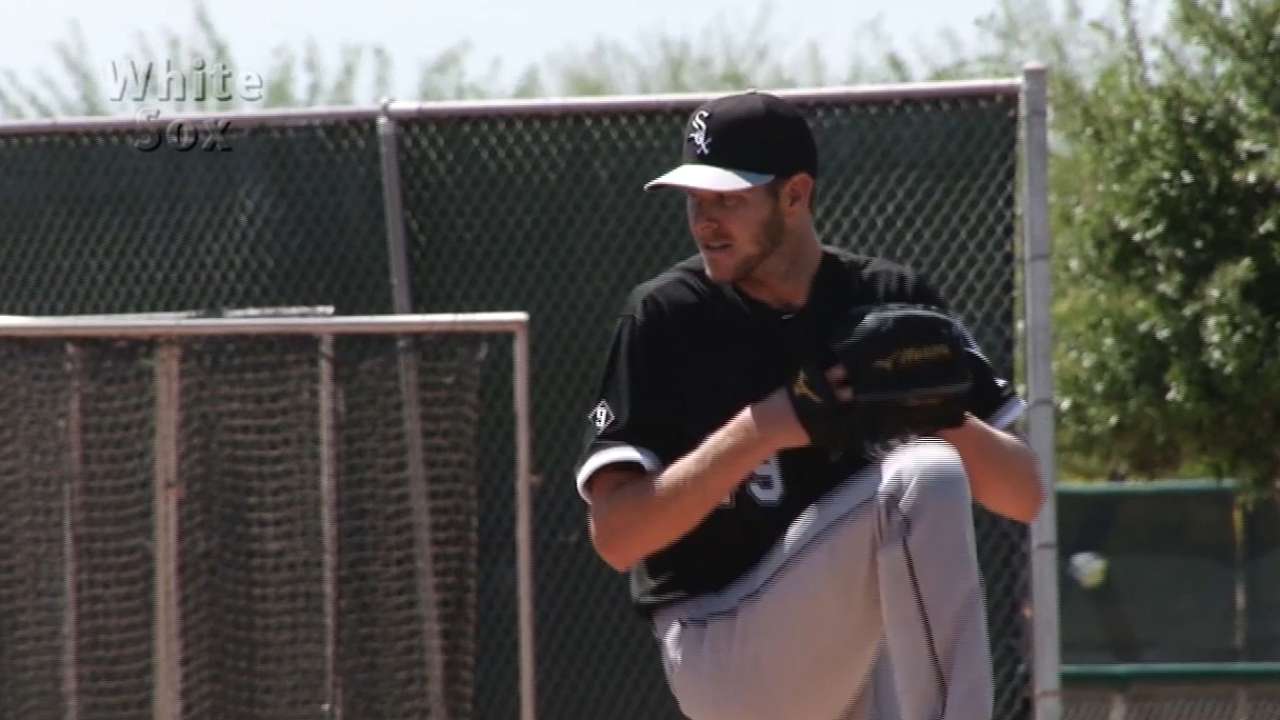 GLENDALE, Ariz. -- It was not exactly a comfortable afternoon for the Reds' Class A Minor Leaguers, who had to face Chris Sale and his full arsenal of pitching weapons Wednesday on a back field at Camelback Ranch. And that lack of comfort is a good sign for the left-handed ace and everyone throughout the White Sox organization.
Sale threw 90 pitches over six-plus innings, 67 for strikes. He yielded one run on an opposite-field homer, didn't walk a batter and struck out 13. An April 12 return to the mound at U.S. Cellular Field looks more and more likely, with the best-case scenario coming out of the worst-case scenario involving the right foot avulsion fracture Sale suffered Feb. 27 at his Arizona home.
"I felt really good. It was nice to get back on the mound and do what I am supposed to do, honestly," Sale told reporters. "Stinks being on rehab the whole time so it was nice to be a pitcher again and be in a game situation.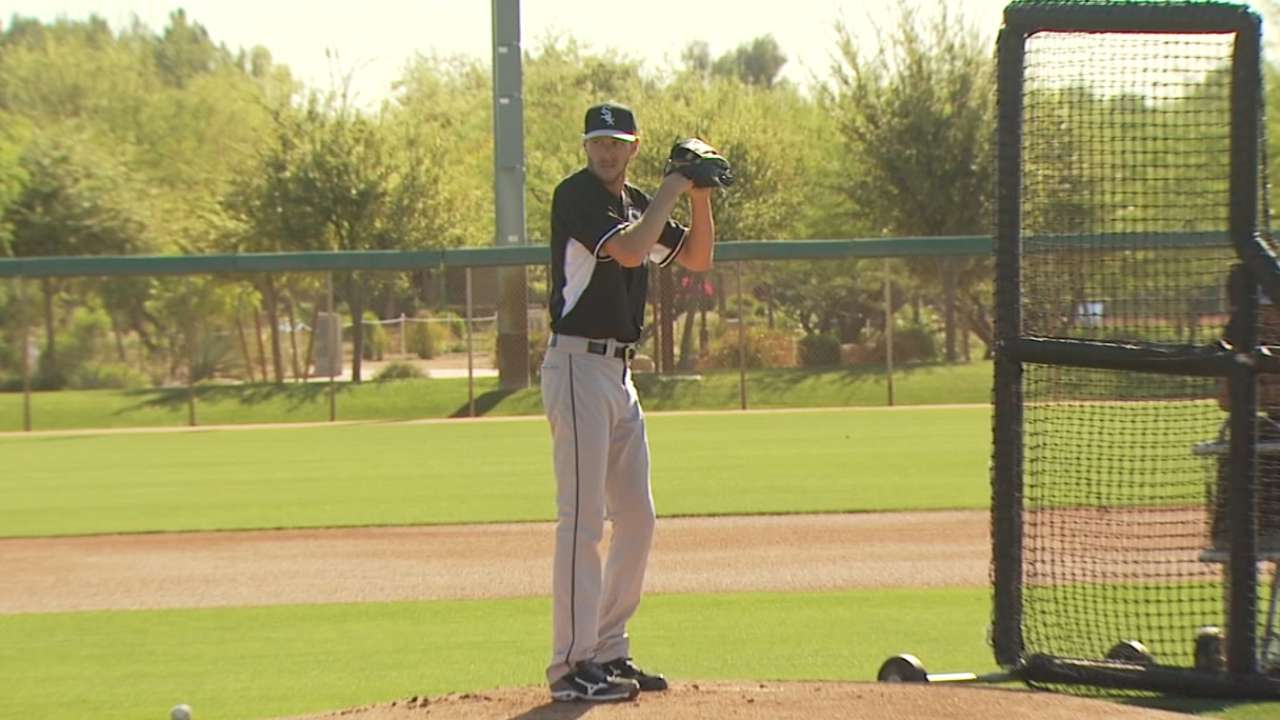 "My breaking ball was kind of [lousy] today. I left it up a lot arm side, probably because I was rushing a little bit. But other than that, everything felt fine."
The main recovery concerns at this point for Sale center on his lateral movement, making cuts on the field and covering his position. He only made one break to first Wednesday, but didn't factor in the play.
There will be another test for Sale on Monday in a start in Arizona, and if all goes well with a pitch count of about 100, he'll rejoin the White Sox after that effort. Sale will miss the opener in Kansas City, which would have been his third straight Opening Day start, but the goal is to get him as healthy and prepared as possible to not risk further injury stemming from the fracture.
"Obviously I wish I could be there, but things pop up and I'll take the ball when they give it to me," Sale sad. "Everything has been progressing great. I feel like I can get back to normal. I feel like I'm back to I want to say six innings, 90 pitches, so I'm building back up and should be ready to go when they need me."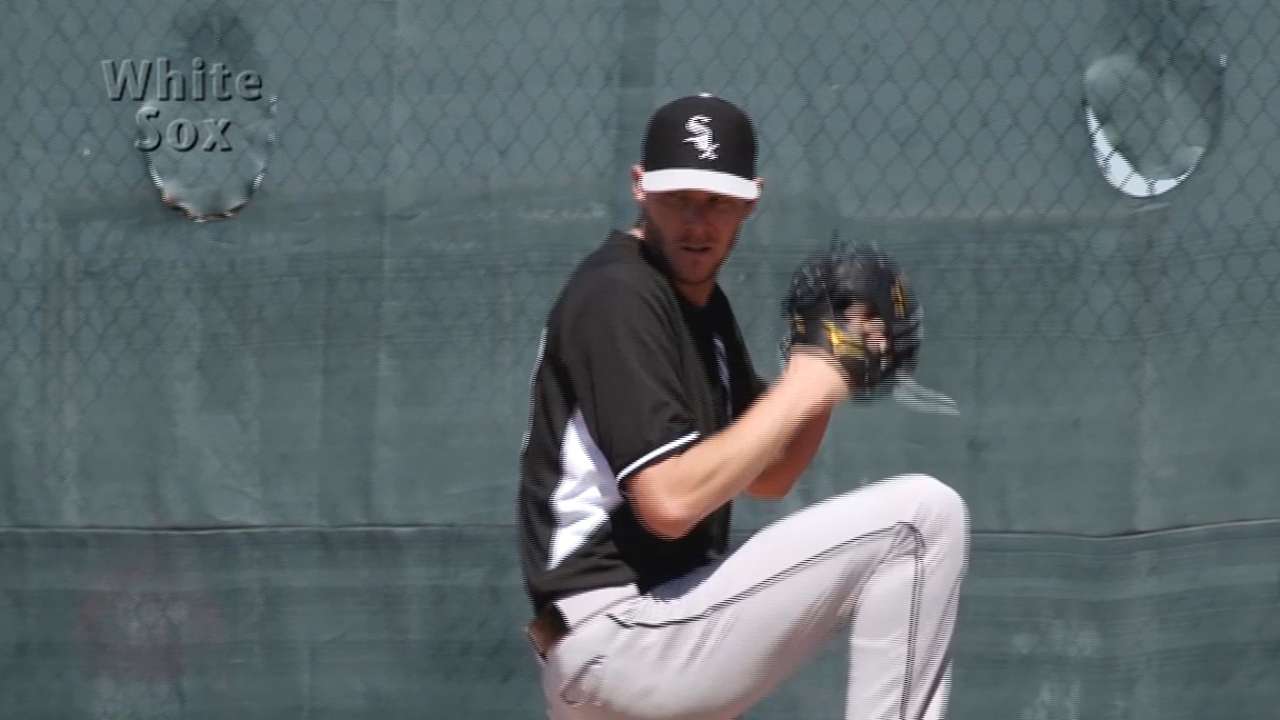 Pitching in a game atmosphere allowed Sale to amp it up a bit from previous bullpen sessions. His White Sox teammates are waiting for him to do the same in regular-season contests.
"Sure we need that guy. When you look at these seasons and you see teams add pieces and people try and predict what's going to happen, the one thing you need is 25 studs," said Jeff Samardzija, who will start Opening Day in Kansas City. "I think we have that. To only have 24 studs minus Chris would not be the ideal situation.
"To have him coming and get him into the rotation, that's a big thing, too. We've kind of seen different guys in that slot, so once we get situated and rolling and we just see one guy after another going out there and dominating, then we can get in that rhythm as a staff. We need that guy. We need him to be ready and be healthy."
Scott Merkin is a reporter for MLB.com. Read his blog, Merk's Works, and follow him on Twitter @scottmerkin. This story was not subject to the approval of Major League Baseball or its clubs.