On or off the field, Lester wants to win
Ace lefty to open Cubs' season on Sunday night vs. Cardinals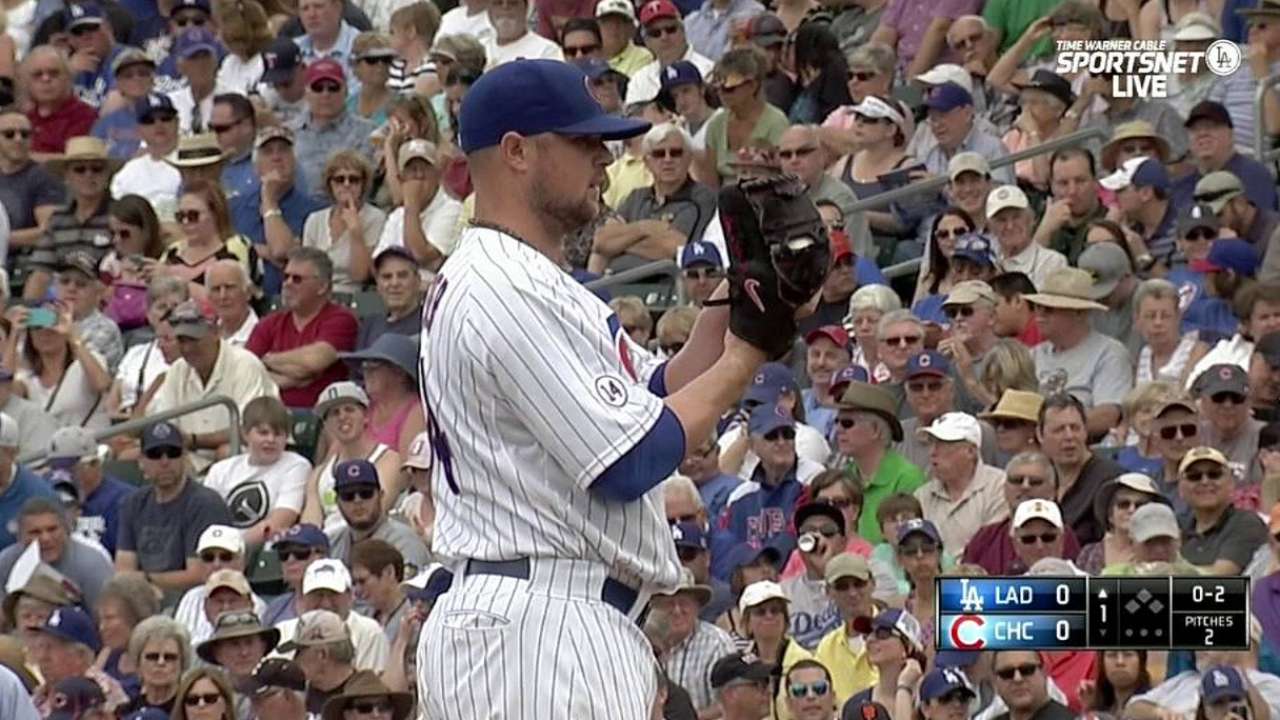 In the days leading up to Opening Day, MLB.com is examining various aspects of each team's roster. Today, the time has come to focus on the Opening Day starter. For the Cubs, that's left-hander Jon Lester.
MESA, Ariz. -- During a Minor League game at the Cubs' complex, anyone within earshot of Jon Lester could hear him cuss after a pitch that missed. He did it a few times. Lester is serious about pitching. But on the golf course or in the dugout or with his teammates in private, the left-hander is completely different.
"At the field, he's business," Cubs pitcher Jason Hammel said of Lester. "When he's not working, it's pretty much all about fun. Obviously, you aren't in the dugout with us, but during games, he's hilarious. He's watching the game, but he knows how to keep it light. He's been around long enough to know you have to have some kind of quirkiness to get through the season. You get a bunch of different characters on a team."
And Lester is different. It's not his preference for camouflage -- he has camo spikes and purchased a camo-colored cart for the starting pitchers -- or the fact that he has the biggest contract in Cubs history at six years, $155 million. Lester is a professional pitcher who likes to have fun.
"He's a lot less rigid than he looks when he's pitching," Hammel said.
Keeping that business-like approach is probably what has made the left-hander so successful. Lester, who will make his Cubs debut on Sunday, is tied for 13th among active pitchers in WAR with the Cardinals' Adam Wainwright, who will be starting on Opening Night on ESPN2 at 7 p.m. CT, as well. A three-time All-Star and a two-time World Series champion, Lester has a career 3.58 ERA, has totaled 200-plus innings in six of the past seven seasons and has finished fourth in the American League Cy Young Award voting twice.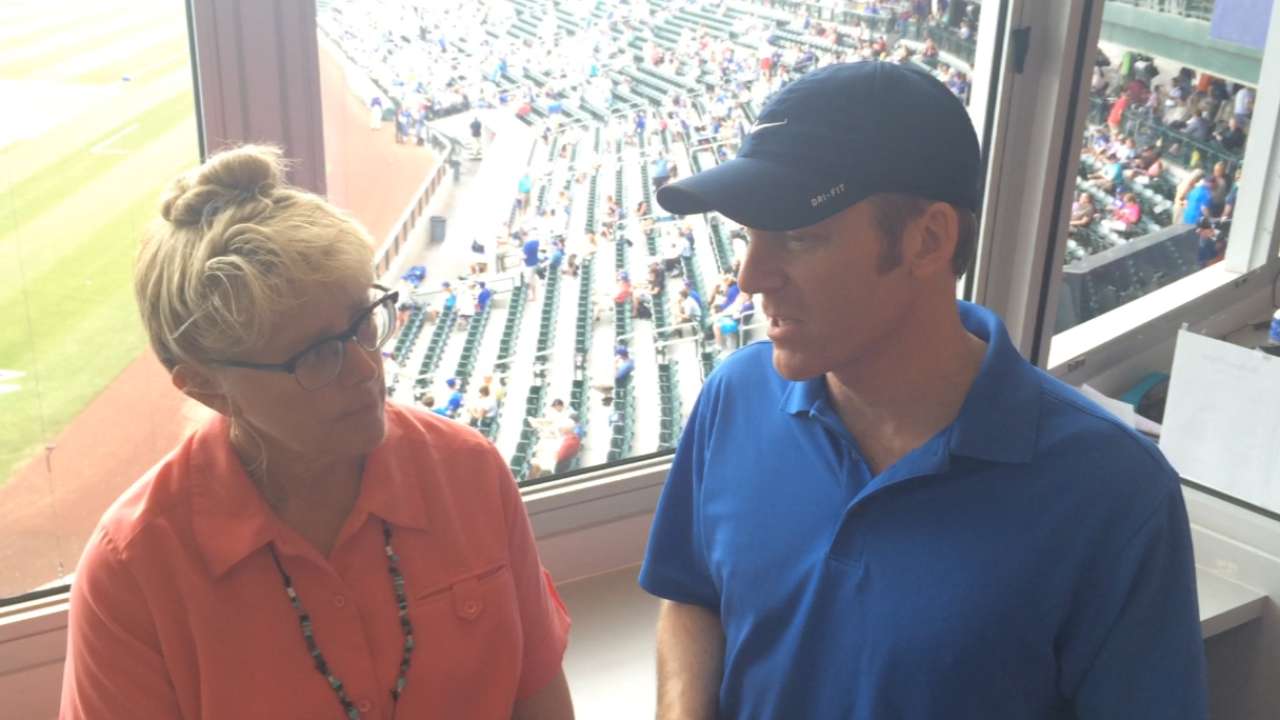 "That guy's a competitor," said David Ross, who was Lester's teammate in Boston and who the Cubs signed after acquiring the lefty. He'll likely be Lester's personal catcher. "I'll take that guy any game, any time, no matter if he hasn't picked up a ball in two months."
Lester's first spring in Arizona didn't provide him with the fishing spots he was used to in Florida, but there was time for golf. It should come as no surprise that in his first round of the year in February, Lester shot a hole-in-one.
"He'll be the first to tell you it was a perfect mistake," Hammel said.
"I know [the ball] went in, but I missed it by 20 yards and it just kicked dead left and rolled in," Lester said of the shot on the seventh hole at Estancia. "It's not how you draw it up, but it went in."
It could be a sign. Lester, 31, finds himself the anchor on the Cubs' pitching staff and a huge reason for the shift in optimism in camp.
"I don't know if I've met a more sincere player than he is," Cubs manager Joe Maddon said. "He's all about winning, period."
The only glitch was that Lester's schedule was interrupted by a tired arm that prompted the Cubs to scratch him from a March 21 Cactus League start. He then pitched in Minor League games as preparation for the opener, which will be only his second career start at Wrigley Field. Lester's other came June 16, 2012, with the Red Sox. Naturally, he got the win.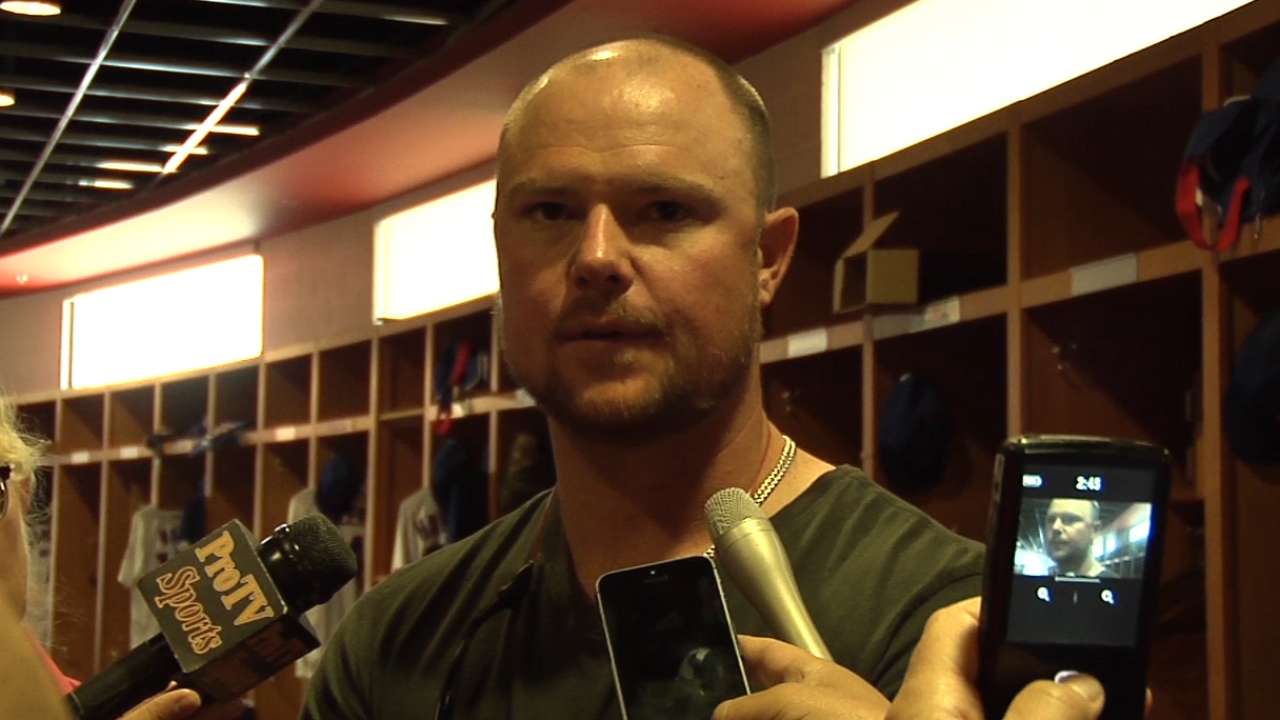 Lester thrives on routine as far as his preparation, which he hopes will help him deal with all the firsts this year.
"Any time there's change, there's that added excitement," Lester said. "Everything's new -- you're in a new ballpark, new surroundings. I've spent two months with these guys, but it's still a new team. There's going to be added adrenaline, added excitement. We'll be starting a new season.
"For me, it's always been try to fall back on my routine. I throw the same bullpen, I throw the same warmup pitches, I do everything the same to combat the emotions getting too far out of hand. Once we get past that first pitch, it's business as usual."
Lester made quite an impression on Maddon during his third and last Cactus League start on March 16. The Padres roughed up the lefty, and catcher Welington Castillo went over to Lester in the dugout to apologize.
"Jon Lester would not permit Welly to take blame for any of his shortcomings," Maddon said. "This was so refreshing and good, this is so awesome, that your guy is that accountable and that your guy gets it. ... I could not be more proud of a player on my team."
The Cubs hope that professionalism permeates through the rest of the roster. There's just one thing missing from Lester's resume. He is 0-for-41 lifetime at the plate, counting regular-season and postseason games. This spring, he did not get a single at-bat in a game.
"They're hiding me in the weeds -- silent attack," Lester said.
He's been working on it.
"In the American League, it was basically, 'Don't get hurt,'" Lester said. "I'd maybe get four at-bats a year, and don't get hurt. Now I've probably taken more [batting practice] than I have my entire time in Boston. It's just another thing we have to prepare for. I'll be prepared for it."
There's no doubt he will be.
Carrie Muskat is a reporter for MLB.com. She writes a blog, Muskat Ramblings, and you can follow her on Twitter @CarrieMuskat. This story was not subject to the approval of Major League Baseball or its clubs.