Refsnyder in line to break camp with Yanks?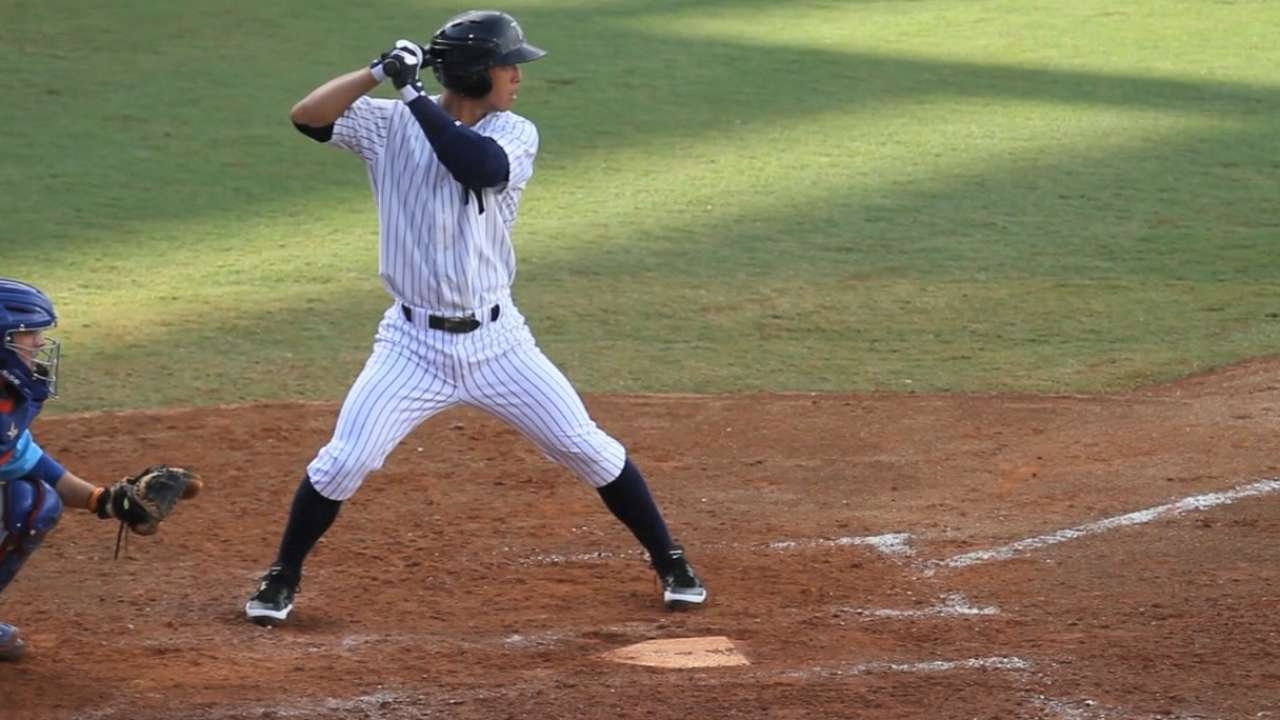 TAMPA, Fla. -- The Yankees tried to splash cold water on their expectations for Rob Refsnyder this spring, offering not-so-subtle reminders that all of their available position player spots were already guaranteed and there was little chance of the prospect heading north as a big leaguer.
Yet as Brendan Ryan limped off the field Wednesday with a right calf strain that is expected to send him to the disabled list, Refsnyder had to recognize that a window of opportunity might be opening. The Yanks' No. 5 prospect according to MLB.com, Refsnyder's name is one that will be mentioned often in internal meetings.
"I can't really control any of those situations. I really don't know," Refsnyder said. "I'm just going about my business, trying to get in rhythm for the season."
Refsnyder has lived up to his billing as an enticing prospect at the plate this spring, batting .333 (13-for-39) with a homer and five RBIs in 23 games. Any issues have come in the field, where Refsnyder has shown a need for polish at second base -- his six errors lead all big leaguers this spring.
"I wish I could have played better on all sides of the ball, but I'm happy with where my work is right now," Refsnyder said. "Hopefully it translates in the game a little bit more in the season."
Yankees manager Joe Girardi said that because Didi Gregorius and Stephen Drew are both healthy, it presents the opportunity to add a second baseman and use Drew as Gregorius' backup. Jose Pirela would have had the inside track to break camp with the club, but he has not played since March 22 due to a concussion.
In addition to Refsnyder, the Yankees also have non-roster infielders Cole Figueroa and Nick Noonan in camp. Girardi said that he was preparing to have some "long discussions" on Wednesday afternoon to regroup, and while Figueroa and Noonan have done well in utility roles, Girardi said that he expected Refsnyder to be a part of the conversation.
"He's played pretty well," Girardi said. "The young man, I think, has continually improved. He's a name that I'm sure is going to fly around a lot today."
Drafted as an outfielder, Refsnyder has been playing second base since 2013. Girardi said that playing good defense is important, but he has seen progress in the 24-year-old's work with infield coach Joe Espada.
"It's encouraging to see how far I've come since 2013, and they've said some really nice things," Refsnyder said. "I definitely think I've got a future at second base. I love being part of this organization. A lot of people have helped me out along the way. I'm super fortunate."
Refsnyder said that he was not discouraged by the Yankees' statements earlier in camp that indicated he was likely to begin the year at Triple-A.
"Coming into camp, I was 23, I'm 24 now, and I'm playing with some of the best players in the entire world -- some of the best guys," Refsnyder said. "It's definitely not discouraging. Every day you can learn and get better from all these guys."
Bryan Hoch is a reporter for MLB.com. Follow him on Twitter @bryanhoch and read his MLBlog, Bombers Beat. This story was not subject to the approval of Major League Baseball or its clubs.