Last Call: Perez headed to Minors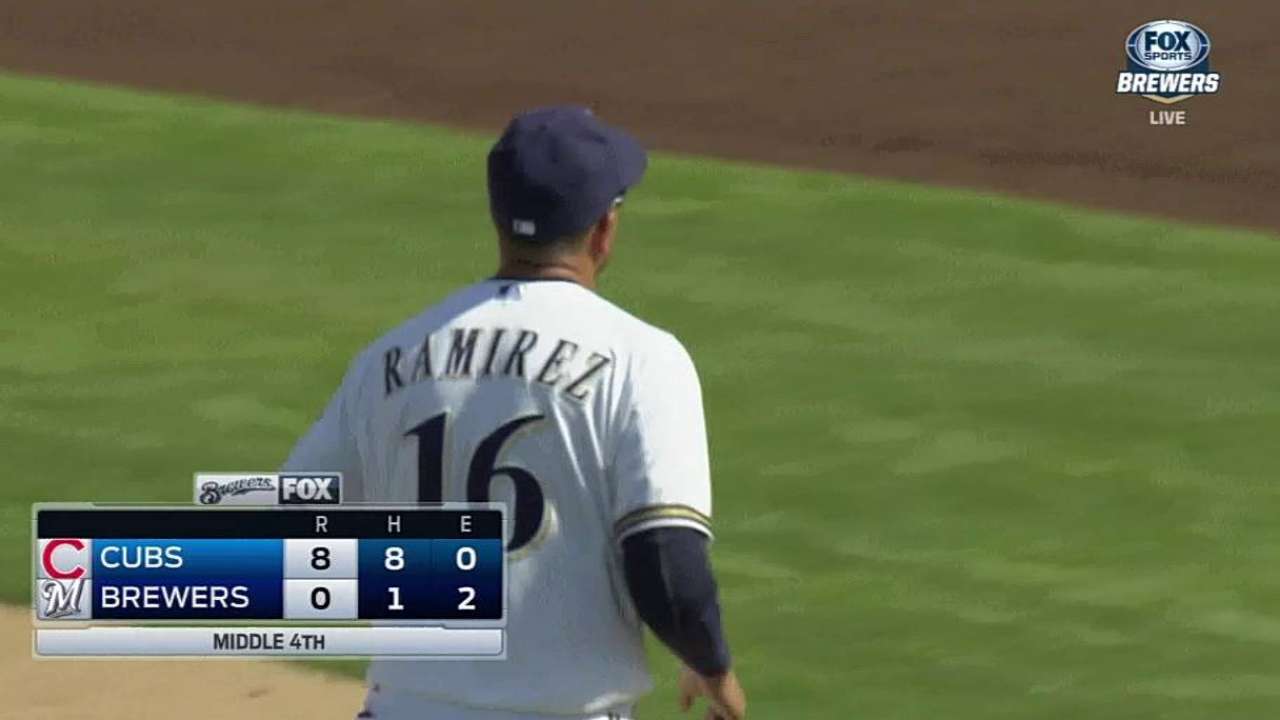 PHOENIX -- Last Call is a spot for all the notes and anecdotes from Brewers camp that didn't find a home elsewhere on the site. Today: Perez returns.
Chris Perez has not started a season in the Minor Leagues since 2009, when he was still an up-and-comer with the Cardinals. But the reliever will head to Triple-A Colorado Springs in an effort to make it back to the Brewers.
"It's still a good opportunity for me here," said Perez, who was released Sunday, then re-signed Tuesday after agent Nez Balelo called around and found no takers. "I feel like I've put myself in position to be one of the first guys up."
Perez had a 2.70 ERA and held opposing hitters to a .216 average in his 10 Cactus League appearances. He didn't make the Opening Day roster because the Brewers coveted "length" instead, and went with the more stretched-out Michael Blazek and Tyler Thornburg for the final two spots.
Perez said the Brewers offered him the chance to be Colorado Springs' closer, but he turned it down and asked to pitch earlier innings instead, sometimes more than one inning at a time, "because that's how you're going to use me if I get called up." Besides May 1 and June 1 "out" dates, he said he has a gentleman's agreement with general manager Doug Melvin that if another club needs Perez in the Major Leagues, the Brewers will let him go.
"So 29 other teams are watching me, too," he said.
• Ryan Braun has a tight hamstring and did not play against the Cubs on Wednesday, but manager Ron Roenicke characterized the issue as very minor.
• A strange sight at Maryvale Baseball Park on Wednesday: the Minor League complex was empty. Players took a break from camp while farm director Reid Nichols and other officials met to work through roster decisions for the various affiliates.
There are some difficult decisions, particularly on the pitching side. Colorado Springs, for example, has too many relievers and too few starters. Roenicke acknowledged the team could find itself short of starting pitchers should something happen to one of the Major League starting pitchers.
• Speaking of the Minor Leagues, Brewers center fielder Carlos Gomez treated Brewers Latin American prospects to dinner on Tuesday.
"Great dinner tonight with all the prospects from the Brewers organization," Gomez wrote on Instagram. "Just like Pedro Martinez, Jose Lima and [Jose Reyes] did with me 10 years ago, it only felt right to give them some support and motivation to keep striving for greatness. People only see the nice things but don't really know the sacrifice these guys make, leaving family and loved ones behind and coming to a new place with so many barriers to break. I know because I went through it myself. I wish them all the best and hope to see them on the big stage one day!!"
Adam McCalvy is a reporter for MLB.com. Read his blog, Brew Beat, and follow him on Twitter at @AdamMcCalvy. This story was not subject to the approval of Major League Baseball or its clubs.