Offseason work gives H. Gomez shot at 1st Opening Day
Training with Cano credited for infielder's emergence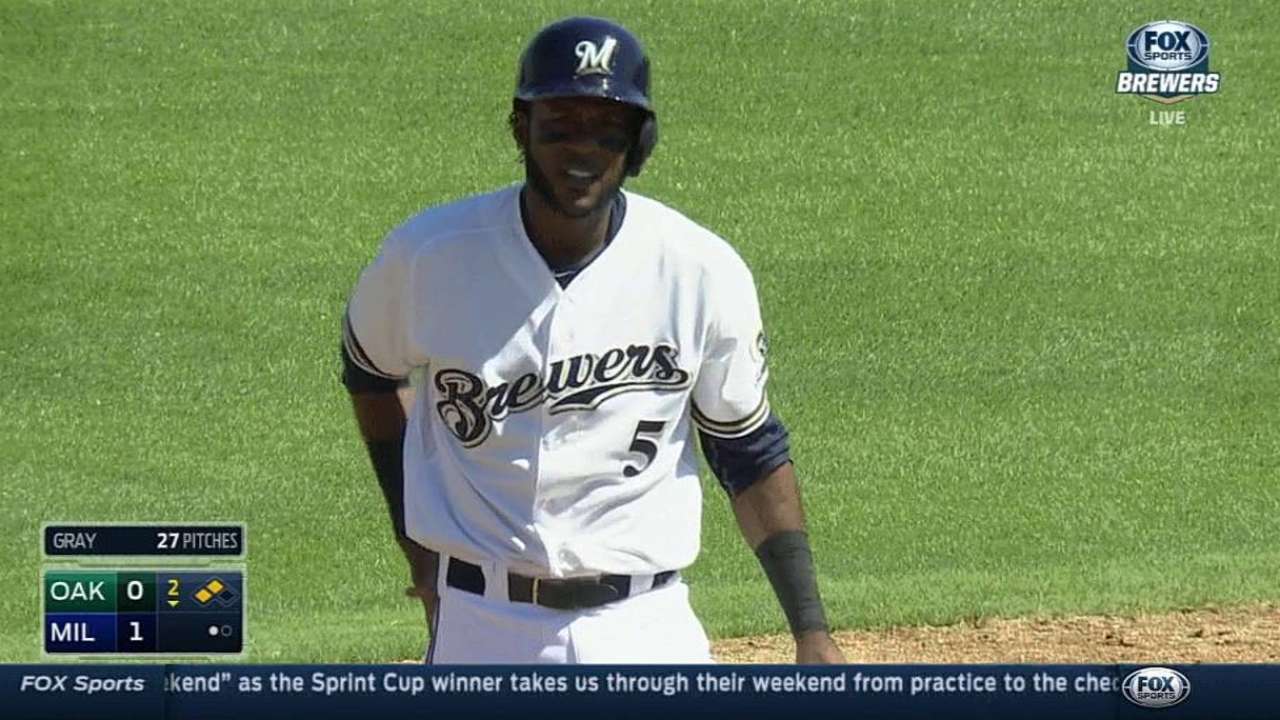 MESA, Ariz. -- It won't be official until he steps to the foul line at Miller Park, but 27-year-old Brewers infielder Hector Gomez was basking in the prospect of his first big league Opening Day on Wednesday. The day before, a series of roster moves nearly guaranteed he'll make the cut.
Gomez credited pre-Spring Training work at a facility in the Dominican Republic operated by Mariners second baseman Robinson Cano. Every Monday through Friday from early January until the late February day he departed for Phoenix, from 6:30 a.m. until dusk, Gomez worked with the likes of Cano, Albert Pujols, Edwin Encarnacion and teammate Jean Segura on preparing to audition for a roster spot with the Brewers.
"[Cano] has a big complex, more than 25 players there every day," Gomez said. "I said, 'Robby, I want to work.' He helped me. We would be on the field in the morning, then go to the gym, then back on the field in the afternoon.
"I was ready for this moment. I'm ready for Opening Day. I've watched on TV, and I want to be there. I want to feel that. I'm close."
Barring an outside acquisition in the coming days, Gomez will serve as the primary backup to starting shortstop Segura, and could also help out at second base and third. At Cano's complex, Gomez got extra work at his secondary positions. That continued this spring with infield instructor Mike Guerrero.
At the moment, it appears the Brewers will have four players on their first Opening Day roster in the Major Leagues: Gomez, reliever Michael Blazek, infielder Luis Jimenez and starter Jimmy Nelson.
"I don't think I'll believe it until I get up there and experience it for the first time," said Blazek, who won a bullpen job with a strong Spring Training. "It's an opportunity for me. That's all I'm thinking of."
Said Jimenez: "It's the big leagues. It's The Show. Any time you're there, it's the best time of your life."
Both Gomez and Jimenez indicated they had not been given any assurances from Brewers coaches or front-office officials, but Blazek and Tyler Thornburg had been advised they were tentatively ticketed for Milwaukee. That's because the pitching staff was all but set by a series of roster moves on Tuesday, while one bench position remained up for grabs.
Assuming Gomez and Jimenez each make it, that spot is between outfielder Logan Schafer and non-roster utility man Elian Herrera.
The Brewers are also open to an outside acquisition if it makes sense.
"It's not out of the question. It's never out of the question," manager Ron Roenicke said. "There's nothing there right now that I know if. But there can be something. [General manager] Doug [Melvin] has already come to me with names. … In most cases, no, they don't make us better."
Adam McCalvy is a reporter for MLB.com. Follow him on Twitter at @AdamMcCalvy. This story was not subject to the approval of Major League Baseball or its clubs.