Benson seizing opportunity to claim Braves bench spot
Center fielder's recent spring success makes him fitting candidate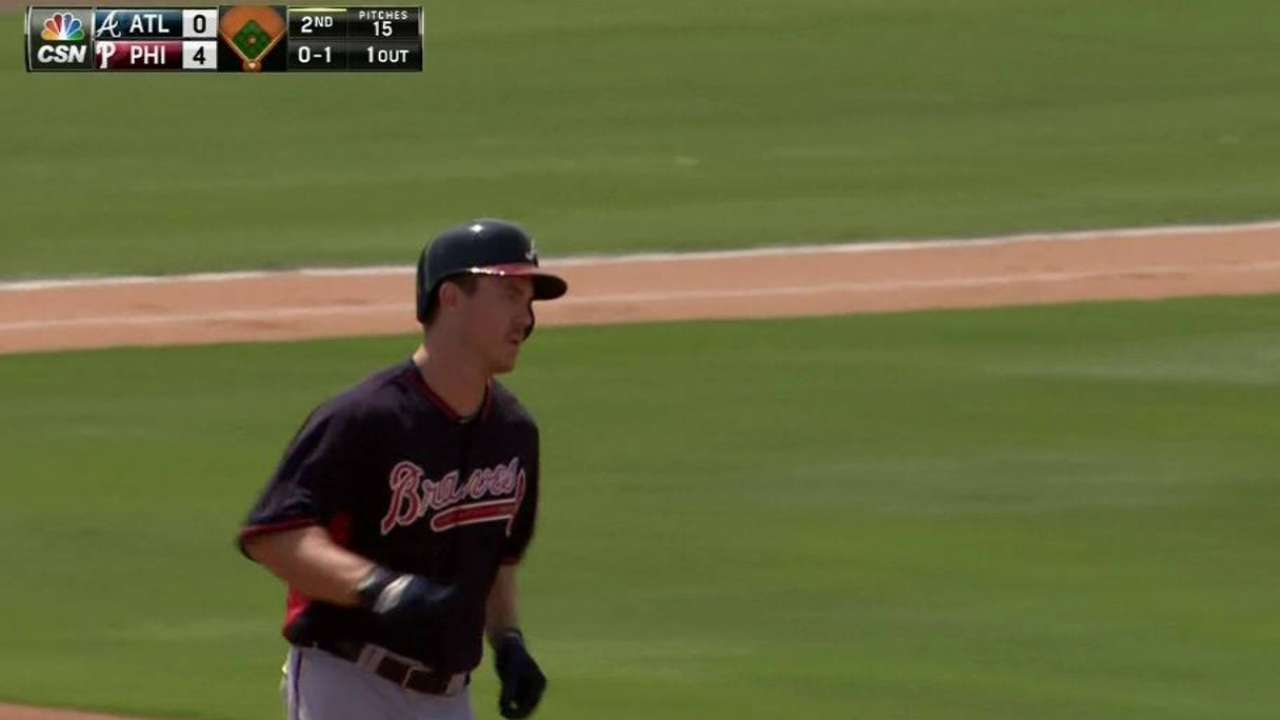 CLEARWATER, Fla. -- Over the past couple weeks, Joe Benson was primarily recognized as the guy who had the misfortune of being hit in the head by a Craig Kimbrel fastball during an intrasquad Minor League game. But if Benson continues to make the most of his unexpected opportunity, he is going to have a much more interesting story to tell.
Benson has never been a part of the Braves' Major League camp until this week. But with Opening Day less than a week away, the 27-year-old outfielder suddenly finds himself as a legit candidate to begin the season as a member of Atlanta's bench.
Given a chance to enhance his candidacy by starting in center field during Thursday's 9-2 loss to the Phillies, Benson drilled a second-inning opposite-field home run off Cole Hamels and then flew out to deep center two innings later against the accomplished southpaw.
"He barreled two balls off of Cole Hamels," Braves manager Fredi Gonzalez said. "The center fielder made a terrific play on a ball that I thought beat him out in right-center field. He made a really, really nice swing on the home run."
Impressed with the defensive skills and hustle he showed while making five appearances as an "extra" brought over from Minor League camp to fill late inning roles during Grapefruit League games, Gonzalez decided that Benson would see much more significant time during this final week of Spring Training.
With A.J. Pierzynski, Kelly Johnson and Alberto Callaspo standing as locks to make the roster, the Braves need to fill two more bench spots. Phil Gosselin seems to be the most likely internal candidate to fill one of those spots. The Braves are looking to fill one of the bench vacancies with a right-handed hitter who has the ability to serve as Eric Young Jr.'s backup in center field until Melvin Upton Jr. returns from his left foot ailment. Although the switch-hitting Todd Cunningham fits this description and is an above average defender, he has not overwhelmed the Braves enough to be guaranteed this role.
Thus, Benson, who has recorded just three hits in 12 Grapefruit League at-bats, remains a candidate. The Braves are also still exploring other options via the trade and free agent markets.
"[Benson] hasn't done anything not to be in the mix, really," Gonzalez said. "He's played some solid center field, and you trust him out there. He takes solid routes."
Benson has totaled just 21 games at the Major League level since being selected by the Twins in the second round of the 2006 First-Year Player Draft and making his debut in '11. He spent most of last year at the Double-A level in the Marlins' system.
Mark Bowman is a reporter for MLB.com. This story was not subject to the approval of Major League Baseball or its clubs.