Phillies ponder 'Utley Plan' to keep second baseman fresh
Past blueprints to rest veteran have usually been scrapped by May
CLEARWATER, Fla. -- Every spring for the past few years, Charlie Manuel and Ryne Sandberg established The Chase Utley Plan.
The former and current Phillies managers promised they would reduce the second baseman's playing time to keep him strong late into the season. But once the season started, the temptation to play their best hitter became too strong. They wanted to win. Utley wanted to play.
The Chase Utley Plan vanished by May.
"A lot of that is my doing because I want to be out there," Utley said after Wednesday's 9-2 victory over the Braves.
Utley, 36, hit home runs in his first two plate appearances Wednesday. He hit two home runs in three plate appearances Sunday.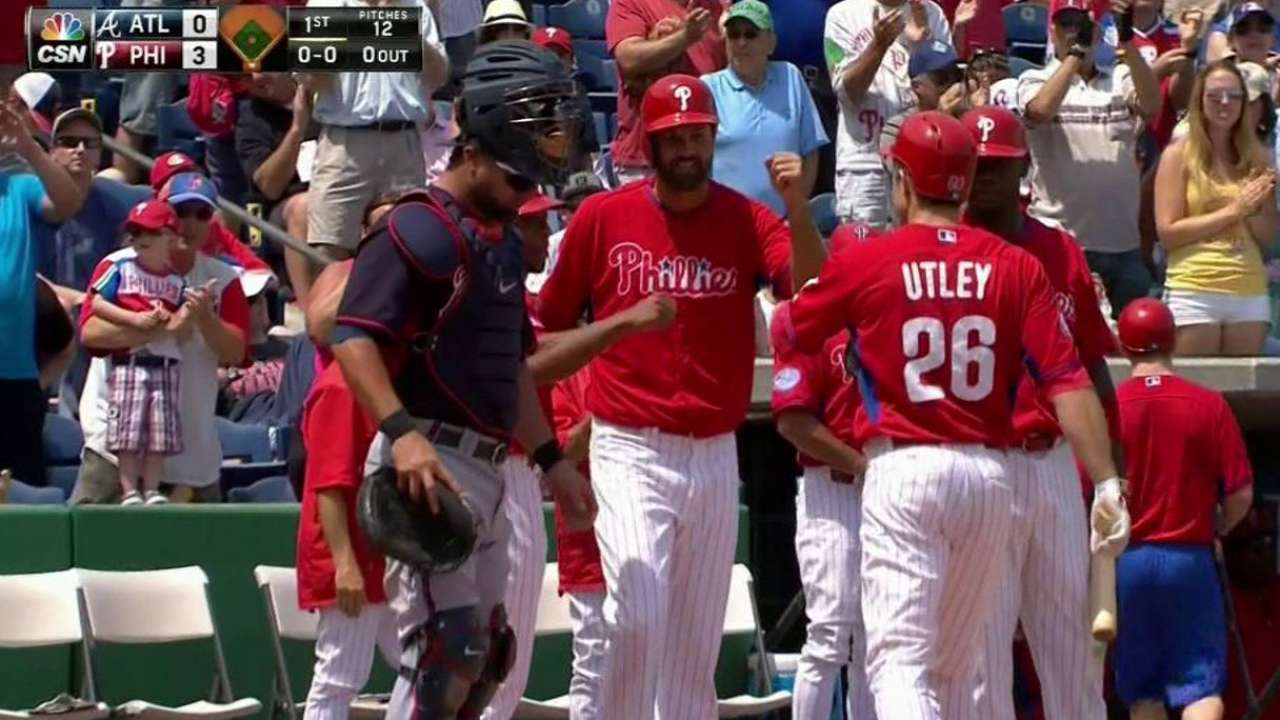 He did not play Monday or Tuesday.
It is coincidence he hit four homers in five plate appearances over four days with two days off in the middle, but it showed something: when Utley is fresh, he can still hit with the best of them. He hit .293 with 24 doubles, three triples, eight home runs, 46 RBIs and a .794 OPS before the All-Star break last season. He slumped to .235 with a .674 OPS after the break.
In his career, Utley's OPS is 74 points lower after the All-Star break.
"Having some days off here and there can be beneficial," Utley said. "It's obviously easier said than done."
"Maybe there is something about giving him rest," Sandberg said.
Asked if he could avoid the annual temptation to play Utley every day, Sandberg said with a laugh: "Probably not. You know, I don't think April is that big of an issue with him with cooler temperatures. Cooler temperatures go a long way with him. I think heat, on the other side of the coin, really takes a toll on him. That's just something him and I will stay in communication with. But I intend to give him more days off that last year."
Asked about infielder Cesar Hernandez possibly playing second base when Utley is on the bench, Sandberg quickly referred to other bench candidates like Andres Blanco and Cord Phelps, who have both outplayed Hernandez this spring.
Hernandez is out of options, so he would have to be placed on waivers if he does not make the Opening Day roster.
Todd Zolecki is a reporter for MLB.com. Read his Phillies blog The Zo Zone. Follow him on Twitter. This story was not subject to the approval of Major League Baseball or its clubs.