Brewers see Lind as integral to increasing scoring chances
First baseman brought in to help enhance OBP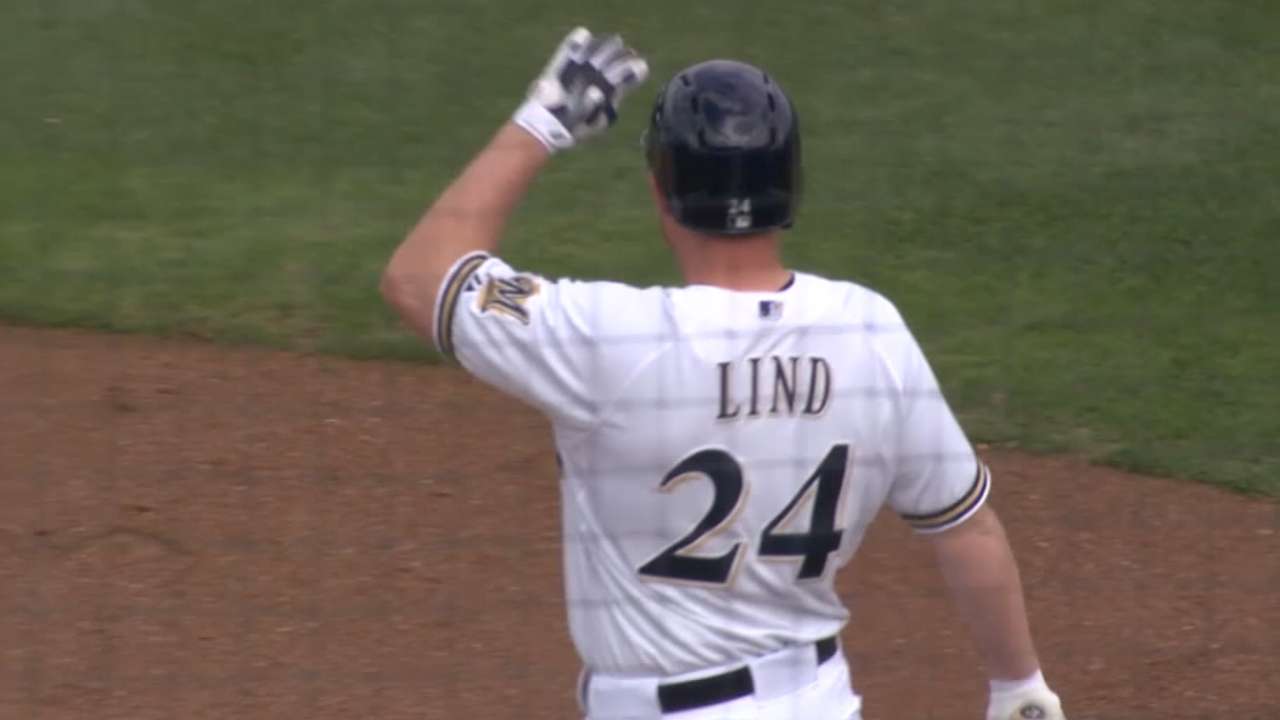 In the days leading up to Opening Day, MLB.com is examining various aspects of each team's roster. Today, the time has come to focus on a key number for the upcoming season. For the Brewers, it's 2.61: their average number of runs scored during their season-ending swoon.
PHOENIX -- One must not dig too deeply into the numbers to find where the 2014 Brewers went wrong. The figure 2.61 stands out -- Milwaukee's average number of runs during a 31-game, season-ending swoon, which cost a team which spent 150 days in first place an opportunity to play in the postseason.
But rather than blow things up, club officials did the opposite. They kept the offense intact with one exception. A Nov. 1 trade with the Blue Jays netted Adam Lind, who brings a left-handed bat and a high on-base percentage the Brewers believe will help insulate them against slumps and a balky back they hope will not keep him off the field.
"We're talking about a really good hitter," said right fielder Ryan Braun, "and a left-handed hitter, which I've said many, many times is going to be advantageous for us in our division with the [right-handed] pitchers we're going to be facing. The potential for our lineup is really exciting."
The Brewers' team on-base percentage last season was .311, tied for seventh of 15 National League teams and just about the league average (.312). That number was dragged down considerably by the collection of players, led by slugger Mark Reynolds, who manned first base and combined for a league-worst .287 OBP, 13 points below the next team and 40 points off the league average.
Lind was limited to 96 games by his ongoing trouble with back stiffness, but managed a .321 batting average and .381 OBP when he did play for the Blue Jays. He characterized his get-on-base approach as a learned skill.
"I realized that if I didn't start taking pitches, I wouldn't have a long career," Lind said. "I started realizing that pitchers weren't even throwing me strikes, and if I would start taking a few, they would have to throw a couple strikes. Sometimes it works."
This realization came in 2012, when Lind was demoted to Triple-A by Toronto. He was only three years removed from a 35-home run, 114-RBI season in 2009, but he had seen his OBP drop steadily, from .370 in '09 to between .287-.314 in the three seasons which followed.
Brewers offense in 2014 (NL rank)
| Through June 30 | Category | After July 1 |
| --- | --- | --- |
| 4.56 (2nd) | Runs per game | 3.42 (13th) |
| 1.05 (2nd) | Home runs per game | 0.79 (7th) |
| .261 (2nd) | Batting average | .238 (13th) |
| .739 (2nd) | On-base-plus- slugging pct. | .673 (9th) |
| 3.66 (15th) | Pitches per plate appearance | 3.65 (15th) |
Lind decided to reinvent himself.
"A lot of it is maturing," he said. "I'm around 4,000 at-bats in the big leagues, and that's the only way you get better. I've had a lot of coaches who played in the big leagues tell me they didn't really learn how to hit until they were 30. I would agree with that statement."
Assuming he can stay healthy, Lind will bat fifth in manager Ron Roenicke's lineup behind Carlos Gomez, Jonathan Lucroy, Braun and Aramis Ramirez, and ahead of slugging left fielder Khris Davis.
If Ramirez shows signs of age -- he turns 37 this season -- Lind could see time in the cleanup spot.
"It's no secret that we all can hit," said Gomez, a somewhat reluctant leadoff hitter who envisions himself someday in a run-producing position. "Ask the pitcher every day if he wants to face us."
Roenicke has been encouraged by the Brewers' better at-bats in the second half of Spring Training. They are not simply an accident, Roenicke said. Each morning, he gathers players for a meeting that usually lasts 30 minutes, and begins with some fun before an examination of the previous day's ballgame.
At the start of Cactus League play, Roenicke expressed some displeasure about the team's offensive approach.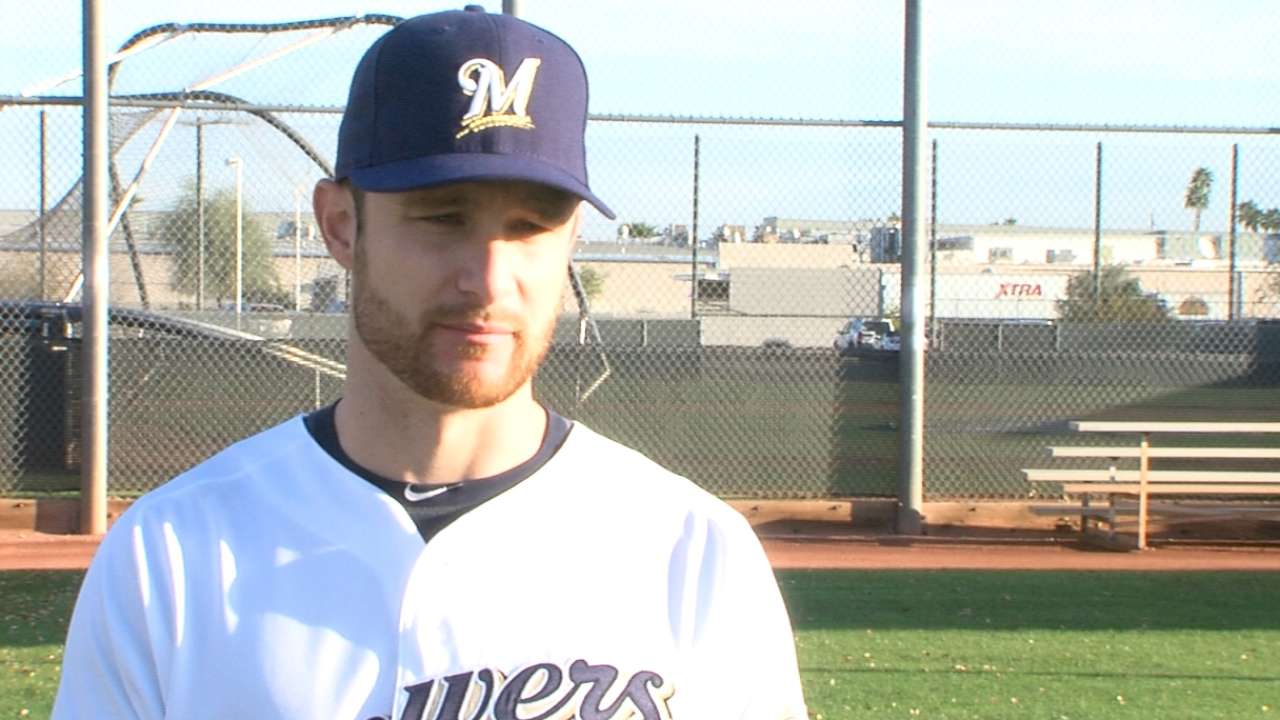 "We think that was an issue last year," Roenicke said. "There's nothing wrong with being aggressive, but do it on the pitch you want to be aggressive on, so you're not just up there swinging. You keep talking about it every game. When they have good at-bats, you let them know. Most of them figure it out.
"Everybody can get a little bit better at what they're doing. So all the little flaws that you have offensively, if you get better, the total of the team offense is going to produce more runs. That's the bottom line."
Lind likes what he sees.
"There's a lot of depth," he said. "One through eight, I think we're pretty good."
Adam McCalvy is a reporter for MLB.com. Read his blog, Brew Beat, and follow him on Twitter at @AdamMcCalvy. This story was not subject to the approval of Major League Baseball or its clubs.