Kershaw doesn't pay attention to spring numbers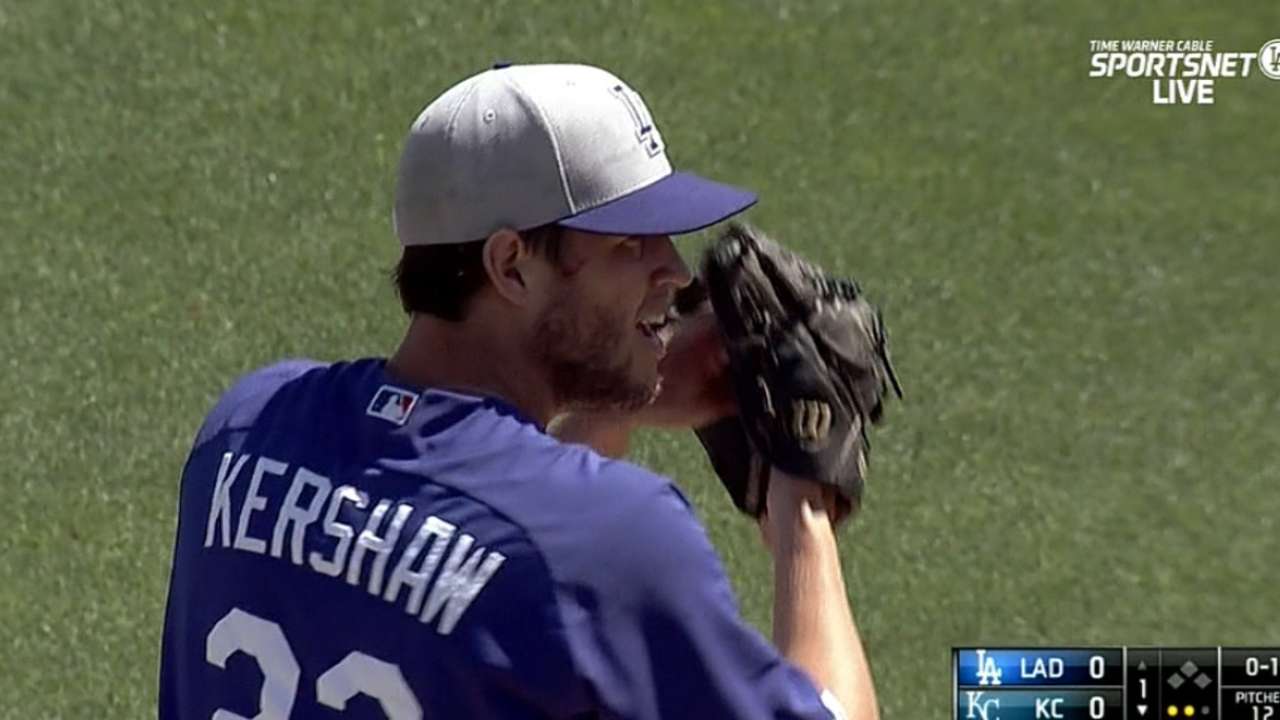 SURPRISE, Ariz. -- Clayton Kershaw has an idea what his final Cactus League numbers were this spring, but once again, he's not going to invest too much into them.
On Wednesday, Kershaw gave up one hit and one unearned run in three innings against the Royals in his final tuneup before Monday's season opener against the Padres. The left-hander walked two batters and struck out two.
"I was all over the place," Kershaw said."Walked two guys in three innings, you don't want to do that, and had a couple hard-hit balls right at guys, so there's definitely room for improvement. But physically I feel good, feel ready to go and that's pretty much all you can ask for at this point."
Kershaw finished with a 1.61 ERA in six Cactus League starts, his best mark since a 0.64 ERA in 14 innings in 2008. He had a 9.20 ERA last spring and a 4.18 ERA in 2013.
Kershaw also struck out 22 in 22 1/3 innings this spring. He struck out 10 in 14 2/3 innings last season and 30 in 28 innings the year before that.
What do the numbers mean, if anything?
"I hope it means I'll pitch better, but I don't think it means anything," Kershaw said. "I didn't think I pitched that bad last spring and I had a 9 [ERA] and I don't think I pitched that well this spring and I had a whatever-it-was. I don't think you put much stock into it. I'd like to, but you can't, I don't think. I'll let you know [on Monday]."
The same could be said for Kershaw's ball-to-strike ratio on Wednesday. Only 27 of the left-hander's 47 pitches against the Royals were for strikes. Expect better results against the Padres.
"He looks like a guy who's gearing up for Opening Day," Dodgers catcher A.J. Ellis said. "It's always a challenge with him pitching when he knows he has an expiration date. There's really no reward at the end for him, as far as win or a loss. You saw last year, slowly spring progressed and he turned a corner on Opening Day. Something about the adrenaline, the competition takes him to another level. He's gotten to the point in his career, especially who he is and the stature he has, that Spring Training is probably not his favorite time of the year."
Overall, the Dodgers finished Cactus League play at 16-9-7. The offense, which finished with 47 home runs, was among the Cactus League leaders in several categories.
"We're playing really good baseball, swinging the bats well," Kershaw said. "I know that doesn't mean a whole lot this time of year, but with the way the guys are playing, it's fun. I think we'll have a good defense this year, for sure."
Jesse Sanchez is a national reporter for MLB.com. Follow him on Twitter @JesseSanchezMLB. This story was not subject to the approval of Major League Baseball or its clubs.