Nationals show off park upgrades in advance of opener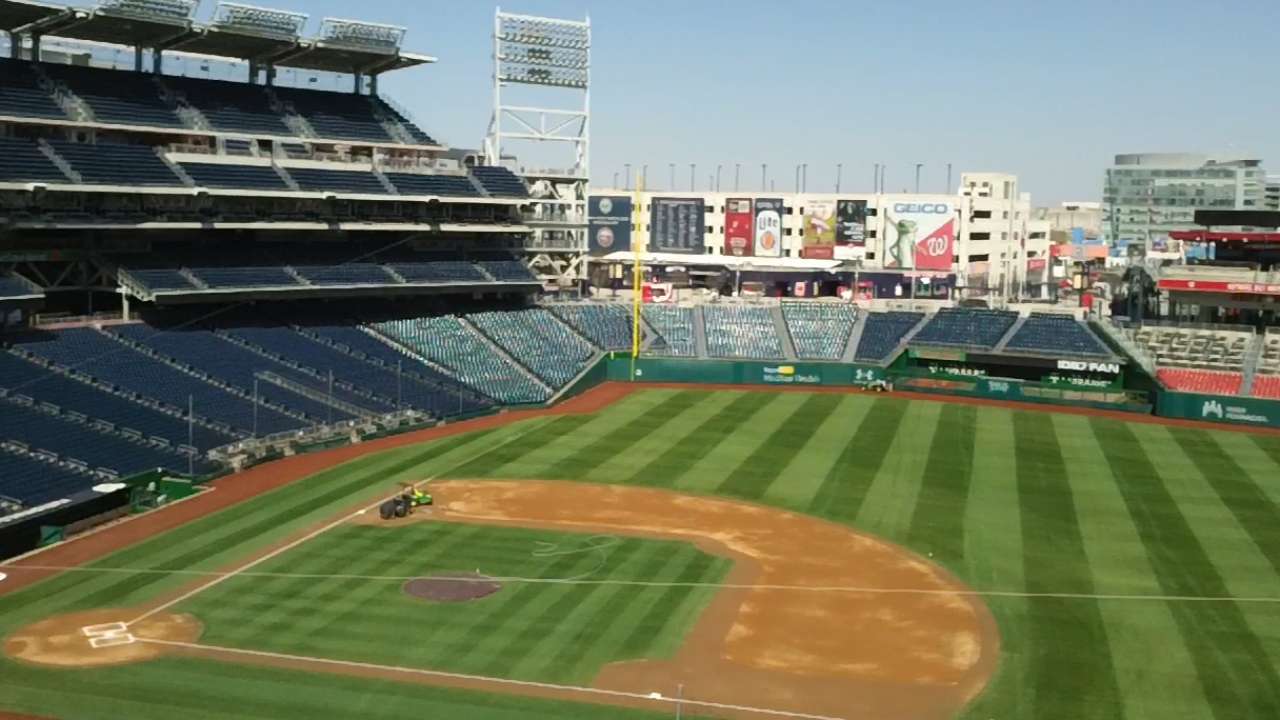 WASHINGTON -- The Nationals made a big splash by adding former Cy Young Award winner Max Scherzer, but the right-hander wasn't their only upgrade this offseason.
The ballpark Scherzer is set to call home for the next seven years got as much attention from the franchise as the Major League roster. On Wednesday, five days before the Nats host the Mets on Opening Day, the club showed off some new aspects of Nationals Park's gameday experience to members of the media. The additions include stadium features, concessions, giveaways and more.
"I think we try to raise the game on the field every season, and we try to raise it off the field, too," said Valerie Camillo, the Nats' chief revenue and marketing officer. "So we're constantly trying to be innovating, be focused on technology, bringing technology enhancements into the park."
Much of what will go on at Nationals Park this year will revolve around the 10-year anniversary of the franchise's move to D.C. The Nationals, formerly the Montreal Expos, played their first game on April 4, 2005, in Philadelphia, and their first game in Washington on April 14 at RFK Stadium.
Even before last season ended, Nats officials were thinking about how to honor the milestone, Camillo said. Once the offseason arrived, they tossed around all sorts of ideas during weekly brainstorming sessions.
They came up with several answers, including the 10-Year Tuesdays promotion, in which a designated game each month will feature special guests, pregame ceremonies and a collectible keepsake for the first 10,000 fans. For example, on Sept. 8, fans will receive a mini replica lineup card from the first game in franchise history. There also will be five "Great Moments in Nationals History" bobblehead giveaways.
In terms of the ballpark itself, new features include the Baseball Americana exhibit, located in the main concourse, a project on the history of baseball in the District that the Nats produced in conjunction with the Library of Congress. There is also a new team store opening in May, which will be twice as big as its predecessor, and Club 24, a high-end suite area designed with a "1924 speakeasy" aesthetic and intended to attract local business leaders.
One new feature that came from fan input is an effort to commemorate notable home runs in the ballpark's history. For example, Michael Morse's blast from 2012, the longest ever at Nats Park, will be marked by a plaque in the Red Porch section of left-center field. Two Bryce Harper shots that reached the third deck in right, including one at the 2014 National League Division Series, will be marked by red seats. In addition to the six currently honored, future homers will be added as appropriate.
Perhaps the most impressive features are in the Norfolk Southern Club area, where an elevated train track carries Norfolk Southern mini-train cars, each one 1/29th the size of an actual train car. The railway and the ballclub also teamed up to build and install a large train-themed scoreboard that will update game action in real time, with nine mini-trains used to keep track of balls, strikes, outs, baserunners and innings.
"We think it's something unique in all of sports," Camillo said.
And don't forget the food and drinks. There will be many new options for this season, including Throwin' Cheese (a stand specializing in grilled cheese sandwiches and other cheesy options) and the Virginia Biscuit Company, coming in May, which will offer homemade Virginia biscuit sandwiches and other local delicacies as a nod to the large portion of the Nats fanbase that hails from the Commonwealth.
"I'm born and raised in Virginia, so I'm really excited about Virginia stand," Camillo said.
Andrew Simon is a reporter for MLB.com. Follow him on Twitter @AndrewSimonMLB. This story was not subject to the approval of Major League Baseball or its clubs.