Indians determined to improve in the field
After committing 116 errors in 2014, defense has been major spring focus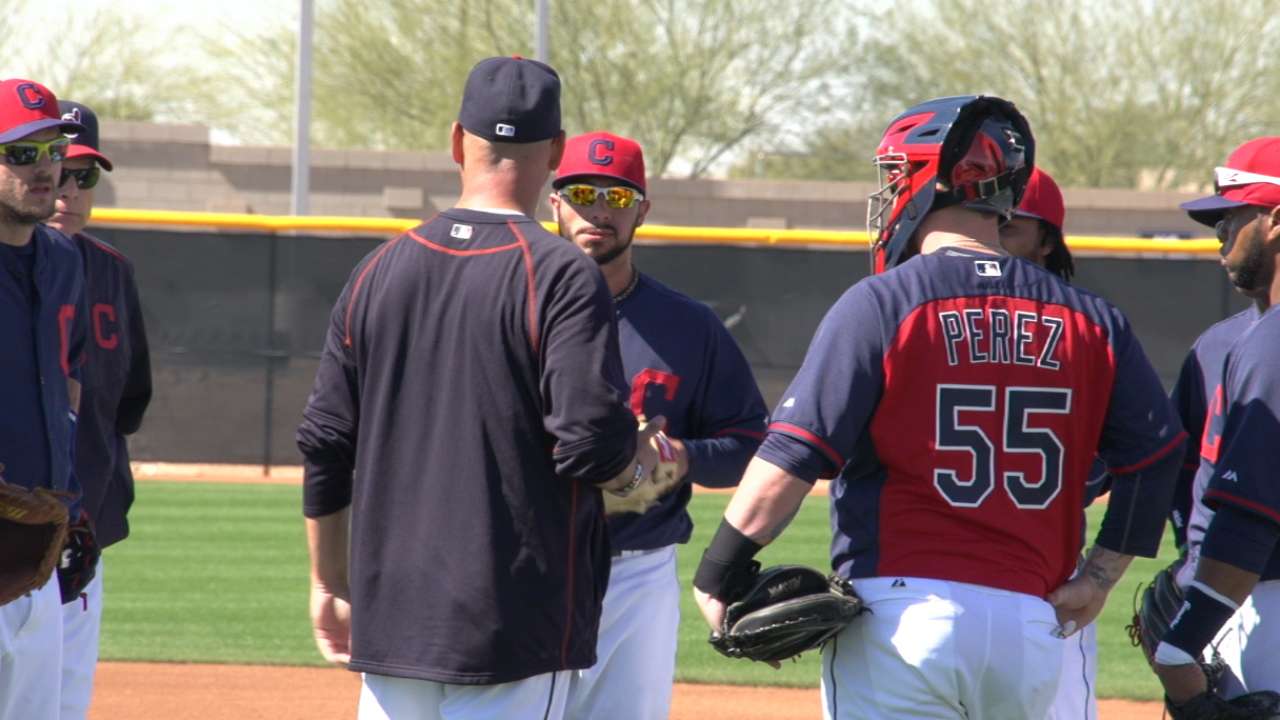 In the days leading up to Opening Day, MLB.com is examining various aspects of each team's roster. Today, the time has come to focus on a key number for the upcoming season. For the Indians, it's 116: their Major League-leading error total last year.
GOODYEAR, Ariz. -- There are only so many ways a team can alter Spring Training. Finding new methods for age-old workouts, routines and drills is not an easy task. This spring, that was the challenge for a Cleveland club that headed into camp with a high priority placed on cleaning up its defense.
Last season, the Indians led the Majors with 116 errors and ranked last in baseball in both defensive runs saved (minus-75) and Ultimate Zone Rating (minus-72.4). Even with all the defensive deficiencies, Cleveland remained in postseason contention until the final weekend of the regular season.
It was imperative for the Tribe to address the problem prior to Opening Day this year.
"Everyone saw last year the way things went," Indians infielder Mike Aviles said. "If we take care of the ball, we're going to be a good team. We missed [the playoffs] by two or three games. We, honestly, didn't play good defense. That's pretty documented."
Heading into Spring Training this year, Indians manager Terry Francona brainstormed with Cleveland's front office and coaching staff about ideas for tackling the problem. The consensus was that the team needed to increase the level of intensity within the fielding workouts this spring, simulating more game-speed plays rather than just going through the motions.
Throughout this spring, regulars who left Cactus League games early would often head to a back field with third-base coach Mike Sarbaugh -- Cleveland's infield instructor -- and get in extra work before they went home. The Indians also did a lot more work with simulating shift situations.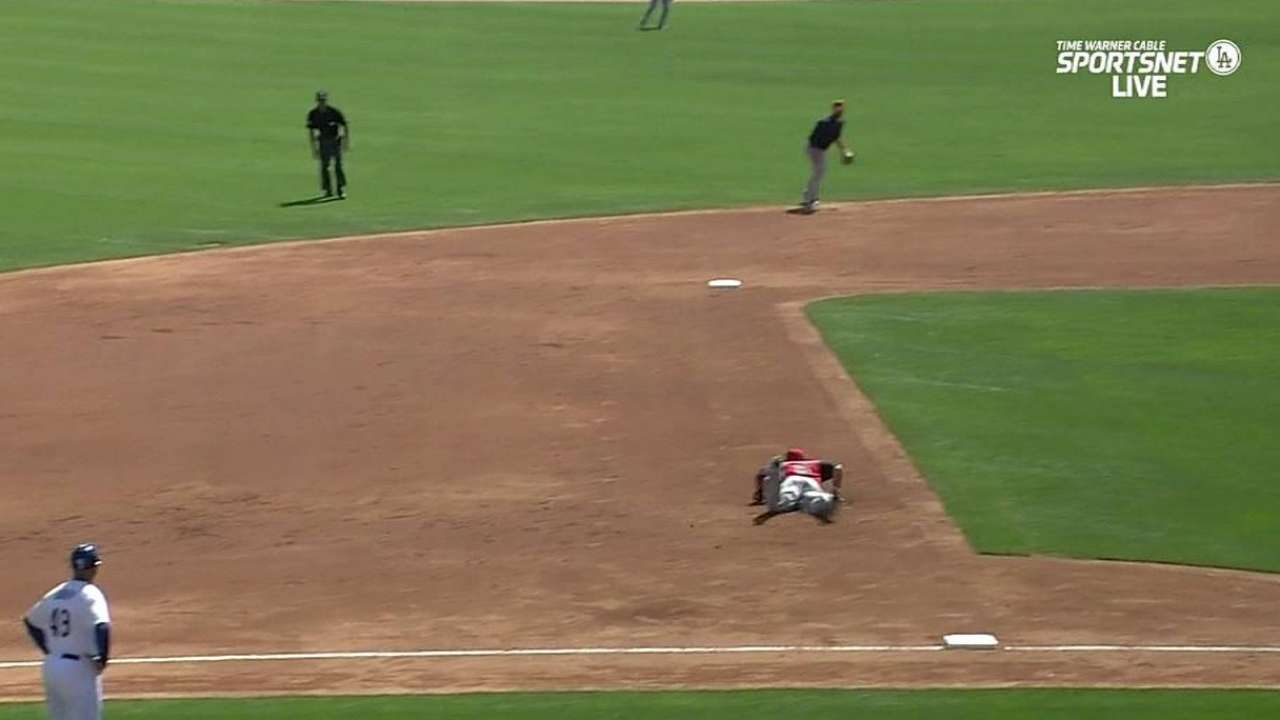 "We would come in and we would work on a specific idea," Indians third baseman Lonnie Chisenhall said. "Maybe it was turning double plays in the shift. It'd be a small volume, but there's a higher intensity, a higher tempo."
Volume was not what Cleveland wanted to add this spring. Rather than working more, the Indians' staff wanted its players to work more efficiently.
"We didn't work more than other years," Jason Kipnis said. "But we focused on it more, where we didn't let the little things go. We didn't just push things off to the side and let things pass this time. We concentrated on the small things. We made sure we got things right and we did a little bit more with game speed."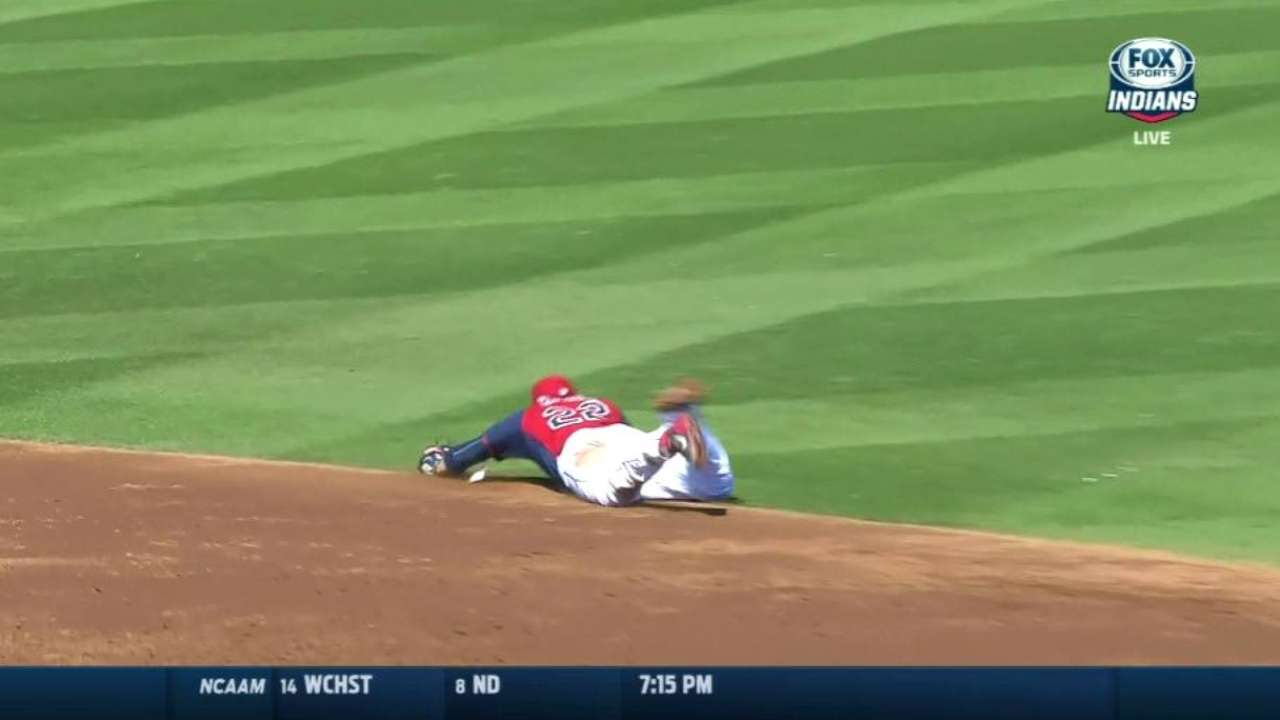 Aviles said there was definitely a different feel to this spring than his previous two preseasons with Cleveland.
"I think what we've done here has helped," Aviles said. "The biggest key is each individual has got to take pride in taking care of the ball. My biggest focus when I'm on defense is the guy on the mound is making a living by using us. So if we don't make the plays behind him, we're not only hurting the team, we're hurting that guy on the mound, too.
"You've got to take pride in helping your teammates and take pride in winning ballgames."
Francona has liked what he has seen from his players this spring, but the manager knows the regular season will be the real test for a team that struggled in the field a year ago.
"The effort's been great. The cooperation has been really good," Francona said. "It's hard to judge sometimes in Spring Training. ... We'll see. I hope that the hard work pays off, because it makes it much easier to win."
The Indians did improve defensively in the second half last year, when Carlos Santana took over as the full-time first baseman, Jose Ramirez assumed the starting shortstop duties and catcher Yan Gomes brushed off his rash of early-season errors. With the exception of outfielder Brandon Moss, Cleveland is bringing back the same defensive group it featured when last season concluded.
With virtually the same personnel, can the Indians really be better in the field?
"Absolutely. There's no question about it," Chisenhall said. "The work we're doing, I'm sure it's going to show up on the field. We're still going to make errors -- nobody's perfect -- but it's about being in a better spot during the game. I think we're there right now."
Jordan Bastian is a reporter for MLB.com. Read his blog, Major League Bastian, and follow him on Twitter @MLBastian. This story was not subject to the approval of Major League Baseball or its clubs.