Set for Opening Day, Shields comes as advertised
PEORIA, Ariz. -- Before inking James Shields to a four-year, $75 million deal in February, the Padres went to great lengths in vetting the 33-year-old pitcher before ultimately handing him the largest contract in franchise history.
There was the obvious to digest: his durability (eight consecutive seasons of 200 or more innings) and his success (since 2011, Shields ranks 15th among all starters in ERA and eighth in victories). But an investment like this required deeper digging.
Manager Bud Black, attending the Royals' fantasy camp in Arizona in January, got an endorsement from friend and former teammate George Brett, now the Royals' vice president of baseball operations.
Black later heard from Joe Maddon, who managed Shields when he was with the Rays.
"Joe said that all of the good things you've heard about him, they're all true," Black said.
San Diego general A.J. Preller and assistant general manager Fred Uhlman Jr. took Shields and his wife, Ryane, to dinner. Preller left impressed with how Shields' voice dripped with energy, passion and competitiveness.
"I think we felt even stronger after that dinner that he might be a good fit for us," Preller said.
In the end, the decision to sign Shields made perfect sense for the Padres. And that decision was only reinforced after six weeks in Arizona, where his manager, teammates and others got to see for themselves what Shields, the team's Opening Day starter against the Dodgers on Monday, was all about.
"I've liked the in-game intensity, and not just on the days when he pitches," Black said earlier this week. "It's in the dugout, when the other guys pitch. It's the competitiveness and talking about winning every day. He lives that every day. It's not an act. That's real."
Pitching coach Darren Balsley said that he's been pleasantly surprised this spring with how Shields' stuff has played. And as funny as it may sound, Balsley said Shields may even be a tad underrated.
"His track record shows how good he has been, but I do think he's a little underrated," Balsley said. "His overall stuff is a little better than I thought. He throws harder than I thought. He has four weapons that he can throw for strikes at any time. But until you see him in person, you don't realize how good he is."
But Balsley witnessed something else about Shields, something that has affirmed to him why Shields has been so successful in his big league career.
"I think James as a competitor, a teammate, all of the good things, the intangibles, he has all of those to go with his physical talents," Balsley said. "Guys gravitate toward him. When he speaks, everyone in the room listens. He's an intellect, he's funny.
"There are a lot of things going on with James that makes him a successful pitcher."
Catcher Derek Norris, who saw Shields plenty when he was with the A's, was surprised to see just how meticulously prepared Shields is when it comes to tracking and studying his performances and tendencies.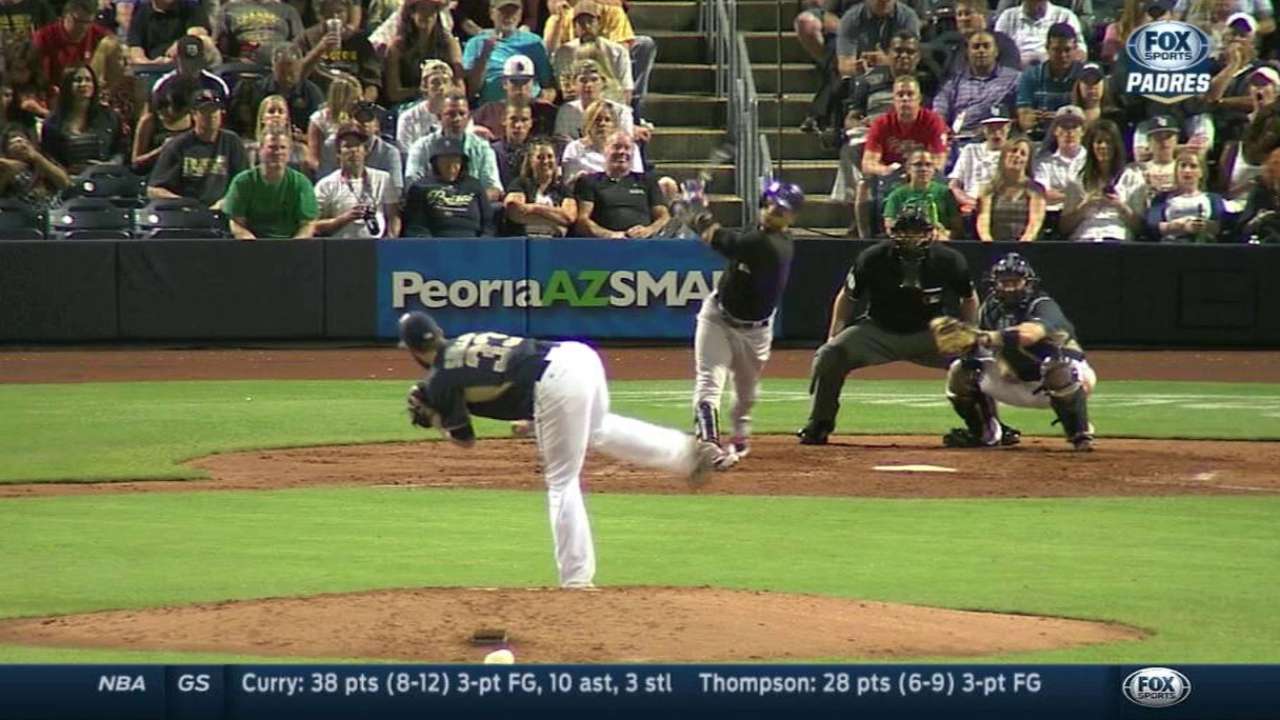 "The first day he was here, James brought out these two big notebooks that we're thicker than two Bibles combined. He said it was all of his outings, [data] from this and this, tendencies, all that," Norris said.
"You know, some guys go about their business and will watch video of their starts, but to keep a log of everything you've done means you're really paying attention and you really know yourself. That really impressed me a lot."
While in its honeymoon stage, the early returns between the marriage of Padres and Shields have been good.
"I love this game, I have a passion for this game and the guys here all have one common goal, and that's to win and win now," Shields said. "I've played a long time in this game, and I'd like to continue playing and playing winning baseball.
"I think this team has a good chance to do that this year."
Corey Brock is a reporter for MLB.com. Keep track of @FollowThePadres on Twitter. This story was not subject to the approval of Major League Baseball or its clubs.