Blue Jays prospects Castro, Osuna earn bullpen spots
Hard-throwing righties dazzled in spring; Hynes, Redmond also make roster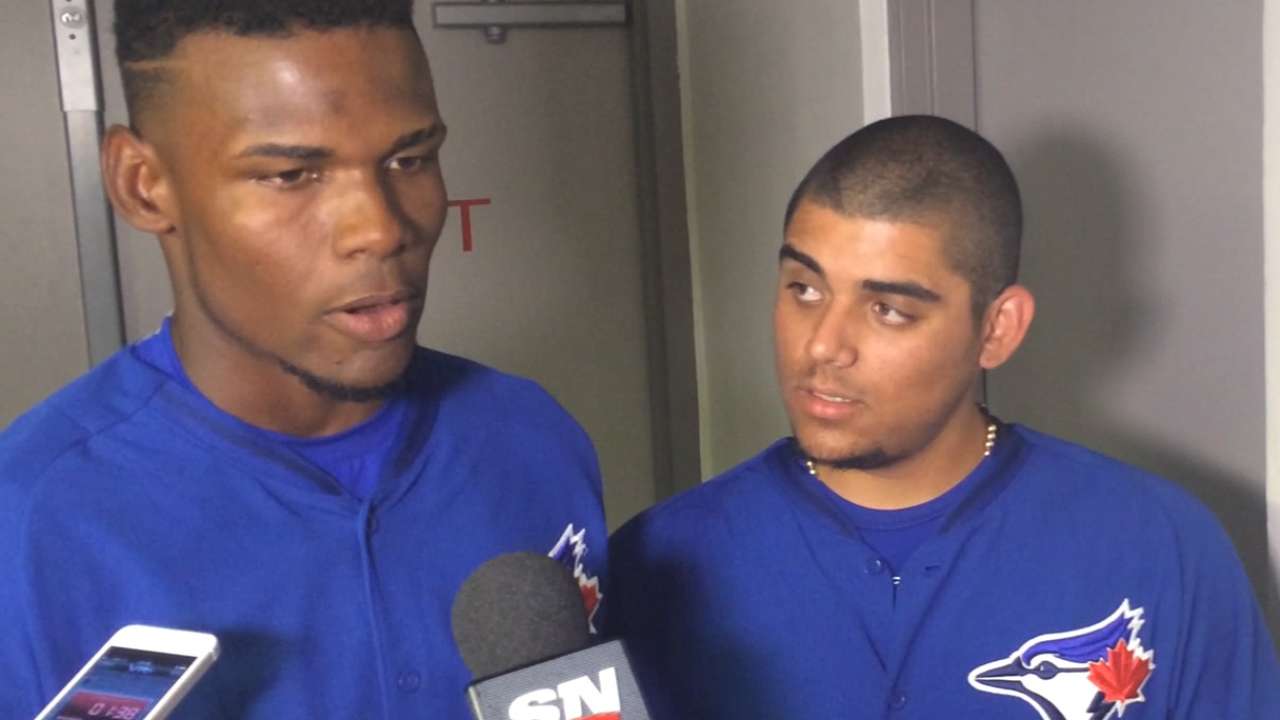 FORT MYERS, Fla. -- It seemed extremely unlikely six weeks ago, but the Blue Jays have informed top prospects Miguel Castro and Roberto Osuna that they will be on the 25-man roster for Opening Day.
At the start of camp, there seemed to be an outside chance that one of the hard-throwing right-handers would be used out of the bullpen, but it was far-fetched to consider both. That changed in the ensuing weeks, as the Blue Jays began to closely look at whether the 20-year-olds could help fill some glaring holes in relief.
• Blue Jays' top prospects: Osuna at No. 6, Castro No. 7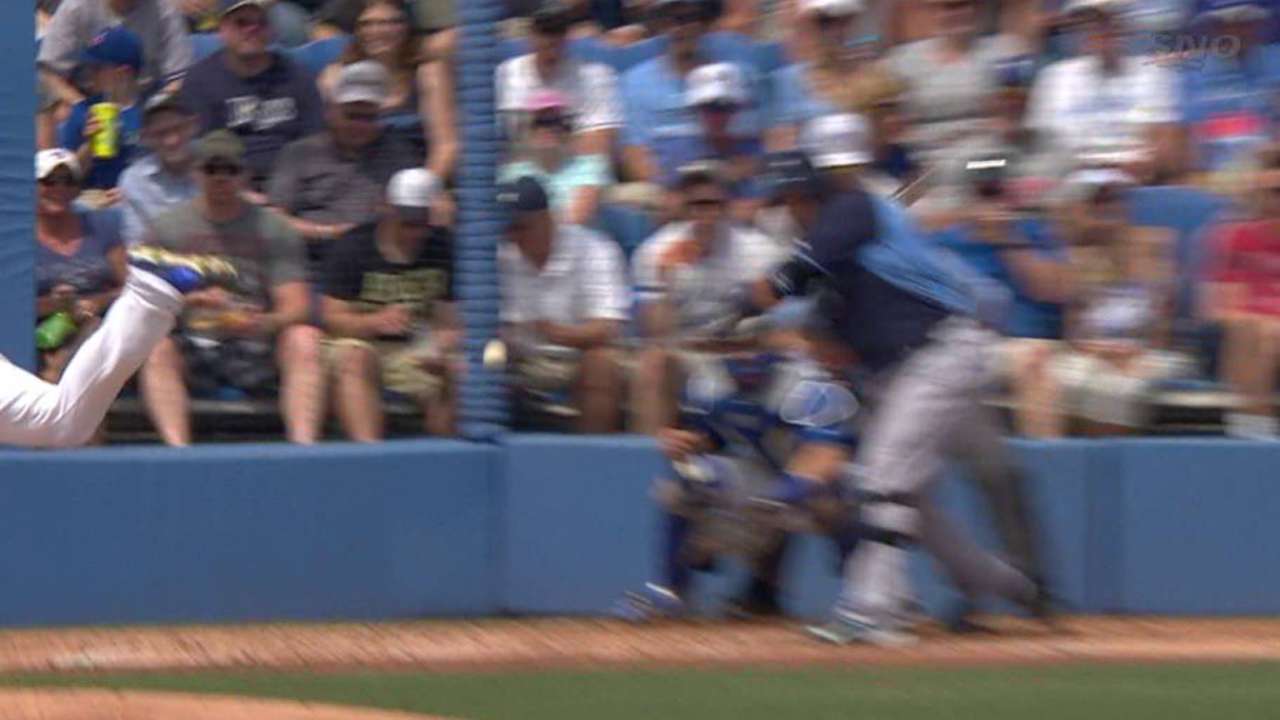 Castro and Osuna didn't allow any runs in Grapefruit League play until Saturday, when they surrendered three (Osuna one, Castro two) against the Braves. Now, they'll attempt pitch some high-leverage innings and bridge the gap to closer Brett Cecil.
"I'm very excited, it's a great opportunity," Osuna said. "I'm the happiest man in the world. I'm very excited, I can't describe how I feel. We're roomies, we work together, I'm so glad to have him on the team and try to work together. It will be awesome."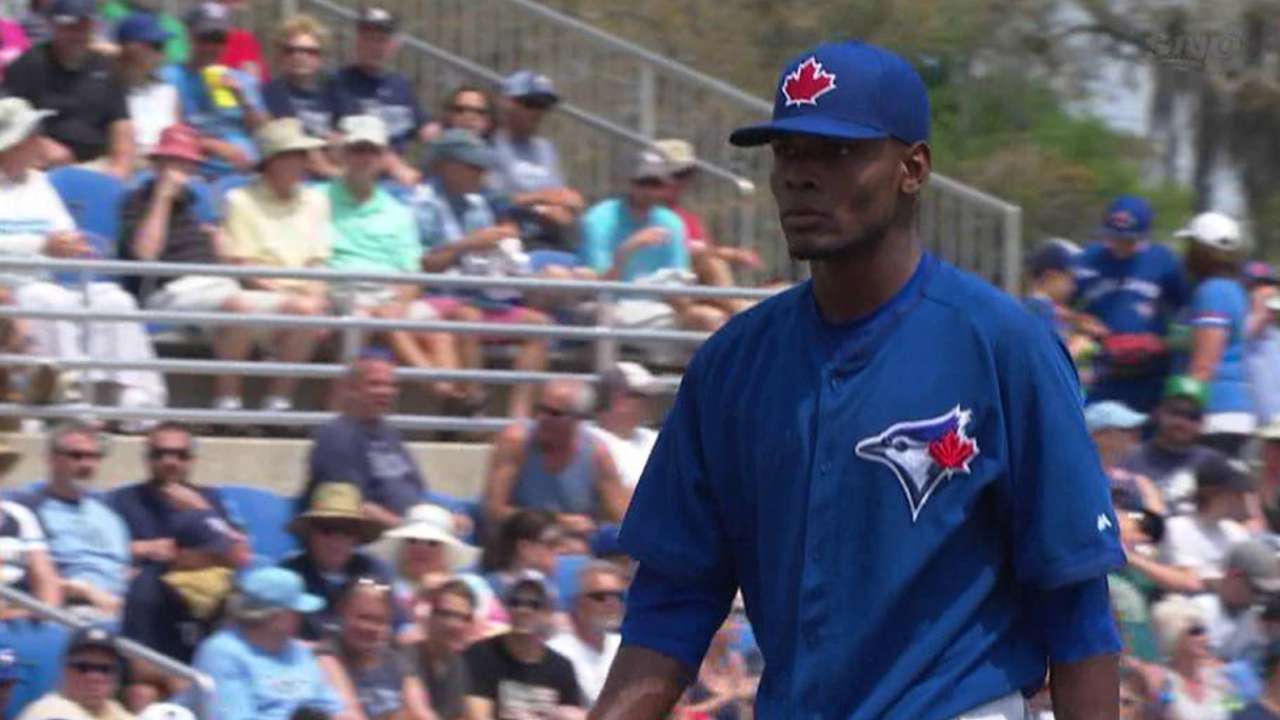 The Blue Jays also informed left-hander Colt Hynes and right-hander Todd Redmond that they will be on the team. Redmond likely will pitch in long relief, while the addition of Hynes gives Toronto a third left-hander in the 'pen -- which has added value considering Cecil will be mostly limited to the ninth inning.
Hynes entered play on Wednesday having not allowed a run in 10 2/3 innings this spring. He also had nine strikeouts compared to one walk, and it was his effectiveness over the past month that allowed him to make the team over veteran lefty Jeff Francis.
"It's hard to not play GM," Hynes said, when asked what it was like waiting for an official decision from the club. "As you're around long enough and play long enough, you learn that's not a healthy mindset to have, whether it's positive for you or negative for you.
"At the end of the day, no matter what team you're on, you still have to pitch to get where you want to be. It's definitely hard, but that's the mental-discipline side of it to block all that out and stay focused on your job."
Gregor Chisholm is a reporter for MLB.com. Read his blog, North of the Border, and follow him on Twitter @gregorMLB. This story was not subject to the approval of Major League Baseball or its clubs.