Maddon's hoagie to be featured at Wrigley Field
Family recipe gets a kick from spicy peppers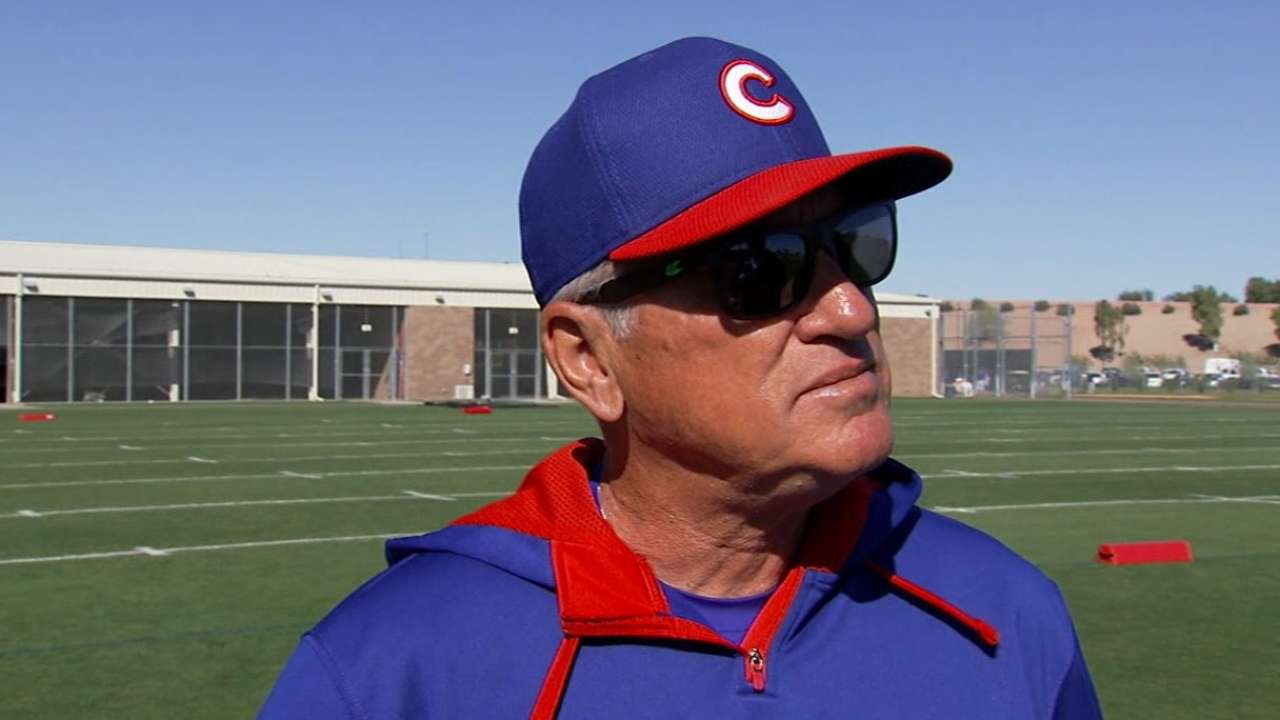 MESA, Ariz. -- Among the new food items at Wrigley Field this season will be a Joe Maddon approved Italian hoagie sandwich, which the Cubs manager is willing to demonstrate how to make.
The recipe comes from Maddon's family restaurant, Third Base Dugout, in Hazleton, Pa.
"I'm certain the fans are going to dig them," Maddon said Wednesday. "I wouldn't want anything out there that I didn't think was good, but I think this is really good."
The hoagie features ham, salami, white American cheese, crisp lettuce, sliced tomatoes, spicy peppers and olive oil, served on a fresh hoagie roll.
"The key is the peppers," Maddon said. "The bread and the peppers -- without those peppers, it just doesn't have the same taste."
The recipe came from his mother Beanie's sister, Aunt Geneva, who created it in the late '40s.
"My Aunt Geneva was a stickler on a neat sandwich," Maddon said. "When you picked it up, if the ingredients fell out, she would not have that whatsoever. It had to stay within the bun."
His Aunt Ted (Teodora), who is Maddon's godmother, is the one who came up with the luncheonette in Hazleton, and the hoagie is a popular item there. Maddon made them last year for the Rays players, passing them out at lunch time.
Isn't it hard to create a neat hoagie sandwich?
"I wanted real sliced onions, that has to be part of the sandwich, too," Maddon said. "Olive oil on the bread only, there's none of this mayonnaise or special sauces or stuff like that. I'm salivating, I'm really hungry."
And if the Wrigley Field concession folks have a tough time putting everything together, Maddon will assist.
"I'd be happy to go help them one day, to make sure it's being done properly -- a little quality assurance," he said.
Carrie Muskat is a reporter for MLB.com. She writes a blog, Muskat Ramblings, and you can follow her on Twitter @CarrieMuskat. This story was not subject to the approval of Major League Baseball or its clubs.