MLB.com Columnist
Lyle Spencer
Pagan's friendship with Mays a source of confidence
Since joining Giants in 2012, outfielder has found legend's presence a guide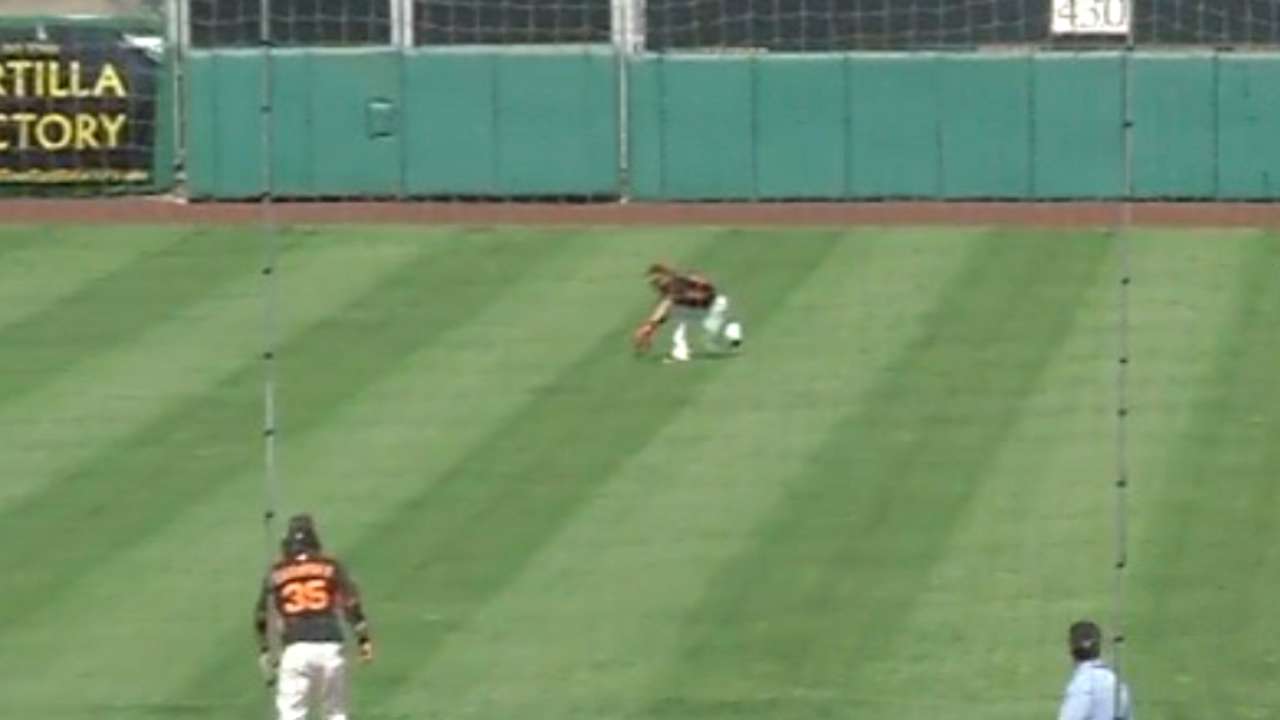 SCOTTSDALE, Ariz. -- Angel Pagan has had a little ritual involving Willie Mays at San Francisco's AT&T Park since coming to the Giants from the Mets in 2012.
"Before I go out on the field to play," Pagan said, "I go in his office and get my blessing. I shake his hand. It gives me a sense of confidence going out on the field. I have a blessing to be with the best player in history, to me.
"To have a relationship with a man like him, it's just so amazing. I don't have to be in the Hall of Fame. I have the Hall of Fame in my life. I know Willie Mays."
He hasn't been up to it physically this spring, recovering from a broken rib. But Mays, who has a close relationship with equipment and home clubhouse manager Mike Murphy, has been a visible and vocal presence around the Giants during their run of three World Series championships in five years.
Some of that legendary Mays magic has rubbed off -- not just on Pagan, who inherited the master's center-field position, but the rest of the players as well.
"In 2012 when I got here," Pagan said, recalling his first meeting with Mays, "he was walking around the clubhouse asking, 'Where's that kid who came from New York?'
"He came to me and we started talking about Shea Stadium, his time, what a great opportunity this was for me. After that, we talked every day -- about baseball, life, everything."
Known as the "Say Hey Kid" in his playing days, Mays has kept himself in remarkable shape over the years. He will be 84 on May 6. The Giants will be home against the Padres, and Pagan no doubt will have a special greeting for his friend if Mays is at the park.
Pagan, who was born and raised in Rio Piedras, Puerto Rico, was a student at Indian River Community College in Fort Pierce, Fla., when the Mets took him in the fourth round of the 1999 First-Year Player Draft.
"Latino guys, we play with a lot of spice and energy," Pagan said, "and I want to keep that going. That's how Willie played, Roberto Clemente -- all those great players. That's the legacy I want to continue, to follow all those guys who played with their heart and show it to kids in my [native] country.
"Being with the Giants, we have [Orlando] Cepeda, [Willie] McCovey, all these great guys. I love talking to them, asking them questions. They've been there, going through everything, and they will lead me the way with all their knowledge. I can take it to the younger kids coming up."
The power of Mays seemed to transfer over to Pagan immediately in 2012. At age 30, Pagan enjoyed arguably his best of nine seasons in a career that began in 2006 with the Cubs.
Playing 154 games, Pagan had a .288/.338/.440 slash line, scoring a career-best 95 runs while producing 38 doubles, a league-best 15 triples, eight homers, 56 RBIs and 29 steals. That season, Pagan and fellow newcomer Marco Scutaro were the table-setters for Pablo Sandoval and Buster Posey in a lineup that drove the Giants to their second World Series crown, sweeping the Tigers in the Fall Classic.
Known variously as "Crazy Horse" and "Wild Horse" for his all-out style, Pagan has impressed manager Bruce Bochy with his attitude almost as much as his production.
"Angel gives you everything he's got," Bochy said. "It's all you can ask for in a player."
But Pagan's gung-ho style has had repercussions. A back ailment required surgery last September, removing him from another memorable October run. The Giants were 56-35 in his starts, 32-39 without him, but they prevailed with Gregor Blanco filling his role in the postseason.
"Everything happens for a reason," Pagan said. "There's no reason I'll be frustrated for everything. I did my best, and the guys picked me up. At the end of the day, we make history. We believe in ourselves and each other."
With Hunter Pence sidelined, Pagan might be moved from leadoff to third in the order, behind Nori Aoki and Joe Panik. It won't change Pagan's approach at all, he emphasized.
"I think a lot of people get caught up in the three-hole hitter hitting home runs," Pagan said. "It means getting the job done any way you can, even if it's a bunt. We win with little things here. It's all about scoring runs, not home runs. I have a .300 career average with runners in scoring position."
Pagan is selling himself short. He's a .310 lifetime hitter with men in scoring position, slugging .475 in those game-turning situations. His overall career average is .283 with a .419 slugging percentage.
Pagan doesn't have to be told that Mays was known as a phenomenal clutch hitter, among his limitless attributes.
"It's confidence," Pagan said. "Getting to know Willie Mays has given me so much confidence."
Lyle Spencer is a national reporter and columnist for MLB.com. Follow him on Twitter @LyleMSpencer. This story was not subject to the approval of Major League Baseball or its clubs.