Torres surprised but excited to join Mets in Big Apple
Left-hander set to deliver 'multiple innings' from 'pen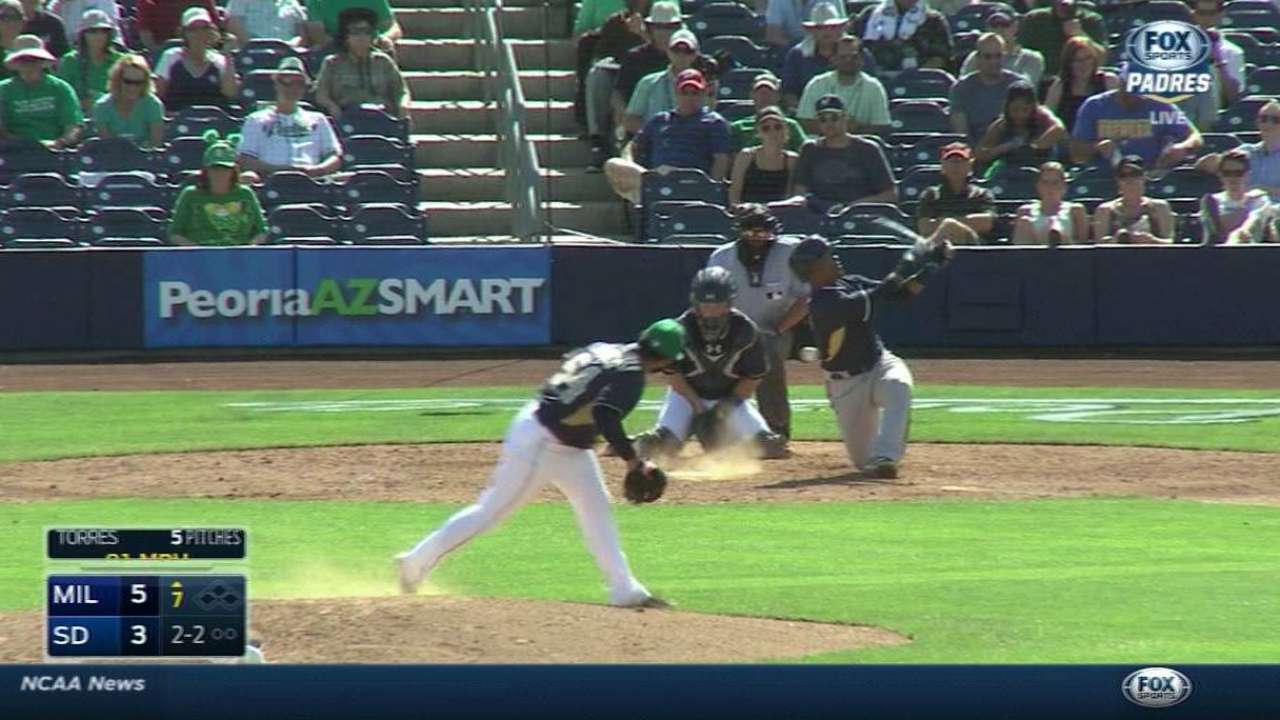 PORT ST. LUCIE, Fla. -- Alex Torres had barely reached the Phoenix airport when he received a call from Wilmer Flores, his old friend and suddenly his new teammate. Growing up a few years apart in the same hometown of Valencia, Venezuela, Torres and Flores grew friendly over the years facing each other in winter ball. So no one in the clubhouse was more excited than Flores when the Mets acquired Torres to shore up their bullpen.
"Good changeup, good fastball," was Flores' scouting report on Torres. He laughed. "I'll tell you, in winter ball, he gets me every time."
Officially arriving in Mets camp on Tuesday, Torres showed up to the clubhouse the next morning for his first full day of work. Though Torres is left-handed, the Mets did not import him to be a lefty specialist -- that job will go to Jerry Blevins, whom the team acquired on the same day as Torres.
Instead, Torres and Rule 5 pick Sean Gilmartin will serve as multi-inning options for the Mets, because they are both as capable against right-handed hitters as they are against lefties. Torres in particular thrives against right-handers thanks to his changeup, which Fangraphs rated as the 45th-most effective in baseball last season among all pitchers with at least 50 innings. Two years ago, it was 24th-best, before control issues ballooned his ERA from 1.71 to 3.33.
Torres is confident that he'll rebound with the Mets.
"I wasn't expecting, in that moment, that I would be traded," he said. "But I'm so happy to be here, and be part of the Mets now. I'm going to be in New York with the Mets. 'The Big Apple.' Everybody knows that. I'm really happy."
As for the oversized padded cap that Torres wore last season with the Padres, he is still working on getting that model made up in blue and orange. Though some pitchers around baseball are wearing subtler padded caps this year, Torres says he prefers the old, bulky model, believing it offers better protection.
"It's just to protect myself," Torres said. "It's something to be safe."
Anthony DiComo is a reporter for MLB.com. Follow him on Twitter @AnthonyDiComo. This story was not subject to the approval of Major League Baseball or its clubs.