Cleanup in Aisle 4: Pirates point to Walker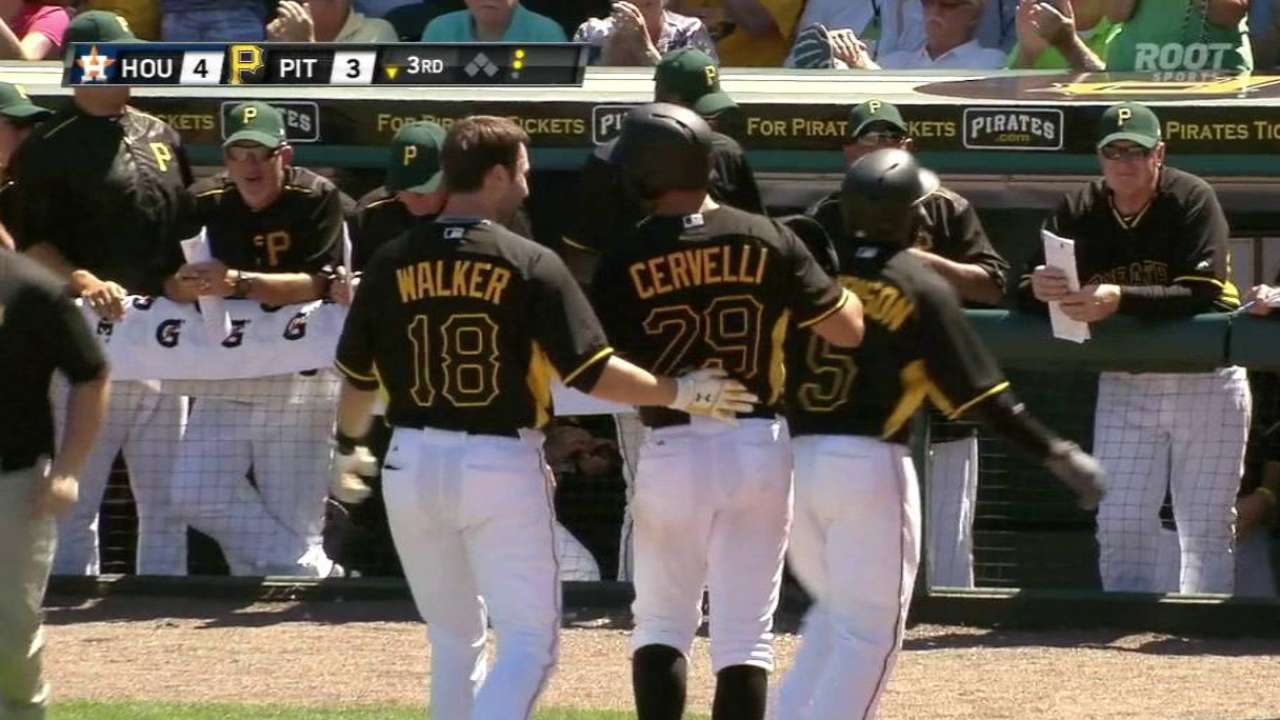 In the days leading up to Opening Day, MLB.com is examining various aspects of each team's roster. Today, the time has come to focus on a key number for the upcoming season. For the Pirates, it's 4, as in the cleanup spot in the lineup.
BRADENTON, Fla. -- The 2014 Pirates were terrific offensive tablesetters. They led the National League by drawing 520 walks and supplemented that by ranking third in hits with 1,436.
However, those Bucs left too many plates on the table, also topping the NL by leaving 1,192 men on base. Correlate that with the fact they dropped 15 games when their pitchers allowed three runs or fewer, and it is easy to conclude the missed opportunities cost them the NL Central title. No team is going to win all of its well-pitched games -- that's just the law of baseball -- but rallying to win only three more of them would've made up the two games by which they finished behind the Cardinals.
The hole was right in the middle of the lineup. Cleanup hitters were responsible for nearly 30 percent (327) of those stranded men. That inordinate share is supported by the cleanup men's collective .225 average and .393 slugging percentage, both well below NL means for that spot in the batting order.
So the Bucs' directive for 2015 is "Go fourth -- and multiply runs."
There appears to be an answer: Neil Walker. He is not new to hitting cleanup, having batted there in spurts in both 2011 and '14. What is new is manager Clint Hurdle's apparent willingness to make him a fixture as the No. 4 hitter.
For Hurdle to come to that decision, he had to let go of the dream of Pedro Alvarez fulfilling his destiny as the ideal cleanup man. For whatever reason -- and putting undue pressure on himself probably tops that list -- Alvarez has repeatedly struggled in the four-hole. In 44 chances there last season, he batted .212, with four times as many runners stranded (100) as RBIs (26).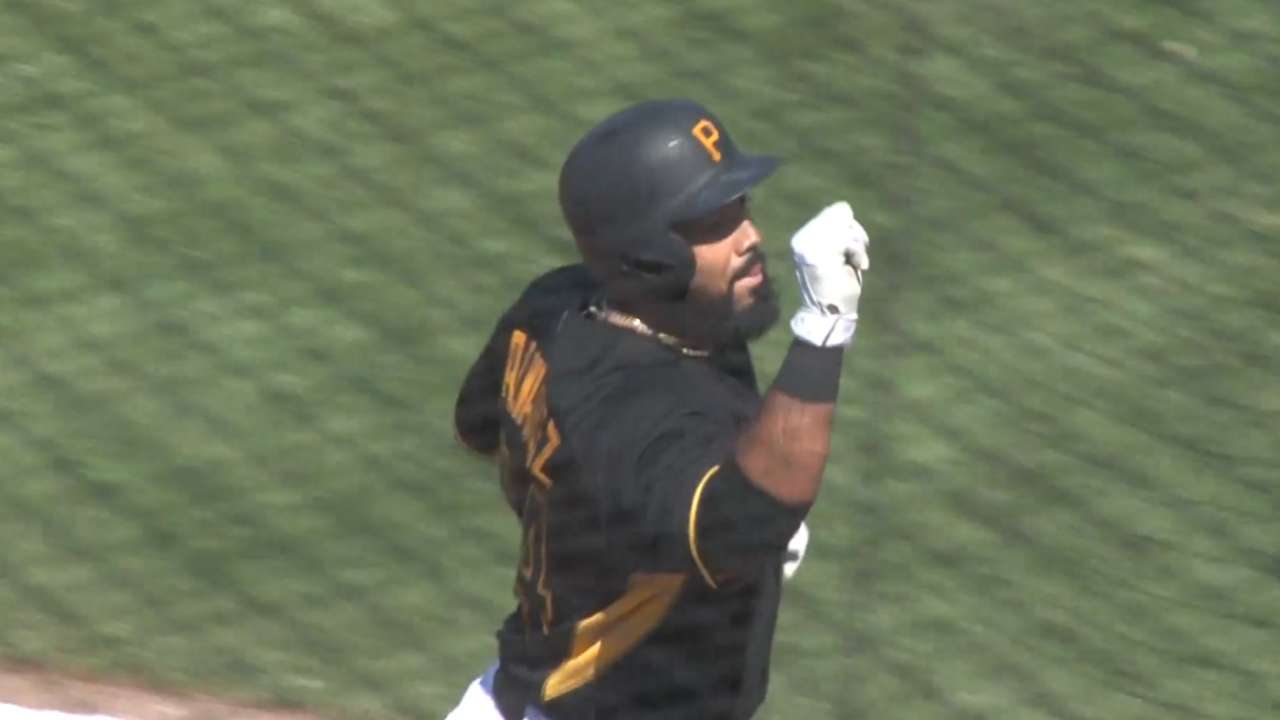 And for Walker to make his manager comfortable with that decision, he had to correct his blind spot as a right-handed hitter. He has done that masterfully: Probably not many people are aware that the '14 Walker was a better hitter from the right side (.280) than the left (.269) -- albeit, with inferior power.
That success has carried over to a small sample size in Spring Training. Alvarez's power would have made him the prototypical cleanup man, but being able to construct a lineup around a switch-hitter is also ideal. Walker would bat between right-handed hitters Andrew McCutchen and Starling Marte.
If Grapefruit League play was meant to administer a test, Walker has aced it. As a cleanup hitter, he is batting .400 with an OPS of 1.121.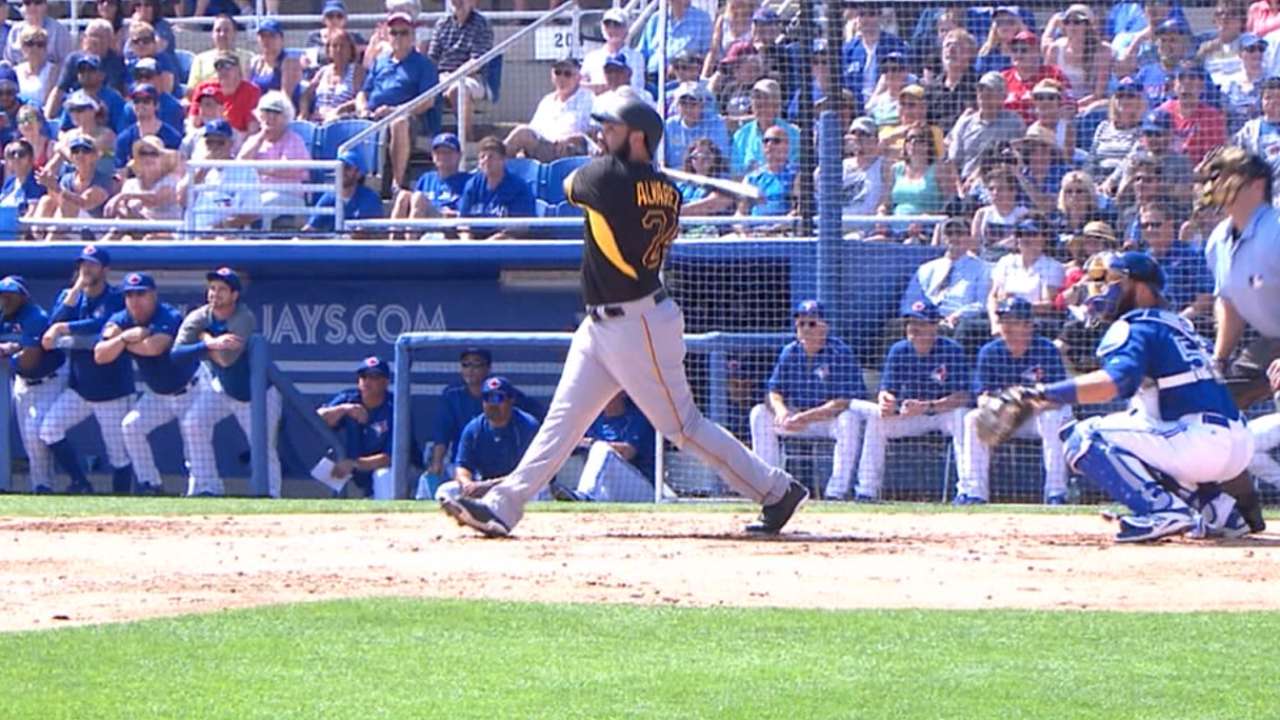 Walker may not own the four-hole, just lease the biggest part of it. Corey Hart has batted cleanup against left-handers, which could be his regular niche in a routine platoon at first base with Alvarez. But Alvarez doesn't seem to be in a platoon mood -- El Toro's exhibition slate includes a .357 average against southpaws.
If Hurdle gives Alvarez a chance to be the Bucs' first everyday first baseman since Adam LaRoche, Hart's playing time will be reduced and Walker would make himself at home at No. 4.
Tom Singer is a reporter for MLB.com and writes an MLBlog Change for a Nickel. Follow him on Twitter @Tom_Singer. This story was not subject to the approval of Major League Baseball or its clubs.