McKirahan claimed off waivers from Marlins
Acquisition of lefty clears up bullpen questions for Braves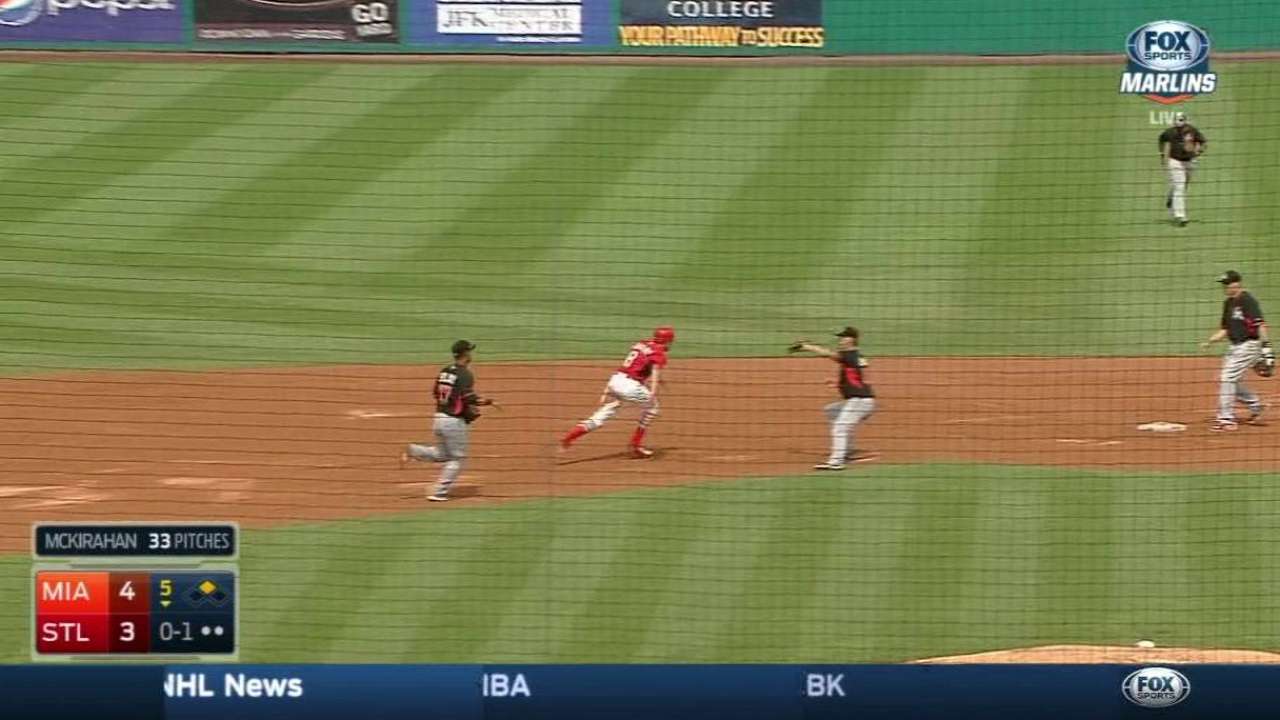 CLEARWATER, Fla. -- By claiming left-handed reliever Andrew McKirahan off waivers from the Marlins on Wednesday, the Braves provided a clearer picture of who might be in their bullpen when the regular season begins on Monday.
Because the Marlins selected McKirahan from the Cubs during December's Rule 5 Draft, the Braves would be required to carry the pitcher on their Major League roster for the entire season or offer him back to the Cubs.
"I've heard some great stuff [about McKirahan]," Braves manager Fredi Gonzalez said. "I haven't seen him, but I'm sure we'll see some video of him and then see him tomorrow. A couple of our scouts really like him. He's left-handed, and we're looking for some left-handed help out of the bullpen."
Actually, the Braves are looking for even more help to fill their bullpen. But their need to gain some left-handed assistance in this department became more definitive when Josh Outman began dealing with left shoulder discomfort after extending his recent struggles during last week's outing against the Pirates.
Outman, who was signed to serve as the left-handed specialist, was evaluated in Atlanta on Wednesday. Though the Braves are not ready to definitively say Outman will begin the season on the disabled list, that seems to be the current assumption.
Thus, the Braves currently have five relievers -- Craig Kimbrel, Jim Johnson, Jason Grilli, Luis Avilan and McKirahan -- lined up to fill the seven available bullpen spots. Juan Jaime, a hard-throwing right-hander who is out of Minor League options, strengthened his bid as he did not issue a walk in the two scoreless innings he completed during Wednesday's 9-2 loss to the Phillies.
McKirahan's arrival significantly reduces the likelihood of Brady Feigl beginning the season in Atlanta's 'pen. Feigl was the most impressive left-handed reliever in Braves camp this year, but the 24-year-old southpaw has never pitched above the Class A Advanced level and thus could likely benefit from some additional seasoning at the Minor League level.
The Braves are taking a gamble that McKirahan can make the leap from the Double-A level to the Majors. The 25-year-old hurler has produced a 2.16 ERA in the 89 professional appearances he has totaled since being selected by the Cubs in the 21st round of the 2011 First-Year Player Draft. He posted a 3.45 ERA in the 21 appearances he made after being promoted to Double-A Tennessee last year.
To be an effective reliever, McKirahan will need to prove more versatile than he was as he produced reverse splits last year. Left-handed hitters produced a .301 batting average and .370 on-base percentage against him. Right-handed hitters were limited to a .203 and .236 OBP.
While facing 12 left-handed hitters in Grapefruit League play this year, McKirahan has surrendered three hits and has not issued a walk.
Mark Bowman is a reporter for MLB.com. This story was not subject to the approval of Major League Baseball or its clubs.