Giles key to Phils as they rebuild
Reliever able to reach 100 mph with fastball, important for club's future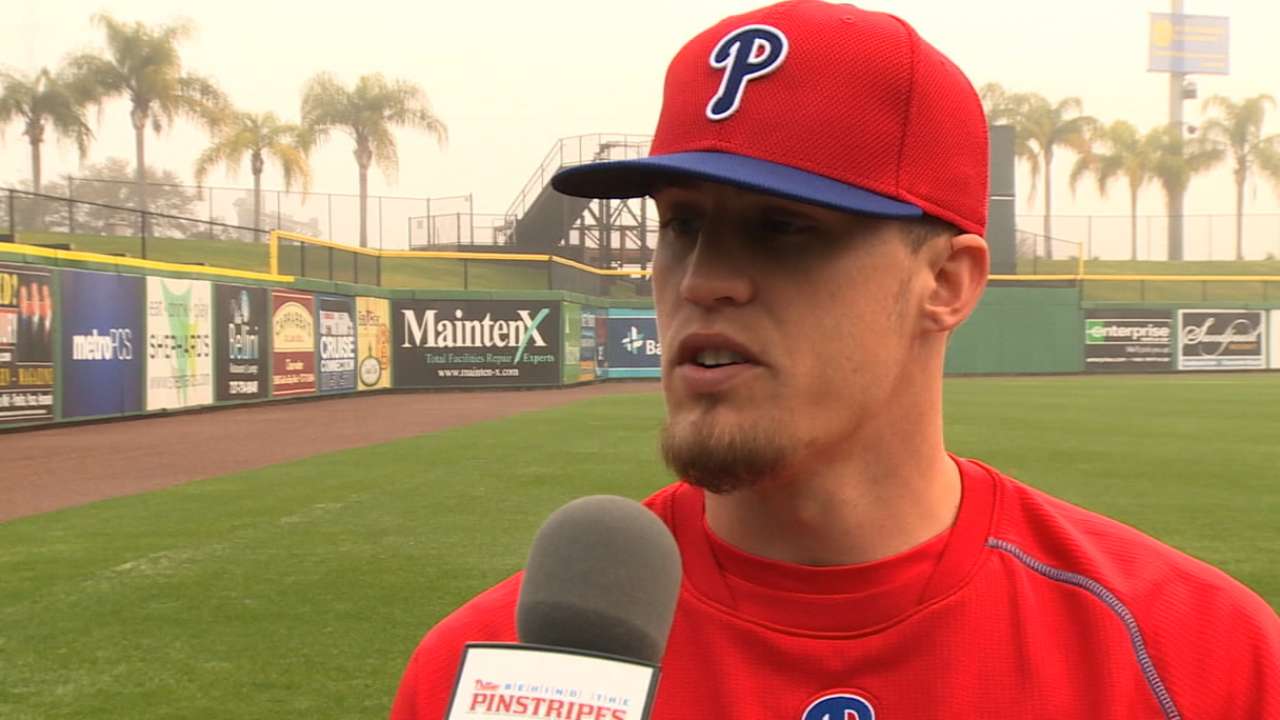 CLEARWATER, Fla. -- Ken Giles embraces the fact he can throw a baseball 100 mph.
He loves it.
A decade has passed since former Phillies closer Billy Wagner pumped 100-mph fastballs at Citizens Bank Park. Fans kiddingly booed Wagner whenever the scoreboard showed his fastball hit just 99 mph, but Wagner took offense and always mentioned the boos after he left the Phillies following the 2005 season.
Giles takes no offense.
Hey, he wants to hit 100 mph, too.
"My first outing, the exact same thing happened to me," said Giles, who has #100MileGiles on his Twitter account, @KenGiles53. "It didn't bother me. It's 99 mph. Not a lot of people can do that, but if they want to see [100 mph] … OK, whatever, you do it. You do it and it makes them happy. It was one of those things where I think fans wanted to see how I reacted to it. I think I passed their test with flying colors where I think they're like, 'OK, we can't boo him anymore. He's got a strong mind and mentality,' kind of thing.
"It's a cool thing to do. But I don't feel any more special than anybody else out there. We're all unique in our own ways. There are things I can't do that other people can do."
Perhaps more than any other player on the 25-man roster, Giles symbolizes the future for the Phillies. The Phillies are rebuilding and hope they can contend again in 2017 or 2018. If that time comes, they hope Giles is closing games for them. For now, Giles is setting up closer Jonathan Papelbon, although he could open the season on the disabled list with a back issue. It is not believed to be serious, but the Phillies need to be careful with Giles. They need him for the long haul.
Giles went 3-1 with a 1.18 ERA and one save in 44 appearances following his promotion from Triple-A Lehigh Valley in June. He allowed 25 hits, 11 walks and struck out 64 in 45 2/3 innings. Giles' 0.79 WHIP was fifth among rookie relief pitchers since 1914. His 5.82 strikeout-to-walk ratio is sixth, and his 12.61 strikeouts-per-nine innings average ranked 10th.
But the Phillies' bullpen should set up nicely this season. It potentially will be the team's only area of strength with Papelbon, Giles, Jake Diekman and Justin De Fratus holding the first four spots with Luis Garcia, Andy Oliver and possibly Jeanmar Gomez holding the final three spots.
"It's nice to start from the bullpen," Giles said about the rebuilding process. "Everybody in baseball is trying to build a strong bullpen, but it's pretty difficult to do. It's exciting. Like [Ryan] Howard and Chase [Utley] and all those guys back in the day. It would be nice to see all that hard work we've put in show and pay off."
It will take time, but Giles sees a foundation there. The organization believes there are prospects coming, too.
The Phillies hope everything comes together like it came together for Howard, Utley, Jimmy Rollins, Cole Hamels, Pat Burrell, Carlos Ruiz, Brett Myers, Ryan Madson and other homegrown talents with a World Series championship in 2008.
Former Phillies closer Brad Lidge fell to his knees after he recorded the final out in that World Series. Former closer Tug McGraw raised his arms toward the sky as he recorded the final out in the 1980 World Series.
What will Giles do? The Phillies hope to find out.
Todd Zolecki is a reporter for MLB.com. Read his Phillies blog The Zo Zone. Follow him on Twitter. This story was not subject to the approval of Major League Baseball or its clubs.