Gonzalez outrighted off Phils' 40-man roster
Righty not claimed on waivers, hasn't been effective this spring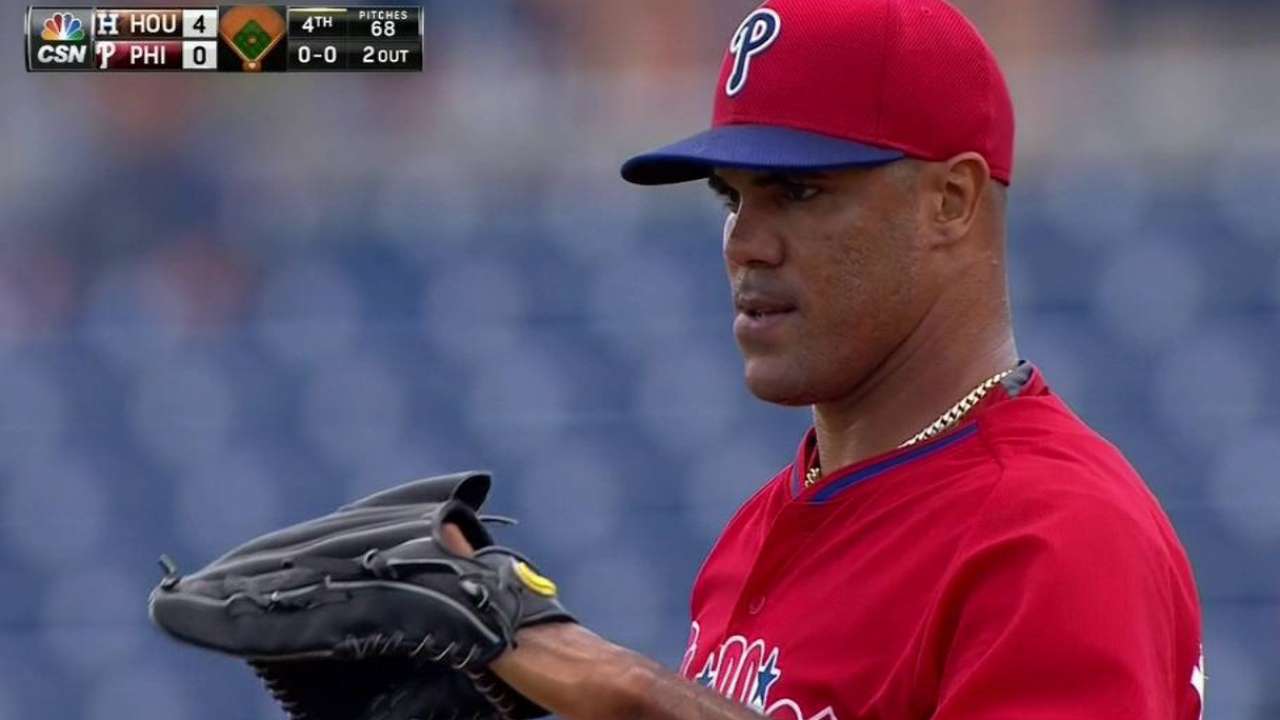 CLEARWATER, Fla. -- The Phillies acknowledged this week the Miguel Alfredo Gonzalez signing might never pan out.
That became more apparent Wednesday when they announced Gonzalez, whom they optioned Sunday to Triple-A, had been outrighted from the 40-man roster. The Phillies placed him on waivers, knowing they risked losing him to another team. But no team claimed him because he has not performed as expected and because he is in the second year of a three-year, $12 million contract.
No team wanted to pay the remaining $8 million on his contract.
"His status does not change for us," Phillies general manager Ruben Amaro Jr. insisted Wednesday at Bright House Field.
He said the Phillies put Gonzalez on waivers simply because they wanted to make room on the 40-man roster. The Phillies have 37 players on their 40-man roster.
"That doesn't mean he's not part of our plans," Amaro said.
The Phillies thought so much of Gonzalez in the summer of 2013 that they offered him a six-year, $48 million contract. But the deal dropped to $12 million following his physical. Gonzalez's health became an issue in Spring Training '14 and continued early in the '14 season, when he pitched in the Phillies' farm system.
Amaro said Gonzalez's velocity is a tick lower than when they scouted him in 2013. His breaking pitches are not as crisp.
"He's just not as sharp," he said.
Gonzalez had an unbelievable opportunity to be the team's No. 5 starter this season following Cliff Lee's elbow injury, but he instead went 0-3 with a 7.53 ERA in five Grapefruit League appearances. He allowed 25 hits, 12 runs, five home runs and one walk with seven strikeouts in 14 1/3 innings.
"When we evaluate the player and we see how he throws, and we saw he was not effective," Amaro said, "other teams see the same thing."
Asked if another team claiming Gonzalez would have been welcome, considering the Phillies would have saved $8 million, Amaro said: "This is not about money. It never has been. This whole rebuild stuff and the things that we're going through, it's not about money. It's about making sure that we acquire and keep the assets that are necessary for us to move the organization forward in the future."
Surgery likely for Hollands
Amaro said left-hander Mario Hollands, who has a torn common flexor tendon in his left elbow, remains likely to have season-ending surgery. Hollands recently received a second opinion from Dr. James Andrews. "We haven't made any final decisions on that," Amaro said. Hollands, Domonic Brown (left Achilles tendinitis), Cliff Lee (torn left common flexor tendon), Jonathan Pettibone (right shoulder) and Chad Billingsley (right elbow) will open the season on the disabled list.
Todd Zolecki is a reporter for MLB.com. Read his Phillies blog The Zo Zone. Follow him on Twitter. This story was not subject to the approval of Major League Baseball or its clubs.