Walker this way: Taijuan makes Opening Day roster
Righty lined up for Seattle's fifth-starter job; rookie Olson set for bullpen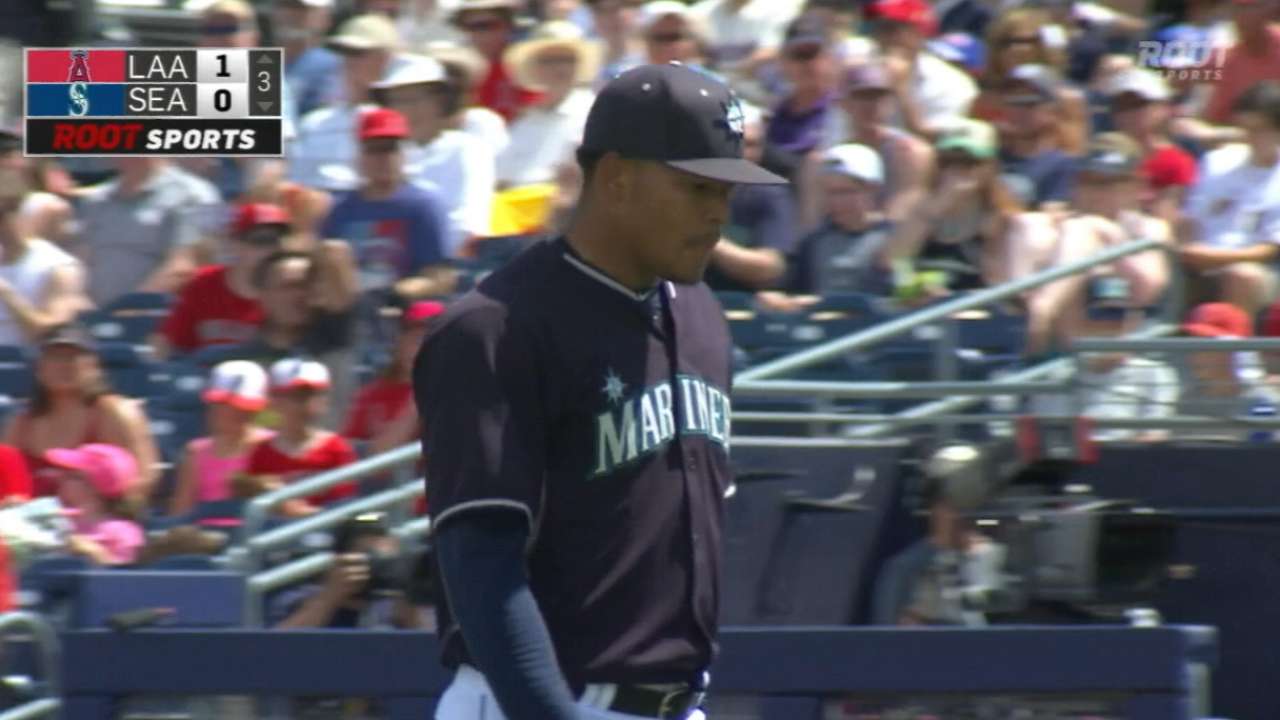 PEORIA, Ariz. -- Lloyd McClendon didn't want to make an official pronouncement about his final 25-man roster on Wednesday. But after the Mariners traded right-hander Erasmo Ramirez to the Rays for left-hander Mike Montgomery on Tuesday night, the pieces of the puzzle were all in place.
"Look at the board," the second-year skipper said, nodding toward an office wall showing Taijuan Walker among his five starters and rookie Tyler Olson as the last name in the bullpen.
"Write what you see," McClendon said. "I like my team."
It's been a foregone conclusion that Walker earned the fifth-starter role since Roenis Elias was sent down to the Minors last week, but McClendon had refused to finalize that news as long as Ramirez remained in the picture.
With one start remaining on Saturday, Walker has gone 3-0 with a 0.36 ERA in six Cactus League games. Opponents have hit .111 against the 22-year-old and he's struck out 24 with just four walks in 25 innings.
"He performed extremely well," said McClendon. "The rotation's not set, but he's on the club."
The rotation order won't come for a few more days, but Felix Hernandez, James Paxton, Hisashi Iwakuma, J.A. Happ and Walker are lined up to pitch in succession, each on five days' rest. Regarded as one of baseball's up-and-coming right-handers for the past several years, Walker will be with the club on Opening Day for the first time.
"Obviously it feels good," Walker said. "But now it pretty much starts all over again. I'm still competing, because Elias is going to be down there waiting for his turn to come up the moment I slack off. I just have to make sure I stay focused."
Olson's status is still tenuous. Since he's not on the 40-man roster, the Mariners haven't finalized his promotion. When they do, it'll be a huge moment for the 25-year-old, who has never pitched above Double-A. Olson is set to become the only non-roster invitee to crack the 25-man group that will head to Seattle for Monday's Opening Day.
Olson has yet to allow an earned run in 12 2/3 innings over 10 appearances with eight hits, no walks and 15 strikeouts this spring.
"He's shown a lot of poise and the ability to get left-handers and right-handers out," McClendon said. "He holds runners, works fast, throws strikes, fields his position. He's done a great job. I've said every year, I'm looking for surprises and he's a surprise."
Olson, who grew up in Spokane, Wash., and was drafted out of Gonzaga University in the seventh round in 2013, isn't taking anything for granted. As of Wednesday morning, he'd yet to tell his family that they'll be able to drive the four hours from eastern Washington to see him pitch to start this season.
"I haven't told anyone," Olson said. "I've been hoping and working hard for this for a long time. So being able to call the parents and hopefully confirm that it is true and things are working out is going to be a lot of emotions."
In other Wednesday news:
• Iwakuma will make his final spring tuneup in a 7 p.m. PT game on Thursday against the Padres' Triple-A club on the Padres' back field at the Peoria Complex. It will be a relatively short outing. McClendon took the same approach with Hernandez's 47-pitch start against the Indians on Tuesday, when he lasted just 1 2/3 innings.
"I could easily have sent him to the bullpen to throw more, but I didn't want to," McClendon said. "It was hot out, he was out of whack. It would serve no purpose. He's ready to go. He could throw 100 pitches come Monday and it made no sense to send him out there."
Greg Johns is a reporter for MLB.com. Follow him on Twitter @GregJohnsMLB as well as his Mariners Musings blog. This story was not subject to the approval of Major League Baseball or its clubs.