Benson hits first spring homer; Teheran closes spring
Outfielder helps Opening Day bid as righty tosses four in final spring game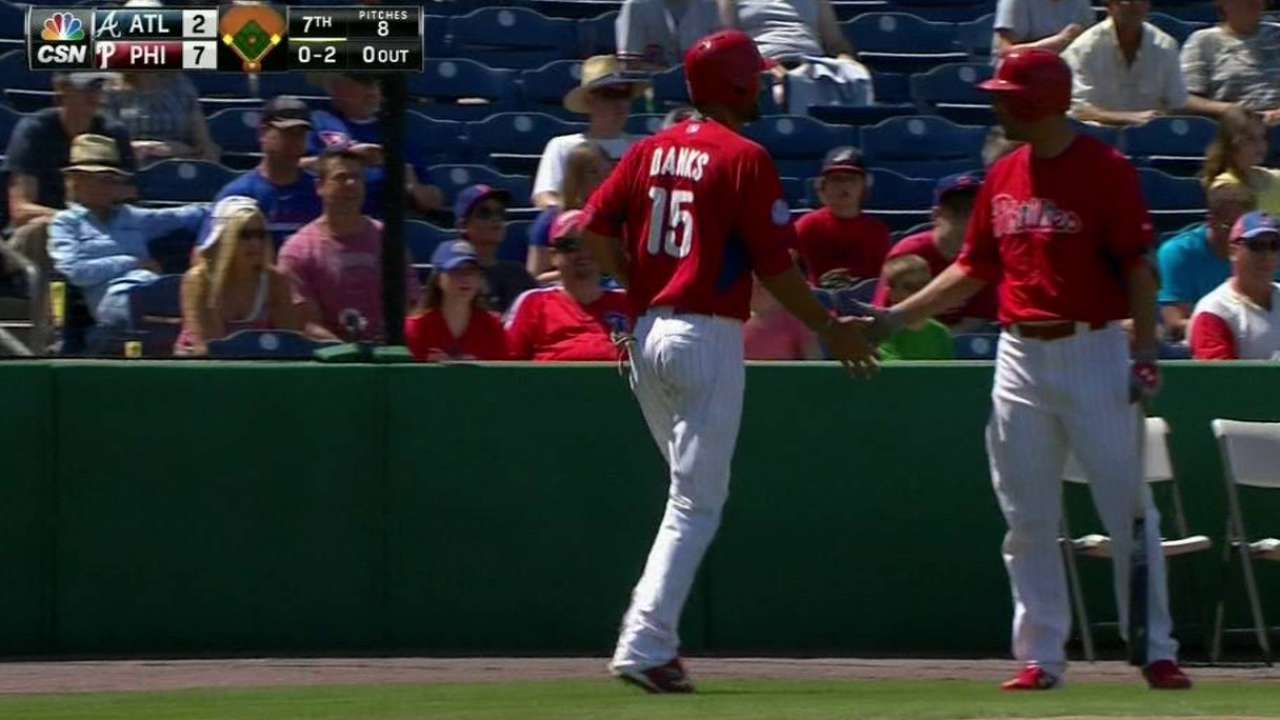 CLEARWATER, Fla. -- Chase Utley and the Phillies powered their way to a 9-2 victory over the Braves on Wednesday afternoon at Bright House Field.
Utley hit a three-run home run in the first inning and a solo home run in the third inning, while Freddy Galvis and Rene Garcia hit back-to-back home runs in the fourth inning against Braves right-hander Julio Teheran.
Utley has four home runs in five plate appearances, dating to a pair of home runs he hit in three plate appearances Sunday against the Tigers.
MOMENTS THAT MATTERED
Hamels tunes up: Phillies left-hander Cole Hamels made his final Grapefruit League start before pitching Monday on Opening Day against the Red Sox. He allowed six hits, two runs (one earned) and one walk with three strikeouts in six innings. He finished with a 4.15 ERA this spring.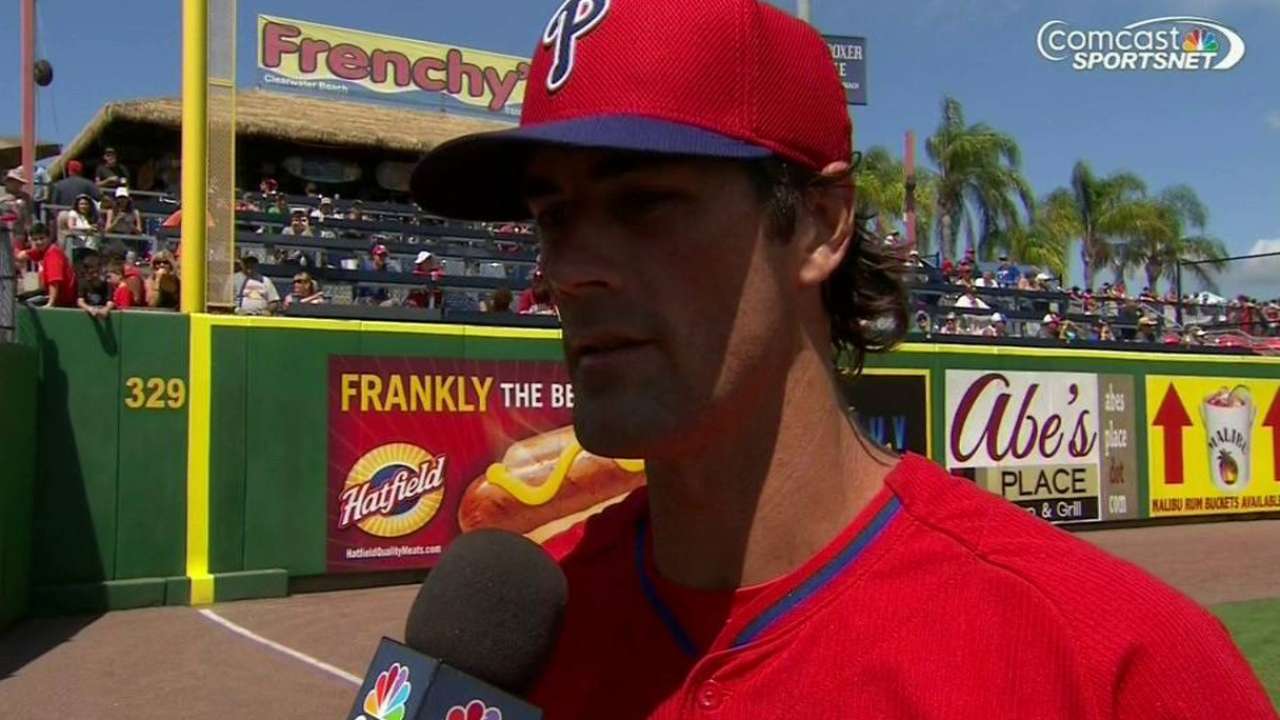 Benson enhances his bid: Joe Benson has never officially been in Major League camp, and he did not make regular appearances in Grapefruit League games until this week. But the 27-year-old outfielder enhanced his surprising bid for an Opening Day roster spot with the opposite-field homer he hit off Hamels in the second inning.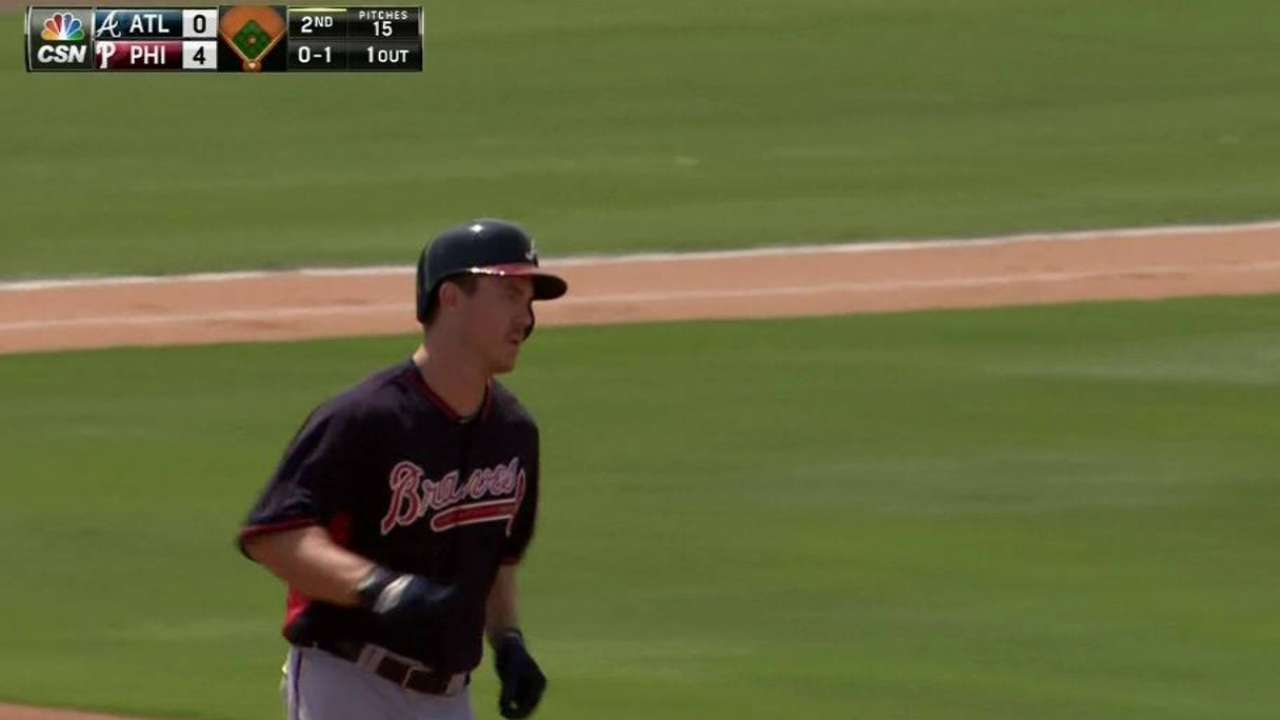 Utley looks ready: Utley missed the first 10 Grapefruit League games because of a sprained right ankle, but he is finishing the spring strong. He has hit four home runs in his last two games.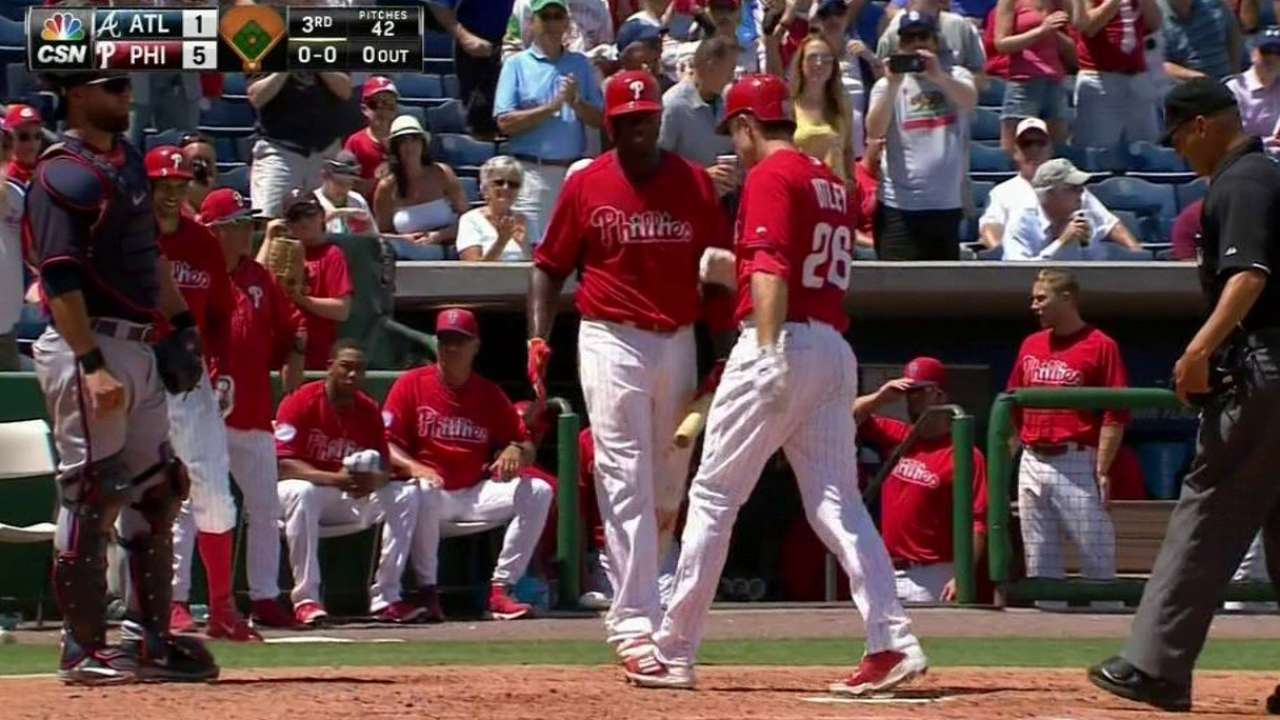 Teheran turns the page: After allowing four home runs while completing four innings in his final start before Monday's Opening Day assignment in Miami, Teheran said he felt as strong as he had at any point during Spring Training. Braves manager Fredi Gonzalez chalked it up to the challenge of being focused during the final outing of an exhibition season.
QUOTABLE
"It might have been a case where it's the last start of the spring and he's ready to get going, and maybe the focus wasn't there like we wanted it to be. When that happens, and you've got guys like Chase Utley and Ryan Howard in that group, you're going to pay for it." -- Gonzalez, on Teheran's outing
SOUND SMART WITH YOUR FRIENDS
Teheran has allowed as many as three home runs just once in 67 career starts. But this marked the second time he has allowed at least four homers in a Spring Training game. He surrendered six home runs while working just two innings against the Tigers on March 4, 2012.
NUMBERS GAME
The Phillies outrighted both right-handers Miguel Alfredo Gonzalez and Phillippe Aumont from the 40-man roster Wednesday to give them 37 players on the 40-man. The Phillies had no risk of losing Gonzalez. He is owed $8 million over the next two seasons and has not performed as expected. Aumont has struggled during his time with the Phillies, but some in the organization still think he can live up to his potential.
WHAT'S NEXT
Braves: The Braves will host the Orioles on Thursday night at 6:05 p.m. ET. Alex Wood, who is slated to pitch the second game of the regular season, will attempt to complete three to four innings in his final start of the Grapefruit League season.
Phillies: Right-hander Jerome Williams makes the Phillies' final Grapefruit League start Thursday afternoon against the Rays at Bright House Field. Williams is 0-3 with a 6.60 ERA in five appearances this spring. He will open the season as the team's No. 3 or No. 4 starter.
Mark Bowman is a reporter for MLB.com. Todd Zolecki is a reporter for MLB.com. Read his Phillies blog The Zo Zone. Follow him on Twitter. Todd Zolecki is a reporter for MLB.com. Read his Phillies blog The Zo Zone. Follow him on Twitter. This story was not subject to the approval of Major League Baseball or its clubs.