Change for the better? Success begins with rotation
After Twins starters ranked last in ERA in '14, new pitching coach Allen prompting use of changeup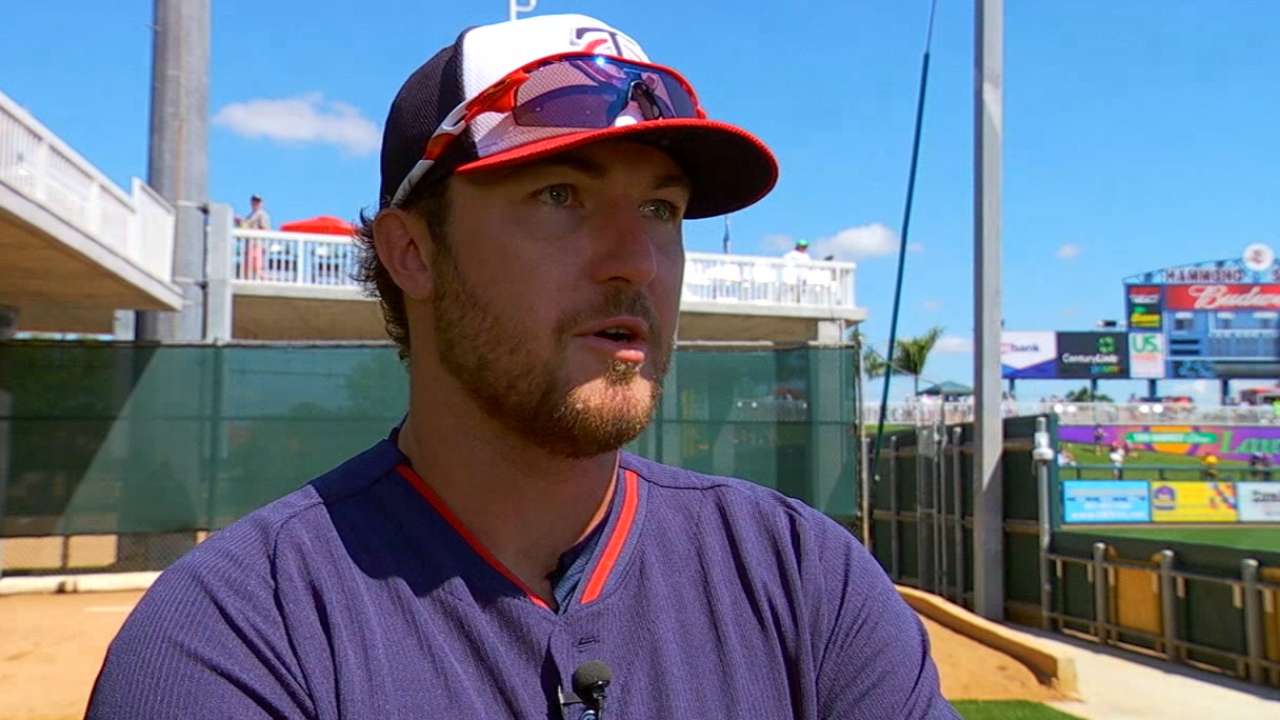 In the days leading up to Opening Day, MLB.com is examining various aspects of each team's roster. Today, the time has come to focus on a key number for the upcoming season. For the Twins, it's 5.06: their starting pitchers' ERA in 2014, last in the Major Leagues.
FORT MYERS, Fla. -- Looking through the Twins' statistics from the 2014 season that saw them lose 92 games -- marking the fourth straight year they lost at least that many -- it's easy to find one number that stands out above all the rest.
It's the unsightly 5.06 ERA by Minnesota starting pitchers, which ranked last in the Majors. In fact, it's been the culprit for the club's struggles over the last four seasons, as Twins starters combined to post a 4.64 ERA in '11 (26th in the Majors), a 5.40 ERA in '12 (29th) and a 5.26 ERA in '13 (30th).
But the Twins tried to remedy that this offseason by signing veteran right-hander Ervin Santana to a four-year, $55 million deal, while also locking up right-hander Phil Hughes to a three-year, $42 million extension through the '19 season after his breakout 2014.
The Twins are counting on those two to lead the top of the rotation, while hoping for a bounce-back year from right-hander Ricky Nolasco, who posted a career-low 5.38 ERA last season but came into spring in much better shape, and for right-hander Kyle Gibson to build on his solid but inconsistent first full year in the Majors.
Left-hander Tommy Milone won the fifth-starter competition over Mike Pelfrey, but the Twins also have top prospects who could make an impact this season such as Alex Meyer, Trevor May and Jose Berrios.
"For the most part, our starting pitching has been the most consistent part of the spring," Twins general manager Terry Ryan said. "If they carry that through the season, we'll be in pretty good shape. And most of the guys are guys who have been around a little bit -- so it's not like it's guys who are 21 and don't have Major League innings. There's no reason they can't carry that on."
Hughes remains the ace of the staff after breaking MLB's single-season strikeout-to-walk ratio record last year by striking out 186 batters and walking just 16 (11.63). It'll be tough for him to match those numbers again, but he's added a new wrinkle this year with the addition of a changeup at the urging of new pitching coach Neil Allen.
Allen replaces former pitching coach Rick Anderson and has made it his mission to have his pitchers add a changeup to their repertoires.
"I'm trying to utilize changeups because I looked at this organization and how many changeups they've thrown and saw that some organizations have thrown more than 2,000 more changeups than us [over the last three years]," Allen said. "So I think we need to incorporate that more. We haven't thrown as many changeups as we should've, so I think it's going to be a huge factor this year."
If the Twins can get their starting pitching in order, it'll make a big difference for a team that surprised many by finishing seventh in the Majors in runs scored last year. The Twins bring back every position player from last season, while also adding fan favorite and veteran right fielder Torii Hunter on a one-year deal worth $10.5 million.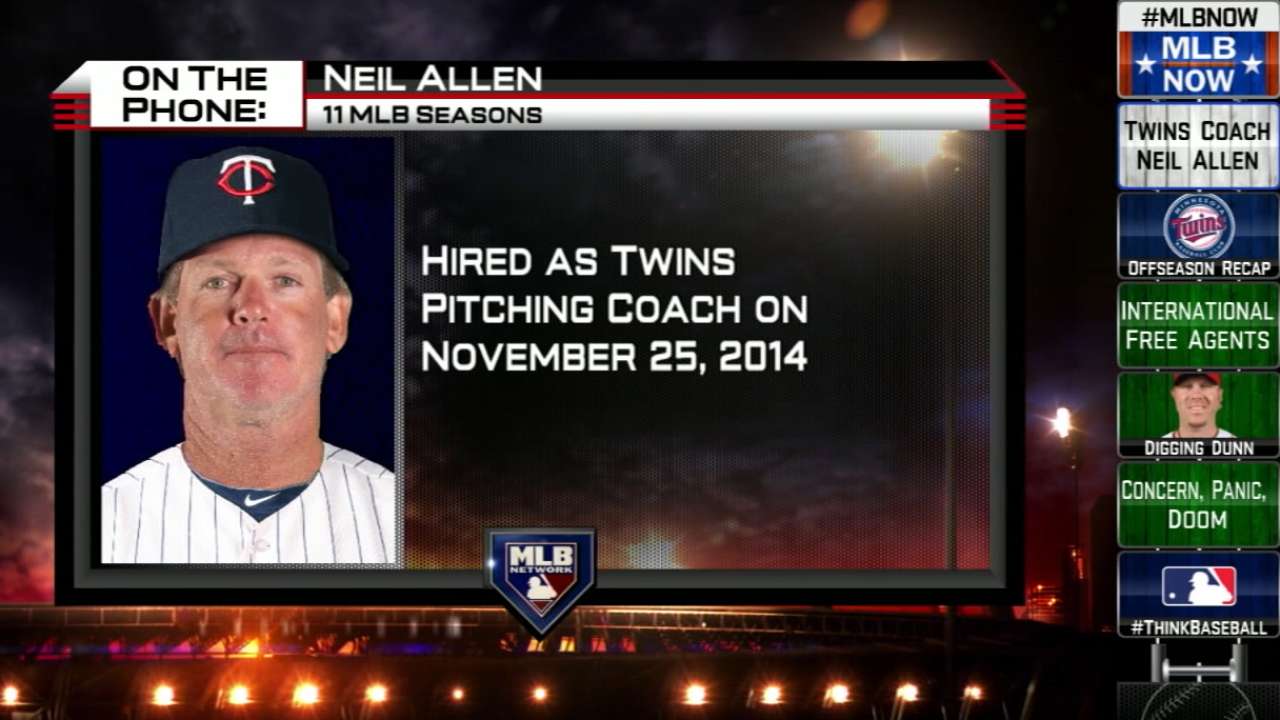 The defense, particularly in the outfield, remains a concern, but Allen is hopeful the increased use in changeups will lead to more strikeouts and weaker contact.
"We're going to exploit weaknesses and pitch to both sides of the plate," Allen said. "We're going to pop people up and pitch inside effectively. We need to open the plate for those changeups."
Allen, who previously worked as the pitching coach for Tampa Bay's Triple-A affiliate, said he likes what he's seen from his five starters this spring, but now it's about implementing those changes during the regular season and getting his pitchers to fully buy in.
"I'm going to do everything I can to change the mentality of what we've done in the past," Allen said. "In terms of arms, compared to where I was, I love the arms we have here, I love the arm strength and what they bring to the table. But I just have to bring in some new thoughts and ideas. It's been their way for quite a while. So again, it's about selling it."
Rhett Bollinger is a reporter for MLB.com. Read his blog, Bollinger Beat, and follow him on Twitter @RhettBollinger. This story was not subject to the approval of Major League Baseball or its clubs.