Power, depth to be major assets for Melvin, A's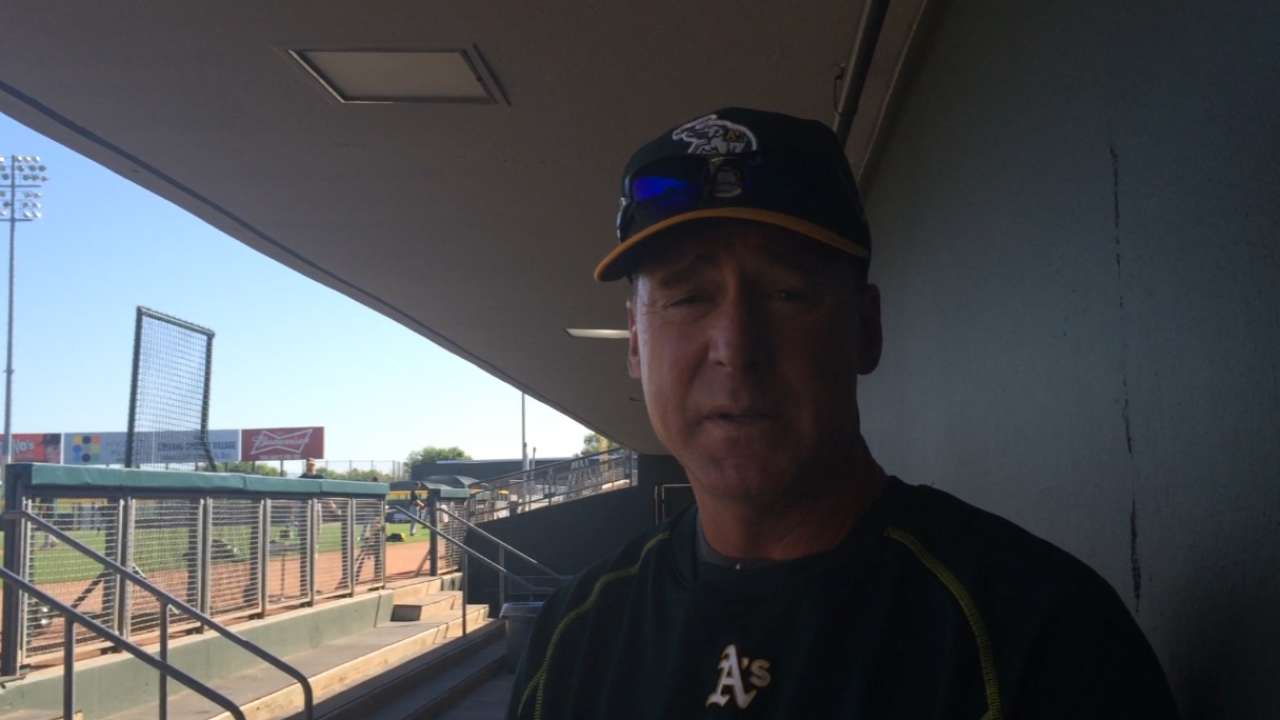 MESA, Ariz. -- As Spring Training comes to a close and the A's look ahead to the regular season, manager Bob Melvin sat down with MLB.com to discuss a variety of topics. To watch the full interview, click on the video link. Below are some highlights.
MLB.com: There has been a lot of talk about the starting rotation, and for good reason. What are your thoughts on the potential of this group and the depth that you have there?
Melvin: It's important to have depth. We've seen that over the last several years. And our organization's been great, (Billy Beane has) been great, about increasing the depth each and every year. We feel like we're six, seven strong as far as the rotation goes. We're going to be very happy with the five guys that we choose. A couple guys are going to be unhappy or a little disappointed at the end, but when you have that kind of depth, and then you look at a Jarrod Parker and an A.J. Griffin that potentially we get in the middle of the season, I don't know that anybody has more depth than we do. So, as it's shown in past years here, that's awfully important to us.
MLB.com: The depth, of course, extends to the bullpen. Even without Sean Doolittle to start the season, you have Tyler Clippard closing for you. What have your impressions of him been up close?
Melvin: He's a real pro, too. He knows how to get himself ready, and we kind of cut his workload back early on, increasing as we go along. He gets better and better each time out. He has several different ways to get a hitter out. I wasn't as aware of his pitch breakdown. He has a great changeup, a great curveball, he can pitch up and down and in and out with the fastball. His last outing was his best outing for us. It seems like he's getting ready on time, and to be able to have a guy like that, when Sean Doolittle is going to be down for a little period, we're very lucky to have that, and the depth that we have in the bullpen behind it. If ever there was a bullpen that can withstand losing your closer, hopefully for just a short period of time, it's us, because we do have a Tyler Clippard.
MLB.com: Now, your lineup has a very different look to it with so many new parts. What can we expect from this lineup, and how much will speed play a factor?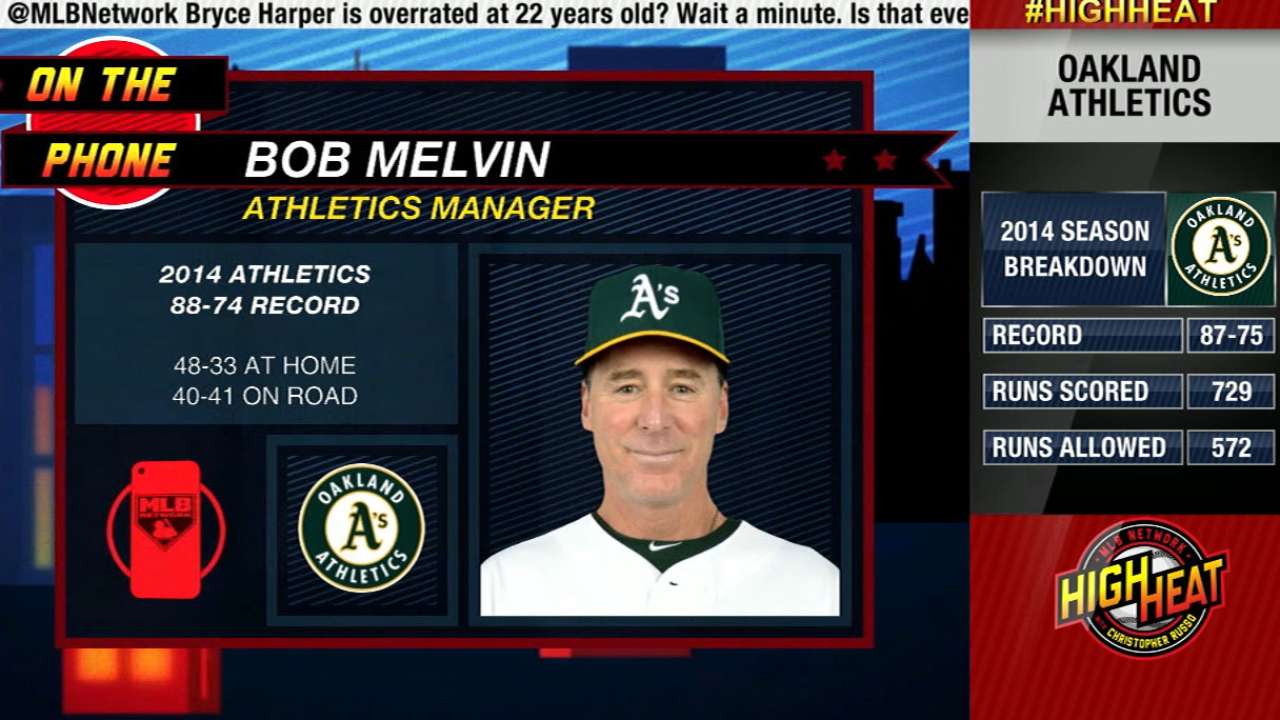 Melvin: It will some. We're a little bit different in the way we'll do things this year, but not as much as everyone thinks. I still do think we have quite a bit of power. Billy Butler's not going to hit nine home runs this year. Stephen Vogt's got some power and he's healthy now. Brett Lawrie, if we keep him on the field, you're going to see quite a few homers from him. Ben Zobrist probably has a few more in his tank. Marcus Semien, for a shortstop, has a lot of power, and Mark Canha and some of the guys in the outfield. Josh Reddick, if he's healthy for a full season, he's hit 32 home runs before. So we think we have a few more homers than maybe people expect out of us, yet we do have some guys that can run the bases one through nine, too.
Our organization identifies guys that do take some pitches and make pitchers work, so to say that we're going to be this hit-and-run team, we have the ability to do some of that. Yet I think we're going to try to stay with the strength that we have. But we do probably have more depth one through nine as far as at least running the bases and being a little bit speedier on the basepaths.
MLB.com: How do you see the AL West shaping up?
Melvin: Every year our division gets better. The first year I got to Oakland, it was Albert Pujols, then it's Robinson Cano. Now it's Nelson Cruz. The Astros have now put together, with their prospects, a very good team on top of that. Texas, with just bringing guys back from injuries, they're going to be another very strong team. Seattle's gotten a lot better in what they've done, and we saw what they accomplished last year, too. Then the Angels only won 100 games last year or whatever it was. So I think our division, which was a strong division, certainly at the top of it, now throughout the whole division is very strong. So any time we play a division game, it's going to be tough.
Jane Lee is a reporter for MLB.com. Read her blog, Major Lee-ague, and follow her on Twitter @JaneMLB. This story was not subject to the approval of Major League Baseball or its clubs.