Cardinals look to turn power back on in '15
Last years squad hit fewest homers since 1992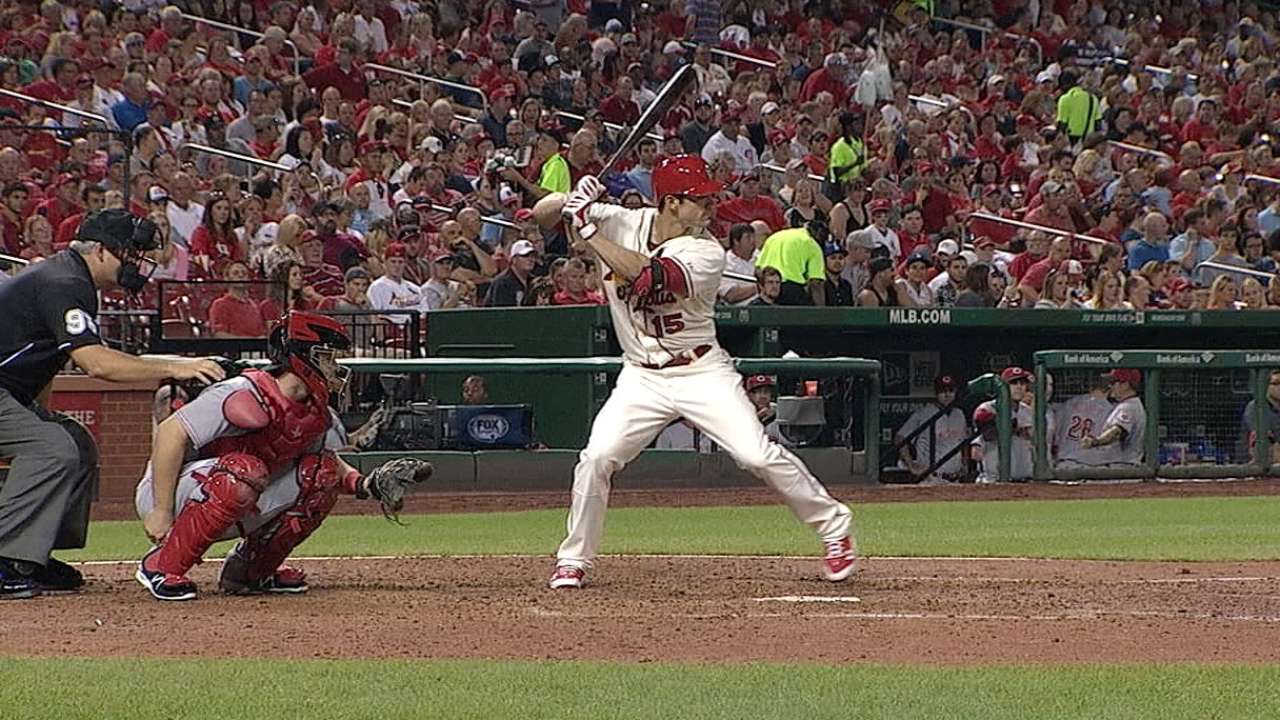 In the days leading up to Opening Day, MLB.com is examining various aspects of each team's roster. Today, the time has come to focus on a key number for the upcoming season. For the Cardinals, it's 105: their National League-low home run total in 2014.
JUPITER, Fla. -- So exasperated by the persistent peppering of questions about his team's power drought last summer, manager Mike Matheny finally turned to humor to deflect the inquiries.
"We tell them not to hit home runs," he would quip.
The facetious answer became Matheny's best defense against an unexpected trend for which he otherwise had little explanation. Two years after boasting five 20-homer players, the Cardinals finished the 2014 season with a National League-low 105 home runs. Add the American League teams to the mix and only the Royals (95) had fewer.
Not since 1992 had the Cardinals fielded a team that hit fewer homers. It had been even longer than that since the Cardinals had finished with as low a slugging percentage (.369) as last year's group. For a club that was not laced with much speed and one anticipating a decline in success with runners in scoring position, the power lapses left the Cardinals with a labor-intensive offense that struggled to score.
St. Louis finished the season averaging 3.8 runs per game, seventh-fewest in the Majors. Only Jhonny Peralta and Matt Holliday reached the 20-homer threshold. The team's 401 extra-base hits represented the fewest by any Cardinals club since 1995.
"Honestly, I still scratch my head a little bit on our offense," general manager John Mozeliak said. "It was a little bit of a confusing year."
The Cardinals' slugging percentages and home run totals have steadily declined over each of the past four seasons, though the organization believes it is built for a bump in both departments this year.
Despite winning the division without the assistance of much pop, the Cardinals sought to address the power drought in the offseason. In right field, where the Cardinals posted a Major League-worst .326 slugging percentage in 2014, they now feature Jason Heyward, who is two years removed from a 27-homer season. The Cardinals project that power to resurface.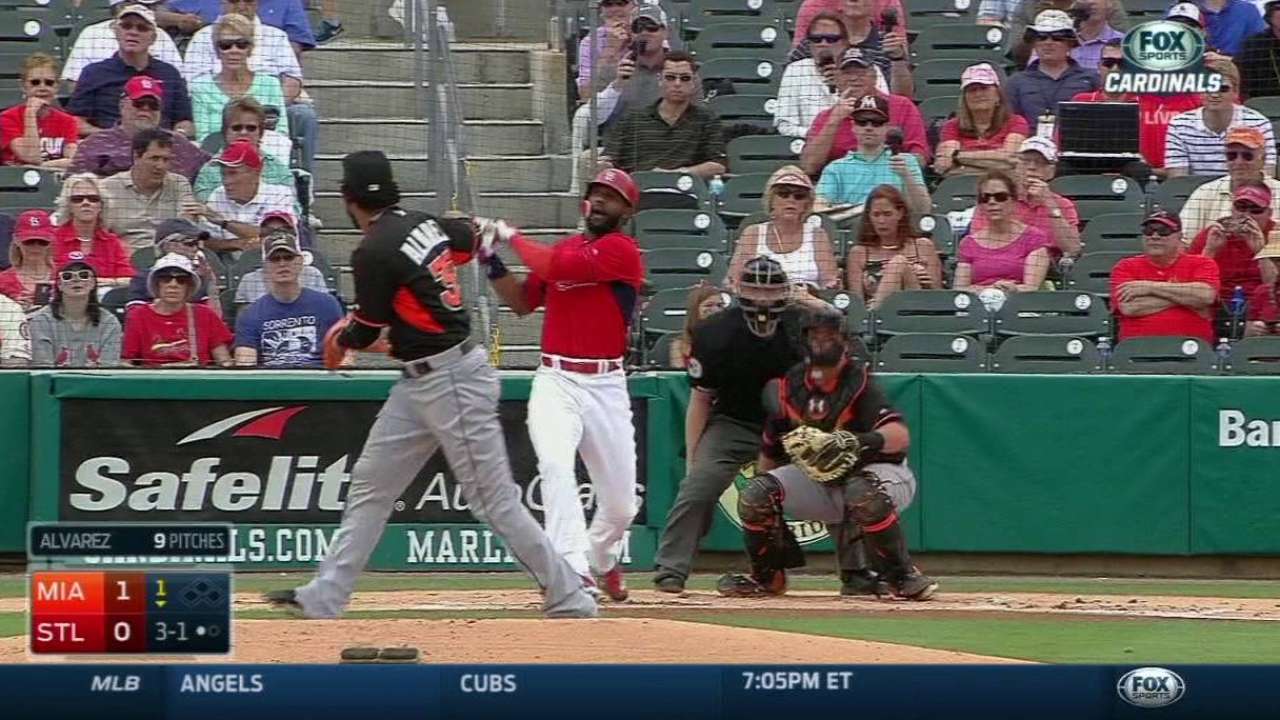 The addition of Mark Reynolds and the decision to carry Randal Grichuk north add an element of right-handed power that was missing a year ago. Reynolds, who signed a one-year deal with the Cardinals, is one of six Major League players with a string of at least seven consecutive 20-homer seasons. Cardinals three-hole hitter Matt Holliday is also in that group.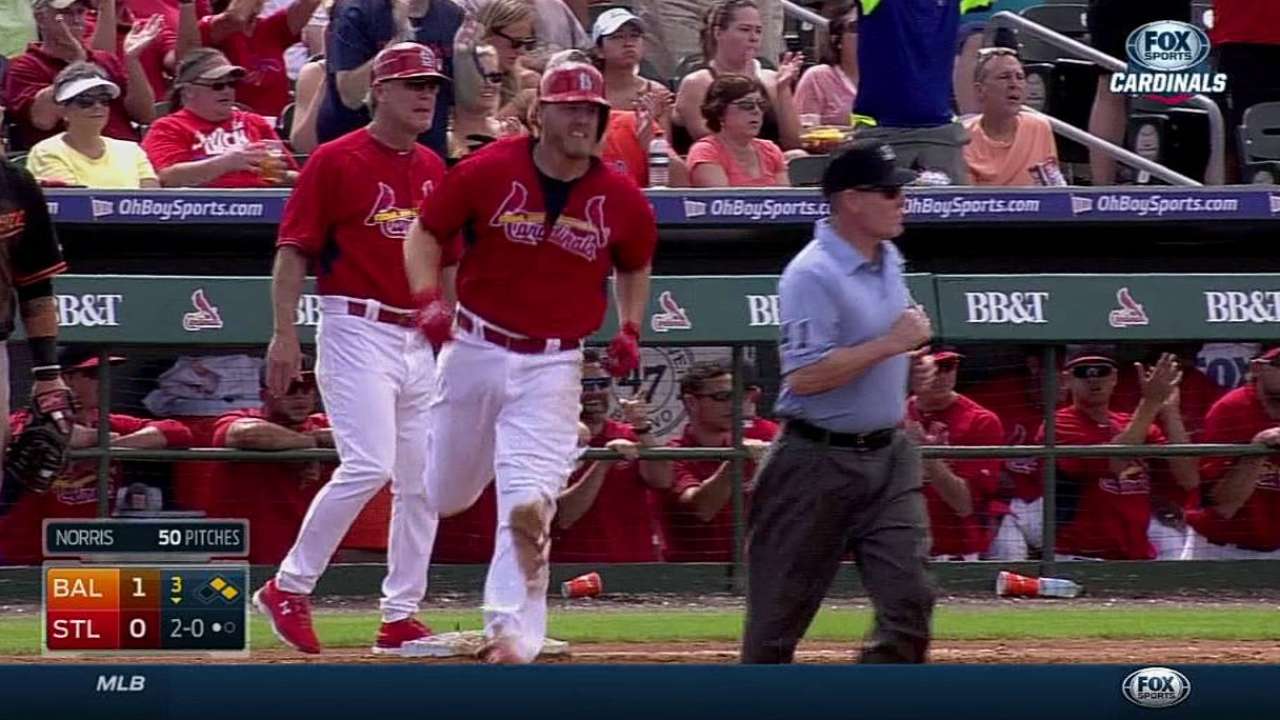 "I think it's going to change how people look at our lineup and look at that spot when the pinch-hit opportunity comes up," Matheny said. "But not just in the pitcher's spot. If somebody is having a tough time and one of our lefties is having a rough way to go, we have a couple very, very good options that could be thrown into the game whenever they decide to make a change."
The Cardinals' left-handed bats also bring potential for a power uptick -- starting with Matt Adams. His home run rate declined from one every 17 at-bats in 2013 to one every 35 at-bats in 2014, but he can correct that trend if he can have more success against lefties.
Matt Carpenter has talked about taking a more aggressive approach into the leadoff spot, while Kolten Wong surprised many with a line-drive swing that produced 12 regular-season homers and seven extra-base hits in the postseason.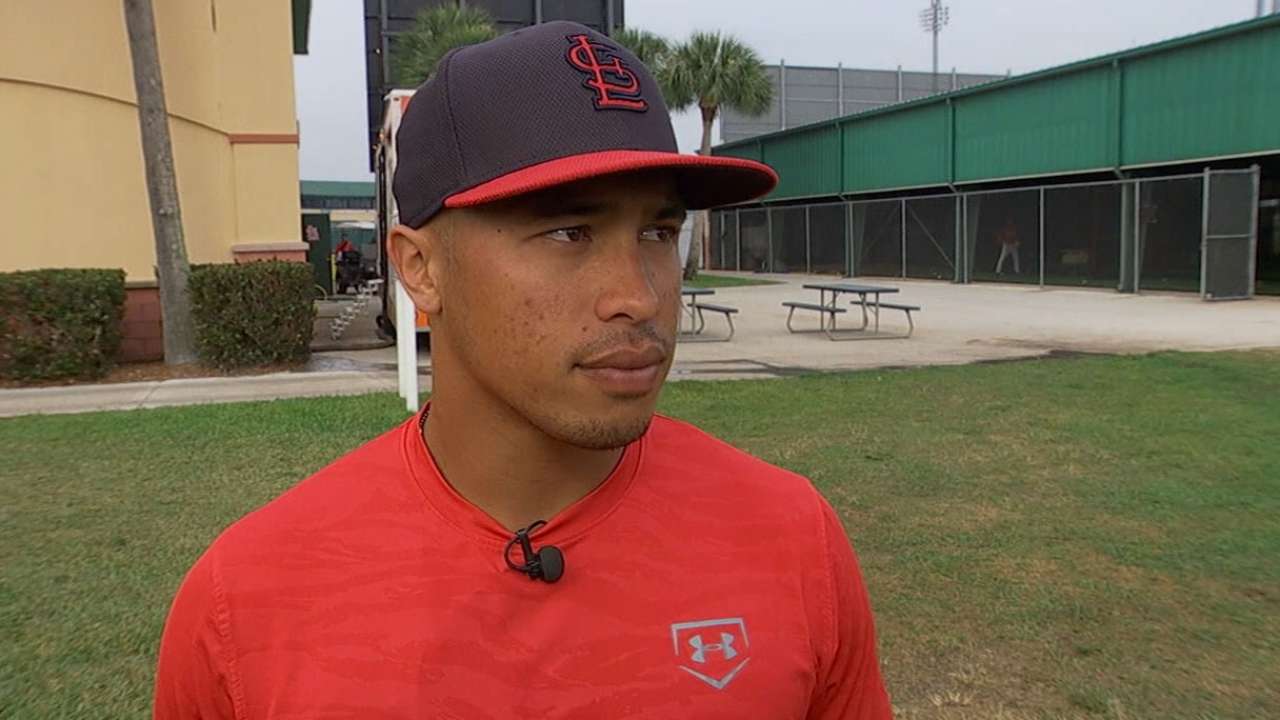 "I think this lineup has a chance to be the best one since I've been here," Carpenter said. "It can be as good as or better than 2012, 2013, the 2011 team that won it all. We have some pieces with Jason [Heyward] and even Mark Reynolds, some added power on the bench. These are things that we were missing last year that can really, really help."
And yet, while the Cardinals believe this group is capable of more in the power department and specifically sought to address the deficiency, they maintain that the best approach to improving is the unintentional one.
"It's not like there are drills we can come in here and do and hit home runs," Matheny said. "Put a good swing together. We like guys driving the ball. Look at what we did in the postseason. It was about going out and putting a good at-bat together and getting something early to drive. That's what we want these guys to do -- drive the ball. They have enough natural power that it's going to carry."
Jenifer Langosch is a reporter for MLB.com. Read her blog, By Gosh, It's Langosch, follow her on Twitter @LangoschMLB and like her Facebook page Jenifer Langosch for Cardinals.com. This story was not subject to the approval of Major League Baseball or its clubs.