Salty eager to enjoy much-needed rebound season
After rough transition to NL, catcher's efforts at and behind plate will be key to Marlins' hopes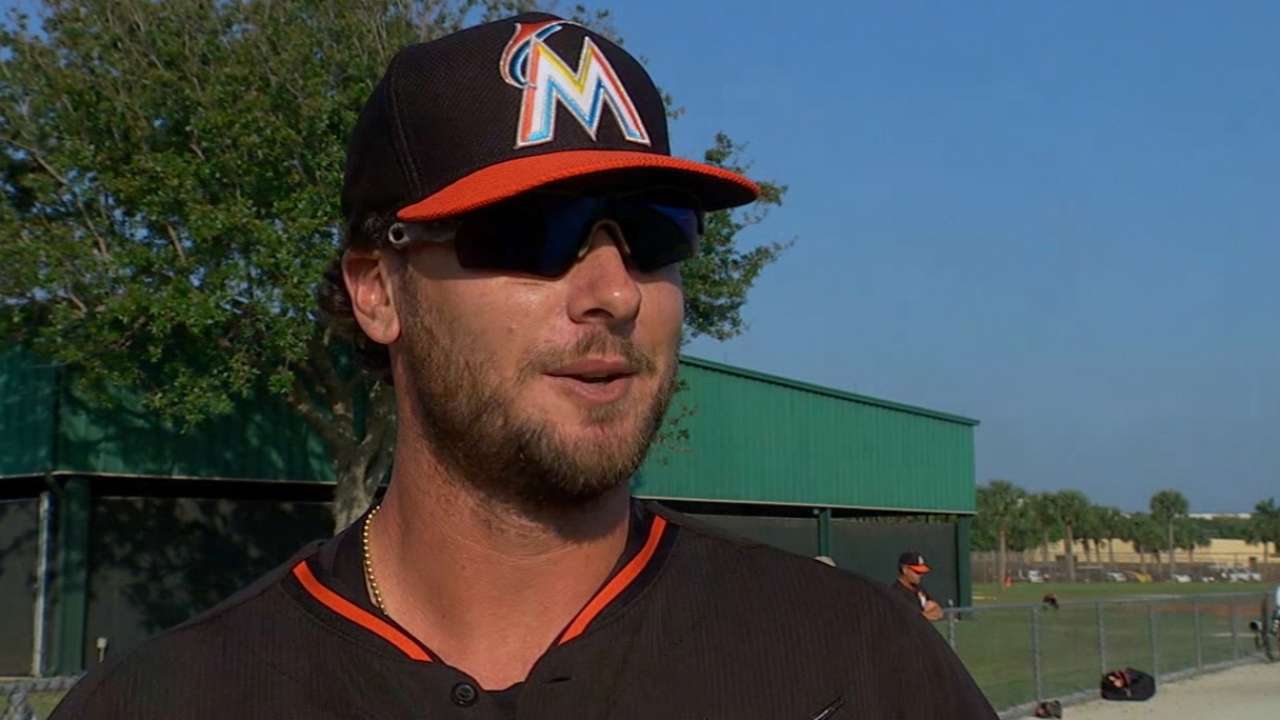 JUPITER, Fla. -- Turning the page is not a problem for Marlins catcher Jarrod Saltalamacchia. After a disappointing 2014, the 29-year-old is ready for a fresh start.
The new beginning comes Monday on Opening Day. Miami, a team on the rise, is hopeful Saltalamacchia plays a pivotal role in what becomes a playoff season.
"As a baseball player, confidence is key," the veteran catcher said. "When you're comfortable, you're confident. I feel a lot more comfortable this year."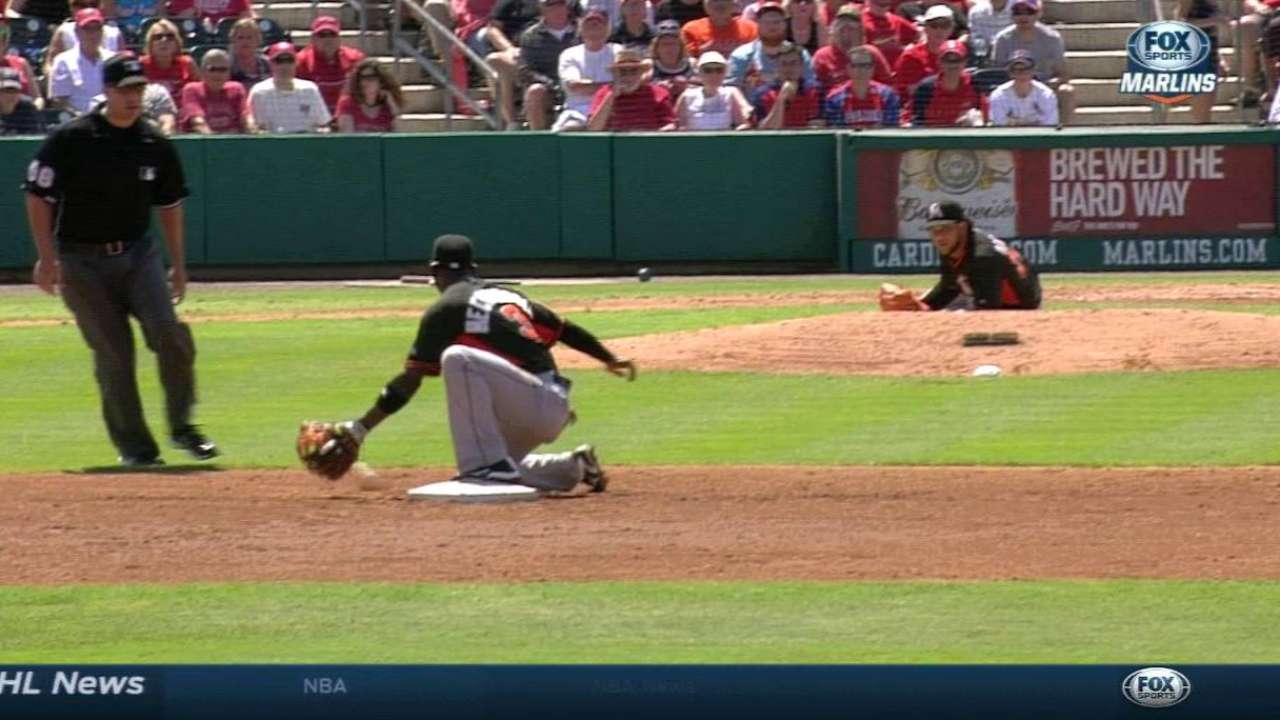 Excitement has been running high around the Marlins since Giancarlo Stanton signed his record-setting 13-year, $325 million contract in November. The organization built on the momentum by acquiring a number of established players like Dee Gordon, Martin Prado, Michael Morse, Mat Latos, Dan Haren and Ichiro Suzuki.
Now, with the season starting on Monday against the Braves at Marlins Park, it's a matter of all the pieces coming together.
Saltalamacchia has a track record of success. In 2013, he was part of the Red Sox's World Series title team. In his second season with Miami, he senses something special brewing in South Florida.
"The players around me, obviously, are going to help make me better," Saltalamacchia said. "Not that it wasn't there last year. I just had too much, I think, going on in my head, with the [changing] leagues and everything. Simplifying it is going to be key."
The transition to the National League was a rough one for Saltalamacchia.
In 114 games for Miami, the Palm Beach County native had a slash line of .220/.320/.362, with 11 homers and 44 RBIs. His doubles were sliced in half from 40 in 2013 to 20. The switch-hitter also struck out a career-high 143 times. Defensively, his 15 errors were the most of any catcher in the Majors.
"Hey, guys have bad years," manager Mike Redmond said. "A lot of times, it's how you respond to them. I think he's handled it tremendously. He's worked hard."
Saltalamacchia has wiped the slate clean.
"We're looking for Salty to have a big bounceback year," Redmond said. "He's important. The catcher has a lot of responsibility -- not just hitting or defense, but leading the pitching staff. We know he can do it. We have faith in him. He knows he can do it."
Saltalamacchia has the hardware to prove it. He and Morse (Giants '14) are the only players on the Marlins' Opening Day roster who have won a World Series.
In the eyes of the catcher, he sees a Miami team that has a similar togetherness the Red Sox rode to the championship two years ago.
"I see a good group of guys, a lot like '13," he said. "Everyone is showing up to the park every day excited and ready to go. I think that's key.
"You're going to be with each other for 162 games. You've got to enjoy each other. You've got to learn what your likes and dislikes are. We're all brothers in there. It feels a lot like '13. I think there are a lot of excited faces in there. We're ready to go."
With a deeper lineup, Saltalamacchia adds a power threat to the bottom of the order. In Spring Training, he's worked extensively in the cages with assistant hitting coach Lenny Harris.
"I felt like last year, I was really searching for my swing, which was something I've never really done," Saltalamacchia said. "I think that kind of contributed to a lot of things.
"This year, working with Lenny, we're just trying to get the swing where I want it and keep the same approach. Obviously, knowing the league a little better, knowing the pitchers a little better is probably going to help me have a better idea, a better plan."
Joe Frisaro is a reporter for MLB.com. He writes a blog, called The Fish Pond. Follow him on Twitter @JoeFrisaro. This story was not subject to the approval of Major League Baseball or its clubs.