MLB.com Columnist
Richard Justice
Trademark intensity makes Carpenter a model Cardinal
Not one to take success for granted, third baseman paved his way with hard work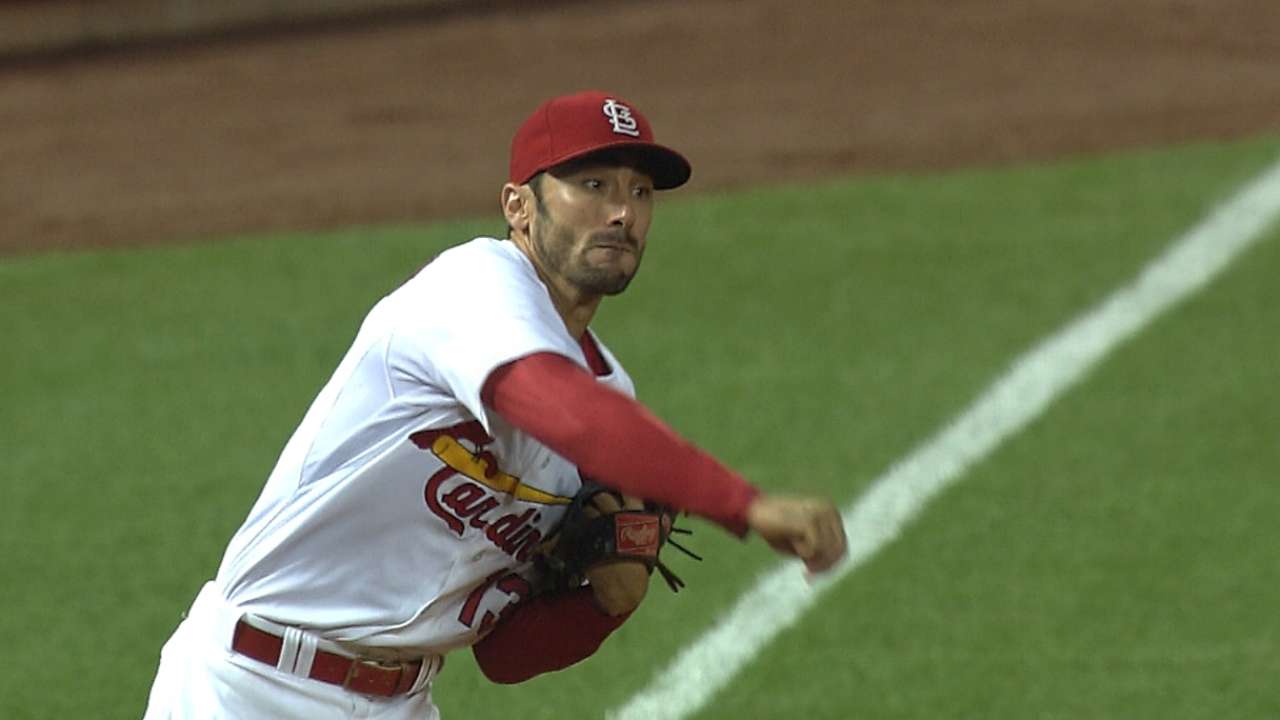 JUPITER, Fla. -- Maybe a guy appreciates his career just a bit more when it almost didn't happen.
"I've been pushed to the brink of it ending," St. Louis Cardinals third baseman Matt Carpenter said.
Sounds funny now, doesn't it?
These days, Carpenter is not just one of the best players in baseball. He's also one of the most respected -- especially inside the Cardinals' clubhouse, where his work ethic and drive are admired.
"I love the way he goes about it," Cards manager Mike Matheny said. "Always have."
At times, Matheny has worried that Carpenter does too much -- too many hours in the cage, the weight room and the video room. But mostly, he understands that the very thing that got his third baseman to this point isn't going to change.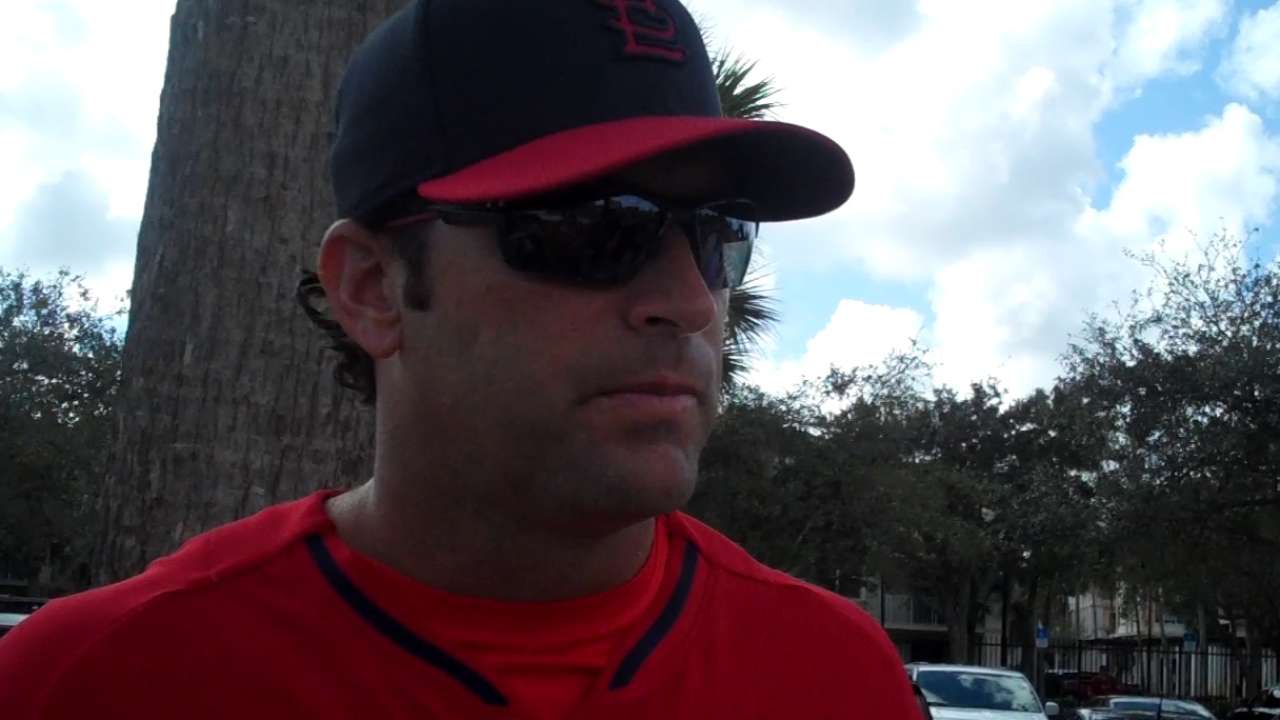 "He doesn't take a day for granted," Matheny said. "That mindset has served him really well."
Cardinals coach John Mabry approached Matt's dad the other day and echoed what Matheny said.
"Hey, he's a great player. We all know that," Mabry told Rick Carpenter. "But you should really be proud of the way he is, the kind of man he is."
Rick Carpenter, visiting the Cards this week, appreciates these compliments on a couple of levels. First, Rick sees Matt from a baseball man's perspective. During three decades as a high school coach in both the Houston and Dallas suburbs, the elder Carpenter's teams have won more than 700 games and three state championships. Speaking also as a father, he couldn't be prouder.
"When people say things like this about one of your kids, it chokes you up a little bit," Rick said.
The turning point in Matt Carpenter's career came when he underwent Tommy John surgery during his junior season at TCU and began a long rehab process. At some point during that time, TCU coach Jim Schlossnagle gave Carpenter a tough-love talk.
"He basically told him this might be kind of a do-or-die moment for Matt," Rick said. "Matt had always worked hard. But you know when they talk about the freshman 15. Matt gained more than that."
Something clicked after that conversation. Matt Carpenter poured himself into his diet, losing 40 pounds. He became fanatical about his work habits. And by the time he finished his senior season, his fifth year in school, he had hustled his way onto some Draft boards.
"I was at a point in my life where if I was going to do this, I've got one shot," Matt said. "If I don't make it, it wasn't going to be because I didn't do everything I possibly could have done. That was my mindset. I had a very small window to try to make this happen. If it works out, great. If it doesn't, I'll be able to sleep at night.
"When you've been to the deepest part of concern about whether you're going to keep playing or not, that's a pretty big motivator. That's where I was at. I wasn't going to take any day for granted. You use that as motivation. I still use it today."
The Cardinals used the 299th pick of the 2009 First-Year Player Draft on Carpenter. He soon came to understand that being a 13th-round Draft pick -- as well as a fifth-year player, when most of the top prospects are selected after their third year -- carried a stigma.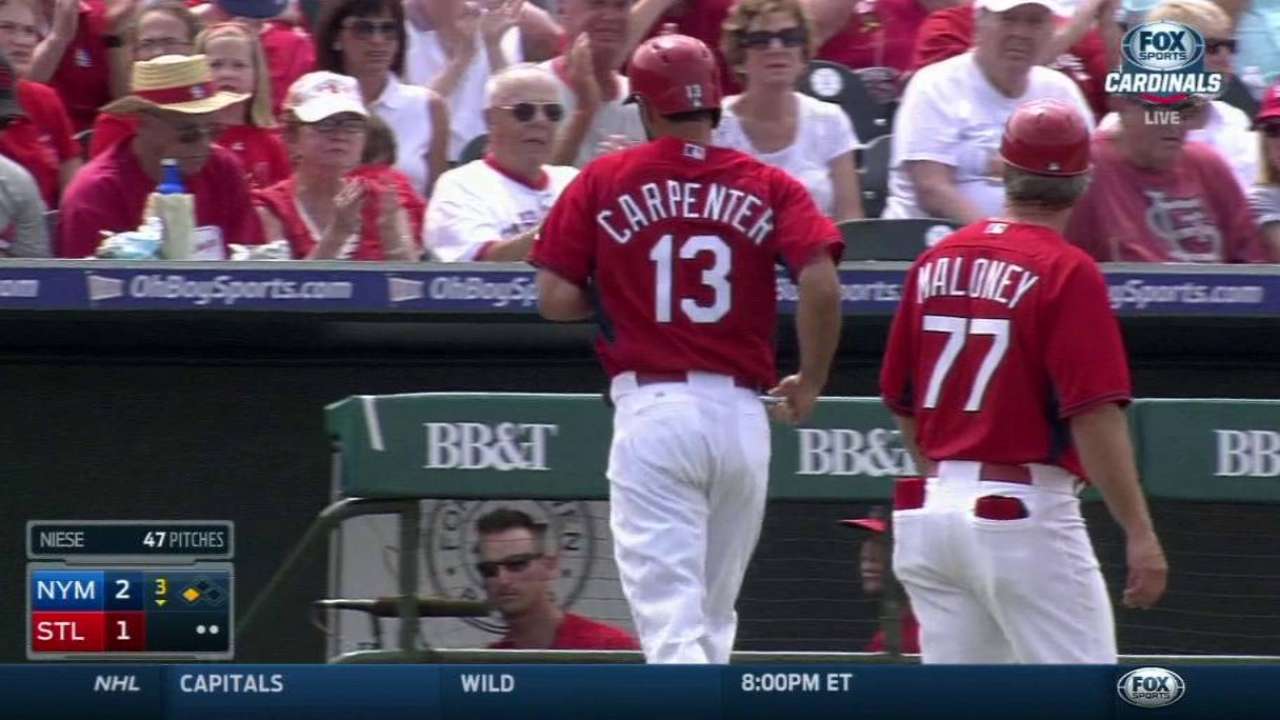 As his buddy and former Cards teammate Allen Craig, an eighth-round pick in 2006, said, "You have to outperform everyone else by a lot. One bad week might get you released."
Was that Carpenter's motivation?
"He felt he never had that grace period," Matheny said. "If he came out and didn't perform, right from the beginning, he felt in his mind that could be their excuse to get him out of there -- 'I can't take a day off; I can't have an off-month or off-season.' I think that does create a chip on the player's shoulder."
Carpenter never came close to failing. He flew through the Minors and made his Major League debut two seasons after being drafted. In 2012, Carpenter became a full-time player and finished sixth in the National League Rookie of the Year Award voting. He has been a member of the NL All-Star team the last two seasons. During Carpenter's three full seasons, the Cardinals have been to the NL Championship Series every year.
In a city where baseball season runs 365 days a year and every game matters, Carpenter's serious nature is a perfect fit.
"There's no better fit for my personality," he said. "This is a baseball town and a great organization with a kind of an old-school mentality. You work for everything you get. I couldn't imagine playing anywhere else. I'm just so grateful for the opportunity that I've been given to have an impact here and be part of a storied franchise like the St. Louis Cardinals."
Richard Justice is a columnist for MLB.com. Read his blog, Justice4U. This story was not subject to the approval of Major League Baseball or its clubs.