Twins option Thielbar to finalize pitching staff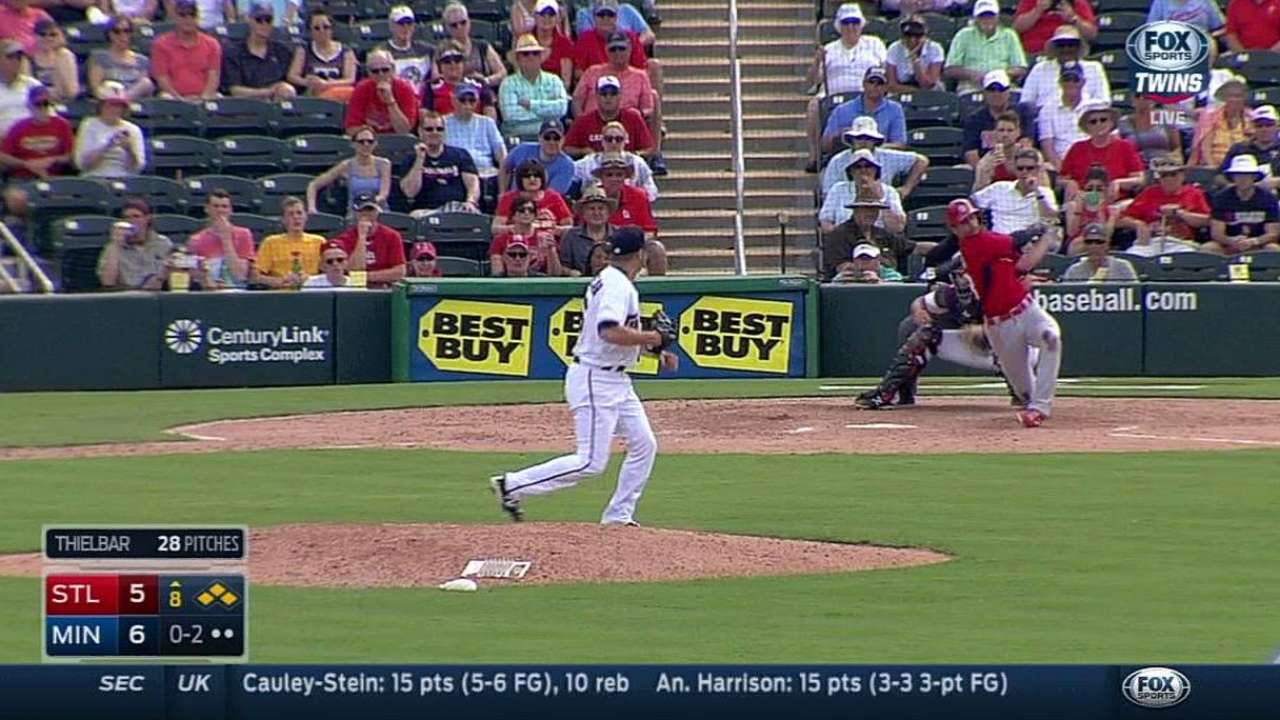 FORT MYERS, Fla. -- The Twins set their pitching staff on Wednesday, as left-hander Caleb Thielbar was optioned to Triple-A Rochester, leaving them with 12 pitchers and 16 position players left in camp.
With Thielbar optioned to Triple-A, the bullpen will be composed of closer Glen Perkins, left-hander Brian Duensing and right-handers Casey Fien, Tim Stauffer, Blaine Boyer, Mike Pelfrey and Rule 5 Draft pick J.R. Graham. The five starters, in order, are right-handers Phil Hughes, Ervin Santana, Ricky Nolasco and Kyle Gibson and left-hander Tommy Milone.
"You can always adjust -- whether it's this week, as you go through April, or later this spring or summer -- but right now, this is the way we're headed," Twins general manager Terry Ryan said. "I like the dependability of the starters this spring. They've been pretty good. So we're going to go this way and see how it goes. But it obviously depends on how people perform."
Thielbar, 28, struggled this spring with a 5.73 ERA in eight Grapefruit League appearances. He struck out 10, walked three and gave up a homer in 11 innings. But Thielbar was solid in the bullpen for the Twins over the past two seasons, posting a 2.59 ERA and 74 strikeouts in 93 2/3 innings.
"Obviously, we've been talking since November about how things were going to take shape with the bottom of the rotation and the bullpen competitions," Twins manager Paul Molitor said. "I think everyone, in general, is feeling better about our chances as far as our pitching staff [is concerned] compared to what we've had to deal with here in the past."
The roster move leaves the Twins with just four more cuts this spring, and just one decision to make on the backup catcher spot, as infielder Doug Bernier is being kept around for depth reasons and won't make the team.
The Twins have to decide between Josmil Pinto, Chris Herrmann and Eric Fryer for the backup catcher role. Pinto missed nine days with concussion-like symptoms before returning to action in Minor League games on Monday and Tuesday. He also served as a designated hitter in a Minor League game on Wednesday, going 1-for-2 with two walks. The tentative plan is for him to catch the second half of Thursday night's game against the Red Sox.
If Pinto proves he's healthy, he's the favorite for the job. However, if the Twins feel like he hasn't had enough time to get ready for the season, they could go with Herrmann. Herrmann has the advantage over Fryer because he's on the 40-man roster.
Rhett Bollinger is a reporter for MLB.com. Read his blog, Bollinger Beat, and follow him on Twitter @RhettBollinger. This story was not subject to the approval of Major League Baseball or its clubs.