Mets, Lagares complete contract extension through 2019
Four-year deal buys out Gold Glover's arbitration years, possibly one free-agent year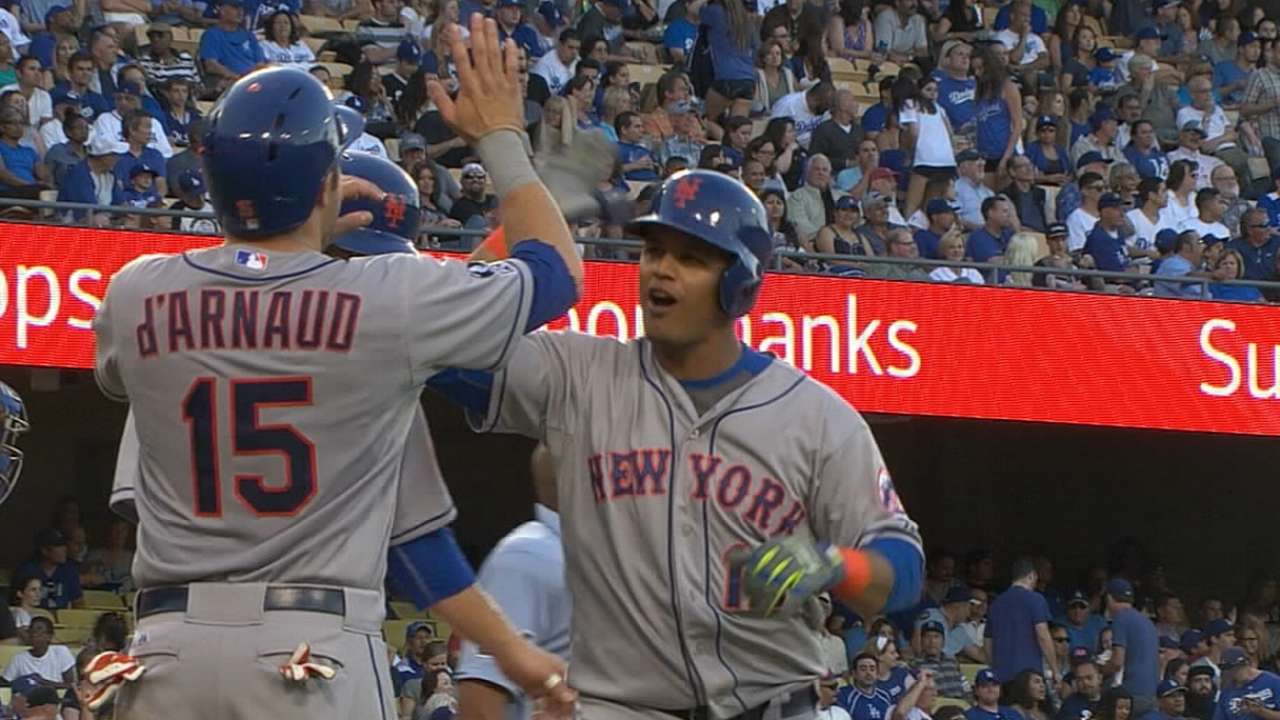 JUPITER, Fla. -- Over the past two seasons, Juan Lagares has cemented his reputation as one of baseball's top defensive outfielders, with an improving offensive resume to go along with it. The Mets consider him a future star. It was enough for them to lock up their Gold Glove center fielder Thursday, officially inking Lagares to a four-year contract extension.
The deal is worth a reported $23 million over four seasons after 2015, with a $9.5 million fifth-year option potentially keeping Lagares in New York through the 2020 season.
"I love the Mets," Lagares said Wednesday, before putting pen to paper on the deal. "That's the team that gave me an opportunity when I was 16 years old. They gave me an opportunity to play in the big leagues with them, too. That's the thing I played my whole career for. This is what I want to do."
Lagares, 26, won his first Gold Glove last season while batting .281 with four home runs and 13 stolen bases in 116 games. The Mets plan to increase his workload this year, starting him every day in center field and batting him leadoff in the hopes that his offense will improve. Primarily batting first in the order, he has been one of the Mets' most productive players this spring, batting .345 with three home runs and five walks in 63 plate appearances.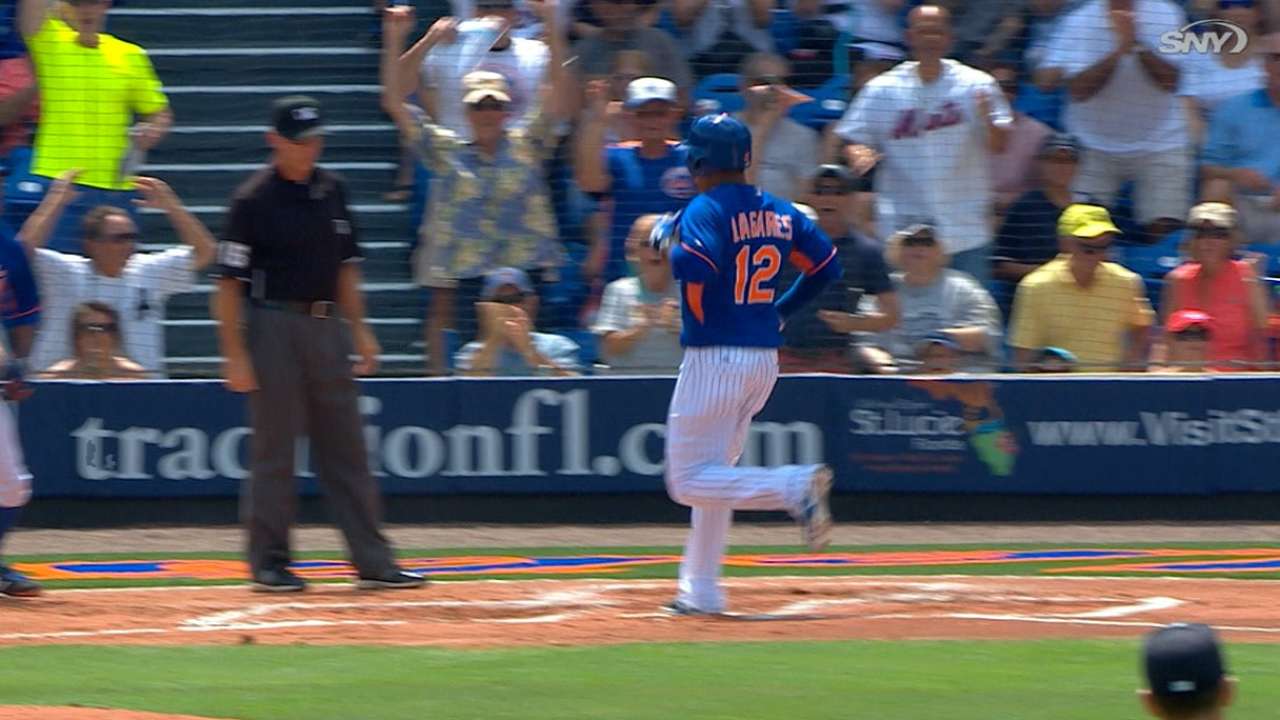 It is defense, however, that defines him. Leading Major League center fielders in defensive runs saved last season, Lagares trailed only Jason Heyward in that category among outfielders. Two years ago, Lagares set a Mets rookie record with 15 outfield assists, a number that plummeted to six last season as his defensive reputation grew.
"I think that baseball rewards exceptional performance in whatever area, whether it's power, hitting for average, great defense," general manager Sandy Alderson said. "He's shown that he can play great defense and still carry a bat sufficiently to stay in the lineup. So from that standpoint, he's moving toward becoming a complete player."
Though injuries have undermined Lagares from time to time, most recently when he missed the final two weeks of last season with a hyperextended right elbow, that has not scared off the Mets.
"He's going to be a really, really good player," manager Terry Collins said. "We've said that from the time he got to the Major Leagues. He's a special player defensively. He's working on every phase of the game daily. We're very, very excited that he's going to be our center fielder because he's going to be a solid player, and he's just going to get better and better."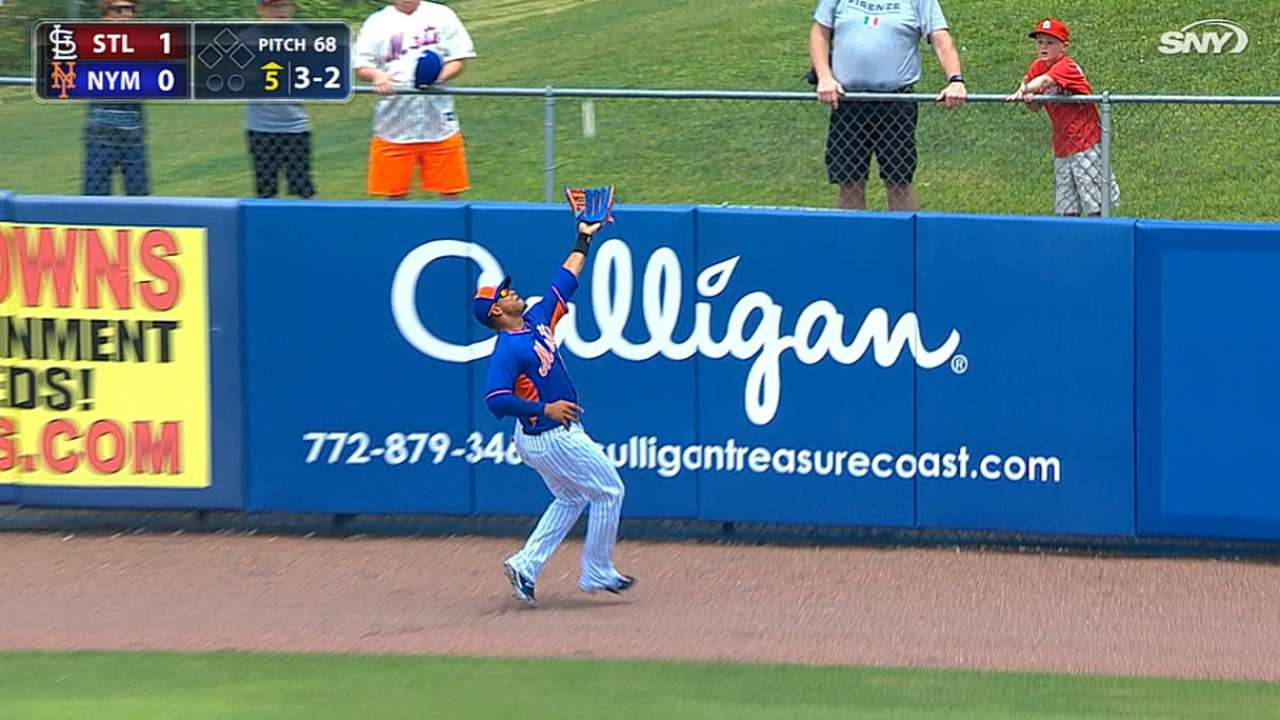 Because Lagares has less than two years of big league service time, he would not have been eligible for free agency until after the 2019 season, but he would have been a Super Two arbitration-eligible player. An extension not only buys out all four of his resulting arbitration seasons, but gives the Mets the chance to retain him for what would have been his first year after free agency.
For the Mets, signing Lagares prevents his salary from escalating out of control in his prime. For Lagares, the deal provides immediate financial security.
"That's good, but I just want to play hard and keep doing what I've been doing," Lagares said. "That's the only thing I can do."
The Mets are also discussing a contract extension with first baseman Lucas Duda, but have not reached a deal. Alderson confirmed Thursday that negotiations are ongoing, but did not link Lagares' negotiations to Duda's. If no deal is in place by Opening Day, the GM added, both sides will likely break off talks.
"I'm extremely happy for Juan," Duda said. "I know how hard he works. I know all the time he's put in. I'm just absolutely elated for him."
Anthony DiComo is a reporter for MLB.com. Follow him on Twitter @AnthonyDiComo. This story was not subject to the approval of Major League Baseball or its clubs.