Spring forward: Astros set Opening Day roster
Wojciechowski will start third game of the season; reliever Harris also makes club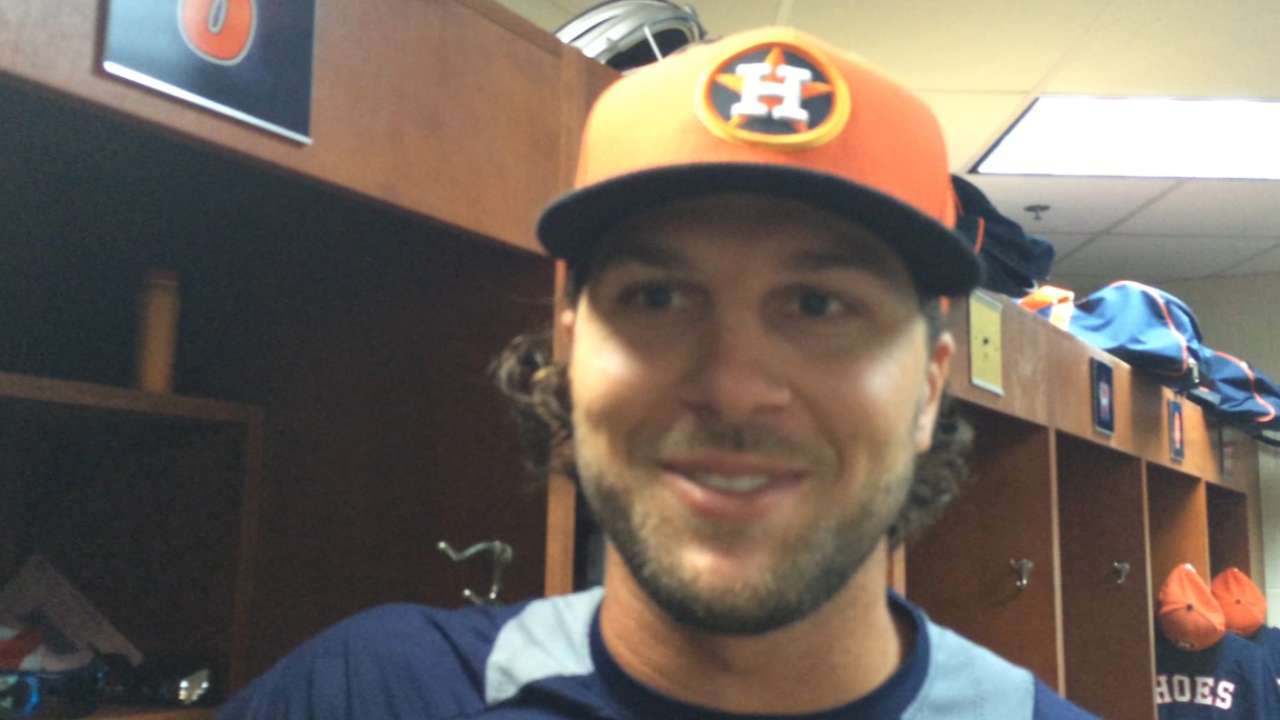 KISSIMMEE, Fla. -- The last day of camp proved to be an emotional one for some of the Astros players who were on the roster bubble. Young pitcher Asher Wojciechowski fulfilled a dream when he was told he had made the Opening Day roster, while first baseman Jon Singleton and outfielder Alex Presley were dealt different fates.
There were few surprises, though, as Houston set its preliminary 25-man roster with a flurry of moves Wednesday, including placing three pitchers on the disabled list -- reliever Josh Fields (groin), and starters Brett Oberholtzer (blister) and Brad Peacock (recovery from hip surgery).
Those DL moves opened the door for Wojciechowski and reliever Will Harris to make the club. In addition, the Astros informed outfielders Robbie Grossman and Jake Marisnick and infielder/outfielder Jonathan Villar they had made the team.
"These conversations were tough," Astros manager A.J. Hinch said. "This is a time where we've got to pare down our team that we're going to take with us and more guys had deserved to be Major League players than the guys that we're taking, and that's a tribute to the players and their work this spring."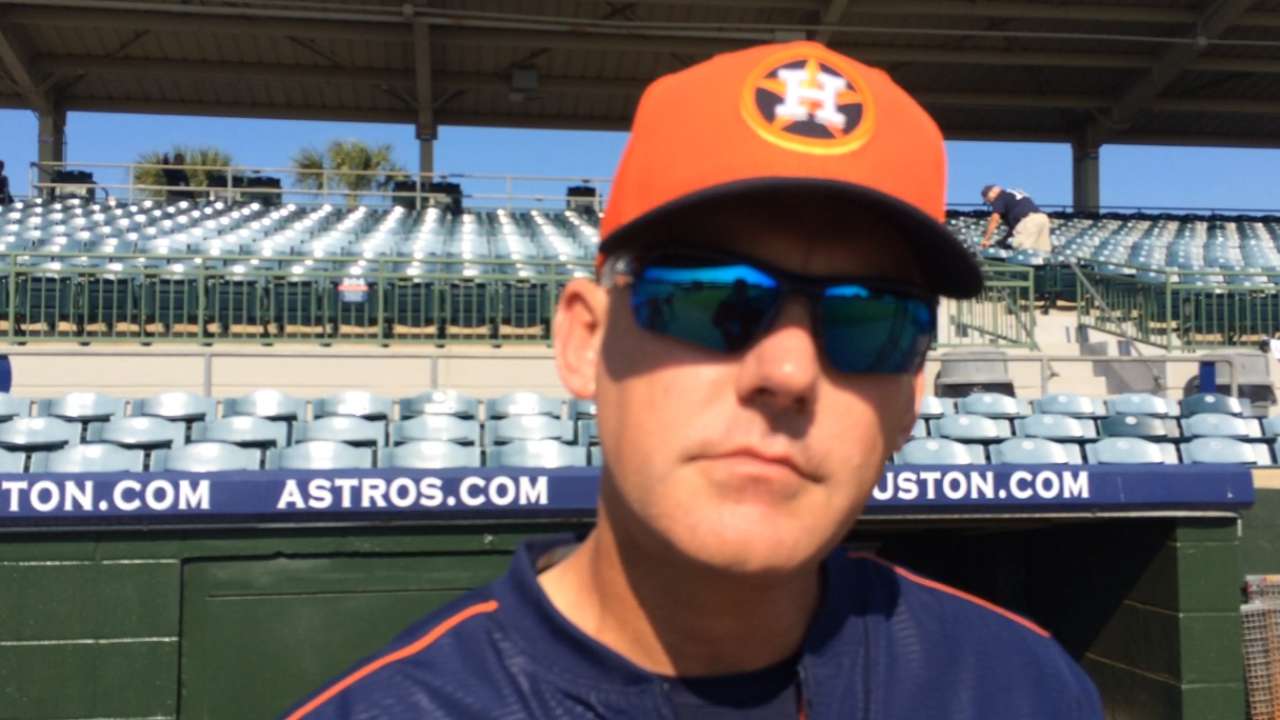 Singleton, who hit 13 homers in his rookie season last year after signing a five-year, $10 million deal, was told he would start the season at Triple-A Fresno. Presley, who was battling with Grossman for the final outfield spot, was designated for assignment and is likely to be traded, and left-hander Kevin Chapman and outfielder L.J. Hoes were optioned to Triple-A Fresno.
"I feel good about the group we have, and I also feel good about the group behind them that we have, that we're going to see," Hinch said. "Rarely does a team go through the season with five starters or the bullpen in tact or the position players. We're going to need contributions from more than people that were in our camp."
Singleton got off to a hot start this spring, but he struggled lately trying to find a consistent swing. He vowed to keep working hard and improving.
"Things don't change at all," Singleton said. "There's certain things you need to do, certain things you need to get better at and everybody works at different speeds. ... This move is necessary."
Wojciechowski, who will start April 9 against the Indians in Houston, posted a 1.29 ERA, allowing 17 hits and six runs (three earned) in six games (three starts) this spring. He struck out 16 and walked five in 21 innings.
"They told me I competed well this spring and that I worked my way into the rotation," Wojciechowski said. "So it was a great time just to hear them say that and walking in this morning not knowing if I was going to get sent down or what was going to be said when I went in the office."
Villar, the club's Opening Day shortstop last year, proved to be one of the best stories of camp. He showed he can play other positions, including center field, to win a backup job on the roster. The fact he has blazing speed didn't hurt.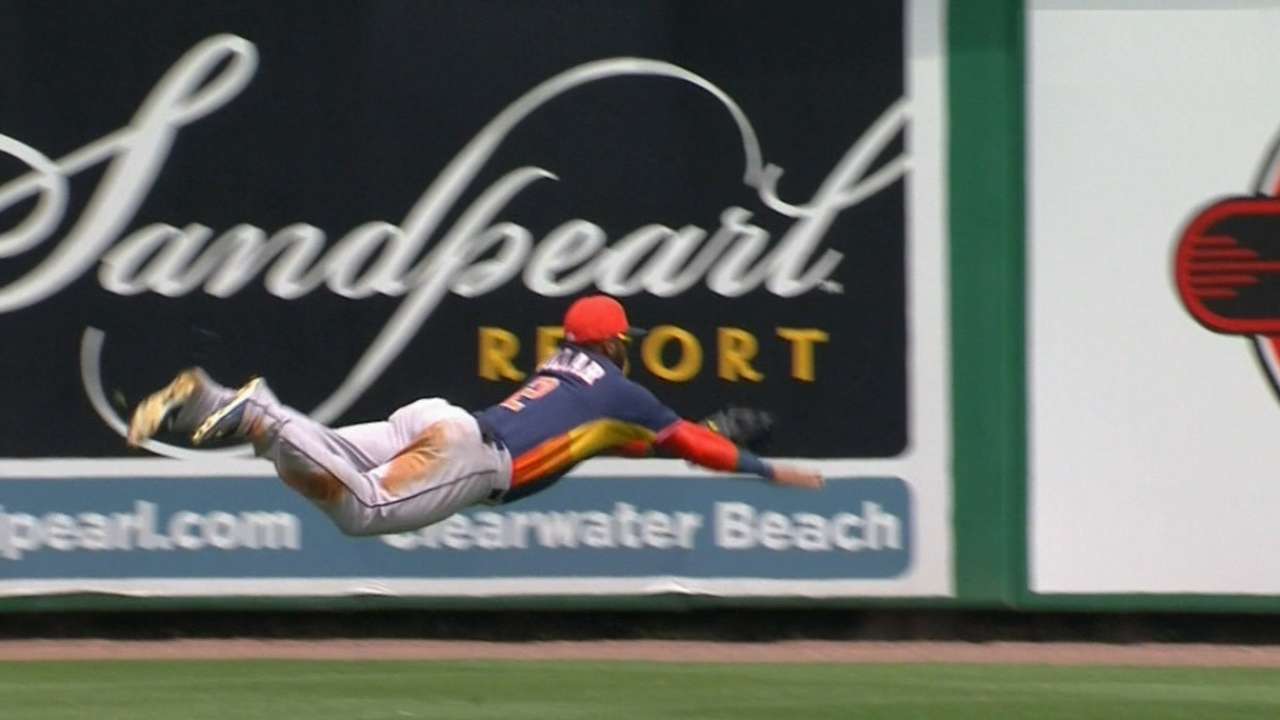 "I'm sure this offseason, Villar heard every time somebody else was being added to the roster and knew it was going to be a challenge," general manager Jeff Luhnow said. "He did everything he could to put himself in a good position. His tools have always been there. ... The way he went about everything really showed some maturity this spring, and that's going to be a benefit to the Astros."
Brian McTaggart is a reporter for MLB.com and writes an MLBlog, Tag's Lines. Follow @brianmctaggart on Twitter. This story was not subject to the approval of Major League Baseball or its clubs.