Keeping defending champs hungry key to Bochy
Skipper stresses importance of motivation as Giants gear up for Opening Day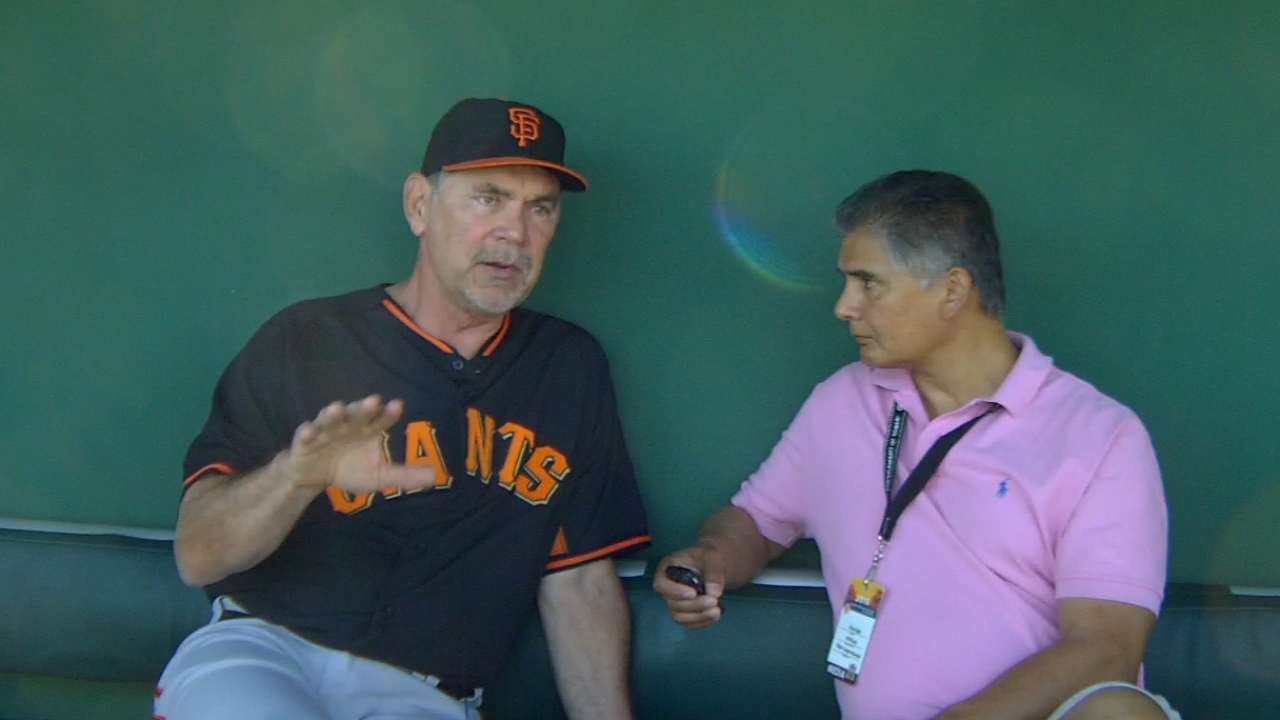 SCOTTSDALE, Ariz. -- Bruce Bochy appears destined for the Hall of Fame, given the Giants' three World Series triumphs in the past five seasons. But the San Francisco manager is squarely focused not on past accomplishments or possible future glory, but on current events -- keeping the Giants competitive in what promises to be a challenging National League West. Bochy recently shared his thoughts with Chris Haft, MLB.com's Giants beat reporter. A transcript of their chat follows:
MLB.com: Balancing last year's success with the need to make the transition to this year is a challenge for any champion. How do you feel like you guys have handled that so far?
Bochy: I think we've handled it fine. If you look at the results of what's gone on this spring, it doesn't look like it. But it's all about staying hungry. That's what we want our guys to do, and they've shown that. After winning the first one, we came back and won two more. So it's a great group and a humble group that's staying hungry.
MLB.com: How tough will it be to overcome Hunter Pence's absence, however long that might be?
Bochy: Any time you lose a core player or pitcher, it's not easy to overcome. Hopefully you can help soften that loss by other guys picking it up somewhere or the guy replacing him does a good job. The one thing that we really try to preach is we can't dwell on the negative or things we can't control, whether it's injuries last year. We lost [Matt] Cain, [Angel] Pagan and [Marco] Scutaro, and these guys did a great job of not making any excuses or feeling sorry for themselves. You've got to focus forward and move on. We'll get Hunter back. Until then, we have to hold forth until he gets back.
MLB.com: Any reasonable objective or goal for how you want the club to perform, record-wise, during his absence?
Bochy: I don't have a goal. Obviously, we want to play winning baseball. That's always our goal. I think what's important is, don't dwell on it and don't make any excuses. Let's play the good brand of ball that we're known for. We set a very high bar here, and we want to maintain that bar. Despite losing one of our best players. We still can do that and that's by playing the game the way it should be, and that's playing it hard and playing it right.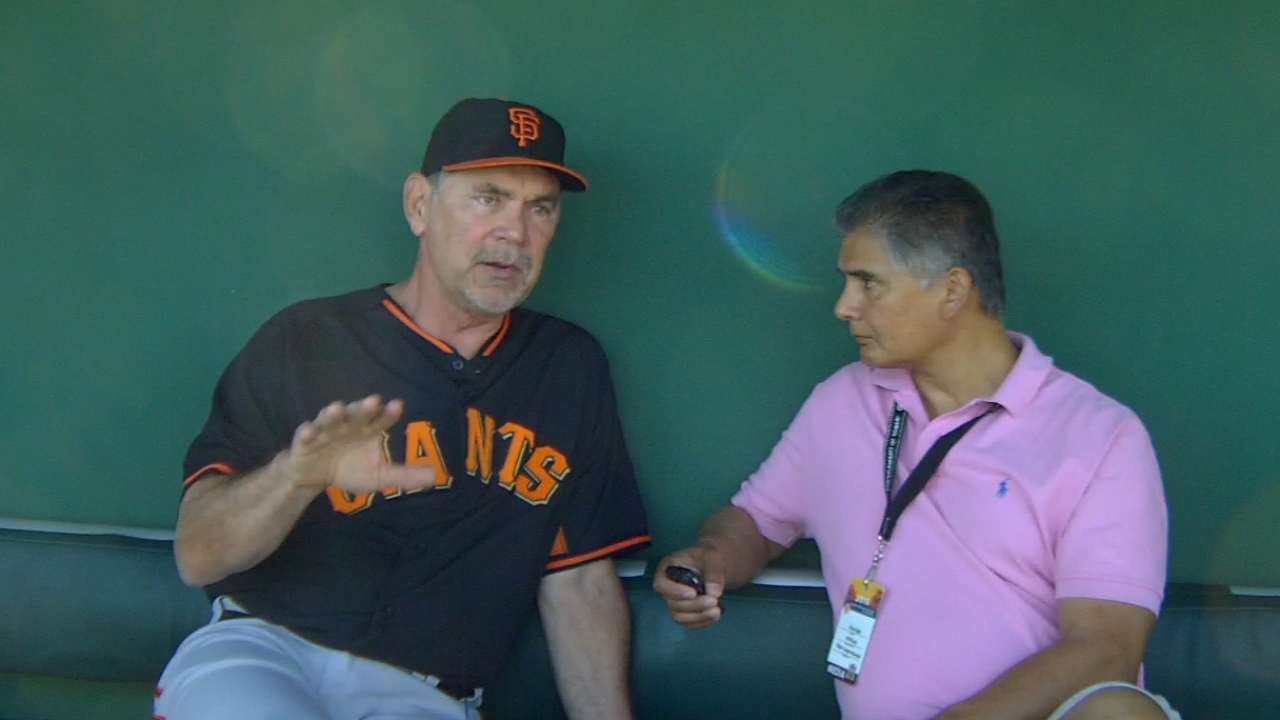 MLB.com Last year, the club made two significant acquisitions, Michael Morse and Tim Hudson, and you guys did what you did -- went to the World Series and won it. This year, two more significant acquisitions, Nori Aoki and Casey McGehee. How do you see them contributing?
Bochy: Well, so far, they've really done a great job of blending in. They're not just good players, but good character guys. Casey, you have to love the way he plays the game. Very intense, plays it hard, good on both sides of the ball. He's about winning. You can tell when he's in the dugout. He gets upset when he's not doing his job, whether he makes an error or [doesn't] move a guy over, things like that. You recognize that right away. Aoki's been a lot of fun. He's been a really nice addition to this club because of the way that he plays. He grinds out the at-bats. If I give him a day off, he'll look at who's pitching that day and he'll say, "You know what? I want to play today because I haven't seen this guy. I don't know him very well." He's in tune with what he needs to do to get ready and pitchers he needs to face.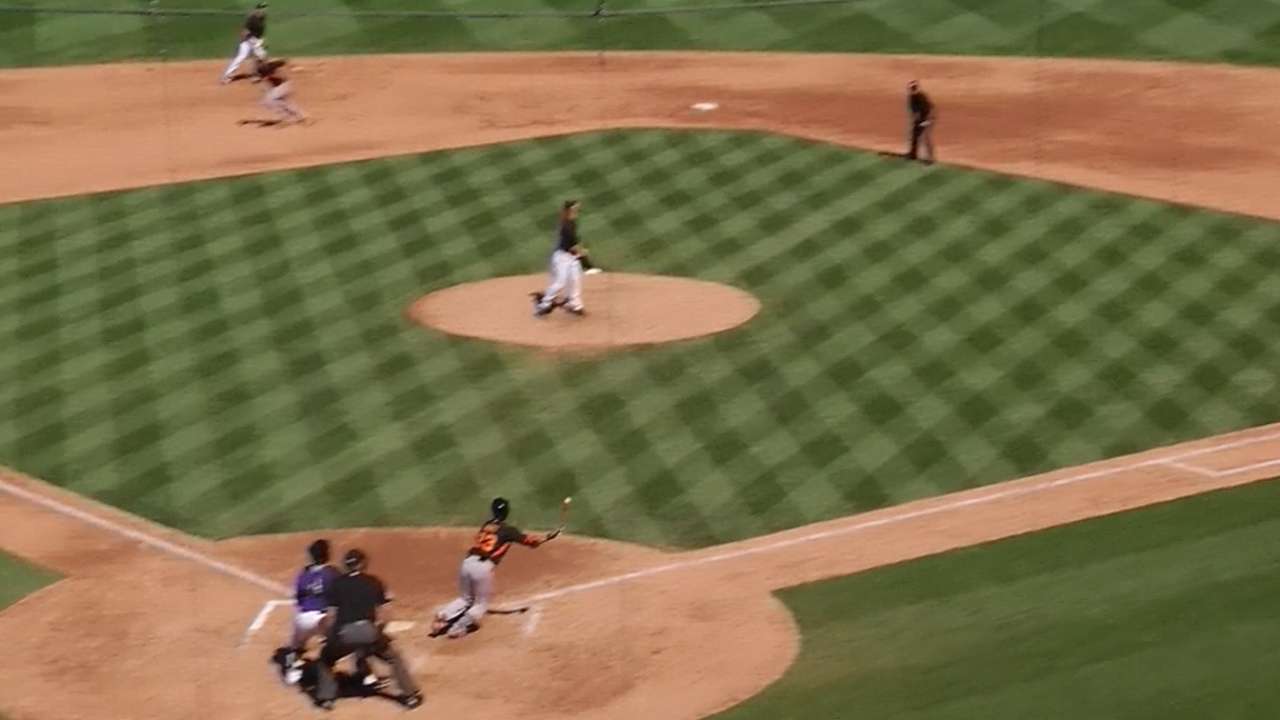 MLB.com: I know you've downplayed it, but I think a lot of fans are concerned about how you're feeling since the incident in February?
Bochy: I feel great. I joke about it; I recommend it for anybody who feels a little sluggish. You're a new guy. Modern medicine is just amazing. I can't believe how much better I feel after having the procedure done. It was an easy deal. I watched my doctor put the stents in and in 25 minutes, I was ready to go up Camelback Mountain. My energy is so much better now. I still have to take it easy a little bit for another month or so before I can lift and do some things that I used to do. But I'm back walking and I couldn't feel better, really, to be honest.
MLB.com: The NL West is always so competitive. Do you expect this year to be pretty much the same?
Bochy: Oh, more so, without question. I think you look at what San Diego's done down there, when you sign a free agent like [James] Shields, and of course getting [Matt] Kemp and [Wil] Myers, these guys are now a little different club. They had great pitching, but now they have some really dangerous hitters who can put some runs on the board for them. Playing the Rockies, looking at their lineup, that's impressive. The key with them is to stay healthy. And Arizona, they got their big guy at first base [Paul Goldschmidt] healthy. They're a team that's made some changes. I think you look at the division [and] it's going to be tough. We say this every year, that it's a balanced division; I think you look at some of the moves; it's a tougher division, I think, than what it was last year.
Chris Haft is a reporter for MLB.com. Read his blog, Haft-Baked Ideas, and follow him on Twitter at @sfgiantsbeat. This story was not subject to the approval of Major League Baseball or its clubs.