Astros' nucleus provides Hinch positive starting point
First-year Houston manager likes balance, depth of roster entering new season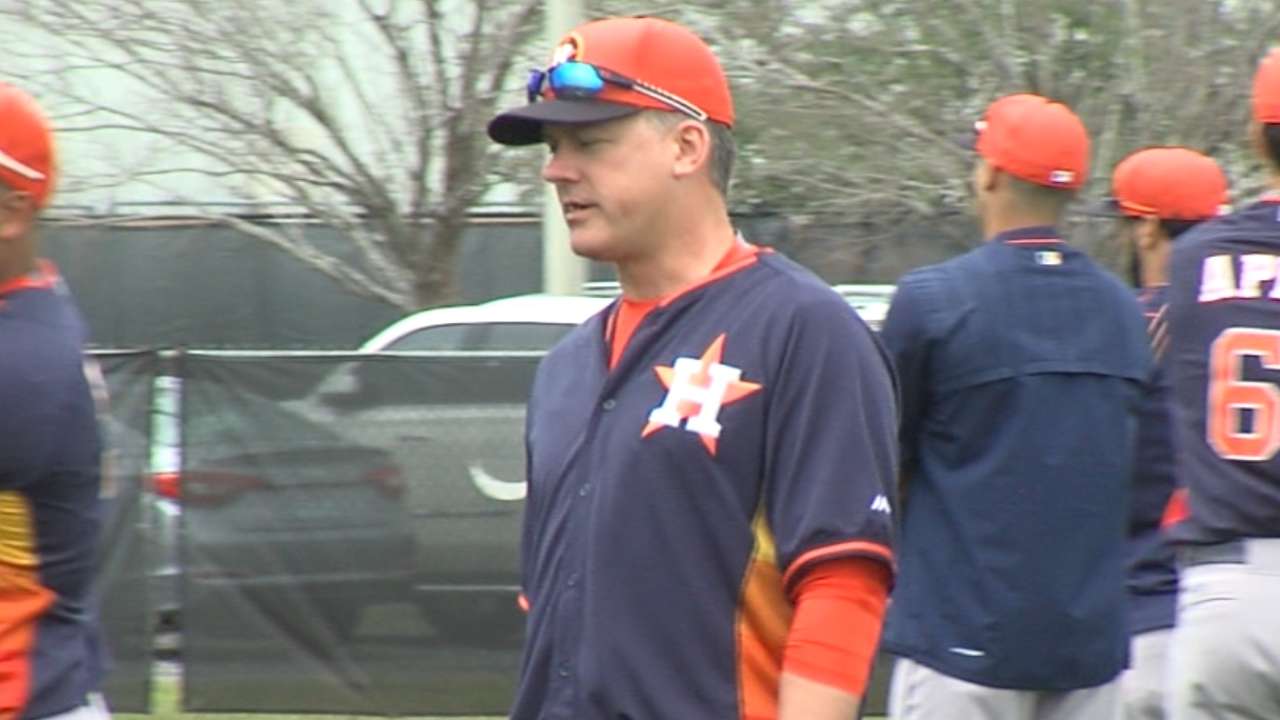 KISSIMMEE, Fla. -- The Astros hired 40-year-old A.J. Hinch immediately following the end of last season as their next manager, giving him a team with a mix of veterans, a promising young core and some impressive newcomers as they try to get back to contention.
Hinch, who has a psychology degree from Stanford and has done just about everything you can do in baseball, has spoken openly about being better prepared for the opportunity than he was when he managed the D-backs in 2009-10. As the Astros prepare to open the season, there's more optimism than there's been in years, and Hinch took time to talk about 2015 with MLB.com.
MLB.com: Now that you've had a chance to see the club for a month and the roster is pretty much set, what are your expectations?
Hinch: I expect us to bring our best every day. We have a good team that is versatile and well-balanced. I think we have a nucleus of guys that are jelling well together. I like the pace in which we play, I like the attention to detail we have. Ultimately, I think we have multiple ways to be successful, which is a good sign.
MLB.com: As you look at the composition of the club, what are its biggest strengths?
Hinch: I think we have a deep bullpen with guys that have done it before, guys that are very comfortable pitching in a lot of different roles. I think our lineup is longer than some people know in terms of guys hitting at the bottom of the order, guys like [Jason] Castro, [Jed] Lowrie, [Colby] Rasmus, [Jake] Marisnick and [Robbie] Grossman and [Alex] Presley if they're in there. There's comfort in having that quality of guys at the bottom of the order that you need to have a well-rounded offense that can threaten to score in every inning.
MLB.com: Dallas Keuchel and Collin McHugh were two guys that had strong years last year. What gives you the confidence their success wasn't a one-year thing?
Hinch: They learned a couple of different things. They learned themselves, which is their strengths are good enough, and how to attack the hitters, and they also learned how to game plan to pitch to hitters' weaknesses when needed. That type of confidence can really only come at this level when you're facing the competition we face every night. They have a lot of confidence, but they prepare to be good. Everybody at this level has a lot of pressure to be excellent when they take the mound. Those guys seem to take it personal as a responsibility to our team to keep us in the game.
MLB.com: How exciting is the power aspect with all the thumpers have you have in the lineup?
Hinch: It's fun. You know, it's a team that can have some power throughout the whole lineup. I don't think it's going to be the only way we score. We're a real threat to our opponents when we come up to bat, but our guys aren't focused on home runs. They're going to happen naturally by getting a good pitch and putting the barrel on it. But there's no doubt we have guys in our lineup who can leave the yard on any pitch.
MLB.com: Have you given much thought to where you might fit in the AL West?
Hinch: I think we fit in every day trying to bring our best and see if that's good enough. I understand the appeal at looking at expectations and the length of the season and how we factor in, but we're not going to know until after the end of the season. I believe in our guys, I think we have a team that's going to come focused every day and that'll lead us to where we're supposed to be.
Brian McTaggart is a reporter for MLB.com and writes an MLBlog, Tag's Lines. Follow @brianmctaggart on Twitter. This story was not subject to the approval of Major League Baseball or its clubs.