Reds hope healthy club can turn close games into wins
Between a depleted lineup and shaky bullpen, one-run games proved difficult in '14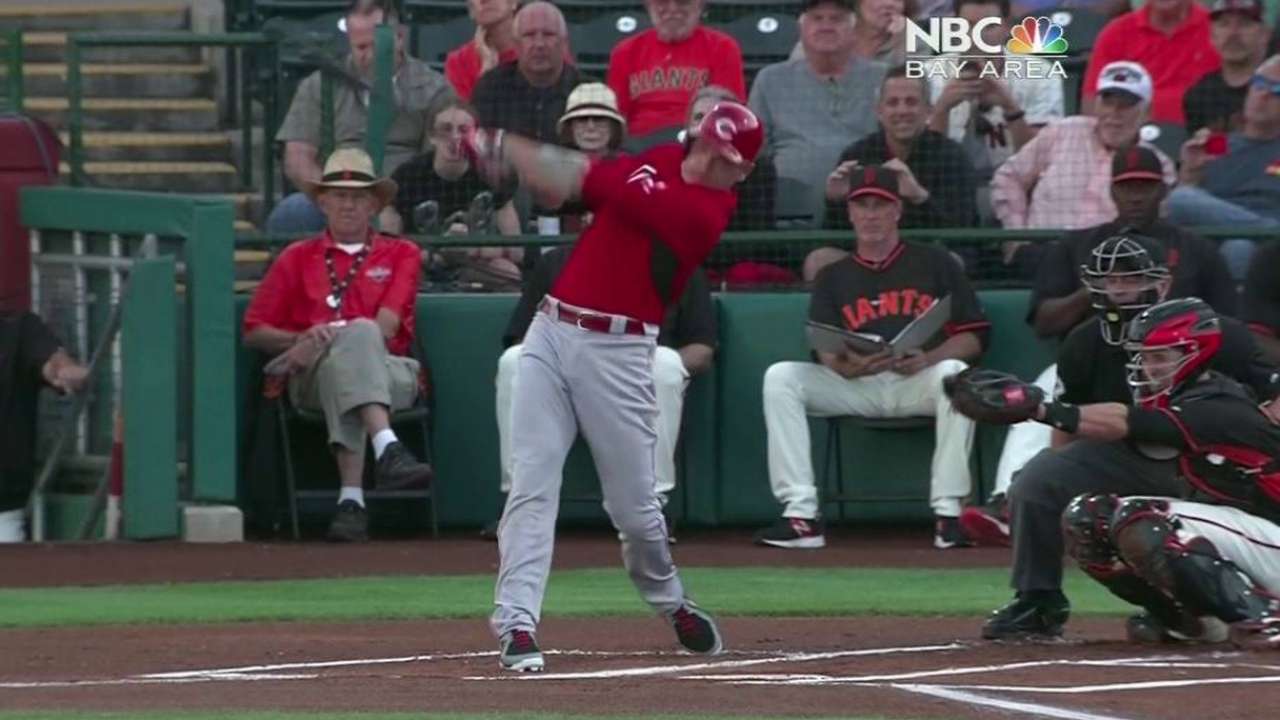 In the days leading up to Opening Day, MLB.com is examining various aspects of each team's roster. Today, the time has come to focus on a key number for the upcoming season. For the Reds, it's 38: the number of one-run losses in 2014, most in the Major Leagues.
GOODYEAR, Ariz. -- Losing 86 games was hard enough for the Reds last season, but almost half of those games brought an additional form of torture for both the club and its fans.
The number that really stung them was 38, which was the total of Cincinnati losses by one run in 2014 -- the most in the Major Leagues and the team's most since 1946. They won 22 of those games and 76 overall.
By contrast, the 88-74 Pirates equaled the Reds in having the second-most one-run decisions behind the Marlins. The Pirates made the postseason as the first National League Wild Card team.
One big difference was the Pirates won the close games. They were 31-29 in one-run games, including 6-3 vs. the Reds.
It was cold comfort for the Reds to be not quite good enough to win those tight games and just bad enough to lose them in heartbreaking fashion. In 2013, they were 27-22 in one-run games and 31-21 in '12 as they won 97 games overall.
"We definitely have that ability the past couple of years [before '14], that was the type of team we were," right fielder Jay Bruce said. "We won those one-run games. To be in that position to win them is saying something, but winning them is a different story. We're more than capable of doing that."
What was behind the one-run losses in 2014? Well, a few things came into play. On the plus side, Reds starting pitching was strong enough to keep the Reds in many games. Johnny Cueto won 20 games while finishing second in the NL Cy Young Award race. Mike Leake pitched more than 200 innings while rotation fill-in Alfredo Simon had a surprising All-Star season near 200 innings. Homer Bailey was pitching well until his season ended in August with an injury.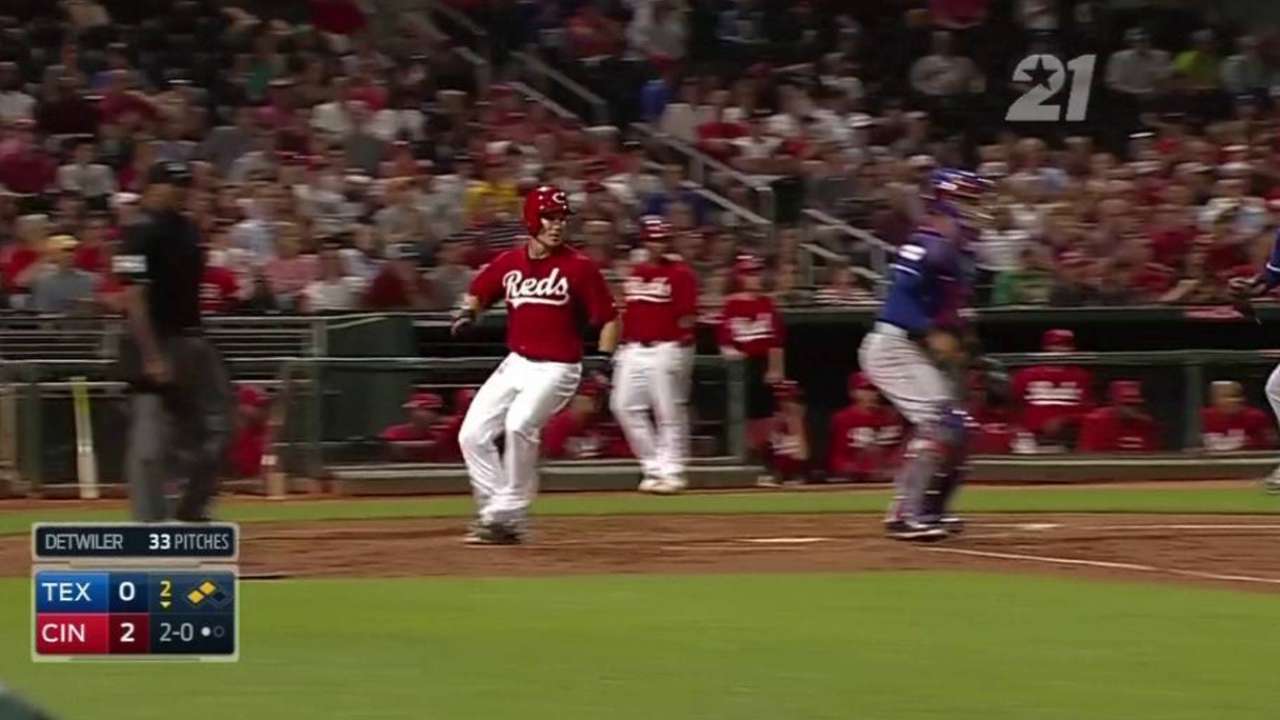 Injuries were even crueler to the starting lineup, where Joey Votto (left quadriceps) missed 100 games and Brandon Phillips (torn left thumb ligament) missed 33 games in the second half. Bruce only missed two weeks after left knee surgery but endured the worst offensive season of his career.
"We missed some guys and that's the fine line right there," Votto said. "I like to think I would have helped with some of that. I am certain Jay would have helped with that. I'm certain a healthy Brandon Phillips and Aroldis Chapman and Homer, and I'm missing people."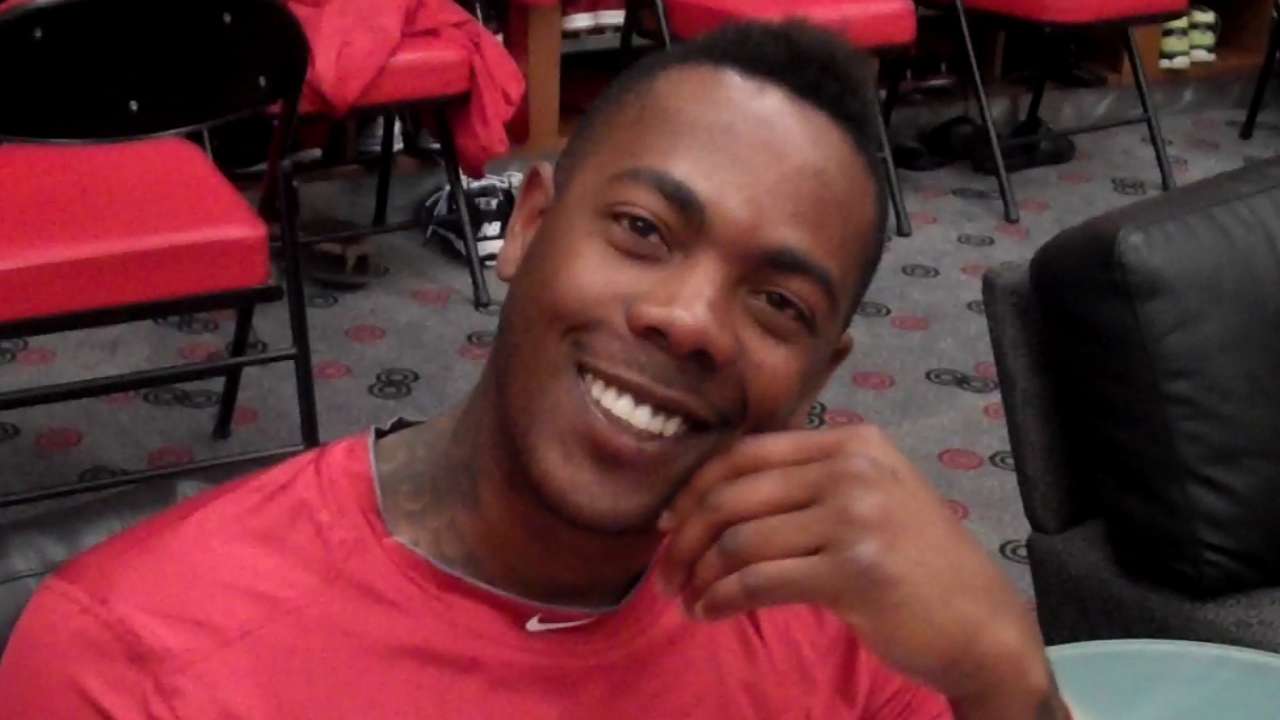 There were others missing, pointed out Bruce.
"I think that something that went a little unnoticed too was the strength of the bench," Bruce said. "Last year, the bench had to become everyday players. It was hard to utilize bench strength in those tight close games when you need a guy. They were already playing every day. We had a depleted bench."
Chapman rejoined the team in May after starting the season on the DL and had a dominant season. The rest of the bullpen couldn't say likewise in a trying year. It had the second-highest ERA in the National League and did not hold its own in the late innings. Reds relievers posted a woeful 1-17 record after the All-Star break.
Third baseman Todd Frazier expects the Reds to be better in tight games this season. The club made bullpen and bench upgrades while the regular lineup appears to be healthy and added another bat in Marlon Byrd.
"It takes a little energy and a little fight," Frazier said. "It works both ways with the pitchers and hitters. You have to get guys in early when you can. I think that's one thing people didn't talk about last year. When we had guys on, sometimes we didn't get them in. Then we see later in the game they [the opponent] just had a four-run inning and now we're tied when we could have been in the lead not worried about a thing and waiting for Chapman to come in. And vice versa. It's about doing little things. Getting runs early is a huge thing and getting as many as you can."
Mark Sheldon is a reporter for MLB.com. Read his blog, Mark My Word, and follow him on Twitter @m_sheldon. This story was not subject to the approval of Major League Baseball or its clubs.