McCann motivated to bounce back, lead Yanks
Eager to reclaim power stroke, catcher can also help fill veteran void left by Jeter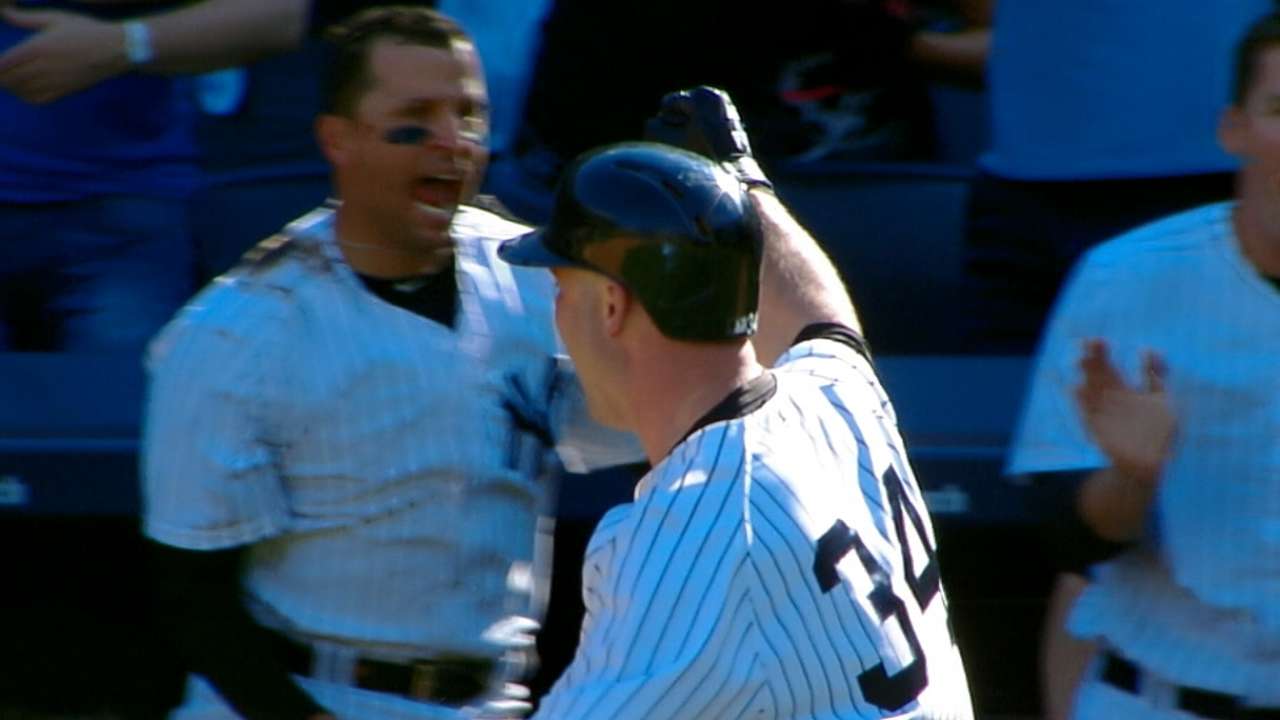 TAMPA, Fla. -- That first season wearing Yankees pinstripes served as a learning experience for Brian McCann, but there was confusion along the way. Far too often for his liking, his eyes would light up for a cookie that'd leave him shaking his head outside the batter's box rather than circling the bases.
"Certain balls that I always got to, I was fouling them off," McCann said. "I was getting 2-0 fastballs and fouling them off over the third-base dugout. That's something that I've never really done. It took me longer than I thought to correct it, I guess. Now that I've got it corrected, the ball is coming off great."
As McCann straps the gear on for his second season in New York, the 31-year-old catcher promises to be a more complete player on both sides of the ball. His work won't just be between the white lines; in the clubhouse, the Yankees believe he can step up as a leader who helps fill the void left by Derek Jeter's retirement.
McCann has no interest in dancing around the fact that his 2014 was disappointing at the plate. A strong September rescued his numbers somewhat, but he clearly expected to offer more value after accepting a five-year, $85 million contract. In 140 games, McCann batted .232 with 23 home runs and 75 RBIs, slugging 19 of those homers at Yankee Stadium.
"When you look at the end numbers, he was still pretty darned productive," manager Joe Girardi said. "A lot of people will talk about the adjustment period in New York; well, I even think it's harder for a catcher because of all you have to learn. I thought he had a pretty decent year."
Girardi knows a thing or two about switching cities mid-career, and handling a new pitching staff -- plus a replacement rotation that arrived mid-season -- was no picnic. It also didn't help to have a former coach spouting off about how he will "never be comfortable" playing in New York, as Terry Pendleton did last summer.
McCann disagreed with Pendleton then and continues to now, saying that he loves this new life with the Yankees.
"I felt good in that aspect," McCann said. "The transition coming over here was as smooth as it could have been, off the field. They make you feel welcome right away. The family situation was great."
McCann's acclimation process seemed to be more interrupted by the aggressive defensive shifting he encountered in the American League East, denting his productivity. He is taking a slightly different tack than Mark Teixeira, who wants to muscle the ball over or through the shift; McCann's mindset is to hit the ball wherever it is pitched.
"The shift is always going to be there," McCann said. "If I hit two or three singles in a row to left field, they're going to continue to play the shift because that's where my power is. That's just the way it is and whether that takes a couple of points off my batting average, if I take the approach I have day in and day out for 500 at-bats, at the end of the year things will be there."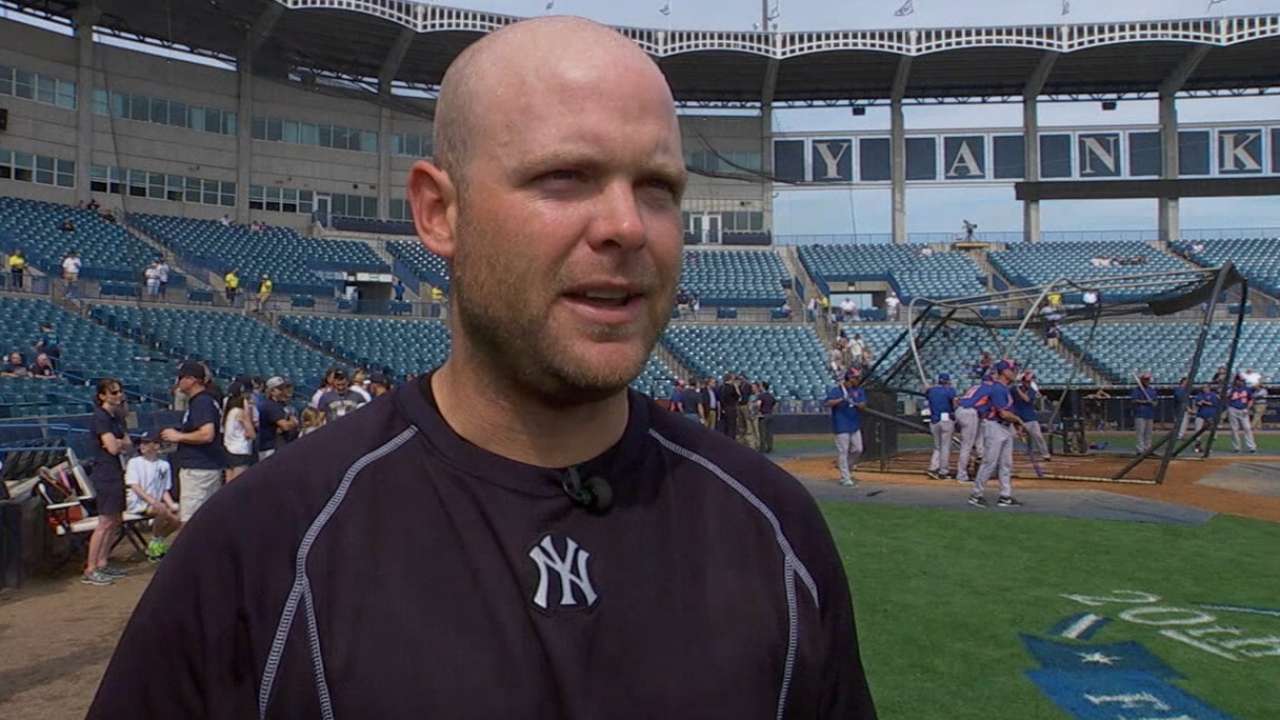 McCann credits his work with catching coach Gary Tuck for helping him have a very good defensive season, and so even when the hits refused to fall, Girardi thought McCann was helping save runs. It is an area that McCann takes seriously, reviewing a dozen or more video clips of each new Yankees hurler one inning at a time to prepare for camp.
"It's just a trust thing," said David Carpenter, who enjoyed his best season in 2013 with McCann behind the plate. "As a pitcher, if you can't trust your catcher, it's hard to have conviction throwing those pitches. You've got to trust that a guy is going to block the ball in the dirt when there's a tying run on third. You can trust him to do that. He really takes that job to heart."
Saying that his right shoulder feels much stronger two years after surgery -- "I was able to throw around a little more weight [in the gym] this offseason," he said -- McCann realized late in the year that his bat path was "out of whack, for whatever reason," and spent part of the winter reviewing video to iron out mechanical issues.
If that translates into hits and homers, the Yankees won't be surprised to see McCann taking on a more vocal presence. The performance on the field must come first, but leading a club is a responsibility that McCann seems ready to embrace.
"I think leadership can be summed up with so many different definitions, but mine is something that shows up every night, that prepares to play and do anything for the guy next to him," McCann said. "We've got a lot of guys that show up on a nightly basis and put their best foot forward. For me, I think we've got a lot of leaders on this team that have those qualities."
Bryan Hoch is a reporter for MLB.com. Follow him on Twitter @bryanhoch and read his MLBlog, Bombers Beat. This story was not subject to the approval of Major League Baseball or its clubs.