MLB.com Columnist
Barry M. Bloom
Once baseball's best, Giants' rotation faces questions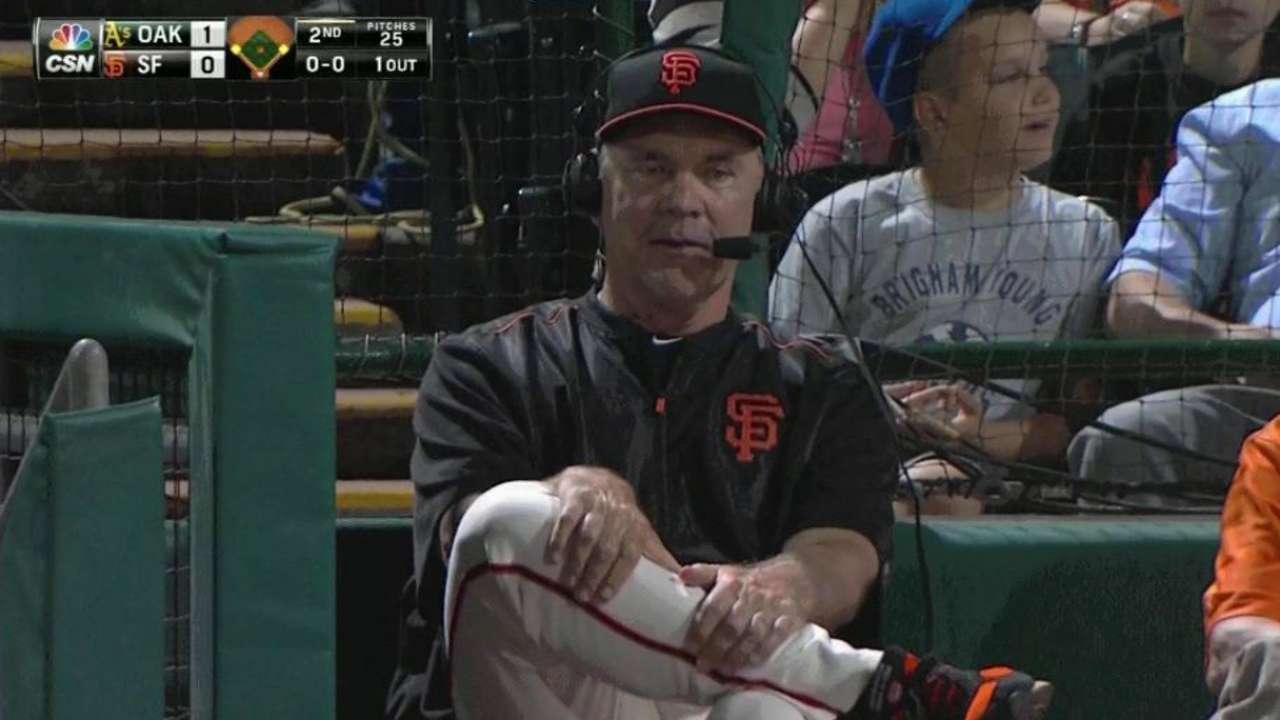 SCOTTSDALE, Ariz. -- The Giants open defense of their third World Series title in five seasons with their usual strong and dependable starting rotation seemingly in a tad of disarray.
Matt Cain is rebounding from right elbow surgery, Tim Hudson from right ankle surgery, Jake Peavy from a bit of a dead arm, and Tim Lincecum from a stiff neck and delivery issues that landed him in the bullpen this past September and October.
Even Madison Bumgarner, last fall's World Series MVP, is coming off a year in which he pitched an astounding 270 innings between the regular season and postseason.
"I'll say this, I think they're ready to start the season," Giants manager Bruce Bochy said after Lincecum made his final spring start in Tuesday's 4-3 come-from-behind victory over the Rockies at Scottsdale Stadium. "We didn't have any setbacks with Cain or with Huddy. When you look at the results, they could be deceiving. We've just been trying to get these guys ready."
It's a veteran group and because of all the aforementioned problems, Bochy has resisted designating Lincecum as one of his five starters until after the right-hander threw 80 pitches on Tuesday, allowing eight hits and three runs, all of them on a booming fifth-inning homer hit by Nolan Arenado.
"We haven't said it yet. We haven't inked it down yet, but he's going to be in our rotation," said Bochy, adding Lincecum might not be the fifth starter, but he's definitely somewhere in the mix.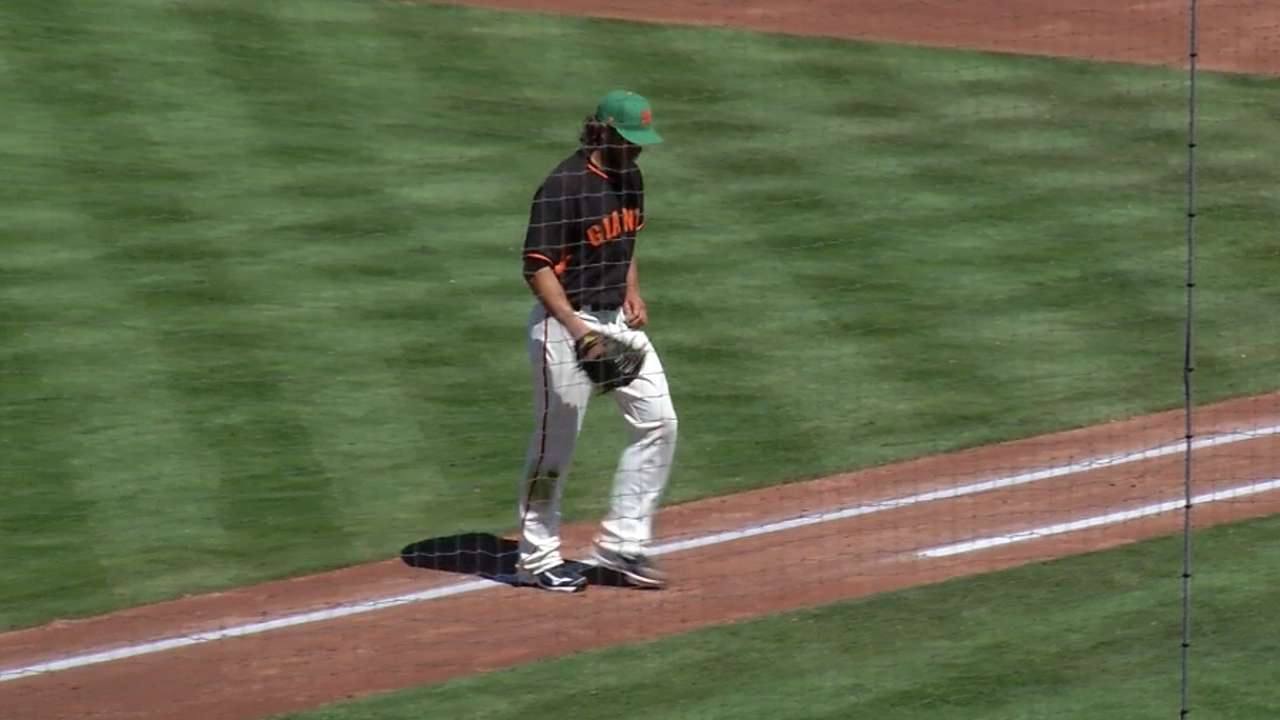 Bumgarner is the Opening Day starter against D-backs right-hander Josh Collmenter on Monday at Chase Field. The Giants play three games there and then travel to San Diego to open the Padres' home season and a four-game set at Petco Park on April 9. Bochy can mix and match any of his four righties after Bumgarner.
"We haven't set it yet," Bochy said. "We always talk to the players first, the pitchers, but we'll have it down. There are a few variables -- where we think [each pitcher] is stamina-wise. We may mix it up. If we have two guys we think won't get us deep in the game, we might not throw them back to back so we don't have to go deep in the 'pen as much. And of course matchups, we're talking about it all now."
It hasn't been a propitious spring. Age, injury and wear and tear might explain why the starters have compiled a 6.17 ERA, 28th out of the 30 Major League teams and 13th -- ahead of only Kansas City and Texas -- in the Cactus League. But there's no need to worry, Giants catcher Buster Posey said on Tuesday.
"No, I don't see too much reason for there to be concern," Posey said. "I think just like everybody else, the more they get older, the more they have to make adjustments to hone their skills and get hitters out and they're all doing a great job of that."
To be sure, the core of this starting rotation has been around a long time and because of that, it's tough to put too much credence on what happens during Spring Training. Lincecum, Cain and Bumgarner were members of each staff that won the World Series in 2010, 2012 and 2014, although Bumgarner is the only one of the three who started a game in each series.
Hudson, at 39, is the old man of the rotation. He had surgery to remove bone spurs from his right ankle on Jan. 2. He didn't get going until late, but made five starts and his 4.32 ERA is the best of any of the five starters.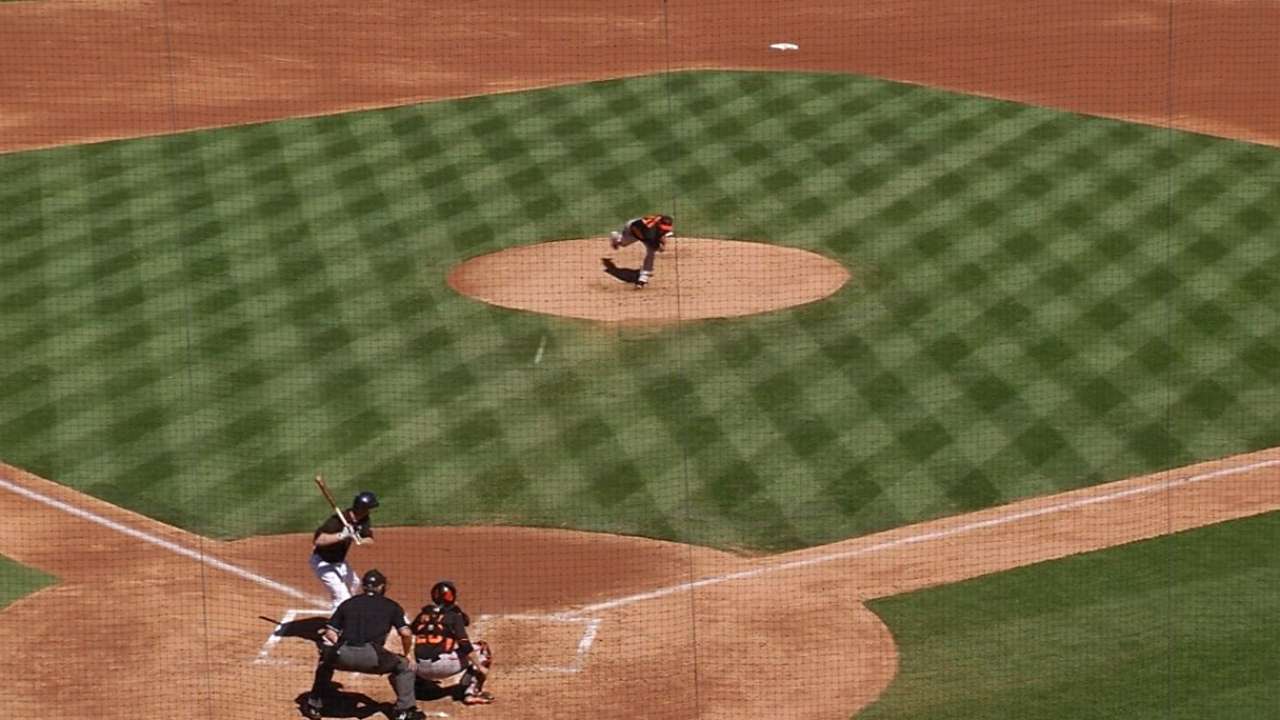 "Really, I'm a lot further ahead than I thought I would be at this point," he said on Tuesday.
Peavy, 33, has made five starts, and, like Cain, has an 8.22 ERA. He said his fastball has decreased in velocity as Spring Training has grown long. In his last start on Saturday against the Mariners, Peavy didn't make it out of the fourth inning, allowing six runs on seven hits.
"My arm had no life in it," he said on Tuesday. "I don't understand it."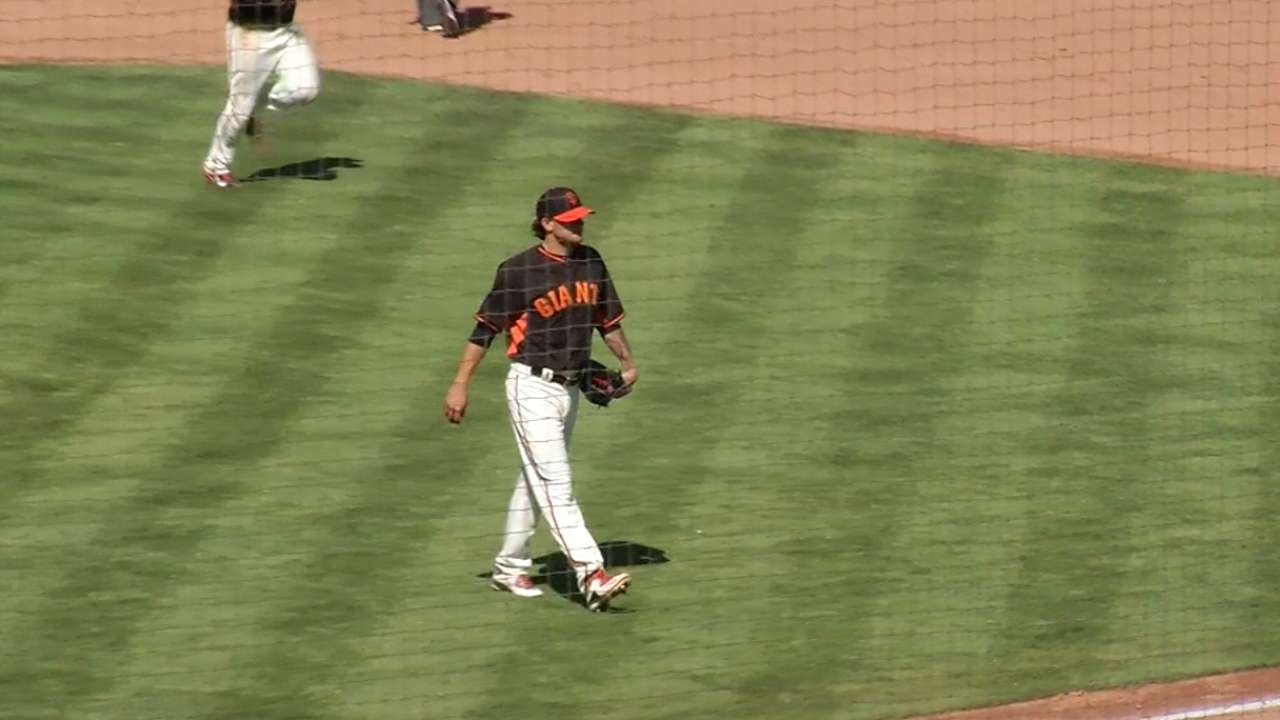 Cain, 30, was injury-plagued during the entire 2014 season and hadn't pitched since going on the disabled list on July 21. Cain made a few Minor League starts, but he's only thrown a total of 7 2/3 innings in the Cactus League, four of those innings came in his last start against the Dodgers on Sunday.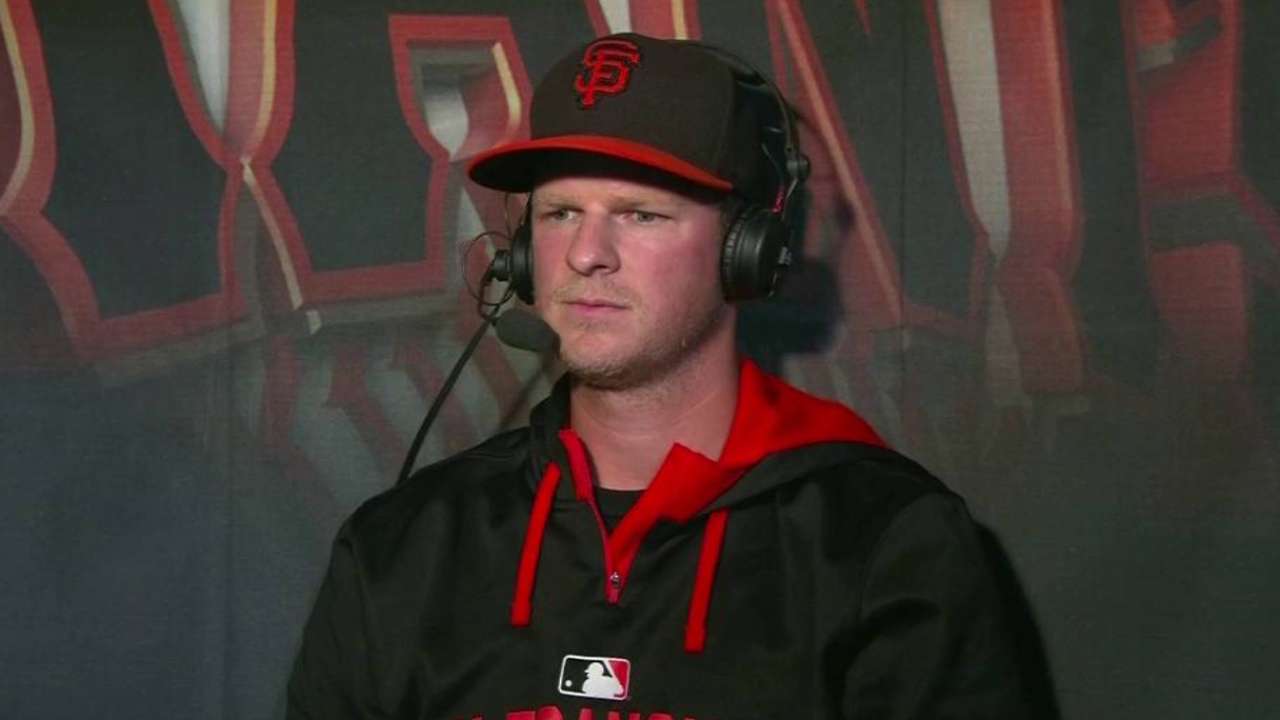 Nobody is really concerned about the 25-year-old Bumgarner despite his lackluster spring numbers, including an 0-3 record with a 5.65 ERA in five starts. But take note -- since Bumgarner was called up briefly at the end of the 2009 season, he's thrown a total of 1,041 innings in the Majors, including the postseason.
That brings us back to Lincecum, who has been toying with his mechanics since his demotion to the bullpen last season. All winter, the 30-year-old worked on his release point to come over the top at the same moment his front foot hits the turf when he flies off the mound. After dealing with mixed results and missing a game with a stiff neck earlier in the spring, he received a resounding standing ovation on Tuesday when he left the mound after whiffing the last two batters he faced with runners on second and third.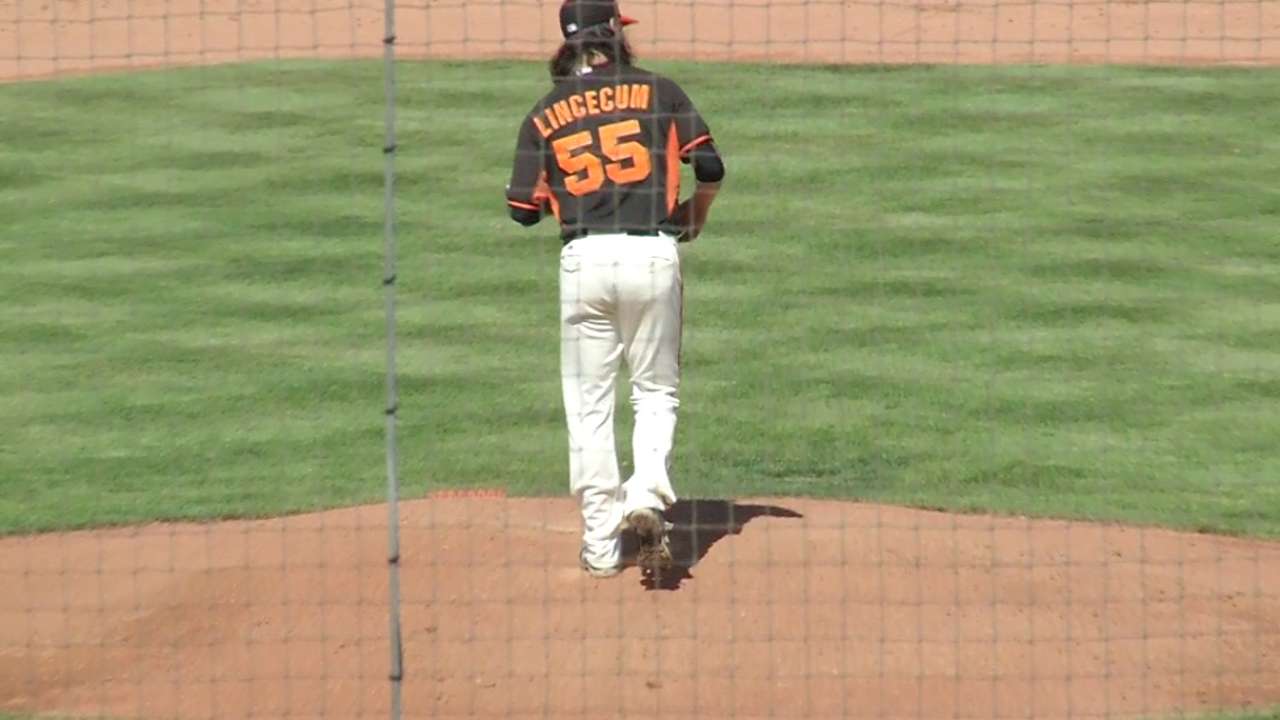 "I think I've done enough to put myself in a position to have success again," said Lincecum, whose spring ERA finished at 6.27. "I think the confidence I have in myself and the work I've done this spring is also enough to help carry me through and give me hope with a question mark at the end of the line."
Hope with a question mark is a good way to assess the entire Giants rotation with real baseball about to begin in less than a week.
Barry M. Bloom is a national reporter for MLB.com and writes an MLBlog, Boomskie on Baseball. Follow @boomskie on Twitter. This story was not subject to the approval of Major League Baseball or its clubs.