Last call: Ramirez, Roenicke set plan for playing time
Third baseman, manager agree on strategy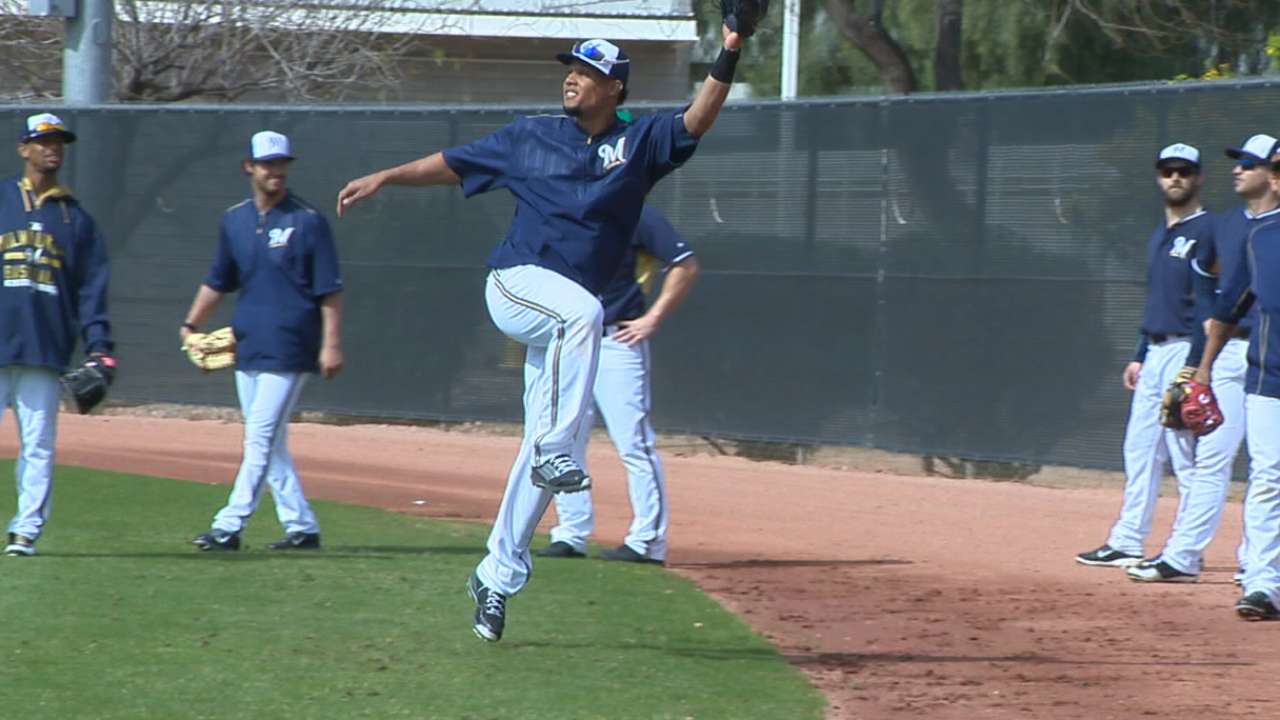 PHOENIX -- Last Call is a spot for all the notes and anecdotes from Brewers camp that didn't find a home elsewhere on the site.
• Soon-to-be 37-year-old Brewers third baseman Aramis Ramirez met Tuesday morning with manager Ron Roenicke to set a plan for regular season playing time. Roenicke said they agreed on a strategy, but opted not to make it public.
"I told him not to say what we're doing, so I won't tell you guys what we're doing," said Roenicke, who wants to maintain flexibility to alter the schedule as the season progresses. "But there's a plan at least in place to make sure we give him enough time off to keep him strong.
"If he's scuffling some physically, we'll make sure we adjust and give him the days he needs. He feels really good. He wants to play all these [Spring Training] games. I think he realizes where he is in his career, and to stay productive, we can't just grind it out. He's been used to grinding it. When he's hurt, he goes out and plays. I appreciate when guys do that, but I also realize that production probably isn't going to be the same when you do that."
Ramirez has been bothered by leg injuries in each of the past two seasons. Luis Jimenez is poised to serve as Ramirez's top backup in 2015.
• Former Brewers closer Jim Henderson pitched a clean inning in a Double-A game on Monday, striking out a pair of batters and inducing a ground ball out. He was encouraged by the life on his fastball, which has been slow to come around since shoulder surgery last season.
"Earlier in camp I was touching 90 mph, right? Yesterday I was sitting 90-91," Henderson said. "It's a back field and it's 10:30 in the morning, but I was happy with it. I'm able to recover better now, and when I play catch on days I don't pitch, I can start throwing harder. That's going to generate velocity by being able to throw every day with something behind it. Early in camp, I was saving my bullets for the games."
• After being returned to Minor League camp earlier in the day, right-hander Ariel Pena worked another 1 2/3 scoreless innings against the Reds to lower his Cactus League ERA to 2.45 in nine games. Removed from the 40-man roster after last season, Pena might have been the surprise of spring for the Brewers.
"We all said he put himself back on that prospect status, in-the-plans kind of thing," GM Doug Melvin said. "He's pitching with confidence."
Adam McCalvy is a reporter for MLB.com. Read his blog, Brew Beat, and follow him on Twitter at @AdamMcCalvy. This story was not subject to the approval of Major League Baseball or its clubs.