Cubs' new additions can provide needed OBP boost
Fowler, La Stella have knack for getting on base, drawing walks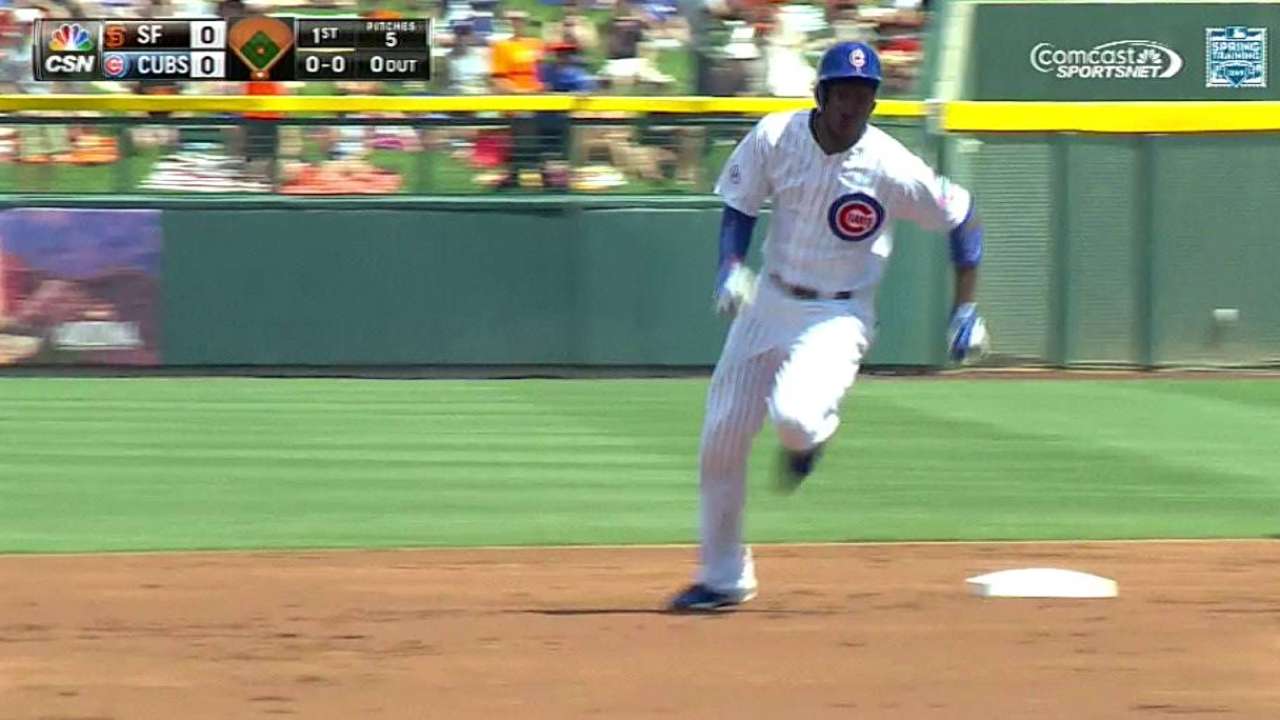 In the days leading up to Opening Day, MLB.com is examining various aspects of each team's roster. Today, the time has come to focus on a key number for the upcoming season. For the Cubs, it's .300: their on-base percentage from last year, 13th in the National League.
MESA, Ariz. -- There's a reason the Cubs added players like Dexter Fowler and Tommy La Stella, and why manager Joe Maddon is considering having the pitcher bat eighth to get an extra leadoff-type batter in the lineup. The Cubs have plenty of power. They just need guys to get on base ahead of them.
Last season, the Cubs ranked 13th in the National League in on-base percentage at .300 -- only the Reds (.296) and Padres (.292) were worse.
"You're trying to feed guys who can drive in points," Maddon said. "You want [Nos.] 1-2 to have a better feeling that they're going to get on base."
Fowler, who drew more walks (66) last season than anyone on the Cubs except for Anthony Rizzo (73), will take over as the leadoff man. La Stella, who has been used at second and third, has a career .407 OBP in the Minor Leagues.
"To me, it's always about feeding your best RBI guy," Maddon said. "You feed your best RBI guy with the highest on-base percentage guys in front of them."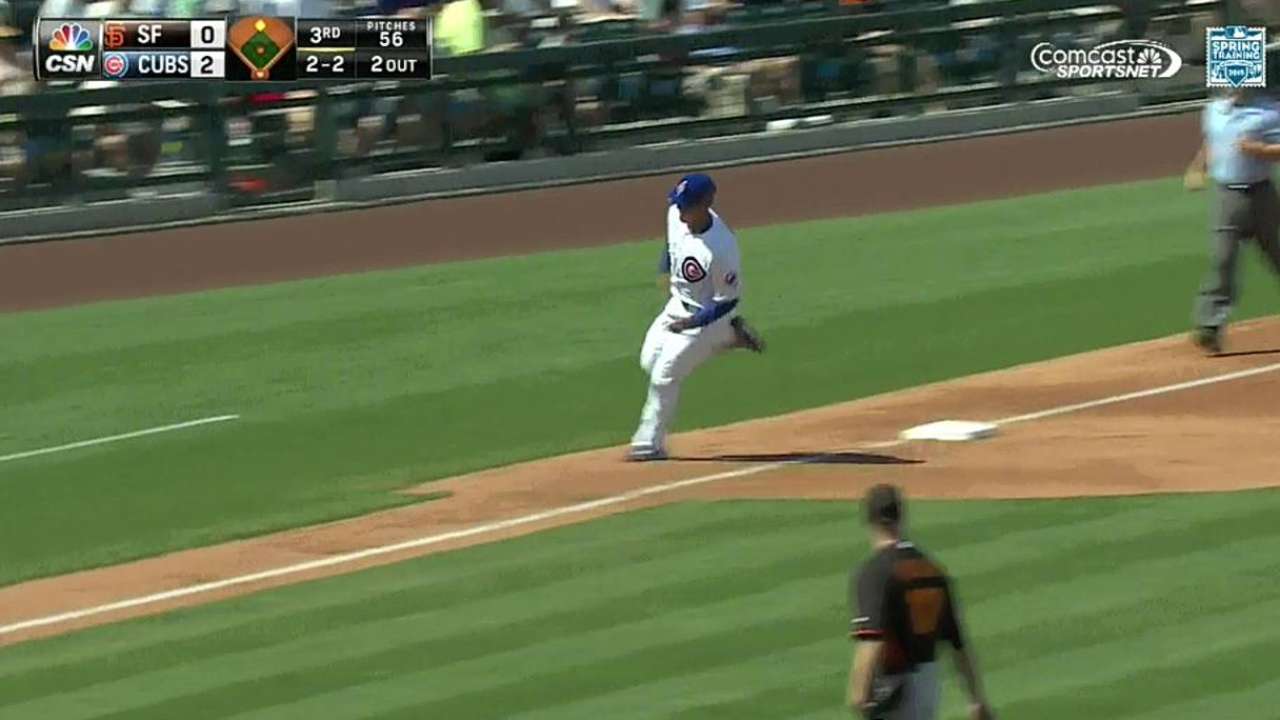 The power is there. Even though they've gotten a boost by playing in what Maddon calls "Colorado South," the Cubs ranked second this spring in home runs.
"We're going to hit home runs and the biggest thing we need to preach to everyone is that someone is going to hit home runs," Rizzo said. "It's about passing it on to the next guy -- if it's not me, if it's not Kris [Bryant], if it's not [Jorge Soler], it could be Starlin [Castro], it could be Dexter, [Chris] Coghlan, someone's going to do it. It's more about manufacturing runs without the long ball. Home runs are going to come."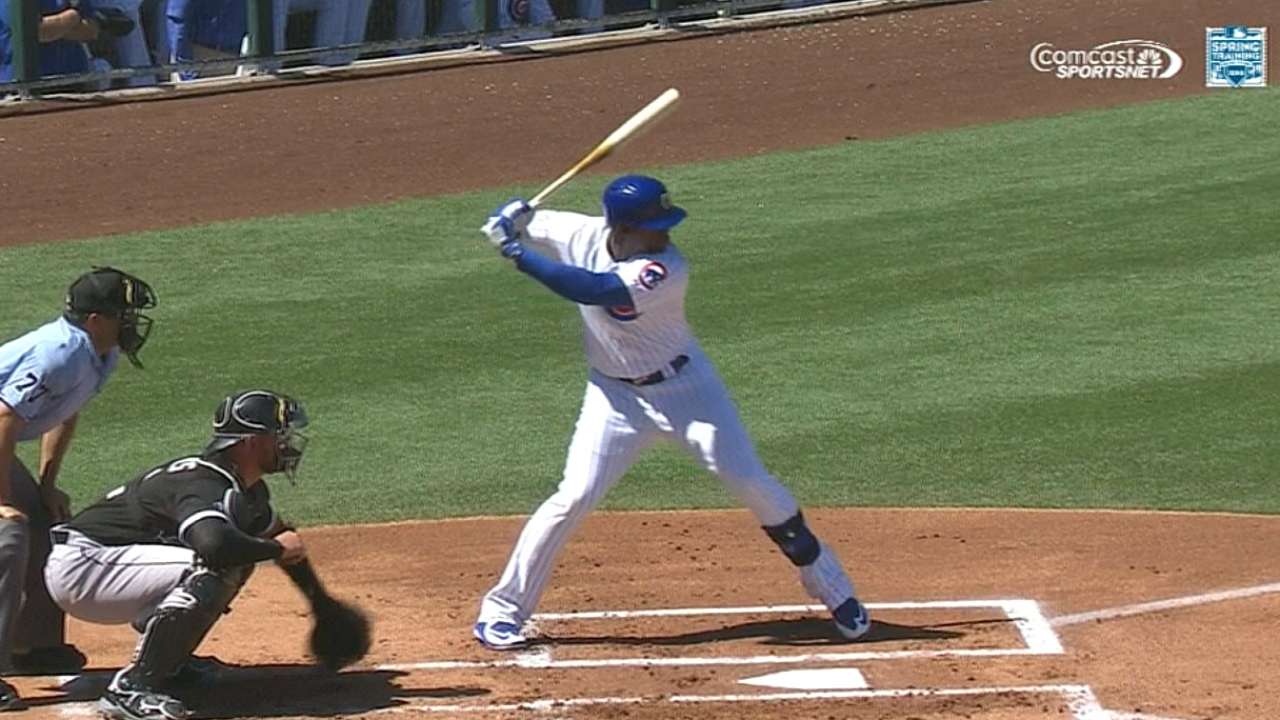 Jeff Samardzija knows first-hand about the highs and lows of the Cubs' offense. Last season, he compiled a 1.46 ERA in his first 10 starts, but was winless because of a lack of run support. The right-hander, now with the White Sox, called the Cubs offense "feast or famine." He's right.
Another number to watch this year? How the Cubs do with runners in scoring position. Last season, they ranked 14th in the NL with a .223 average with runners in scoring position.
"We need to manufacture the smaller runs, get the runners over from second to third, get them in with less than two outs, and just add on those points," Rizzo said. "We're going to hit the home runs and the more we can do the small ball and get the runners over and drive them in with just a single, I think the better off we'll be. We all know especially after the last few years, we're going to hit home runs."
Carrie Muskat is a reporter for MLB.com. She writes a blog, Muskat Ramblings, and you can follow her on Twitter @CarrieMuskat. This story was not subject to the approval of Major League Baseball or its clubs.