Mattingly envisions deeper, more versatile lineup
Dodgers manager enters fifth season with 'more of a team' after winter overhaul
GLENDALE, Ariz. -- Don Mattingly enters his fifth season as Dodgers manager, seeking to become the first in franchise history to finish first in three consecutive seasons. With Spring Training winding down, he spoke to MLB.com about the roster, the relievers and the rookies.
MLB.com: The Dodgers won 94 games, and during the offseason they tore up the roster and they tore up the front office. There are plenty of new faces; in fact, there's a new face at your home. First things first, let's talk about the baby and mom.
Mattingly: They're good. Louis is good. Almost 4 months now. He's been great.
MLB.com: It's probably a good experience for managing a clubhouse full of young people. Speaking of which, Yasiel Puig seems to me more professional and more subdued this spring. What has gotten into him?
Mattingly: A lot of articles we were able to read in the offseason, he talked about being more professional and a better teammate. I think the guys we got in the clubhouse are good for him, guys like Jimmy Rollins, Howie Kendrick, Joel Peralta, and of course [Adrian Gonzalez] is always there and [Juan] Uribe is always there. I think it's just part of his maturity as a player. Last year was his first full season in the big leagues and he's still very young [24 years old]. All we look for is him to get a little better every year.
MLB.com: In restructuring the roster, there would seem to be more pressure on Puig perhaps to be the right-handed bat in the lineup. But in bringing in veterans, the goal was balance and a more functional roster. In what ways have you seen that in Arizona?
Mattingly: I think we have more of a team. You talk about bringing in Jimmy and Howie, two solid players and solid guys in the clubhouse. Both guys have credentials playing on the field, and they come from organizations that have played in the playoffs. That's the key. You talk about Yasiel being a big bat, for sure, but Howie's a solid 75-80-RBI guy. Jimmy gives you the switch-hiitter, [Yasmani] Grandal the same. That gives you versatility within the lineup. I think it's going to be a deep lineup; get down to seven and eight and they still put a little fear in you.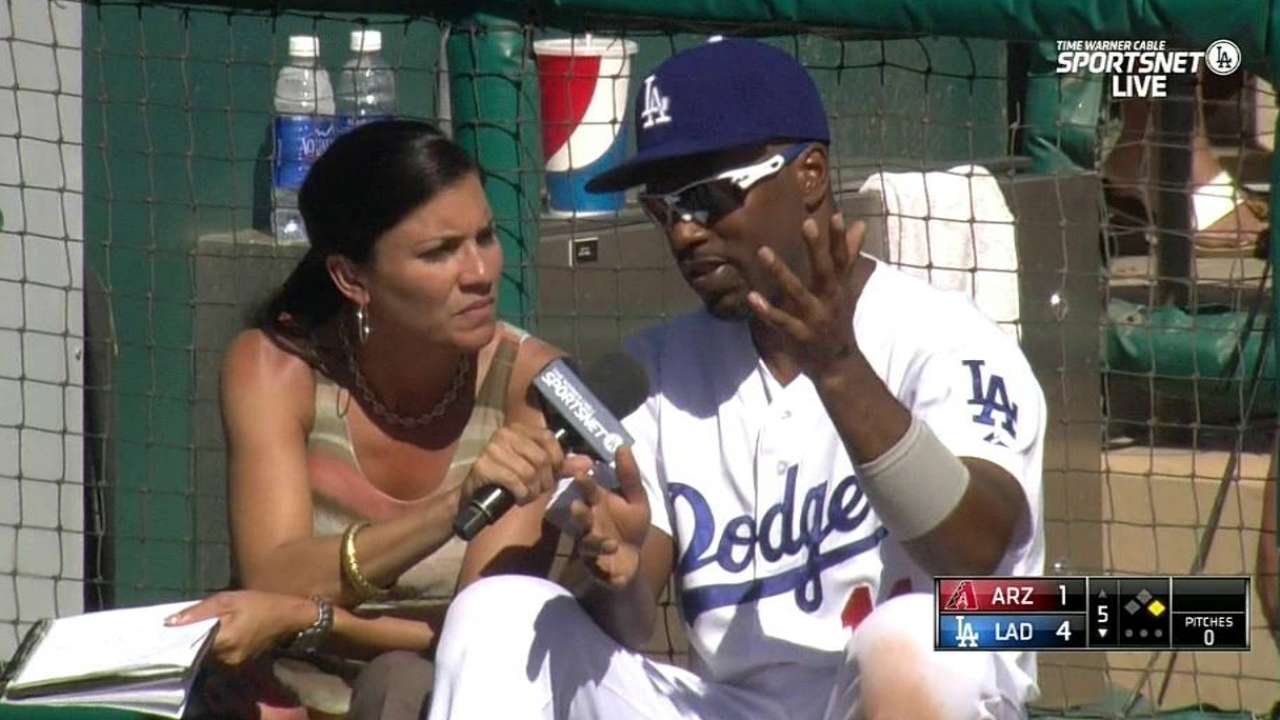 MLB.com: The bullpen was an offseason focal point, then the spring gets off on the wrong foot when Kenley Jansen had his operated on. So you've talked about closing by matchups and committee. Are you satisfied from all of the players they've given to you that you'll have a committee you'll feel comfortable going to in the eighth and ninth innings?
Mattingly: We'll see. We've had a lot of guys do well in Spring Training. We had 13 or 14 guys fighting for positions. Injuries weeded some guys out. I can't say I'm totally comfortable which way we're going to do. Obviously you'd prefer to have one guy to go to in the ninth. If you have to go by committee, we'll have to go that way.
MLB.com: We've heard a lot about the three untouchable young players -- Joc Pederson, Corey Seager and Julio Urias -- but you've also taken long looks at quite a few of the lesser-known young players in the system during spring games. How far has the system come since you first joined the organization?
Mattingly: No question it's come a long way. Seems like a lot of the things [CEO] Stan Kasten and the new ownership talked about when they took over, they talked about rebuilding the system so it replenishes the roster. What we've seen with Urias, with Seager, with [Darnell] Sweeney, [Scott] Schebler, [O'Koyea] Dickson, Zach Lee coming into his own. With Kiké Hernandez, Chris Hatcher, Austin Barnes, all of a sudden a bunch of guys are knocking at the door. The system couldn't be in better shape. The easiest way to explain it, in these games down here, when you are getting the veterans out of the lineup, the second part of the game is almost more exciting to watch. Because you know you're looking at part of the future and guys that are going to be in the big leagues pretty soon.
Ken Gurnick is a reporter for MLB.com. This story was not subject to the approval of Major League Baseball or its clubs.