Rivera hopes to settle in behind the plate in '15
Catcher carries experience, more offensive pop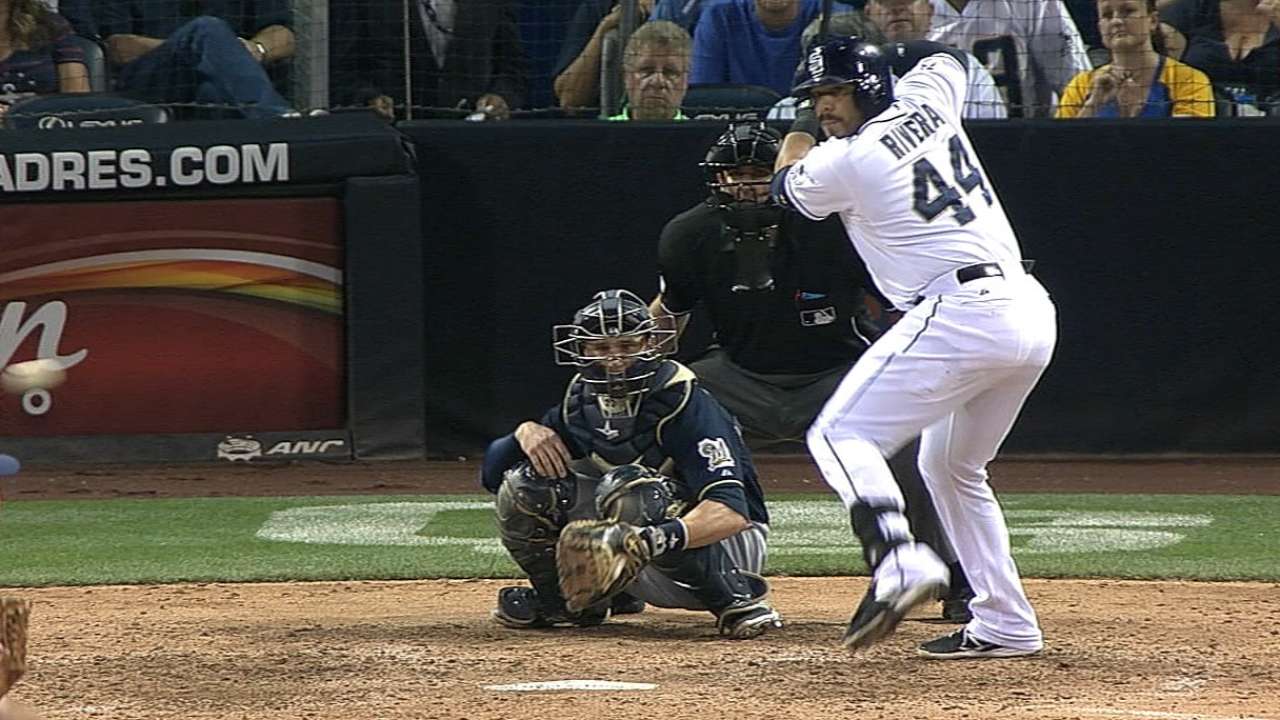 PORT CHARLOTTE, Fla. -- Many of the Rays' offseason moves did not play well with the team's fan base. However, bringing in a new catcher wasn't one of those.
The view the Rays had of previous catcher Jose Molina never quite jived with the one in the stands. That's why Rene Rivera's arrival should be a popular one with the team's fans and one that could go a long way toward helping the Rays return to the playoffs.
Rivera, 31, arrived via a three-way deal that sent Wil Myers and Ryan Hanigan to the Padres and brought Steven Souza Jr. and Burch Smith to the Rays.
What Rivera did offensively for the Padres looks Ruthian to Rays fans, who watched the catching tandem of Molina and Ryan Hanigan combine for 89 hits -- a .187 combined average -- with five home runs and 44 RBIs in 2014. Rivera hit .252 with 11 home runs and 44 RBIs.
"We kind of feel like we're very fortunate to get Rene at the right time," Rays manager Kevin Cash said. "I don't know how much more developing he has to do. He's already very good defensively. And you look at the offense, seemed like he broke out a little bit and was a little more consistent."
Prior to last season, Rivera's best show of power came in 2012 when he hit 10 home runs in 95 games for Triple-A Rochester. He has since found himself as a Major League hitter.
"Last year was the first time I've played a lot," Rivera said. "All the dedication and hard work started to pay off. I just keep doing my job, preparing myself to play this game. It's been fun."
While Rivera's offense leaps off the page, the veteran knows catching is still the No. 1 priority.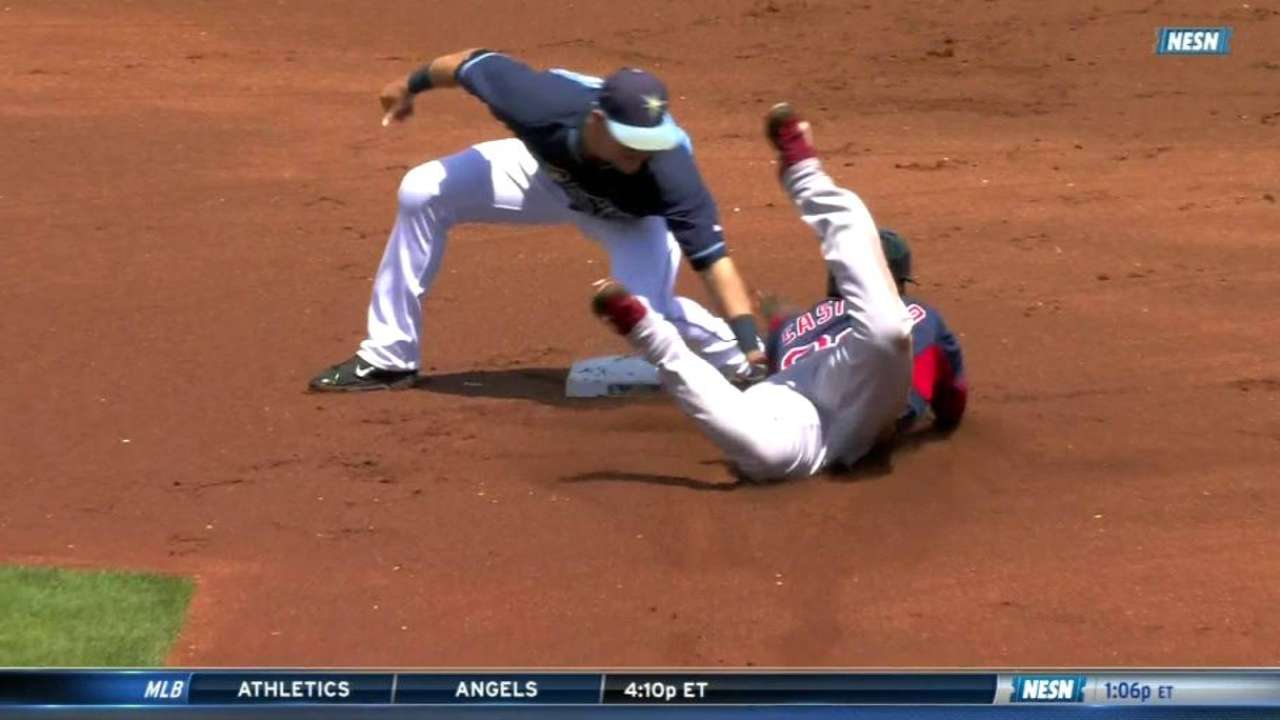 "Call a good game, throw people out and then hitting," Rivera said. "I will dedicate myself to my pitching staff and next my hitting."
All spring, Rivera worked toward learning a new staff, concentrating on gaining a feel for his pitchers.
"That's the main thing," Rivera said. "You want to get to know them really well. Knowing how they like to pitch, that's the most important thing."
Despite his experience, Rivera doesn't like a heavy-handed approach. He's not going to be the guy telling a pitcher he has to throw a certain pitch.
"I really don't like doing that," Rivera said. "I think they've been doing this for a long time. ... They know what to do. So I'm more like going toward them, I ask them how they like to pitch."
Rivera believes in establishing a rhythm with the pitcher.
"That's the main thing, getting into a rhythm with them," Rivera said.
When games are not being played, Rivera tries to be available to the pitchers, for his benefit and theirs.
"I like to talk to them," he said. "I'll always be around so they can say what they like to do. So I just want to have the opportunity to talk to all of them to get to know them better."
Rivera has spent most of his professional career hoping to get his chance. That pursuit began in 2001, and he never wavered in his belief that he could become a quality Major League catcher. Now that he's earned that chance, and taken advantage of the opportunity, Rivera said he'd "love to catch every game" this season.
"I've worked hard enough to be ready for 162 games," he said. "Whatever they decide, I cannot control that. I can't control what my body feels like."
For example, Rivera experienced a tight calf during Spring Training that limited his activity for a few days. So how his body holds up will be a factor in how many games he catches this season. But count Cash as being all in for Rivera being behind the plate as much as possible.
"Because if he's back there that much, he's playing well," Cash said. "So we're going to want him back there as much as possible. But it's also something new to him that we, along with him, through communication, need to know his body."
Bill Chastain is a reporter for MLB.com. This story was not subject to the approval of Major League Baseball or its clubs.