Almonte outrighted; Braves' outfield competition shrinks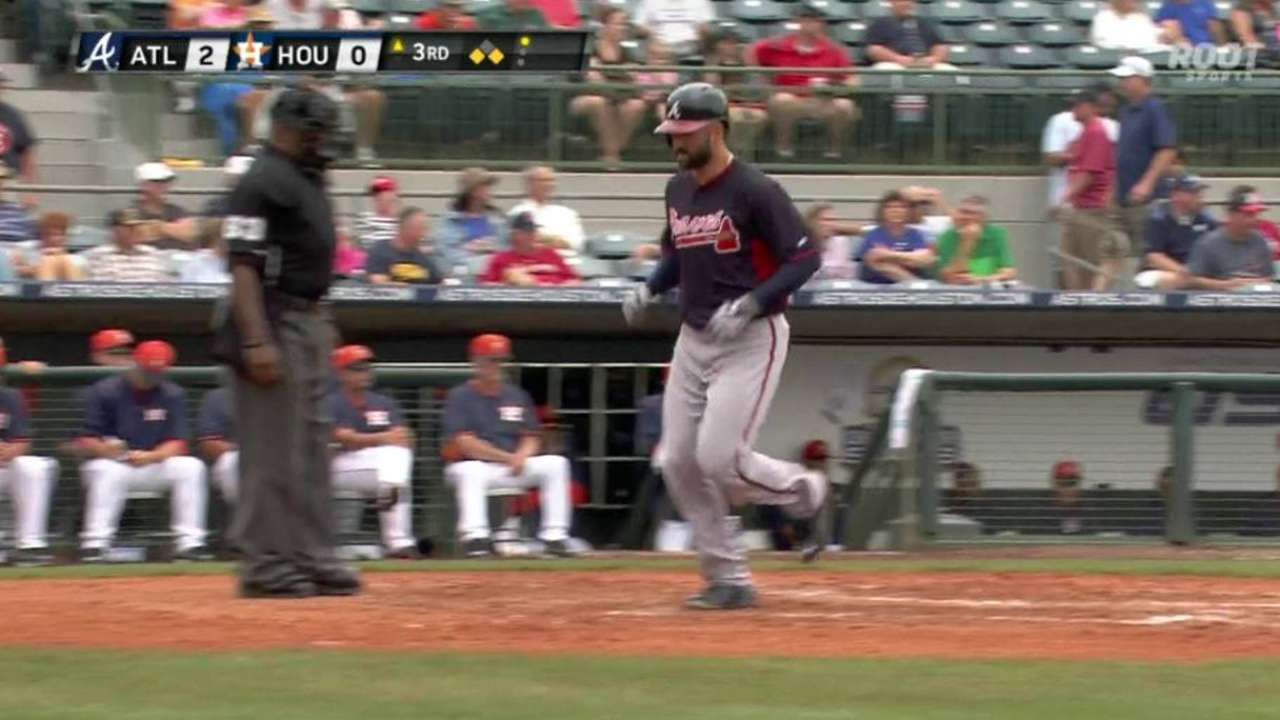 LAKE BUENA VISTA, Fla. -- As the Braves spend the next few days determining who will enter the season as their backup outfielders, they will no longer consider Zoilo Almonte to be a candidate.
Almonte cleared waivers and was outrighted to Triple-A Gwinnett on Tuesday. The 25-year-old seemingly had the benefit of being out of Minor League options. But after watching him hit .245 with just one extra-base hit in 49 at-bats during the Grapefruit League season, the Braves were willing to take the risk of having another club claim him off the waiver wire.
Because he had been previously outrighted while playing in the Yankees' system, Almonte has the option to refuse the assignment and become a free agent.
When the Braves entered Spring Training, they envisioned Almonte as the most likely candidate to serve in a soft platoon with Jonny Gomes in left field. But it now appears that this assignment will be given to non-roster invitee Kelly Johnson, who has put himself in good position to earn a roster spot.
With Melvin Upton Jr. out with a left foot injury, Eric Young Jr., Gomes and Nick Markakis currently stand as the only outfielders who are essentially locks to begin the season on Atlanta's roster. The Braves will now have to choose two backup outfielders, including one who has the capability to play center field.
As things currently stand, it appears Johnson and Phil Gosselin will fill one of the final three available spots on Atlanta's bench. Both provide versatility courtesy of their ability to play both the infield and outfield. Though Gosselin has not had much experience in center field, he has at least been tested there over the course of the past week.
If the Braves opt to carry an experienced center fielder to back up Young, they might carry Todd Cunningham. But despite hitting .278 over 44 plate appearances during the Grapefruit League season, Cunningham seemingly needs to impress over the next few days to gain a roster spot.
The Braves have been searching the trade market for a backup outfielder and they have not completely nixed the option to carry Joe Benson, a 27-year-old outfielder who was never officially a part of this year's big league camp. Benson has totaled just 21 games at the Major League level since being selected by the Twins in the second round of the 2006 First-Year Player Draft.
Mark Bowman is a reporter for MLB.com. This story was not subject to the approval of Major League Baseball or its clubs.