Davis determined to exceed his own expectations
Offense most important, but slugging first baseman emphasizing defense in spring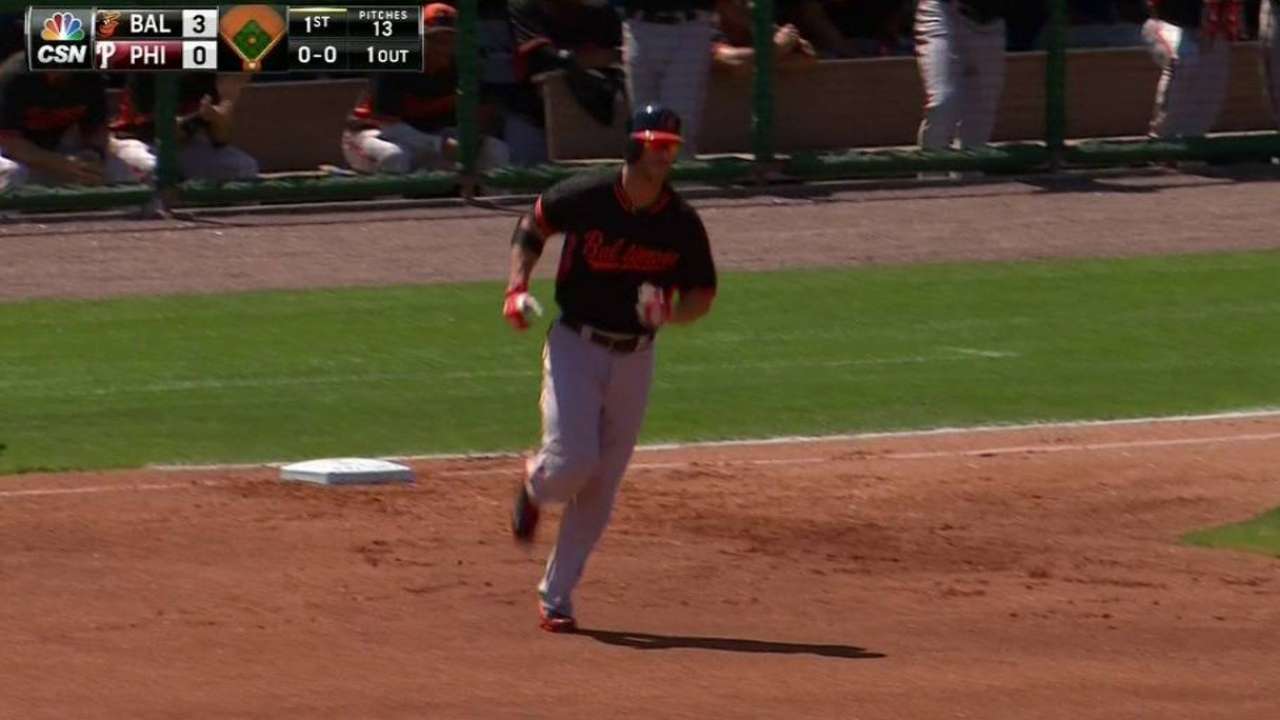 SARASOTA, Fla. -- When Chris Davis was at his lowest point last season, after news broke about his 25-game suspension for a positive Adderall test, he leaned on two people most: his wife, Jill, and Rangers Minor League hitting coordinator Scott Coolbaugh.
Coolbaugh, named the Orioles' hitting coach this offseason, could end up being an underrated acquisition for a Baltimore club that had a relatively quiet winter, losing both Nelson Cruz and Nick Markakis. One of Coolbaugh's biggest tests will be getting his prized pupil back on track, as Davis -- who will serve the final day of his suspension on Opening Day -- will be a key component in the O's quest to repeat as American League East champs.
"I've known the guy for almost 10 years -- we've been together every offseason, [we] called or texted in the past, when was I was struggling," Davis said of Coolbaugh, who was a hitting coach while Davis was in the Rangers organization. "Mentally, physically, emotionally -- however you want to say it, he's been the biggest influence on me for a lot of years."
Davis, who hit .196 with 26 homers last season, is clear that he doesn't think he has anything to prove in 2015. But he does want to get back to being the player he has been, the middle-of-the-lineup guy the Orioles can depend on.
"It's a state of mind," said Davis, who hit 53 homers and drove in 138 runs in 2013. "Coming into last year, there was kind of a sense of, 'What do I do now?' If I hit .270 with even 40 [homers] and 100 [RBIs], technically, it would be considered a down year because the year before was such a good year for me.
"I think just mentally, I didn't really know where to go. I've never really been in that situation before, but this year, I'm a lot more relaxed and I almost kind of have that chip back on my shoulder. 2012 was my first opportunity to be the everyday guy and not have to bounce around. I really wanted to prove that I deserved that, and I've kind of gotten back to that mentality of overcoming other people's expectations."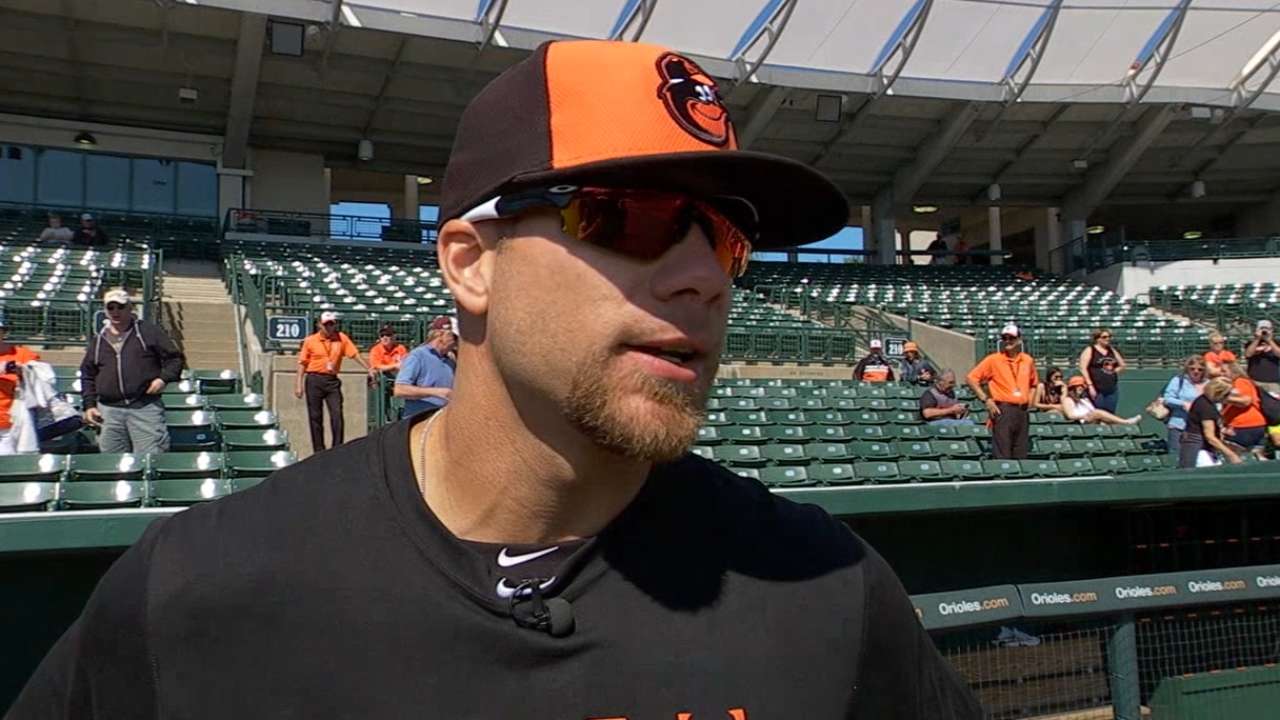 What Davis expects of himself this year is better defense, a facet of his game he's practiced exhaustively in Spring Training. Davis arrived at camp early to work with coaches Bobby Dickerson and Mike Bordick on positioning and footwork, getting as many repetitions as possible in hopes of playing Gold Glove-caliber defense this season.
And while there are many ways Davis can help the Orioles -- and his glove can help carry him through the ups and downs of any offensive season -- Davis understands he's going to be relied on to help offset the losses of Cruz and Markakis.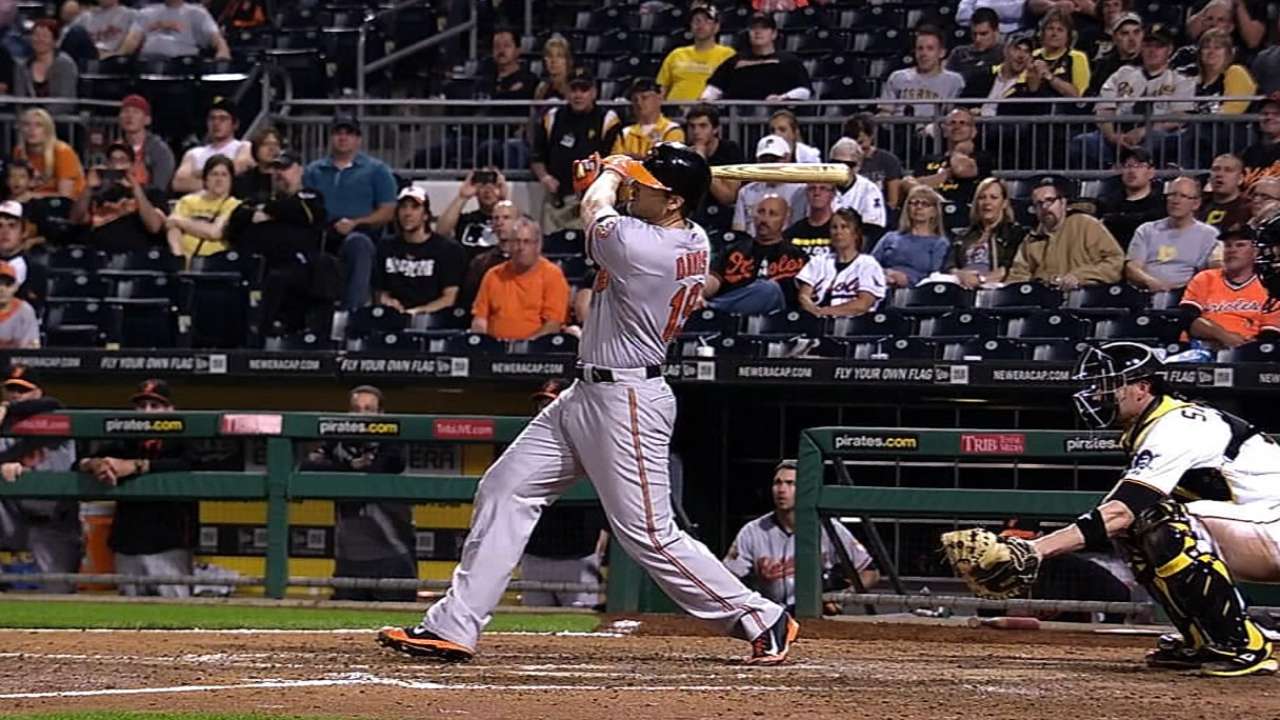 "I hope [the team expects more of me]," Davis said. "Losing Nelly, obviously, was big because of the power, but I feel like we can make that up.
"I think the biggest loss for us was Nick. We lost a leadoff hitter, we lost a Gold Glove right fielder, we lost a guy who, in my opinion, was the most consistent guy in the lineup every day. Whether it was left or right, Nick was going to get two or three hits, put the bat on the ball, and that was such a big loss for us. We have guys who can step up and fill that role, but as far as replacing a guy like that, I don't think you ever will.
"So I still like our chances. I think we have a very strong team and I think we have everything we need to compete and get to the postseason; it's just a matter of staying healthy and executing our game plan."
Brittany Ghiroli is a reporter for MLB.com. Read her blog, Britt's Bird Watch, and follow her on Facebook and Twitter @britt_ghiroli. This story was not subject to the approval of Major League Baseball or its clubs.