Hale embraces excitement of Opening Day -- and beyond
Manager encouraged by talent D-backs have assembled in his first year leading club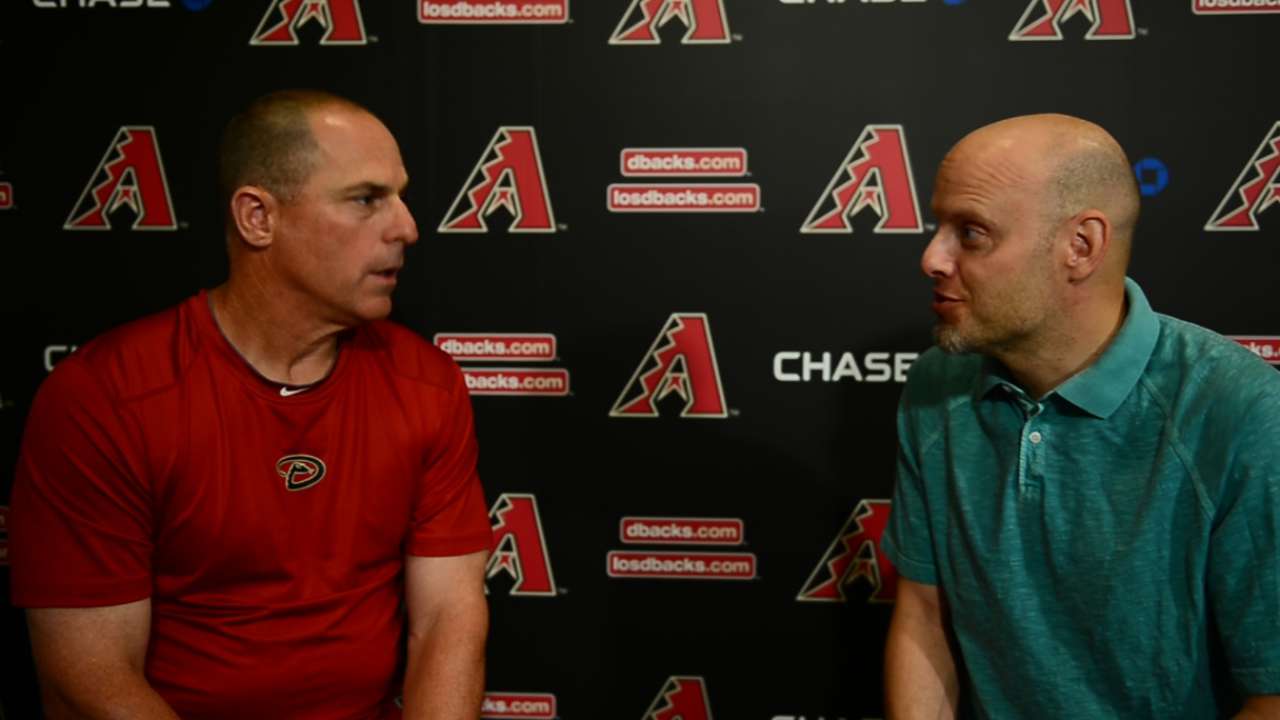 SCOTTSDALE, Ariz. -- The start of the regular season is less than a week away, and it's been a busy spring so far for D-backs manager Chip Hale. With competition at nearly every spot on the roster, Hale and his coaches have had to do plenty of evaluating.
Hale sat down Tuesday with MLB.com to share his thoughts on his first season as a big league manager as well as his thoughts on each area of his club. Below are a few of the highlights of the interview. You can click on the video to see the entire talk.
MLB.com: Chip, we're coming up on your first Opening Day as a Major League manager. How exciting is that for you and what are some of the emotions that come up when you think about it?
Hale: Well, it's very exciting, of course. You get the job and you start thinking about the roster, you start thinking about the next season and you get into Spring Training and you're so involved in the day-to-day scheduling you sort of forget about the regular season. Now it's right in front of us. Once we get to Opening Day, I know it's going to be a great day and the emotions are starting to come.
MLB.com: I know some of the predictions out there might not be that good for you guys, but I know that you feel good about where you guys are right now.
Hale: We feel good. We feel like we have the talent to win. We have to execute. We have to get starting pitching that's going to keep us in the game, and I think our bullpen is going to play a huge part of it. We're building it a little different than other teams, we're building it with some length to help out those young starters and starters who have had some suspect years in the past. We're expecting them to have bounce-back years. The lineup, we think that's going to be the strength of our team.
MLB.com: You had a lot of competition for the starting rotation and you just finalized it this week. How do you think that shook out?
Hale: I think the competition helped because I think it made guys lock in a little earlier and not just use Spring Training to get ready, but sort of a "show me what you've got." We're happy with it. [Josh] Collmenter has pitched fantastic all spring and [Rubby] De La Rosa has had flashes of brilliance and he's had tough outings. He's one guy that we're learning more about and we think we can help to become a real winner. We think [Trevor] Cahill has turned the corner with his mechanics, and we're going to try to help him as well. So there's a lot of coaching involved here that we're going to have to keep doing as the season goes on. But we feel good about the rotation.
Steve Gilbert is a reporter for MLB.com. Read his blog, Inside the D-backs, and follow him on Twitter @SteveGilbertMLB. This story was not subject to the approval of Major League Baseball or its clubs.