Clark, Rogers among 7 sent to Minors; OD roster all but set
Brewers down to 27 players in big league camp
PHOENIX -- With a slew of camp reassignments on Tuesday, the Brewers moved to the brink of setting their team for Monday's season opener at Miller Park.
Relievers Rob Wooten, catcher Juan Centeno, first baseman Matt Clark and utility man Jason Rogers were all optioned to Triple-A Colorado Springs. Pitcher Ariel Pena, catcher Nevin Ashley and outfielder Matt Long were returned to Minor League camp. The moves left 27 players in big league camp, and, barring a late addition, essentially set Milwaukee's pitching staff while leaving the final bench job down to outfielder Logan Schafer or non-roster utility man Elian Herrera.
"I think we're leaving Spring Training with a better club than we had last year," GM Doug Melvin said. "[Gerardo] Parra and [Jonathan] Broxton weren't here last year. Those are big pickups. [Adam] Lind wasn't here last year, and we've got a regular first baseman as opposed to a platoon last year. A healthy [Ryan] Braun makes a big difference. I like the club."
As things stood Tuesday, the tentative roster looked like this:
Starting pitchers: Kyle Lohse, Matt Garza, Wily Peralta, Jimmy Nelson, Mike Fiers.
Relief pitchers: Closer Francisco Rodriguez, Broxton, Will Smith, Jeremy Jeffress, Neal Cotts, Tyler Thornburg, Michael Blazek.
Catchers: Jonathan Lucroy, Martin Maldonado.
Infield: First baseman Lind, second baseman Scooter Gennett, third baseman Aramis Ramirez, shortstop Jean Segura, reserves Hector Gomez and Luis Jimenez.
Outfield: Left fielder Khris Davis, center fielder Carlos Gomez, right fielder Braun, reserve Parra plus Herrera or Schafer.
In optioning Clark and Rogers, the Brewers chose defense over a bat for the bench. Schafer and switch-hitting Herrera could both provide coverage in the outfield, allowing manager Ron Roenicke to more actively use Parra as a pinch-hitter.
Herrera could also help as a backup all over the Brewers' infield, but he is not currently on the 40-man roster, which is full.
"We thought it was better for [Clark and Rogers] to go out and get regular at-bats, be ready in case something did happen over the long haul," Melvin said.
While praising Clark's and Rogers' performances in Spring Training, Melvin said, "Our bench is probably going to be more defense-oriented than offense."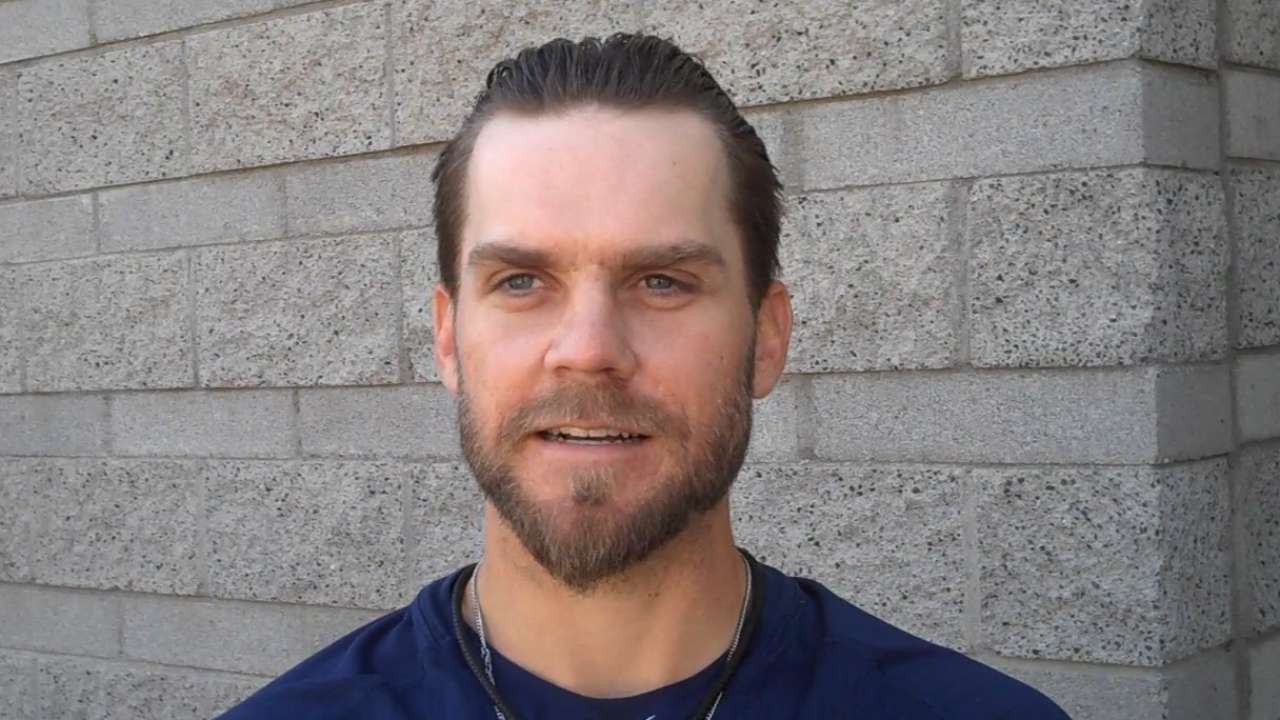 In choosing Blazek and Thornburg over Wooten, the Brewers opted for length. Both pitchers stretched out during Spring Training and could step in to make a spot start if necessary. Blazek secured his spot with a strong start against the D-backs last week.
"That lit it up for us," Melvin said. "And the other thing is Thornburg is coming off not pitching for four months or so [because of an elbow injury]. So we want to make sure we have a little bit of protection."
Also still technically active in big league camp is reliever Jim Henderson, though he will begin the season either on the disabled list or in the Minor Leagues as he seeks to regain velocity lost to last year's shoulder surgery. The Brewers will set a plan for Henderson by Friday, Melvin said.
Adam McCalvy is a reporter for MLB.com. Read his blog, Brew Beat, and follow him on Twitter at @AdamMcCalvy. This story was not subject to the approval of Major League Baseball or its clubs.