Rondon's slider key to earning bullpen spot
Righty uses pitch to strike out side in seventh inning vs. Bucs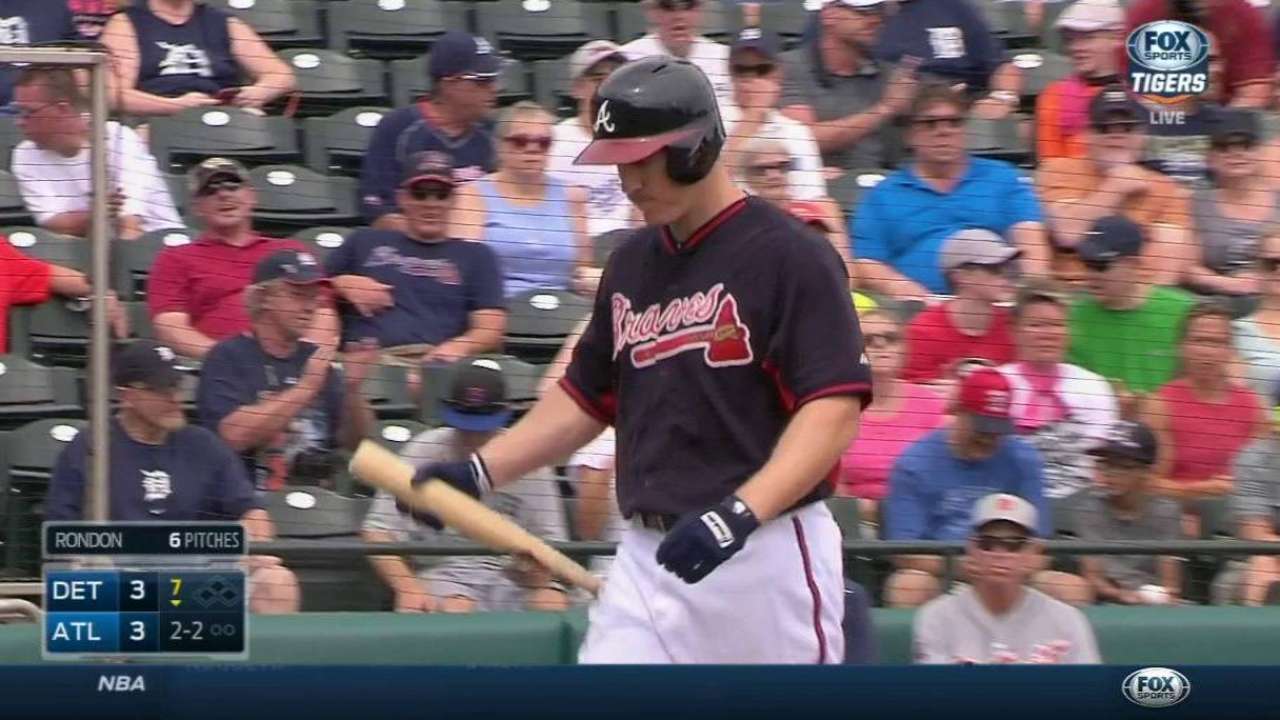 LAKELAND, Fla. -- Bruce Rondon returned to game action on Tuesday and promptly registered 100 mph on the mercurial radar gun at Joker Marchant Stadium.
"One time," Rondon said with a smile, having missed the past few days with a crick in his neck.
More importantly, he threw sliders -- a lot of them. And after setting up hitters with the fastball, he used sliders to strike out the side in order in the seventh inning in the Tigers' 7-3 loss to the Pirates.
If he's going to carve a role in the Tigers' bullpen, the slider is going to play as big of a role or bigger than the 100 mph fastballs.
"He looked good, threw all his pitches for strikes, threw his slider for strikes," manager Brad Ausmus said. "That's probably the best we've seen."
Rondon is competing for a spot in Detroit's bullpen. It's not simply about health in his return from Tommy John surgery after almost exactly 12 months. It's about effectiveness and readiness for somebody who has less than a full year in the big leagues.
"He is coming off surgery, and it is Spring Training," Ausmus said, "so I guess you've got to cut pitchers in general a little slack, and someone coming off surgery probably a little more slack. It's more about determining if he's ready to pitch at the Major League level. Today he looked like he was much closer to being ready, say, than he was a week ago or even five days ago."
Rondon is listed on the travel roster for Wednesday's game against the Astros in Kissimmee, Fla. That's a tentative assignment depending on how he feels, but Ausmus said they need to see him pitch in back-to-back games if they're going to take him on the Opening Day roster. That's a slight shift from the start of the spring, when Ausmus said it might not be a must.
"Early on, I said we could do it maybe the first week of the season," Ausmus said, "but the more I thought about it, you've got to be able to use him back to back."
Jason Beck is a reporter for MLB.com. Read Beck's Blog and follow him on Twitter @beckjason. This story was not subject to the approval of Major League Baseball or its clubs.